did you guys catch julie's post today talking about how she first stumbled upon "healthy living blogs" <—i don't like to use that term, because they are all just blogs to me—healthy or otherwise. i call my blog a "living blog".
anyway, julie mentioned that she first discovered blogs through a health.com article by tina, which led her to carrots'n'cake and the rest is history.
this got me reminiscing on my own experience with discovering this fun-filled, close-knit community i have the pleasure to be a part of.. which i often refer to as "blog land". i thought i'd share the oh-so-random story with you guys today!
first, let me tell you my history with blogs in general.
once upon a time, my sisters had their own personal blogs that documented fun filled events in their lives.  i loved reading their blogs because it was a great way to see what was going on with them without picking up the phone. disconnected much?  that's aside the point, though. i read their blogs along with a few other blogs of people that i knew in person.
i didn't read blogs of strangers.. only real lifers (as i call them). i did have a few online communities where i interacted with "strangers"—most note-worthy was the body for life tracker website.
i loved reading blogs so much, i decided to start one of my own.
enter: blog #1.
i hated the actual word "blog"—which is short for "web log"—so i called my personal blog, "i don't love the word blog".  i started this blog at the very beginning of 2008 and my post was titled, "sure, ok", which really says a lot about my attitude when deciding to blog. sure.. ok.. whatevs!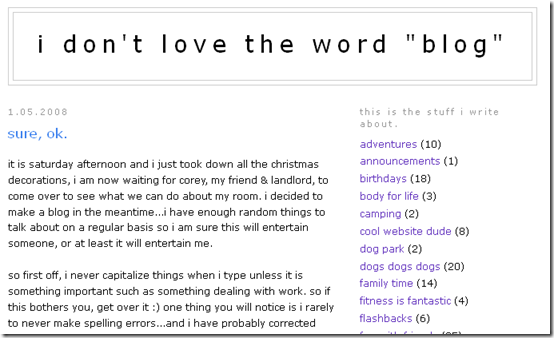 my first blog post on that blog contained information that is still true to this day:
i don't capitalize when i type
i type the way i talk
i use a lot of "…" instead of creating new sentences
i have pet peeves with bad spellers and i am a grammar nazi
i have a slight obsession with dogs
my first post was a lot of fun! i received comments from my mom and each of my three sisters—it was great to hear their feedback.  some of my friends started reading my blog, too, and started blogs of their own. it was great!  i ended up blogging about life on this blog through 2008 and most of 2009.  i posted about five times a month—give or take—and had a wonderful outlet to post photos and random rambles. i ultimately stopped blogging at this personal blog near the end of 2009 (because i wanted to devote 100% of my time to meals & moves.)
about blog #2.
at the beginning of 2009, my mom and i decided to do another 12 week body for life challenge after having an awesome success with the first one.  some people we knew were also wanting to try body for life, so we decided to start a motivational blog to stay accountable, track my meals and workouts and also to share thoughts with our friends.
still, i had NO IDEA food blogs, exercise blogs or "healthy living" blogs even existed.
there is a quote by ralph marston that says DO SOMETHING ABOUT IT!—so that is what we called our blog. also, the URL was http://bflparty.blogspot.com, this makes me laugh.. because it really was a BFL party! yaaaay body for life! party!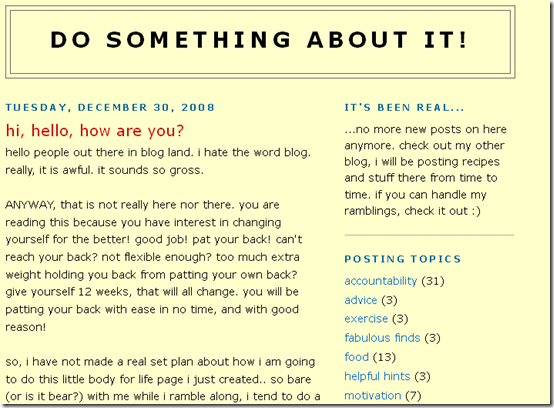 things started out strong! i posted so many accountability posts in january and the ball was really rolling on this blog.  february came and i was hit with the plague. i don't remember what happened, but i got SUPER sick. this was the winter that i got sick over and over and over and eventually had to have my tonsils removed that may.
i tried to make a comeback in march, but did not post as often. i loved blogging, but i really didn't have the time or energy to keep documenting my eats and exercise all day every day. i posted sporadically, but it wasn't worth reading.  additionally, i was still trying to keep up with my personal blog at the same time!
april came, the 12 week BFL challenge had ended (with bad results, mind you, i was sick AND vacationed in mexico.. what do you do?) and so i stepped down from the BFL party blog in this post on april 9, 2009. (by the way, if you go back and read those blog posts, please don't laugh too hard.)
sometime between april 9 and april 20, when i started meals & moves, i discovered food blogs.  this is how it happened…
i purchased an awesome mini omelet pan from bed, bath and beyond. i wanted to show a photo of the pan to my mom and also post a photo of it on my personal blog. i thought it was the cutest little pan. you all know my LOVE for mini things!  anyway, i googled "eggy mini omelet pan" and clicked on google images…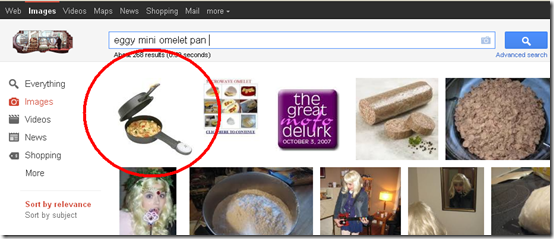 i found the image of the pan and clicked over to the site where it was hosted.

it was on a blog called moving out.  i thought it was an interesting blog even though i had never read the blog of someone i didn't know in person.  i ended up getting really into the posts from this total stranger and read several entries of her blog.
that sure was a time suck.
i noticed that she had a blog roll of fitness, motivation and… wait for it… food blogs.
i had no idea what i was in for.
you probably see a few blogs on that list that you read, right?!  i actually remember that the few blogs i clicked on and started reading immediately were:
and, aside from MFTGITLBD, i still read those blogs today! i also took another look at her blog roll and noticed i currently read a LOT of those blogs today.
i got super click happy. like suuuuper click happy. i couldn't believe this wonderful world of food blogs that i was missing out on! why didn't anyone TELL ME!??!
kristie's blog, lighter portions, is actually the one i got ultra hooked on. i was so into the idea of actually photographing my food and posting it rather than just posting the words as i had done on my BFL blog.  sure, i had posted photos of food when a recipe was involved, but never my day to day meals.
i was actively participating in the body for life forums and was on a virtual support team. we regularly posted our accountability on weekly posts that were called "meals & moves"—yes, that's right, i didn't come up with my blog name on my own.  i decided that i wanted to start a food blog, and when i was dreaming up names, i originally thought of "vanilla bean and everything in between" since i am obsessed with vanilla bean ice cream. however, i didn't feel this captured the realm of what i wanted to blog about. that's when i decided to steal the "meals & moves" alliteration from my body for life forum team and tacked on the "and everything in between".
on april 20, 2009, meals and moves was born. yep, only about a week after finding out food blogs existed, i started one. i had NO idea that there was a big, supportive community of bloggers, but i wanted to post my food! it looked fun! i never thought people i didn't know would actually read it OR that i would make friends with other bloggers.
i know lots of people read blogs for months, even years before deciding to start a blog. i just went in head first without knowing about the community that existed and honestly just accidentally wound up immersed in blog land! it was a strange experience, to tell you the truth. it was all so new to me! i loved it. lots.
i became fast friends with people like susan, danica and brittany (some of my first commenters!)–all of whom i have met in real life.
i wish i had a screen shot of what my original layout looked like.. but sadly, i don't.  i do have a jpg of the original (janky) header that i made in paint shop, though.

that pretty much summed it up, right? ha. i had that header for a REAL long time, before designing another one, it paint shop again, that looked like this:

that probably looks familiar to you. i used this header until i switched to self hosting earlier this year. my new look was designed by zesty blog consulting.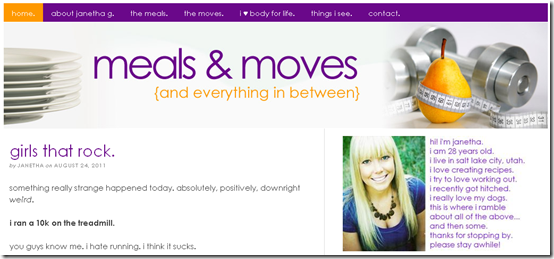 and that, my friends, brings us current!
i am so glad that i googled an image for an omelet pan back in april of 2009. had i not discovered this community, my life would not be the same today. i feel like i have become SUCH a better person through blogging. i have bettered my quality of life. i have achieved many goals. i have become very service-oriented. i have discovered my passions. and, most importantly, i have made lifelong friends who i never would have known about had i not started meals & moves.
i am grateful for each and every one of you reading this. i am so glad we have the chance to interact on a daily basis, share our thoughts and opinions, realize our similarities and learn from our differences. the blogger bond is one like no other.
hope you enjoyed reading how i stumbled upon this community. i would LOVE to hear your story.
Q~
1. how did you discover food/fitness/healthy blogs? how long have you been reading food/fitness/healthy blogs?
2. if you have a blog, what made you start one? if you don't, have you ever had the desire to start one?
xo. janetha g.
******************************
i promise i am not a moron. i keep forgetting to announce the izze giveaway winners! here they are:
#23: Denise
#100: Tiff @ Love Sweat and Beers
#124: mary @ what's cookin with mary
i have emailed all of the winners. congrats!