look out, i am cranky. you've been warned!
today wasn't exactly the best. then again, it wasn't exactly the worst, so let's try to be optimistic and just smile that the day is over, mmmkay?

as most of you know, i go to the original pancake house every monday morning for breakfast and a sales meeting. i wake up at 5:30 AM to get to work on time and we usually end up at the pancake house around 7:45—i am super hungry by the time we get there since i have already been up for two hours (and i am one of those people who wakes up with a growling stomach.)
well, this morning boss #1 (i talk about two bosses today) informed me that breakfast was canceled and some insurance folks were coming in to talk to us and we don't need to go to breakfast because.. wait for it.. they are bringing donuts! oh, goodie. cue panic attack: what about me, boss #1?! what about my breakfast? sorry, but donuts for breakfast just doesn't do it for me. and what about my coffee?! i don't make coffee at home on mondays because i know i'll be getting my caffeine fix from the pancake house. OH MY GOSH WHAT AM I GOING TO DO?!
i bailed on the insurance meeting and tried to do some work and not think about the lack of breakfast and coffee in my life.  at 8:39, i couldn't take it anymore and grabbed my purse, car keys and phone and headed out of my office, bee-lining it to the door, exclaiming, "I HAVE TO GET SOME FOOD!"
luckily, boss #1 stopped me and said we could still go to breakfast. phew, crisis averted.
because we showed up at the pancake house a hour later than usual, it was super packed. this meant more waiting—by this time, a hunger headache had set in and i was ridiculously irritable. i usually am fine to go a long time before eating lunch.. but breakfast is a whole other story.
right around nine twenty, about four hours after waking up, i finally got some food, coffee and water. hallelujah.
i love that whenever i decide to take photos of my breakfast at the pancake house, boss #2 requests that i take photos of his food, too. sure boss #2, anything for you.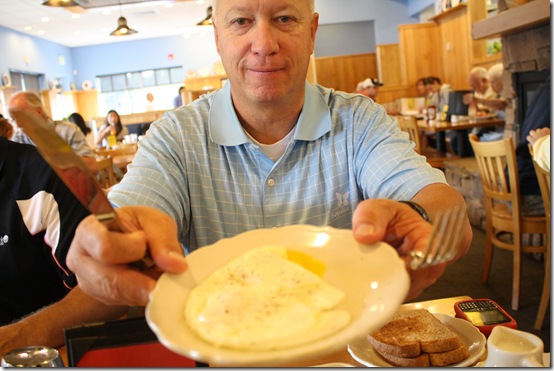 knife and fork in hand, ready to go!
because breakfast was later than usual, i didn't get hungry for lunch until after 2 pm. weird. when i finally decided to eat, i was harassed by co-workers left and right!
one particular co-worker walked in mid-photos and said, "you know, most people eat their food instead of taking pictures of it."
ugh. get out of my life, dude. i am not sure why people feel the need to make snarky comments at my food blogging habits. i have blogged for 2 1/2 years, folks, i'm not stopping any time soon.
anyway—lunch.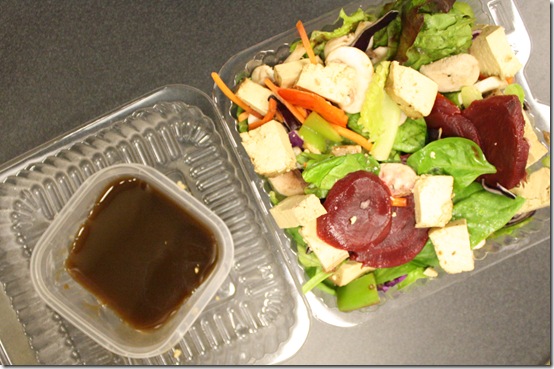 i snagged this salad from harmons yesterday while i was doing my grocery shopping. i topped it with some marinated tofu and called it good. and it was.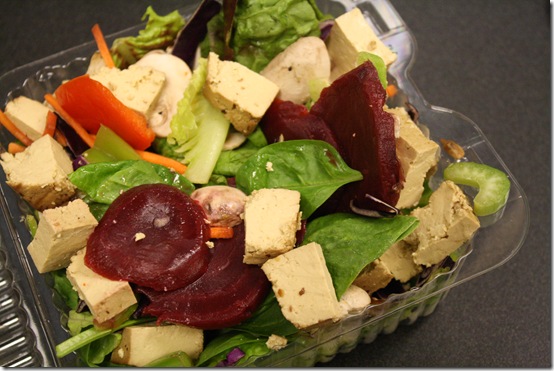 the dressing was TJ's fat free balsamic. FYI.
apparently there were cupcakes downstairs today. i work upstairs, just so you can visualize the situation. anyway—boss #1 comes up to my office and we have a convo:
B#1: "mmm. you have to have a cupcake. megan made them for my birthday."
me: "no thanks, i don't want one. i just ate lunch."
B#1: "they're really good! you have to have one. go get one."
me: "no. don't want one."
B#1: "that's really rude if you don't have a cupcake. plus, they're good! mmmmm! (biting cupcake)"
me: "no, i really don't want one. if i wanted one, i would have one. but i don't want one."
B#1: "you deprive yourself."
me: "no, i don't. i just don't want a flipping cupcake. thanks, though!"
this is what i deal with.. daily. pardon my crankiness—i did warn you, though!
i ended up staying at work past quitting time, but that was pretty much par for the course considering how the day had been going. when i finally made it home, i slammed my noxplode and headed to the gym for a much needed stress reducing workout session.
my lower body workout was pretty excellent. it was, in fact, the highlight of my day. here are the details…
warmup:
100 jumping jacks
100 butt kicks
100 high knees
50 switch kicks
stretch
circuit one (three times through, no rest):
15 straddle jumps on elevated step (5 risers high)
15 lying bridge w/ 20# plate on hips & feet elevated on step
30 russian twists on ball 2/ 10# plate
circuit two (three times through, no rest):
30 (15 each leg, consecutive) bulgarian split squats w/ 10# in each hand
30 (15 each leg, consecutive) donkey kickbacks
15 stability ball hamstring curls
circuit three (three times through, no rest):
30 walking lunges w/ glute kickback holding 10# each hand
30 (15 each leg, consecutive) body weight single leg squats
60 second low plank
30 second right side high plank
30 second left side high plank
calf raises:
15 each leg x 3 sets (body weight)
circuit four (three times through, no rest):
15 barbell stiff legged dead lifts w/ 70#
15 low back reps on hyperextension bench w/ 20# plate
circuit five (three times through, no rest):
30 reverse lunges (alternating legs) w/ 45# barbell on shoulders
30 (15 each side, consecutive) oblique reps on hyperextension bench holding 10# plate
5 minutes cool down stretching
obviously there was rest between circuits as i set up for the next one. this workout took 1 hour 15 minutes start to finish.

marshall and i combined forces to make a quick dinner so we could both sit down and relax ASAP. he made some fabulous garlic burgers and i worked on a couple of side salads and the burger fixings.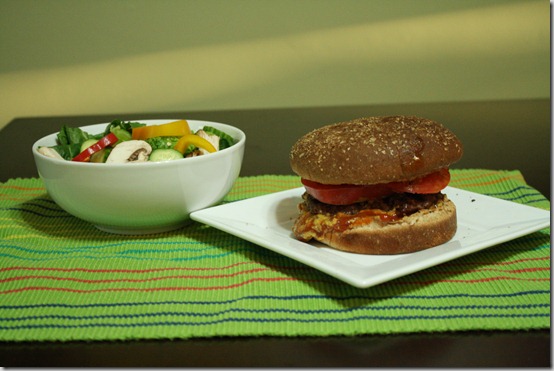 we snagged some locally raised, grass-fed 90% lean ground beef from the farmers market and marshall combined it with minced garlic and seasonings, made a couple of patties and grilled them.  my burger went on a whole wheat bun with stoneground mustard, ketchup, heirloom tomatoes, avocado, salt and pepper.
the salad was romaine, spinach, celery, baby bell peppers, carrots, mushrooms, cucumbers and TJ's raspberry vinaigrette.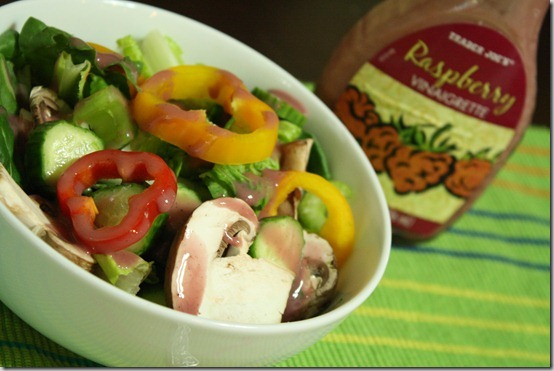 dinner was fantastic.
now i am trying to find a new internet service provider. hoooly crud, that is making me even more cranky! every single provider has horrible consumer reports. i just want good service with no nonsense. apparently that is too much to ask.
i think i am going to go bake. that always helps my bad moods go away.
Qs~
1. how long after you wake up do you eat breakfast?
2. do people nitpick you for what you eat/what you don't eat/taking photos of what you eat/etc? talk about it. let 'er rip.
xo. janetha g.
*********************************
giveaway announcements~
the winner of the pea pack & autographed copy of peas and thank you:
new winner of warrior crunch granola (the original winner never replied):