hola!
glad you guys liked my wordless wednesday post. i thought it would be the easy way out—but would you believe that it took longer to do that post than a regular post with words? chalk it up to my super crappy, slow little laptop. i really need to upgrade.
my post actually brought a few questions to my attention, so i thought i would take a minute and answer them here.
Q: where did you get that brownie pan?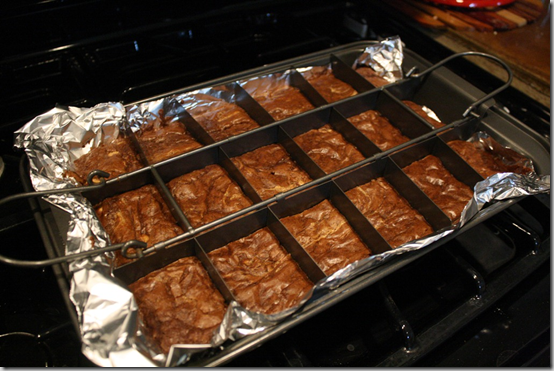 A: from marshall.
marshall gave me this pan as a gift for one occasion or another. i don't remember which one. i ask him where he got it and he said "i dunno". hmm. i consulted google and found out that it is available at many kitchen stores or on amazon. or sixty four other online stores—just google "perfect brownie pan".
i originally asked for it so i could make perfectly portioned, healthy protein bars from scratch. guess how many of those i have made? zero. but i have made about fifteen batches of brownies. it really is the perfect brownie pan!
while we are on the topic of brownies…
Q: what is that brownie recipe?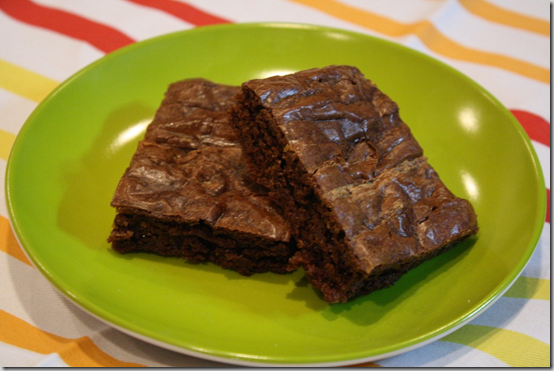 A: these are peanut butter chip one bowl brownies and i got the recipe here.
4 oz baker's unsweetened chocolate (4 squares)
3/4 cup organic butter
2 cups evaporated cane juice
3 cage free organic eggs
1 cup organic all purpose flour
1 cup all natural peanut butter chips
melt chocolate and butter in a bowl in the microwave. stir to combine. add eggs and sugar. mix well. add flour. mix well. fold in chips. pour into greased 9×13 pan and bake at 350 for 30-35 minutes.
these will probably give you a cavity, but they are also the chewiest, most delicious scratch-made brownies i have ever come across. ya win some, ya lose some. i hope you have a good dentist.
Q: wow, janetha, you take a crapload of pills! what are they all?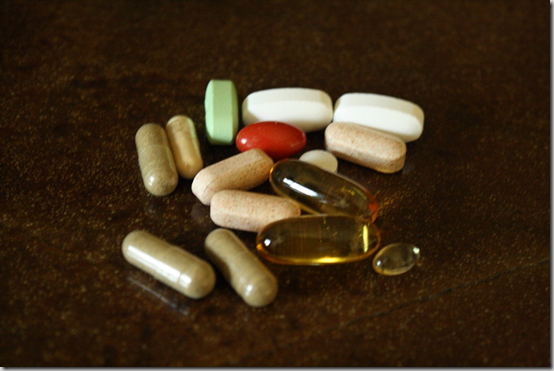 A: the only thing i am consistent with is being inconsistent.
i originally posted about the vitamins and supplements i take in this post. however, i never stick to a single regimen. SO, i will go ahead and rattle off the pills i am currently taking each day.
women's one a day multivitamin
nature made triple flex (for my joints)
ginkgo biloba (for my memory—god knows i need it)
thermoCLA (reduces abdominal fat)
fish oil
vitamin D
focus factor (supports and maintains memory, concentration and focus)
5-HTP (promotes positive mood, helps appetite control)
CoQ10 (for a healthy heart)
roots (supports a healthy colon, kidneys, liver and spleen)
glutamine (supports muscle growth)
ummmm i think that's all of them. i also use some powdered supplements pre- and post-workout. but that's a story for another day (if you are interested.)
Q: can you post the stats/ingredients of those tortillas?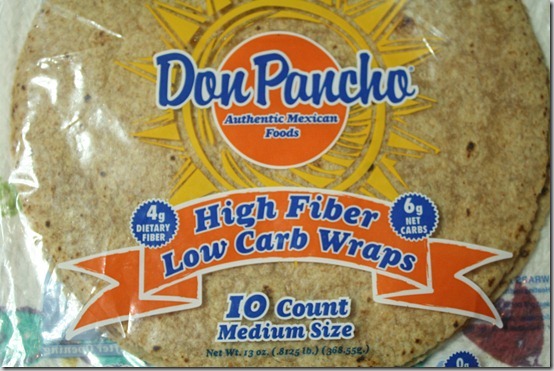 A: yep!
Q: how do you like your vibrams?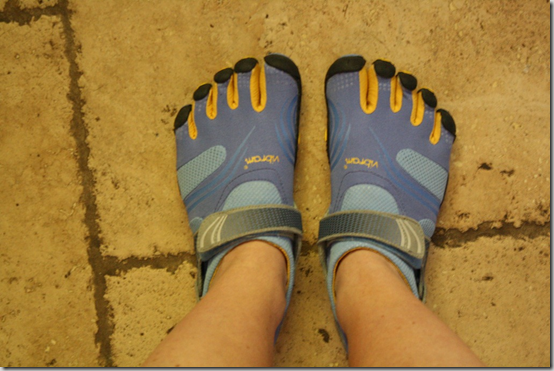 A: I FREAKING LOVE THEM!!!!!!!!!!!!!!!!!!
so, i can totally see why people would wear these hideous shoes everywhere they go. they are SO comfortable. once i have them on, i don't want to take them off! that said–i will never be one of those people who wears these aside from exercising.
these are the ones i got.  they were $85—pricey for something i wasn't sure i would like. however, they were a birthday gift from marshall and since he bought them at REI, i could use them and take them back if i hated them. sold.
everyone told me to ease into them and i would be sore if i over-did it, so i did ease into using them. i have had them since last saturday. here are the workouts i have used them for:
saturday: chest + shoulders, run 1 mile
monday: biceps + triceps, bike to and from gym
tuesday: 20 min HIIT + 10 minute walk on 15% incline (a little over 3 miles total)
wednesday: back + shoulders, walk 1 mile on 15% incline
thursday: lower body workout + walk 10 minutes on 15% incline (.5 mile)
as you can see, i haven't gone balls-to-the-wall with them yet. i did get up to running 10 MPH on saturday and tuesday. with ease, i might add.  so far i love, love, love my vibrams. more than i ever thought i would! i was a total skeptic and now i am completely sold.
i usually get horrible pains in my ankles after running (i had tendonitis in both ankles last year—remember when i was in physical therapy?) and the vibrams have not hurt my ankles whilst running OR afterward. i am actually really surprised, because i am a big over pronator and usually use inserts in my shoes. surprisingly, i have not had a tinge of soreness anywhere from wearing these.
i have not yet run outside with them because i am a baby and it's too damn hot outside to run, but i look forward to seeing how that is. i was initially going to make a list of pros and cons, but all i can think of are pros.
that's the end of my impromptu Q + A! if you ever have any questions you'd like me to answer, please send them my way. i try to answer as quick as possible, i love to ramble, i will give you an honest answer and i am not shy.
*************************
we had paninis for dinner tonight! his and hers style.
his: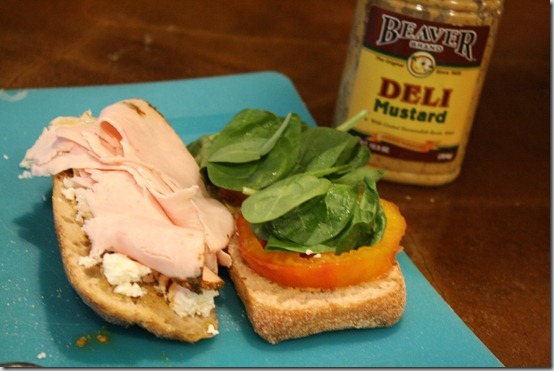 whole wheat bun (turns out they are for more than just brats and rectangle hamburgers), deli mustard, feta cheese, heirloom tomato slices, herbed turkey breast and spinach.
presssssssed.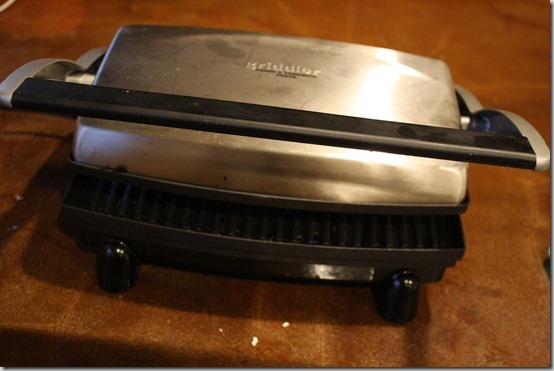 danica got me this panini press once upon a birthday. i love it!
finished product: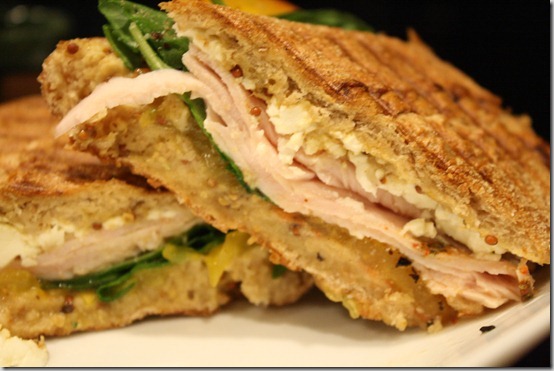 we had some tomato soup with the paninis.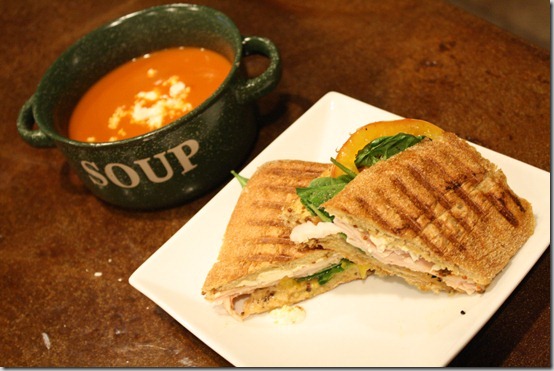 totally went the easy route with the boxed soup. what?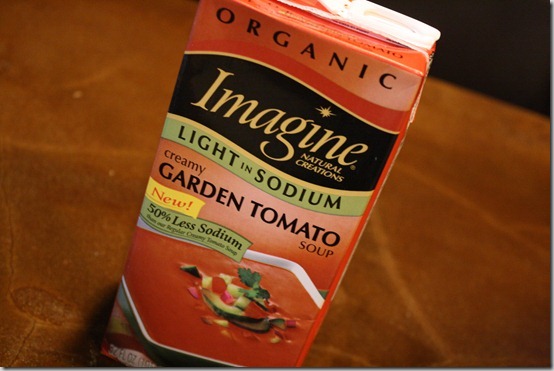 and hers: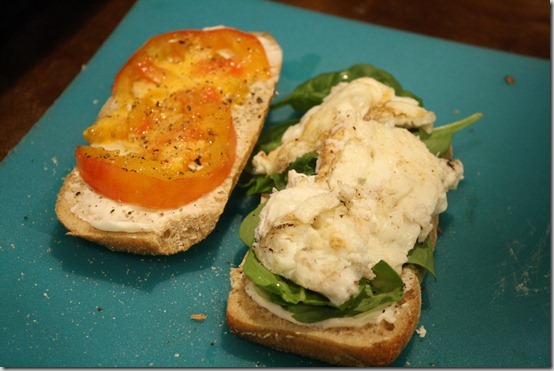 i wasn't in the mood for turkey, so i  cooked a few egg whites in a cast iron skillet then laid them atop a whole wheat bun slathered in laughing cow cheese with spinach, heirloom tomato slices, salt and pepper.
egg white paninis are the jam.
it is safe to say that any kind of paninis are the jam. the pressing will really take any sandwich up a notch.  the result is a warm, soft, melty inside and a crisp outside. perfect.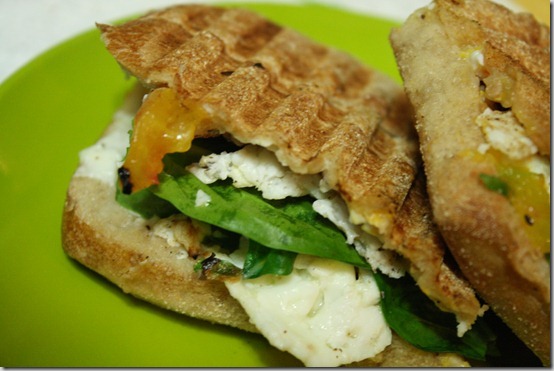 remind me that i really liked this dinner the next time i complain about not knowing what to make for dinner! it was so easy and so tasty.
in other news, i have a sty in my eye.
the internet told me they are either caused by stress or by picking your nose then rubbing your eye.
i guess i must be stressed.
Qs~
1.  what is (one of) your go-to quick & easy dinner?
2. what do you think of vibrams? if you have tried them—how do you like them? if not, would you want to?
xo. janetha g.