as you know, we are just days away from the great fundraising act. it is set for monday, july 25th and will run from 8 AM – 11 PM EST. there are nearly 200 items up for auction!

this is all to raise money for my dear friend, susan, who is 25 years old and battling hodgkin's lymphoma.  she just experienced her first round of chemotherapy.  susan recently discovered that her out of pocket medical bills will be $5,000 each month. FIVE THOUSAND EACH MONTH?!  raising this money for susan is going to help her a whole lot. i am so grateful for all of you who are making this fundraiser possible!
there are SO many donations! not only from awesome companies, but from fellow bloggers (and non bloggers!)here are a few links to some posts where bloggers show what they have contributed to the auction:
also, danica has taken the time to compile a post of almost all the items up for bid in this post. check it out!
guess what? i have a special guest poster for you guys today! a fellow blogger reached out to me and let me know that SHE experienced her own battle with hodgkin's lymphoma at the age of 25, just like susan. i asked her to share her story with all of us so we can all learn a little more about what exactly we are all joining together to raise money for.
here's sarah.
****************************
My world changed forever at the age of 25.
Hi! My name is Sarah and I write a little blog, Sarah L.J.: Loving Life in Iowa.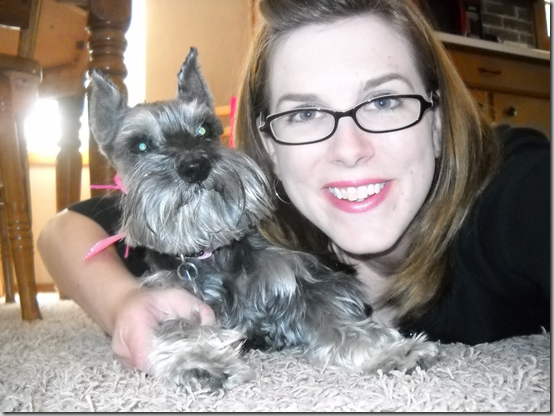 I love reading healthy living blogs and one that I read regularly is Janetha's blog. Recently, Janetha posted a link to her friend Susan's blog, The Great Balancing Act.
Susan had just been diagnosed with Hodgkin's Lymphoma and I immediately felt a connection to her thousands of miles away in Iowa. You see, I was the same age as Susan (25) when I was diagnosed with Hodgkin's Lymphoma Stage 2A.  I had always been a relatively healthy person, I had my first "real" job at a small town newspaper, I shared an apartment with a great friend, and I had been dating my boyfriend Matthew for 7 months when things began to change.
For about a year and a half prior to my diagnosis, I suffered from vertigo.  I always felt like I was moving, even while sitting down, and just taking a simple walk was hard to do. Then I began to feel a lump in my neck that I could wiggle around.  That did not seem normal to me, yet every time I went to the doctor all my blood tests came back great.  I was not gaining or losing weight and my energy was about normal.  Finally I went back to my doctor and I told her that I was not the same person anymore, because I was fearful to even go to Target or the grocery store, because the vertigo was getting so bad and the lump in my neck was growing.  So, she sent me to a surgeon the very next day and that's when my world changed forever.
I went in for a biopsy and woke up with an incision on the left side of my neck where a lymph node was removed and two incisions in my lower back where a bone marrow biopsy had occurred.  Luckily, I did not have cancer in my bones, but I did test positive for Hodgkin's Lyphoma Stage 2A.  The "A" diagnosis was because I had no real symptoms of lymphoma, and my vertigo was not found on the symptom list.   I had a large mass in my chest and on the left side of my neck. I went back in for surgery a week later to have a port installed, and I was supposed to begin chemotherapy treatments.  However, my mom and I had just booked nonrefundable plane tickets to visit my great aunts in California.  So my doctor reluctantly let us go on vacation and start chemo in two weeks.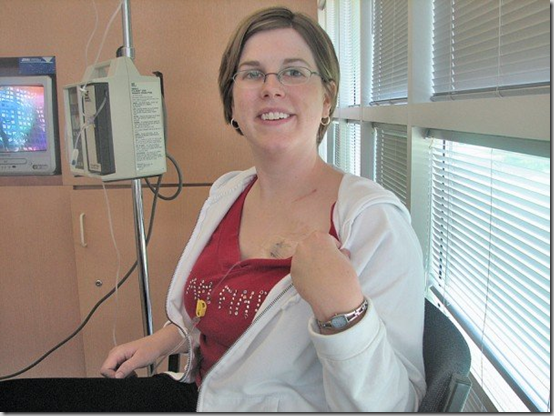 I had 12 chemo treatments that were on a Friday every other week. The treatments lasted for 4-6 hours depending on how busy the chemo room was and how well I felt. I had tons of friends and family come sit with me while I received treatments at the local cancer center.  My mom came to almost all of my treatments and she had a notebook where she wrote down every single drug I received (I got the ABVD just like Susan is) and how long it took to administer and which nurse I had for the day.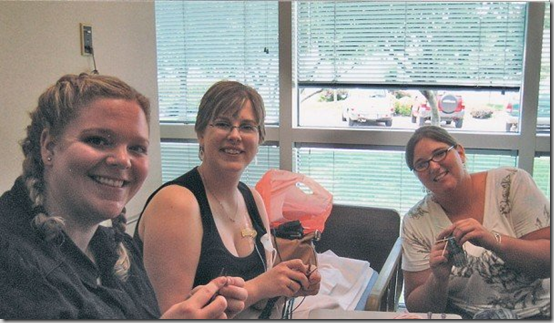 Throughout the treatments the hardest part was getting the question, "How are you doing?" It was usually said in some sad but nosey voice and I grew tired of being nice and began to snap at people. "I'm fine," became my go-to reply.  So, one of my best friends Emily decided to bedazzle a shirt for me with "I'M FINE" on it.  I soon began to wear that to all my chemo appointments and could just point at the shirt when someone asked how I was.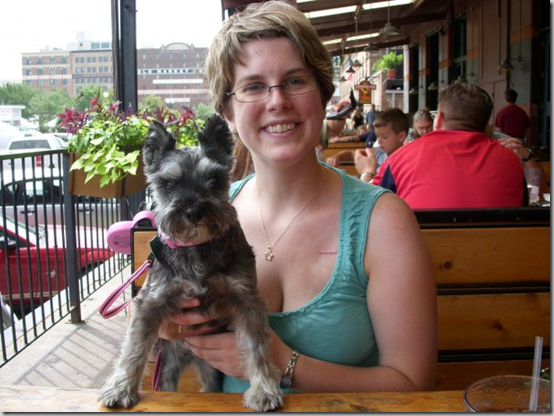 During my chemo treatments I lost my hair, my eyelashes, eyebrows and leg hair. It was great not having to shave my legs for the first time in years, but I began to long to be treated normal again. I wore a wig, still went to work even on days when I thought I'd drop from exhaustion, and continued to date my new boyfriend.  People don't realize that people with cancer don't always act like they are sick.  It's not the same symptoms as the common cold.  I could still function, except on the every other Friday when I received treatment.  I was also lucky to never get sick from a treatment, but I did become lactose intolerant and never wanted to see another turkey sandwich again.  Carbs became my friend and I ate pasta like it was going out of style.
On New Year's Eve 2007, as my boyfriend and I were driving to Omaha, I received a phone call from my doctor.  The results of my PET scan were in and there were no signs of cancer!  I had surgery a week later to have my port removed, and my doctor put me on a schedule of check-ups that include CT scans, blood work, chest x-rays, and PET scans.
I have been cancer free for 3 years and almost 8 months.  I have to get to the 5 year mark before I am truly in the clear, but Hodgkin's Lymphoma does have a "cure" and I hope to achieve that on New Year's Eve 2012.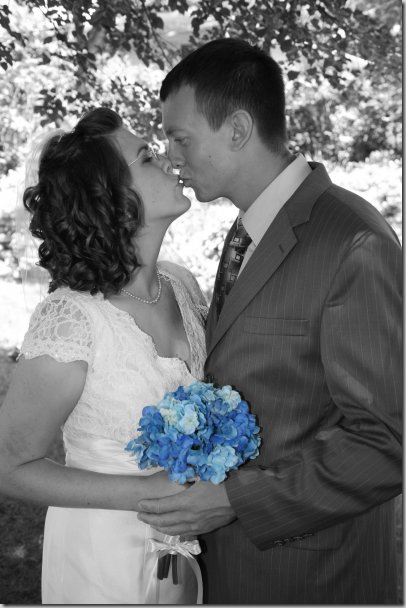 In the meantime, I've managed to stay somewhat normal.  My boyfriend, who stood by me during some pretty hard times, and I got married two years ago.  We bought a house, are raising our 12-year old mini Schnauzer, and I got a new job.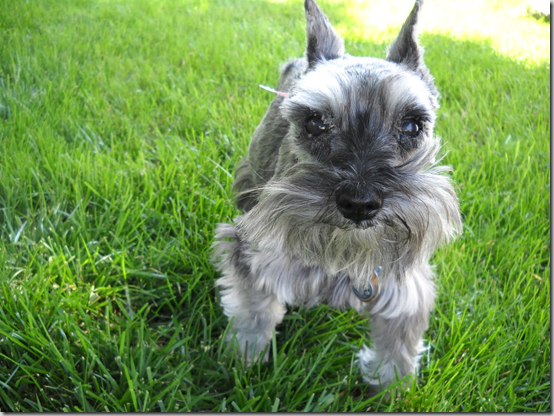 I also made a great cancer friend who also had Hodgkin's Lymphoma. We have started a Young at Heart Cancer Support Group that meets monthly at the cancer center where we received our treatments.  I also got involved with the Race for Hope committee that raises money for the local cancer center.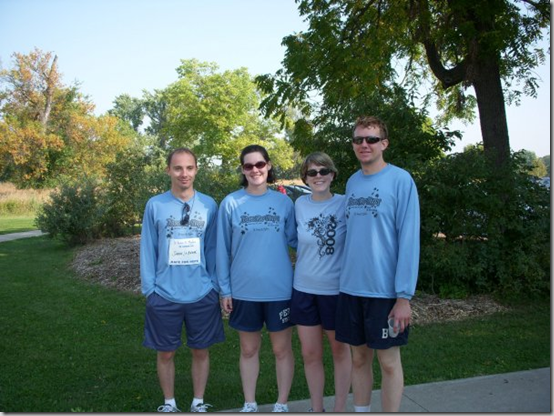 While I am not glad I got cancer, I know it has opened many doors for me.  I am hoping this will be the case for Susan, too.  Cancer has taught me be present in my life and go after what I want.  It has also taught me that life can be short and relationships with loved ones are truly what help people get through the good and bad times. There is still a long ways to go to find a cure for all cancers, but I hope someday other forms of cancer will have a "cure" like Hodgkin's Lymphoma.
Be sure to stop by Janetha's blog on July 25 (my two-year wedding anniversary!) to support Susan and The Great Fundraising Act!