i don't have a big family. i know, i know.. that isn't the norm for people in utah. the majority of my friends have at least 20 cousins (if not 50).  guess what? i have a grand total of seven cousins—that is combined.  i have two on my mom's side and five on my dad's side.
when i was a kid, i was always envious of my friends who had huge family reunions with hundreds of people and lots of games like three legged races, croquet and horseshoes.  i have no idea where my envy came from,  because looking back, i really don't mind that i didn't have giant family reunions.  i actually really prefer my little fam.
the sad thing is that the few cousins i do have, i never really see.  most live far from me and we never have family functions outside of the usual immediate family get togethers at my parents' house.  i didn't see much of my cousins growing up, either. the visits are always few and far between!
my cousin, emily, was in town tonight. she's my mom's brother's daughter. do you copy? good.  emily grew up in washington state (where momma b is from) and so we rarely hung out. but i always really looked up to her. i LOVED to visit washington so we could hang out. ohh and i even got to wear a special dress in her wedding when i was a kid. she's amazing. 
tonight, emily came over to my parents' house with her husband and three of her five cute kiddos.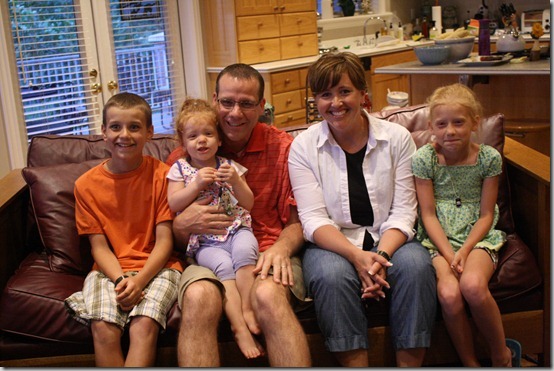 aren't they cute?!
the crazy thing is that there were a lot of first-time introductions.  i had not met all of her children and they had not met marshall or my siblings' spouses.  although there were so many first-time introductions, it felt as though everyone had always known each other.  that is the great thing about family.. you just feel comfortable no matter what. 
momma b prepared an awesome dinner for everyone.
burgers, hot dogs, a massive bowl of fruit, scratch made potato salad and corn. lots of corn.
i used to be such a carb snob and insist that i could only have an equal carb to protein ratio with each meal.  that was when i was doing body for life and in weight loss mode. this meant if i was having a burger (protein), then i could have one carb—either a bun, some fruit or an ear of corn.  now days? i am maintaining and i went with all three.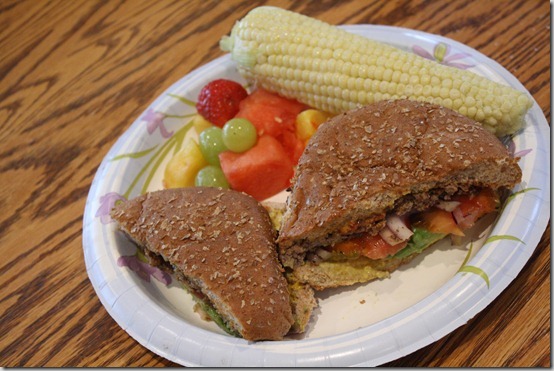 although i did have a bit of self control and skipped the mayo-laden potato salad. i LOVE mayonnaise and when people are disgusted by it i tend to get a little confused. it's good.  for my taste buds, that is. not so much for my waistline. i save the potato salad for free meals.  (although i will admit, a skiff of light mayo did go on the burger.)
i typically skip dessert at these get togethers—only because it is usually something i am not wild about and i don't feel like i am missing out. unless, of course, the dessert is the best stuff on the planet…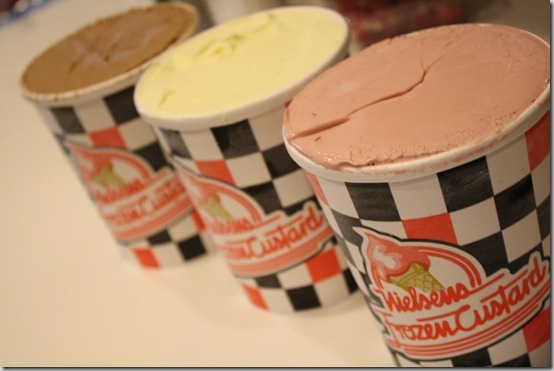 nielsen's frozen custard is better than any ice cream, frozen yogurt or gelato i have ever tasted. trust me, i have tasted A LOT of ice cream, frozen yogurt and gelato!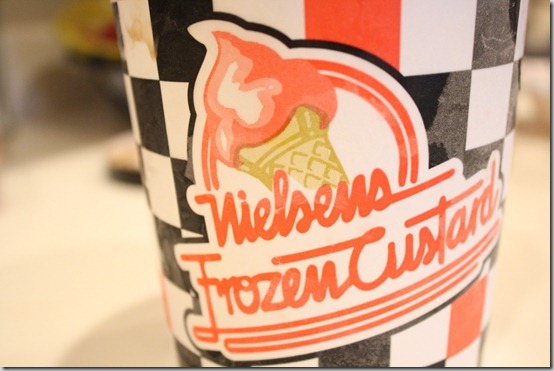 if you live in or visit utah, please make sure you snag some nielsen's frozen custard. it's cool, creamy and the most delicious stuff you will taste. promise.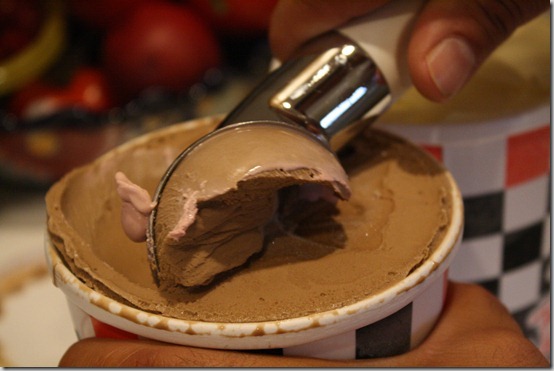 i had a bit of chocolate and a bit of raspberry. the other flavor was lemon, which i did snag a bite of, but chose to go with two of my favorites.  it's probably good momma b didn't get vanilla, though. once i start eating the vanilla custard, i really can't stop.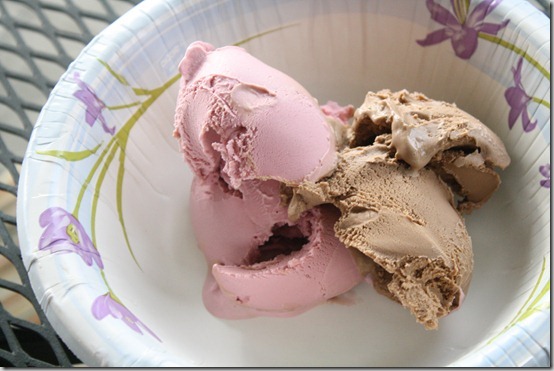 yum.
it was great to catch up with my cousin and her family, albeit brief, no matter how much time passes between seeing her, i still feel close as ever. and em, i know you're reading this—it was SO good to see you and your fam!
i am keeping this post short tonight because i have a project i am working on. i will tell you all about it tomorrow.
in the meantime, could everyone please do me a HUGE favor? my friend eden is in the running for a recipe contest. she is one of four finalists. the grand prize is $1,000!  if she wins, eden has generously pledged the full $1,000 to go directly toward susan's cancer fund.. medical bills are pricey!
please take a moment to vote for eden's recipe: indonesian pork baguette (on the far right). you can vote as many times as you want—you just have to close the window and go back in. please vote, vote, vote and spread the word!
thanks!
Qs~
1. how many cousins do you have? are you close with them?
2. mayo: love or hate?
xo. janetha g.