last night, marshall and i went to a cooking class at sur la table.
the class was all about grilling—both indoor and outdoor—focusing on steak.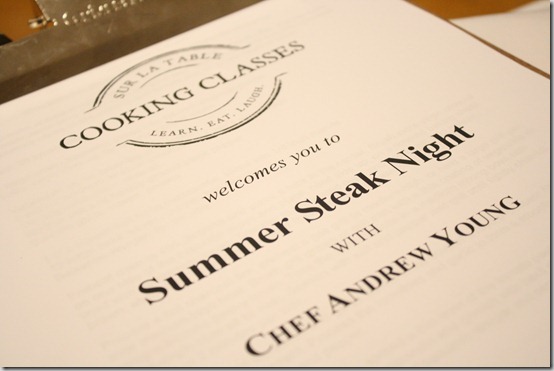 i had been to a cooking class once before (it was a thai class) but this was marshall's first time. yep, i took his cooking class virginity.
we started out by breaking into four groups of four and then manned our stations. the first thing on the menu was bruschetta using grilled tomatoes.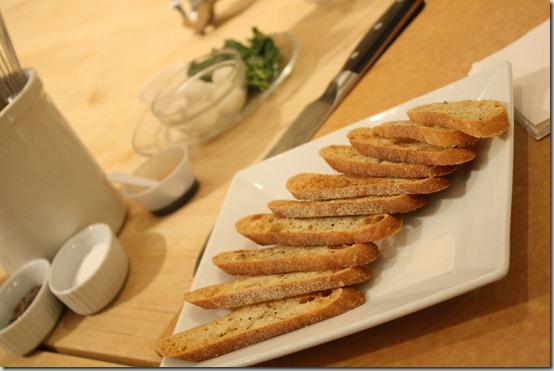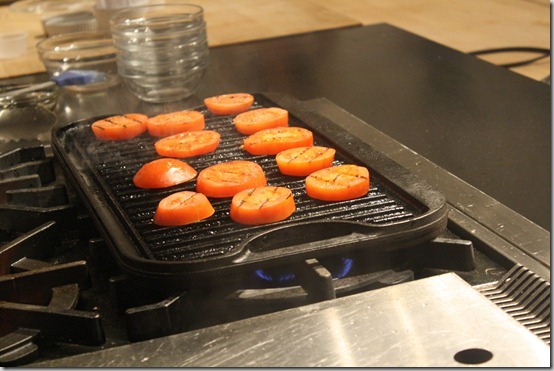 we used the indoor grill pan for the tomatoes. one thing i learned is that if you are using an indoor grill, you should put the oil directly on the grill, not the item you are grilling.. and vice versa for an outdoor grill.  also, if you are using an indoor grill pan, it's best to use vegetable or canola oil since it tolerates higher temps.
once the tomatoes were grilled, we used an immersion blender to mix the tomatoes with minced garlic, salt and pepper. that's all it took to make the topping—pretty simple. the tomatoes were then layered atop crostinis along with some fresh mozzarella, chopped basil and a splash of balsamic vinegar.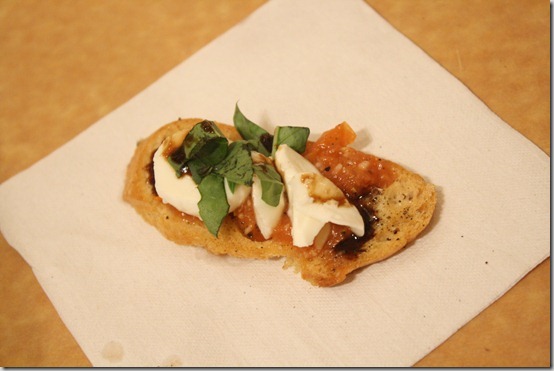 after the appetizer, we got to work on the smashed potatoes.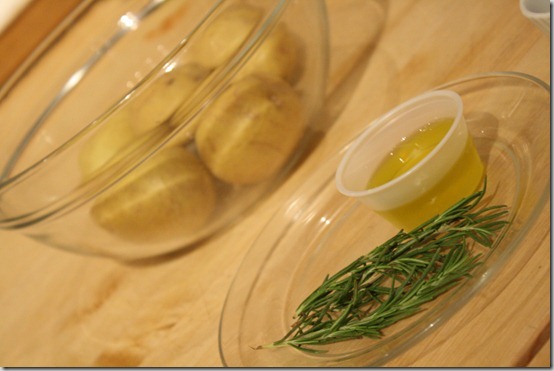 we diced some yukon gold potatoes into quarters and tossed them with olive oil, salt and pepper and a sprig of rosemary—kept whole.  we laid them out onto a sheet pan and popped them into a 425 degree oven. we also tossed a head of garlic in the oven to roast alongside the potatoes.
the potatoes were to be dressed in a garlic parmesan vinaigrette, so we got to work on that.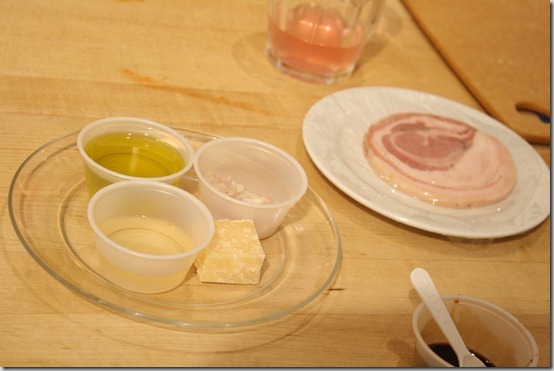 for the vinaigrette, we combined two parts olive oil to one part white balsamic vinegar along with a tablespoon of minced shallots.  once that was whisked well, we grated a nice hunk of parmesan into the vinaigrette and seasoned with a touch of salt and pepper.
the potatoes also called for a bit of pancetta, so marshall worked on that. he diced it and cooked it in a pan.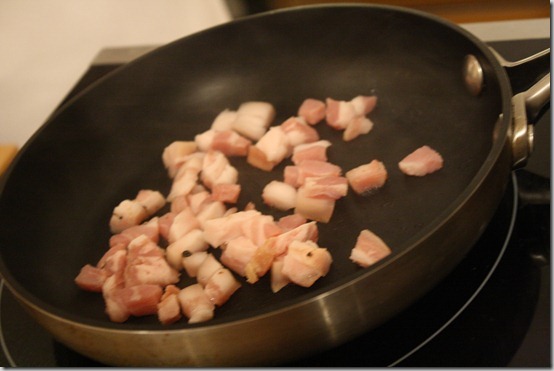 the prep work for the potatoes was done, so we moved onto the gorgonzola walnut compound butter that would be served with the steaks.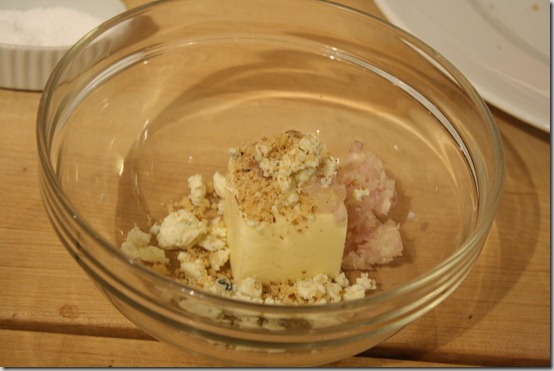 the compound butter was a mixture of unsalted butter, gorgonzola, chopped toasted walnuts, minced shallots, salt and pepper.  this was a great way to take regular old butter up a notch. the possibilities are really endless when it comes to compound butter—you could add various soft cheeses (hello, goat cheese), dried or fresh fruit bits, herbs, various nuts.. you name it.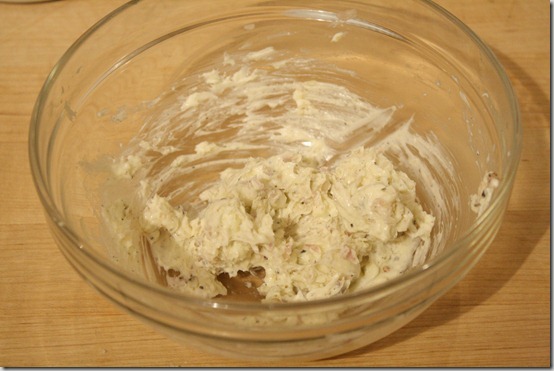 the butter went into the fridge and then it was time to prep the dessert.
first we processed premade shortbread cookies in the food processor and combined the crumbs with a bit of sugar and butter—basically like a graham cracker crust with shortbread instead. we pressed the mixture into small baking pans and popped them into a 350 degree oven.
next up, we prepped the strawberry sauce.  i was the instructor's handy helper.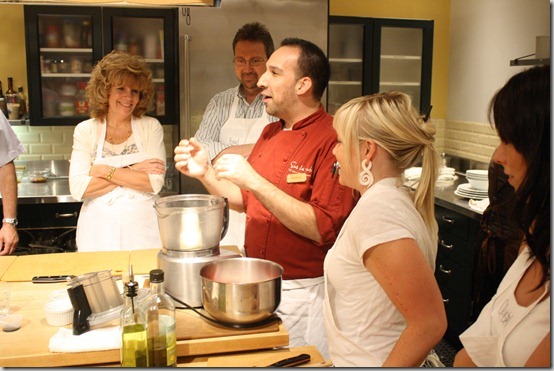 the strawberry sauce contained strawberries, sugar, orange juice and lemon juice—all combined in the food processor. more on the dessert later!
we went outside to learn more about grilling and, of course, to grill the ribeye steaks.
we let the men prep the steaks. olive oil and a little salt and pepper was all it took.
and then onto the grill they went! first direct heat, then indirect.
while the steaks grilled, our instructor gave us a ton of grilling tips for all different kinds of meat and  vegetables. he was really informative! did you know that you shouldn't use the grill lid when grilling over direct heat? marshall and i always use the lid.. well, not anymore! he also gave us great tips on how to grill fish—we have always used aluminum foil for grilling fish. never again.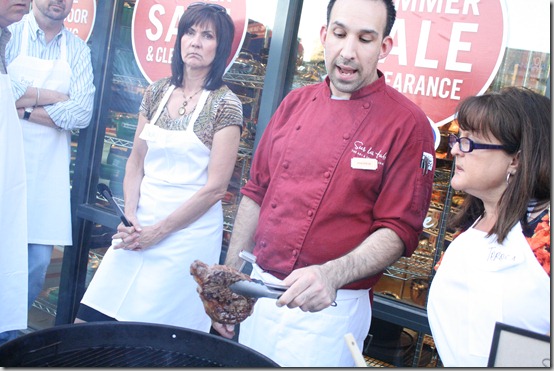 after grilling 101, we checked the steaks to see how they were.  sur la table sells these cute "steak buttons" that tell you how done your meat is.. yes, it's just a glorified meat thermometer, but i am a sucker for cute things.
most everyone in the class preferred their steaks to be medium. after only a few moments over the indirect heat, we tested the steaks and they were good to go.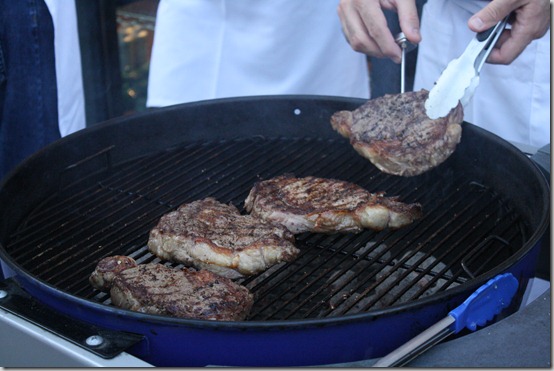 we took the steaks back inside and finished preparing the meal.
we smashed the roasted potatoes with the pancetta, roasted garlic and parmesan vinaigrette.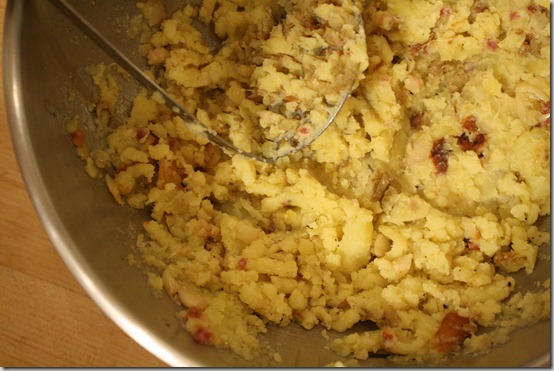 while one group was smashing the potatoes, the other group combined some pre-made strawberry ice cream with the baked shortbread crumble we had made earlier during the prep work.
our instructor sliced the steak..
and then it was time to eat!
this whole meal was delicious. i typically don't eat a pad of butter on top of my steak, but the gorgonzola and walnuts we had  mixed into the butter really took it up a notch.  the cold compound butter melted over the hot steak to create a nice, savory sauce.
no dinner is complete without dessert.  we took the strawberry sauce that we'd made earlier out of the fridge and topped it onto the shortbread infused strawberry ice cream. a small strawberry segment for garnish, and dessert was served.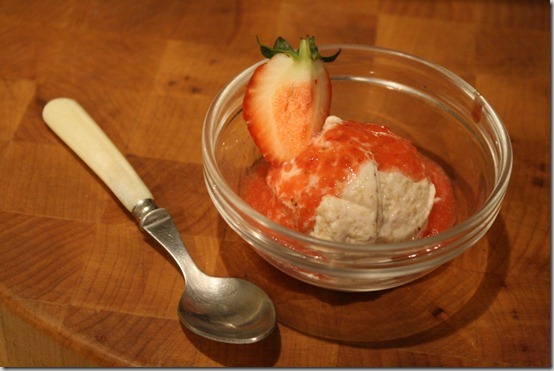 i was really amazed at how the strawberry ice cream was really transformed just with the simple addition of shortbread crumble. the texture and flavor were fabulous–I need to start mixing things into my ice cream more often. the strawberry sauce was a nice touch.  the citrus juices we added to the fresh strawberries made for a perfect balance and the sauce really complemented the shortbread infused strawberry ice cream.
it was a lot of fun to cook the whole meal with marshall and then enjoy our creations at the end of the night.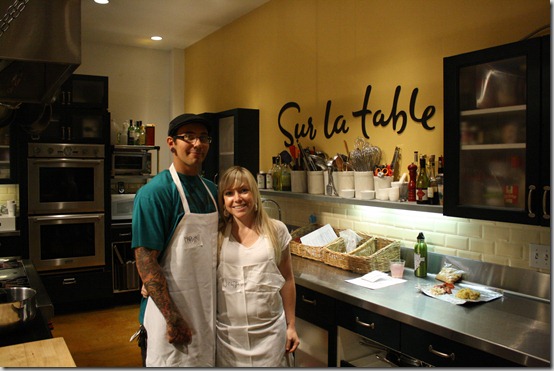 all in all, i would say this class was awesome. we learned a lot and already can't wait to put our new knowledge to work.. i think we will be having steak again for dinner tomorrow! i am sure we will go back to sur la table for another class sometime in the future.. although probably not soon since the classes are a bit pricey.
Qs~
1. have you ever taken a cooking class? tell me about it.
2, if you were to take a cooking class, what type class would you want to take? what would you like to see on the menu?
xo. janetha g.