if you know me even a tiny bit, you know that vanilla bean ice cream is my favorite food and peaches are my favorite fruit.  when the two are paired together, it's like heaven on earth.
i love this combo so much, in fact, that i chose to serve vanilla bean ice cream with diced peaches as the dessert at my wedding.  sure, there was wedding cake, but to me.. it's all about the ice cream!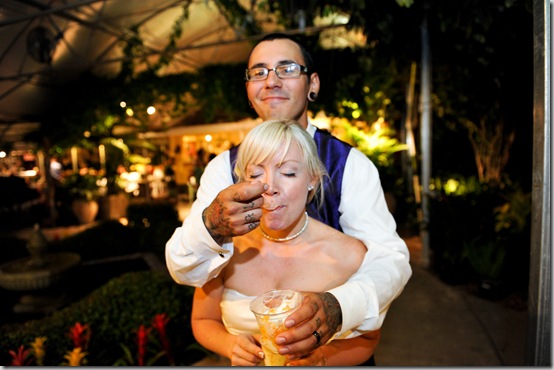 yum.
after our wedding (it's almost been a year!) we had a whole bunch of ice cream and peaches left over.. and hardly any cake. i guess some people don't have their priorities straight and don't realize that it is all about the ice cream. psh.
we divvied out the 3 gallon drums of vanilla bean ice cream to various family members.. but after all was said and done, marshall and i ended up with quite a bit of ice cream and a few bags of diced peaches.
what do you think we did? what any rational couple would do. we made peach milkshakes each and every night until the ice cream was gone.
here it is.. almost peach season. (oh, and for the record, it is always ice cream season).  marshall and i were talking about our peach milkshake addiction the other night. he told me, "babe.. i don't think we can drink peach milkshakes every night this summer. we have been working too hard."
he's right. we have both been working really hard at eating healthy and working out regularly. i suppose a peach milkshake every single night would be a tad detrimental to our progress.  but i just LOVE peaches so much. i had to find a healthy alternative to get my peachy frozen fix.
and then.. in the night.. it came to me. yes, i dream about dessert. don't you?
yogurt! chobani! ice cream maker! peaches!
before i knew it, my new summer addiction was born.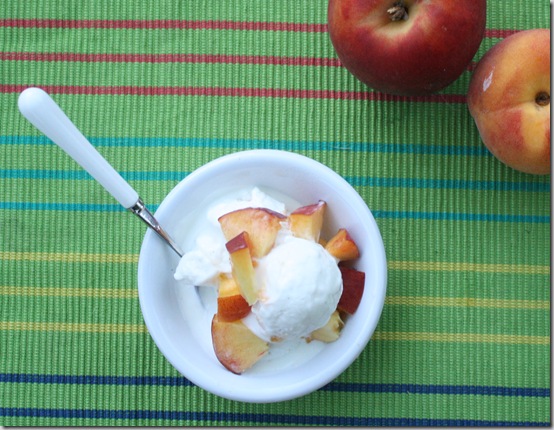 peachy keen vanilla bean fro CHO.
makes four servings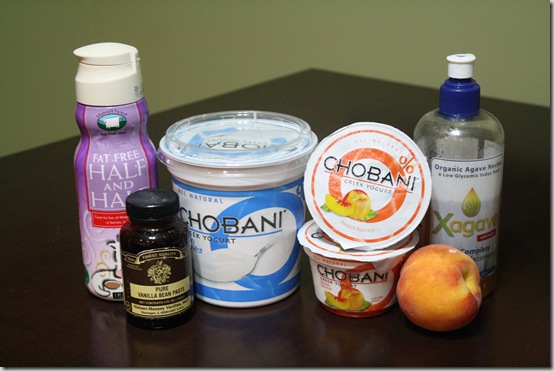 ingredients:
2 (6 oz) containers of peach chobani greek yogurt
1 cup (8 oz) plain 0% chobani greek yogurt
1/2 cup (4 oz) fat free half & half (or other milk of choice)
1 T agave (or other sweetener of choice)
1 t vanilla bean paste (can sub 1 vanilla bean or 1 t pure vanilla extract)
1 fresh peach, diced (for garnish)
directions:
in a small bowl, combine peach and plain yogurts.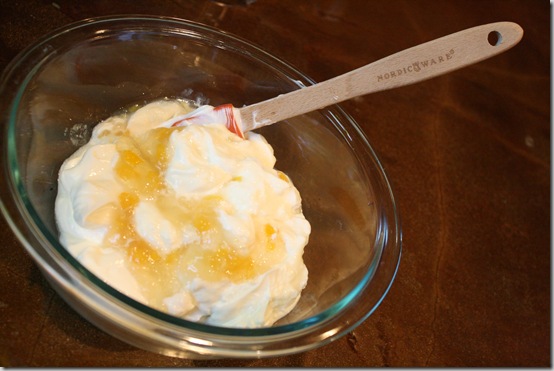 add half & half, agave and vanilla bean paste.
mix well.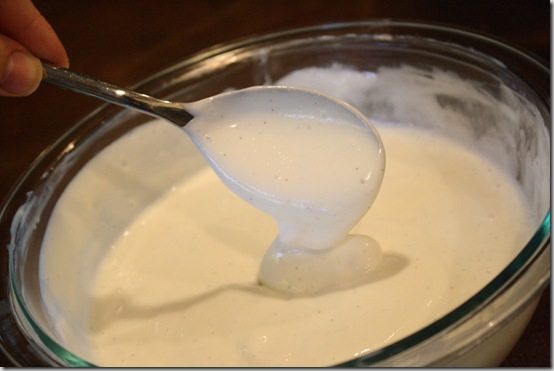 pour mixture into an ice cream maker.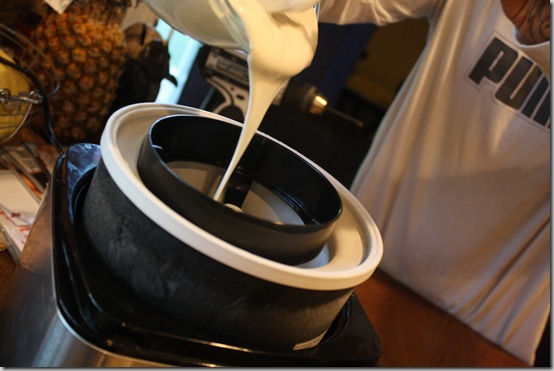 turn the ice cream maker on and let run for about 20 minutes or until frozen yogurt is firm.
divide into four equal servings and garnish with a quarter of the fresh peach slices.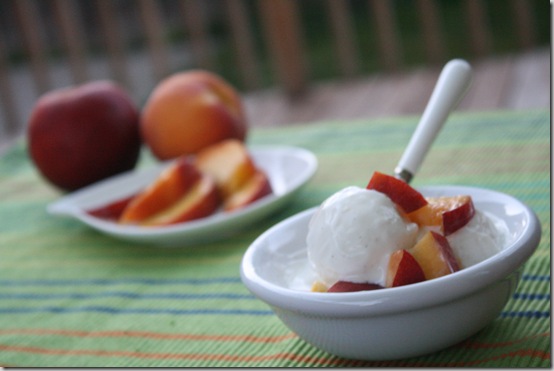 vanilla bean specks get me every time.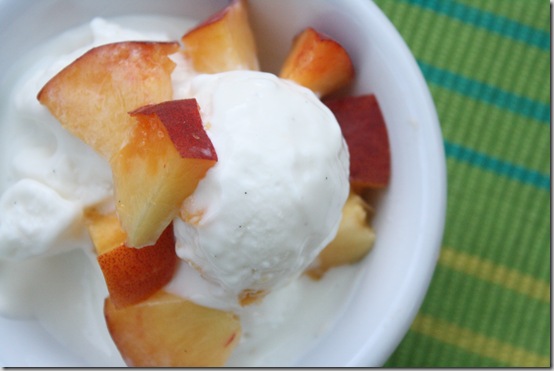 freeze any leftover fro CHO you may have.  word on the street is if you add a splash of vodka to homemade ice cream and frozen yogurt, it freezes better. i personally would not know.
nutrition information per serving (one fourth of recipe):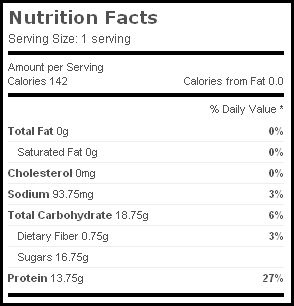 love the protein content! you can thank chobani for that one.
pie chart break down.. it's fat free and fabulous: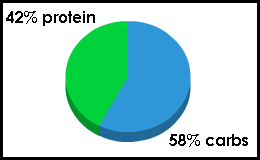 this is a summer treat that i could get used to.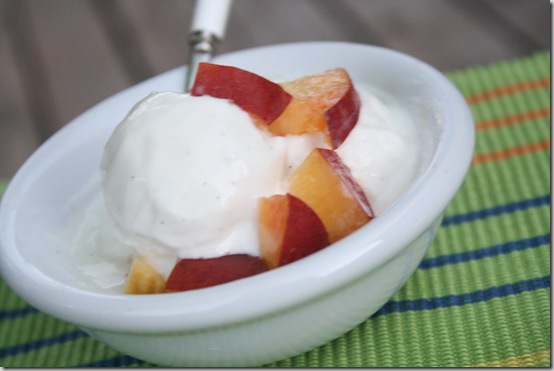 ~~~~~~~~~~~~~~~~~~~~~~~~~~~~~~~~~~~~~~~
now for the fun! you all know i adore chobani.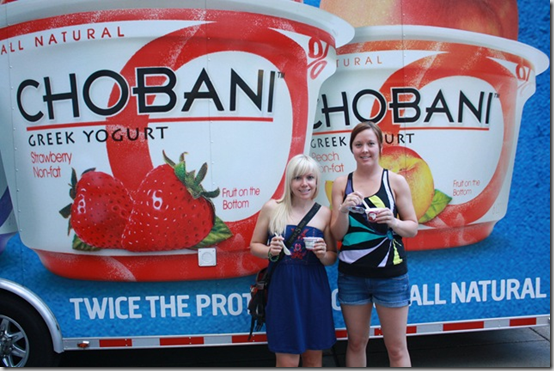 i talk about them more than a teenage girl talks about her high school crush. what can i say? it's good yogurt. not only that, it's a solid company with awesome folks (or should i say CHOlks?) behind it.
their slogan is "nothing but good" and i can honestly say they live by these words. NOTHING. BUT. GOOD.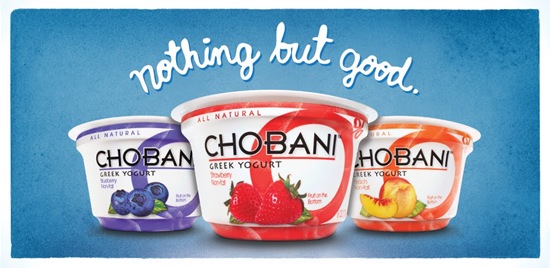 i was so happy to finally meet emily over the weekend—one of the lovely ladies behind chobani.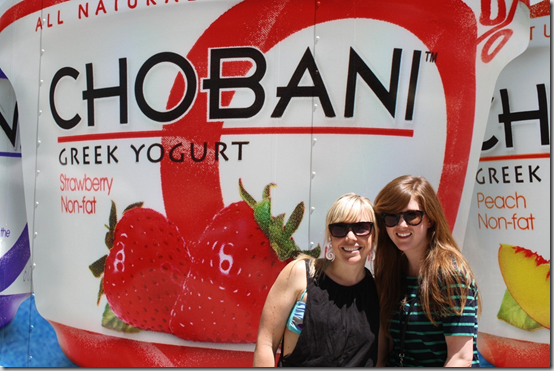 we go through a lot of chobani at our house. not only is it delicious, but marshall swears chobani has helped with his tum troubles. that's why i buy 43 containers at a time..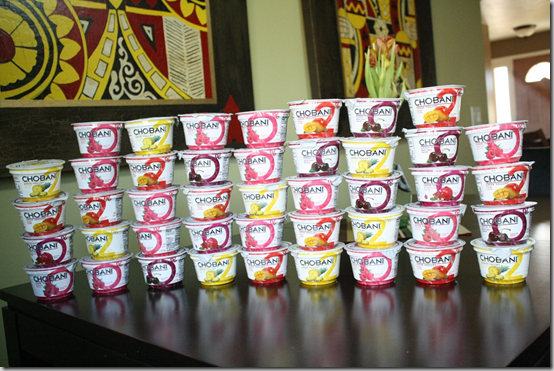 chobani is all natural, packed with protein and comes in sixteen different flavors! it's hard to pick a favorite. i can't. i won't.
but you may have to.
TWO lucky winners will receive a custom case of chobani.  yep, you pick your flavors. lucky.
the reason for this special giveaway? well, this week, i have been picked to be chobani's featured blogger! i feel like the most popular kid in class. check out chobani's site for great recipes using their yogurt, past featured bloggers and other snippets about the many adventures of chobani. you will also find useful information like this handy conversion chart: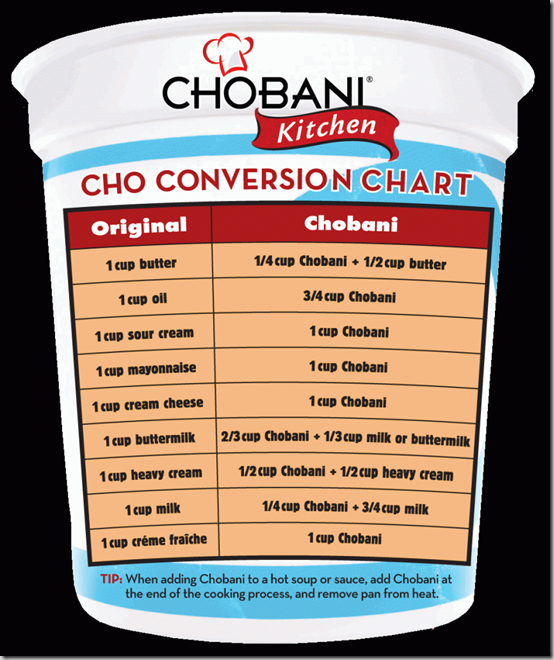 the ways to use this stuff are endless.
onto the giveaway details..
three different ways to enter:
leave a comment telling me ALL ABOUT the last time you ate yogurt. was it straight up? was it in a recipe? did you have toppings? yes, i am dead serious. i want to know.
"like" chobani on facebook and post on their wall, telling them meals & moves sent you. leave a comment below telling me you did.
follow chobani on twitter and send them a friendly tweet saying @janeeetha sent you. leave a comment below telling me you did.
two winners will be picked at random. you have until tuesday, july 5th at 8:47 P.M. MST to enter. because 8:47 is a great time. oh, and this giveaway is for USA friends only, FYI.
good luck!
xo. janetha g.