these days, i kind of feel like every monday is a "back on track" day for me. i am diligent with healthy eating and exercise monday through friday, then on the weekends i let go.  not crazy let go.. but i eat fun, delicious food that i wouldn't necessarily eat every day and i am lucky to get a legit workout in.
i am not too worried about this lifestyle. it breaks down to 71.42857% of the week being "on track" and the other 28.57143% a bit more lenient and relaxed. what? too exact for you? i like numbers. you're lucky i kept it to hundred thousandth decimal place.
anyway, numbers aside, the majority of my time is spent eating healthy meals and making sure to get a workout in each day.  it's not like the days where i am "on track" are miserable, though, because even my healthy meals are delicious and exercise endorphins are always nice.  but on the weekends, i just like to not sweat breaking a sweat and eat fun things like ice cream and waffles (among other things.)
what i am saying is this: i don't feel bad about letting a little loose on the weekends. having a good time is essential to mental health. if a strict, rigid diet and workout plan is keeping you from going to a social event that you REALLY want to go to.. just GO. tomorrow is another day. and just because you veer a little off course doesn't mean you have blown your hard efforts completely. actually, if you don't let yourself live a little and are strict 100% of the time, you are more likely to blow it in the long run because it's so overwhelming to be "on track" 24/7/365.  that's the way i figure, at least.
that said, word to the wise: don't go completely overboard. yes, i "let loose" on the weekends.. but i still am mindful of moderation and know that i didn't work hard for 5 days to undo my work on the weekends. yes, i eat ice cream and waffles.. but i don't eat a gallon of ice cream or 8 waffles (i totally could have, for the record.. so good.)
good talk! now for the meals & moves of monday.

8:30 AM breakfast: 4 eggs whites + spinach + onions + mushrooms & berries + bananas & coffee + skim milk.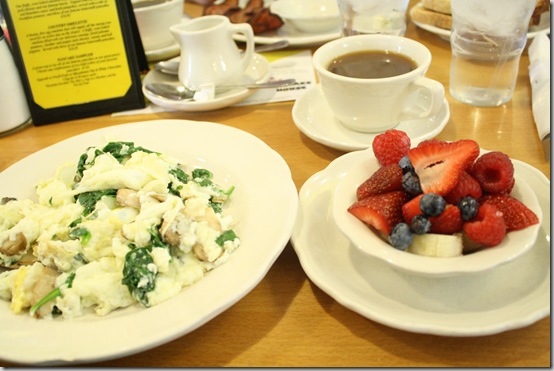 as per usual.. another monday morning sales meeting meal at the original pancake house. it's been SUPER hot outside lately and i just wasn't feeling the usual hot oatmeal, so i went with fresh fruit for my carbs..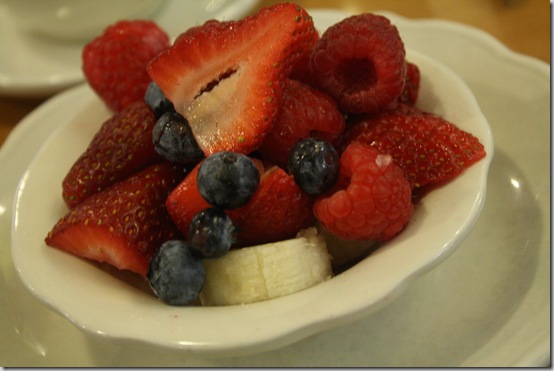 and an egg white scramble for my protein.  this was HUGE and i didn't finish it. i actually asked for two egg whites scrambled and i am thinking it was more like 4.. or 5.. maybe even 6.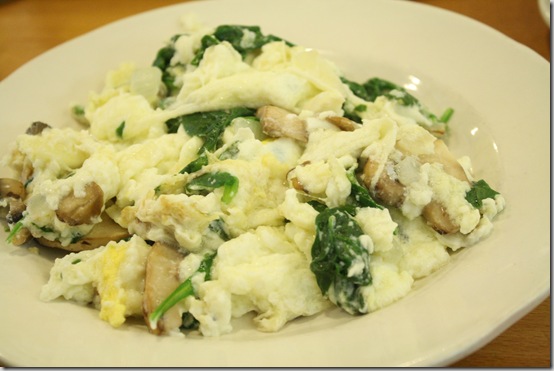 12:45 lunch: tuna sandwich & veggies.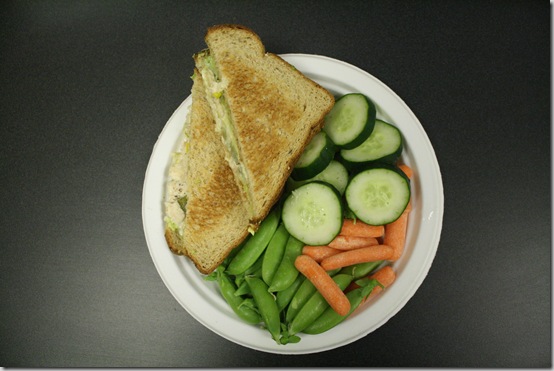 for the tuna, i mixed a pouch of albacore with a little over a tablespoon of fat free plain greek yogurt, two diced dill pickles and a little salt & pepper.  i toasted the bread and layered it with the tuna mix as well as 1/4 of an avocado (straight from california! thanks to my sister marisa for sending them to me for my birthday).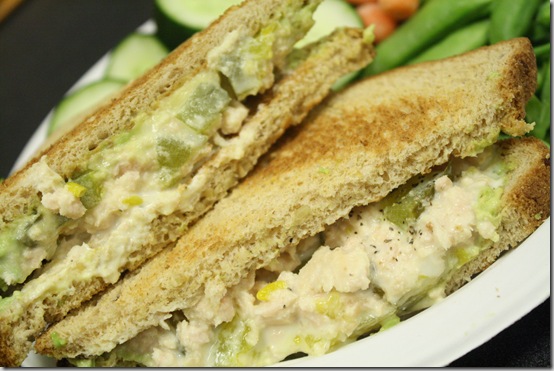 the bread i used was a new-to-me kind that was actually sent to me free for review from orowheat (and i was not paid to eat it, although that would have been nice).  this bread is AMAZING. and nobody is making me say that. it's seriously delicious.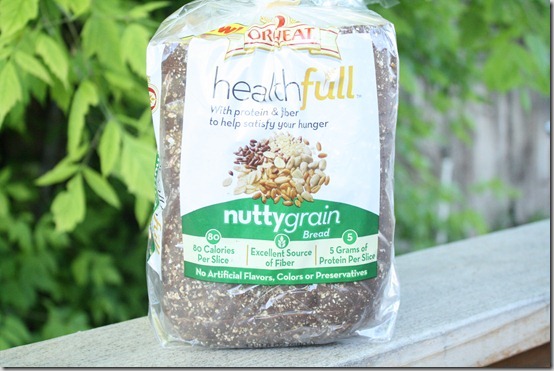 not only is it tasty, it also has awesome stats. 80 calories per slice, 5 grams of protein and 5 grams of fiber.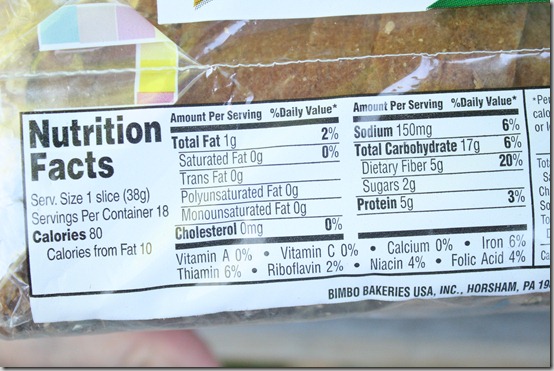 the only downfall is a somewhat lengthy ingredient list.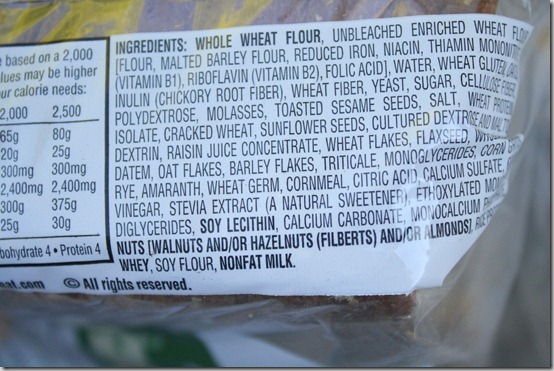 overall, i would buy this bread before any others at my local grocery store (natural foods stores excluded.)
after work, around 4:45, i nabbed a mini peanut butter chocolate larabar and half of a chocolate coconut luna bar—preworkout fuel at it's chocolaty-est.
i also sat around for at least an hour before finally heading to the gym.

first of all, i rode my bike to the gym. i google mapped it and it's 1.6 miles from my house to gold's gym.  the way to the gym is on a slight incline, so it makes for a nice little warmup.
once i got to the gym, i had a few things in mind for my workout thanks to some fun ideas from a couple fellow bloggers.
i have been meaning to try the 100 workout that i stole from marisa's blog last week, so i started with that.
100 jumping jacks
90 floor crunches (with my legs straight up in the air)
80 sumo squats holding a 10# plate
70 lying leg raises (35 each side, consecutive)
60 jumping jacks
50 bicycle crunches
40 sum squats holding a 10# plate
30 lying leg raises (15 each side, consecutive)
20 jumping jacks
10 minute run on treadmill (1.15 miles)

1 min @ 6.0
1 min @ 6.5
1 min @ 7.5
1 min @ 7.5
1 min @ 8.0
repeat minutes 1-5
that workout was SO fun. it was simple yet effective. it took me 25 minutes to complete.
i wanted to focus on my back today, so i followed the 100 workout with 30 minutes of weight training. here are the moves/weight/reps i did.. click the links to see the moves.
circuit 1 was assisted pullups:
15 reps, 30 second rest
12 reps, 30 second rest
10 reps, 30 second rest
circuit 2 was the hyperextension bench w/ 10 # plate & bent over barbell rows w/ 30# barbell. 3 sets of 15 reps each, no rest between.
circuit 3 was wide grip pulldowns:
15 reps @ 60#, 30 second rest
15 reps @ 60#, 30 second rest
15 reps @ 50#, 30 second rest
circuit 4 was seated cable rows:
15 reps @ 40#
15 bench tuck crunches
15 reps @ 40#
15 bench tuck crunches
15 reps @ 50#
15 bench tuck crunches
circuit 5 was straight arm pulldowns at 25# & reverse flys with an 8# dumbbell in each hand. 3 sets of 15 reps each exercise, no rest.
circuit 6 was single arm dumbbell rows.
15 reps each arm @ 12#
15 reps each arm @ 10#
15 reps each arm @ 10#
if you have followed me for awhile, you may notice a huge drop in the weights. unfortunately, i have lost a lot of upper body strength. i think this had something to do with insanity, but i am not worried about it because muscle memory is great and i will be able to up the weights quicker than if i was starting from scratch.
i rounded out the workout with 10 minutes of core work. i did an accelerated version of heather's crazy strong core workout.. i just did it once through and doubled all the reps. click the link to see heather's awesome video of each move.
40 second low plank
16 plank press ups (8 starting with left arm, 8 starting with right arm)
40 second high plank
16 plank knee taps
16 breast strokes
12 back extension sets
8 donkey kick trio with left leg
8 donkey kick trio with right leg
this core circuit took just ten minutes and it hit so many different parts of my core. i am going to be doing at least one cycle of heather's workout each day.. even if it is on my bedroom floor just before bed!
my workout ended with 5 minutes of much needed stretching. hope i can touch my toes soon!
the whole workout took an hour and 10 minutes.. a little longer than i had planned, but since i had nowhere to be (i live an exciting life) it was no big deal.
the bike ride home was nice—slightly downhill and an awesome breeze to cool me off.

i got home and, what do you know, marshall had dinner almost ready. he's quite the chef these days.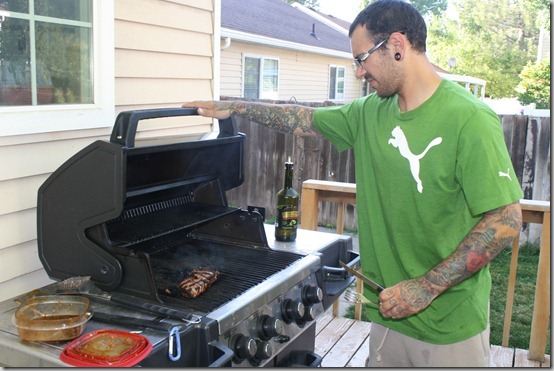 8:00 dinner: 5 oz filet mignon & asparagus.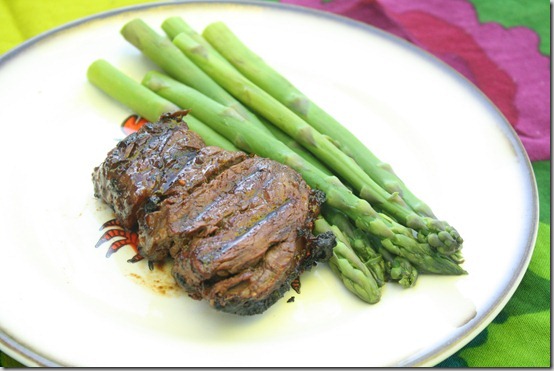 marshall wanted steak tonight and i am never one to turn steak down. i prefer to eat red meat once a week as a nice way to switch up my protein intake. i marinated the steaks in a mix of worcestershire sauce (i ALWAYS have to use spell check for that word!), BBQ sauce, minced garlic and trader joe's 21 seasoning salute.  marshall cooked my steak just how i like it—medium rare.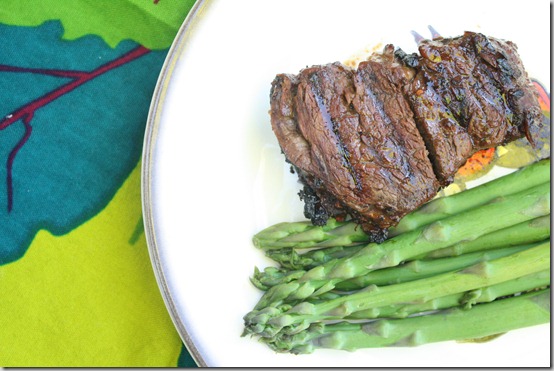 the asparagus was SO good. direct from the farmers market.. it just tastes so much better than store bought.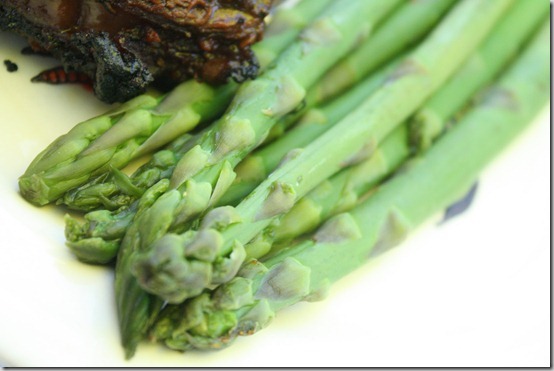 such a good dinner. thanks, marsh.
after eating, i got to work on a little project. said project just happens to be what my dessert was…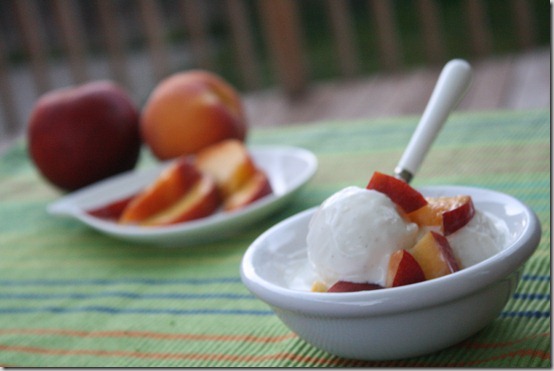 you will have to wait until next time to find out more about this protein-packed peachy treat.
Qs~
1. i fail at spelling "worcestershire". what words do you always have to double check the spelling of?
2. what bloggers do you get fun workout ideas from?
xo. janetha g.