the best weekends are the ones where sunday night comes and i realize i haven't opened my laptop since thursday night. i would say that approximately 83% of my weekend was spent outdoors. the other 17% was spent getting a pedicure, sleeping in until noon and making my own peanut butter.
a lot has gone on. a lot of photos were taken. wanna see?
saturday.
saturday was the best ever.
woke up bright and early for the farmers market.
iced coffee is a farmers market essential.
a few of you commented on the name of the coffee stand last time i posted it—the jack mormon coffee company. let me explain.  mormons can't drink coffee, and a jack mormon is a mormon that is no longer practicing the religion and partakes in activities that are against the religion. so, the name of the coffee company is pretty amusing and clever.. and they make dang good coffee.
after the market, marshall had ONE thing on his mind. actually he had it on his mind when we went to bed friday night…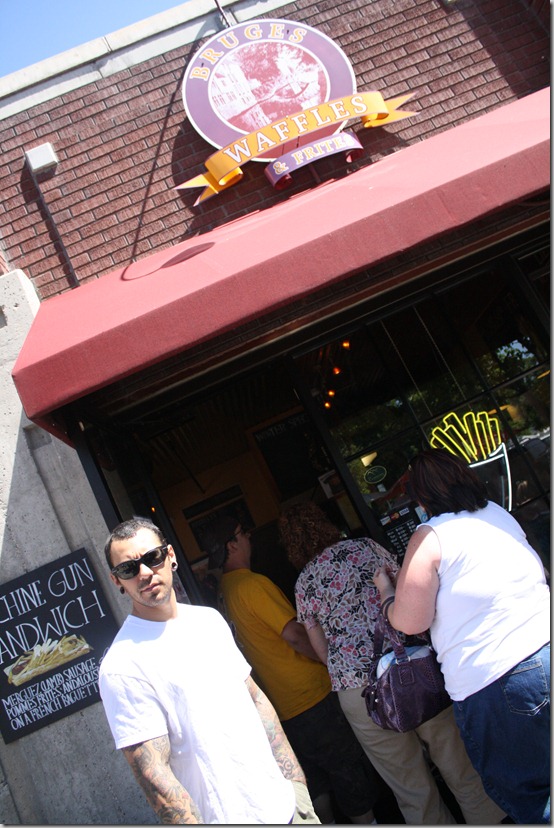 WAFFLES!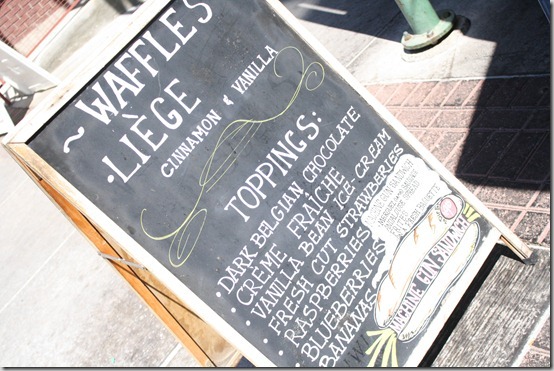 marshall doesn't typically like things like waffles or pancakes.. but these authentic belgian waffles are something else. they are nothing like a typical fluffy waffle. they are dense, chewy and infused with cinnamon or vanilla (your choice.)  they are better than any other waffle i have tasted—and i even had waffles in belgium. eden, i wonder how you and your dad would like them?
i got a vanilla waffle with strawberries and crème fraice.
one of my favorite things about summertime is dining al fresco!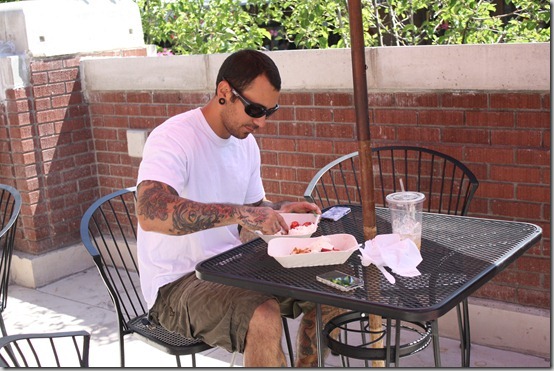 we went home and i threw my swimsuit on to head to the water park. i blended up a protein shake for the road.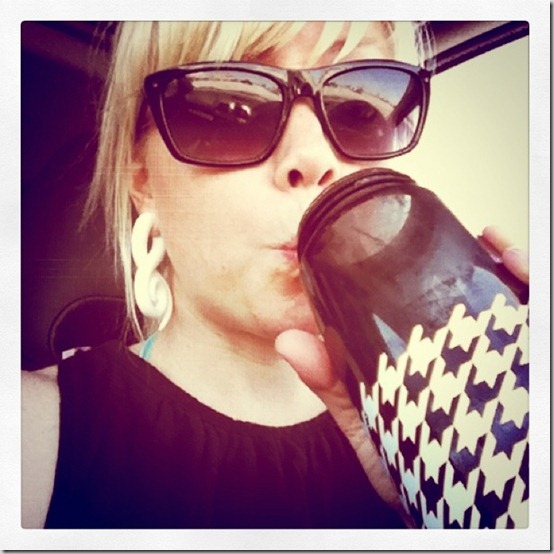 i had to take a small detour, because one of the most amazing people in the world was only in the salty city for a few more hours.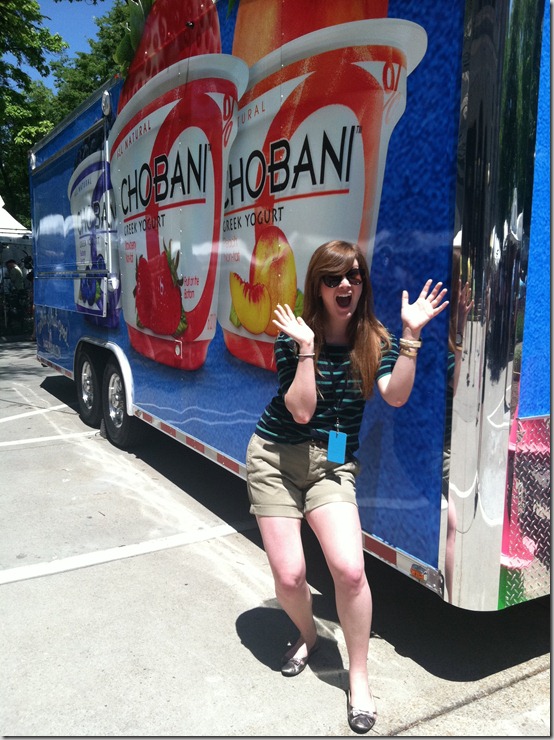 emily from chobani!  the CHOmobile tour stopped in salt lake city for the arts festival, which ran from thursday to sunday, but emily was only in town until late saturday afternoon. for shame. i stopped by the festival so we could finally meet in person, after being online friends for so long.  not sure about you guys, but every time i meet a friend from the blog world, i tend to talk my face off and can't shut up. i could have talked to emily for hours. for those of you who have had the pleasure to deal with emily, let me assure you, she is 20 times more awesome in person.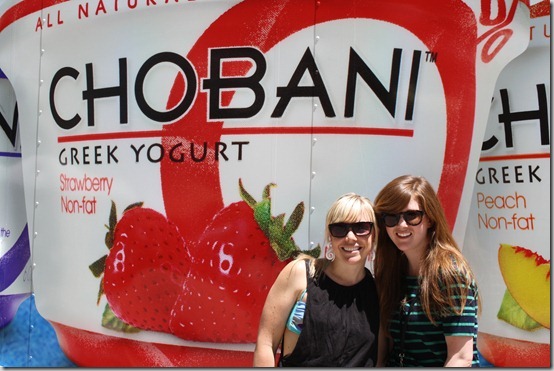 after gabbing with emily for over an hour, i finally made my way to raging waters. or.. i guess it is technically called seven peaks now, but it'll always be raging waters to me.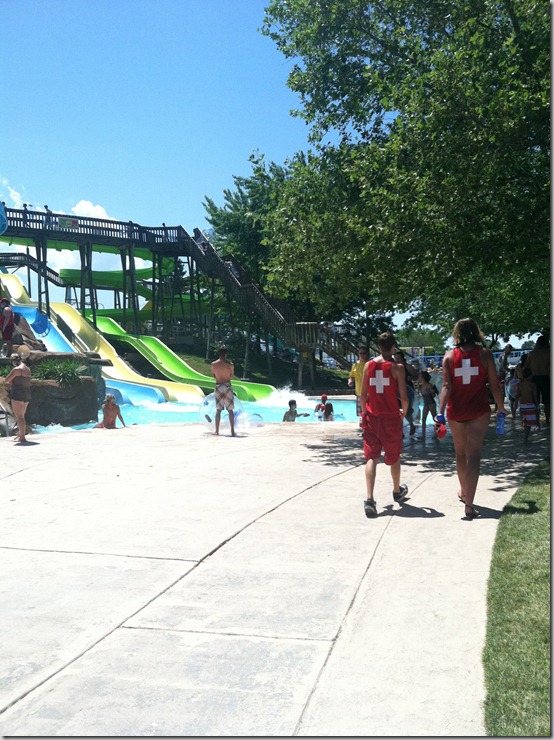 it was hot, sunny and fabulous.
after the water park i got the aforementioned pedicure, then showered and got ready to go back to the arts festival—this time with kristen & rory.
our first item of business was DINNER.. i got a combo plate from sawadee: tofu yellow curry, tofu pad thai, vegetables and a spring roll.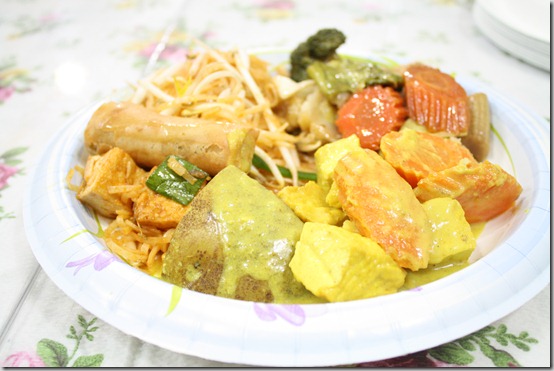 hated it.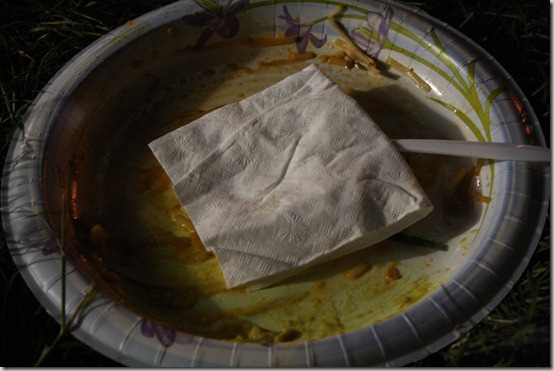 there was a lot to see!
graffiti artists.
houndstooth peacock!! the only thing better would have been a houndstooth owl. too bad this was $1800.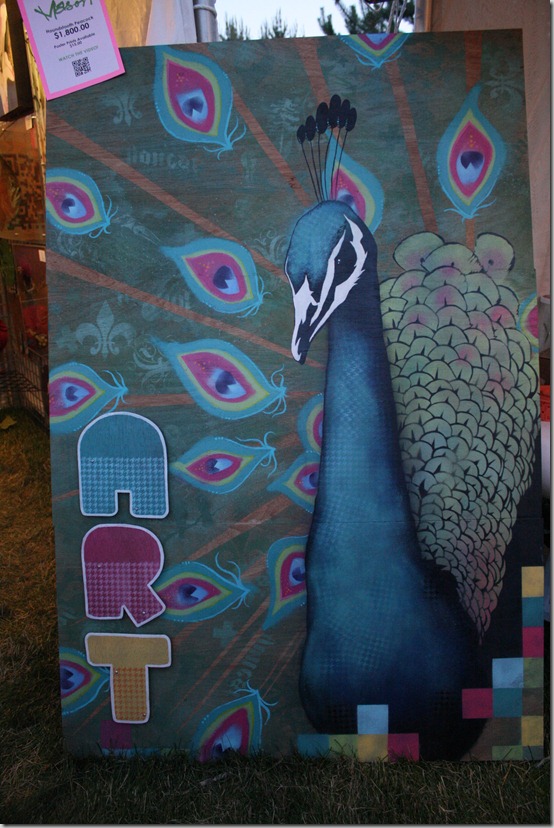 rad ceramics for the kitchen.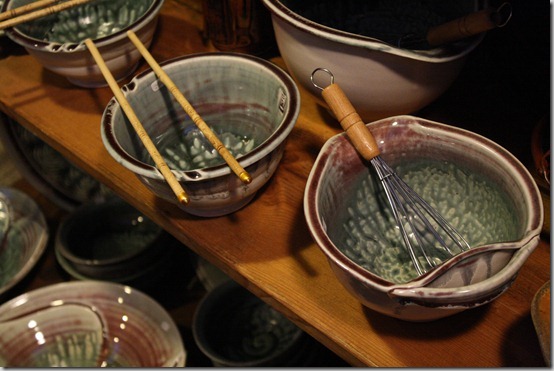 random dude with four beers. it's casual.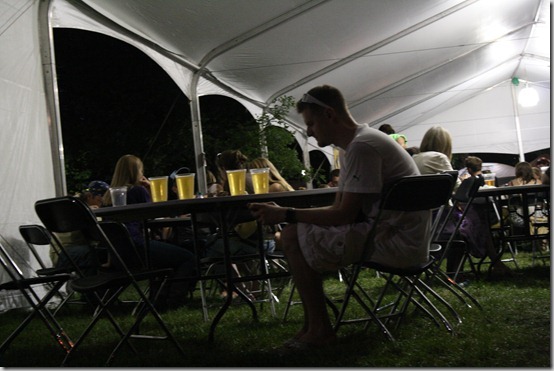 wine.
a romantic moment by the yarn-covered tree.
probably the dopest pepper grinders in town.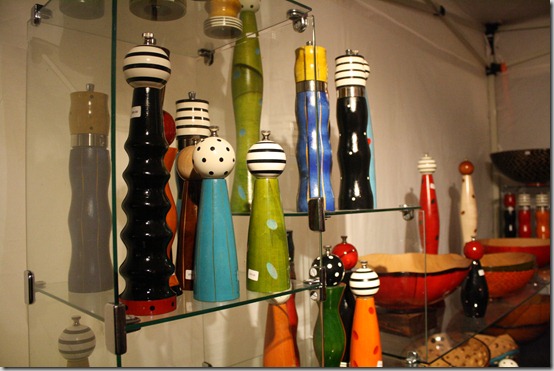 amazing wood carved artwork.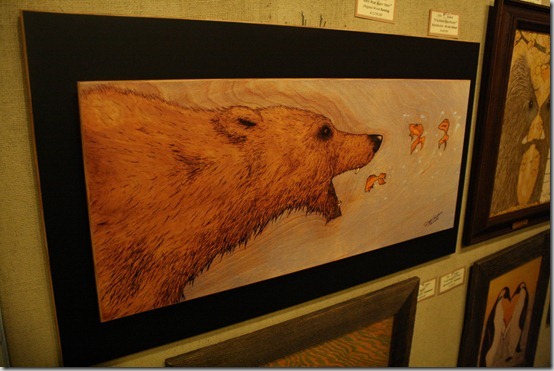 after the arts fest i stopped by the green pig to visit some friends.. including michelle, my tallest friend.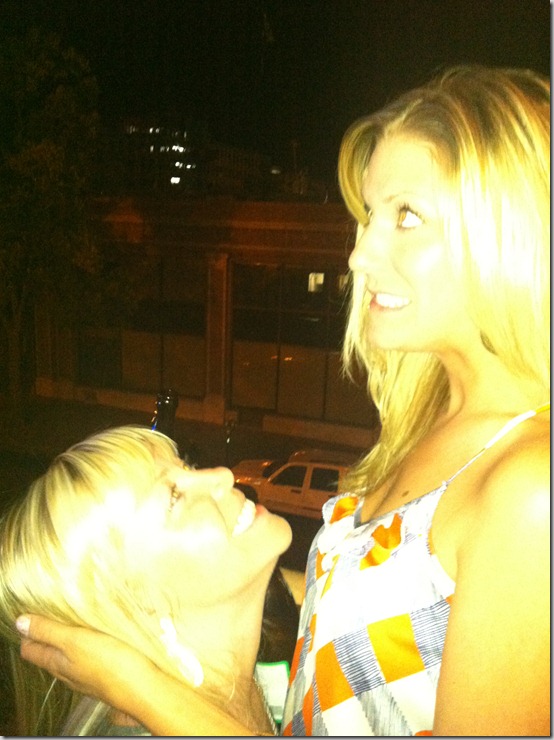 sunday.
i realize my saturday recap lasted longer than the day itself… i will try to make sunday snappy.
breakfast made by marshall: protein oatmeal with skim milk and dried cherries + coffee.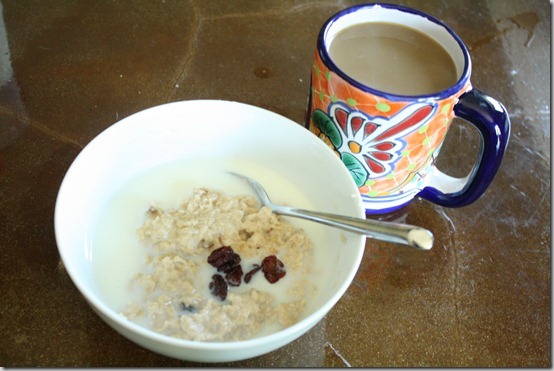 arts festival round three!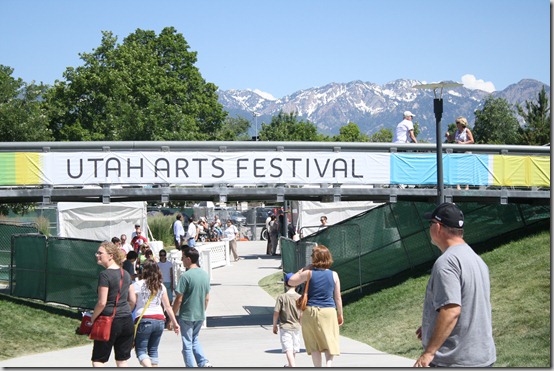 yarn bombs ALL over the festival. cathy, you would have loved this.
look, it's penny.
this yarn car was right by the CHOmobile.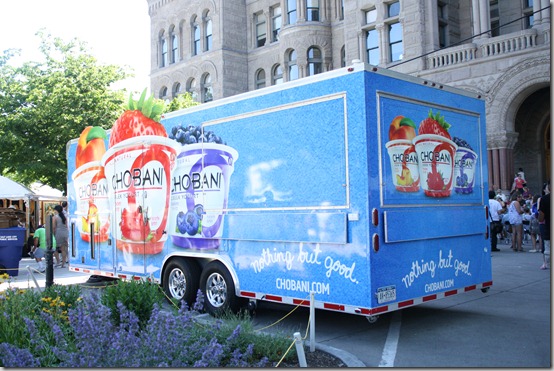 sadly, my friends at the CHOmobile had closed up shop (aka ran out of amazing yogurt) before we arrived.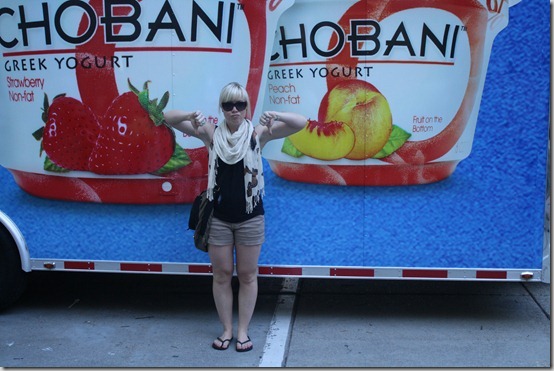 marshall had a pina colada that he had LOVED at last year's festival.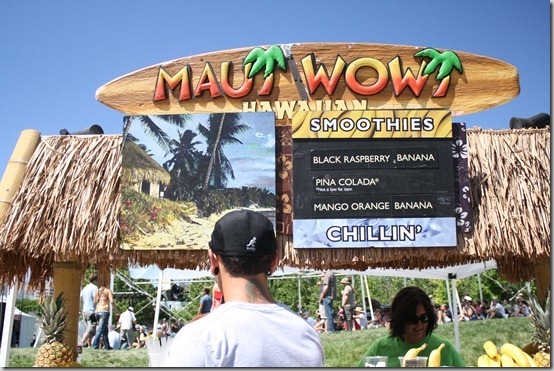 the fact that it noted the pina colada was NOT a low fat item cracked me up. good to know?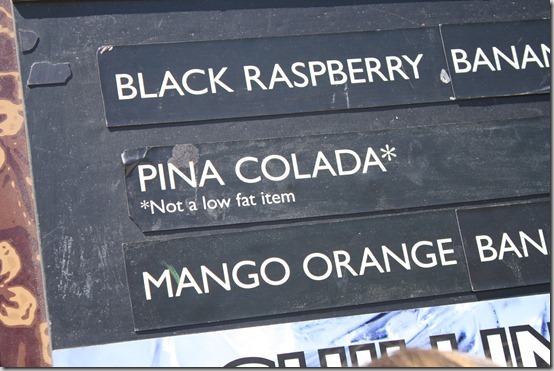 marshall also got an order of amazing hand cut fries.. i stole my fair share.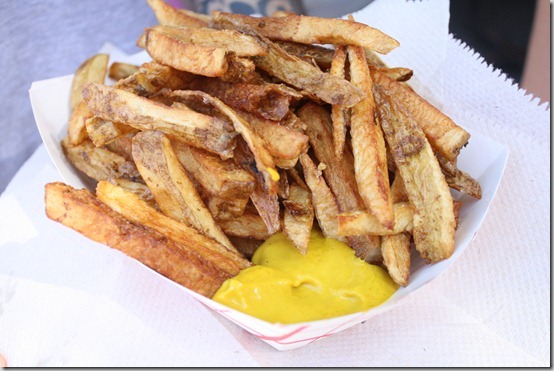 FYI: PB&J is good for kids, adults AND moose.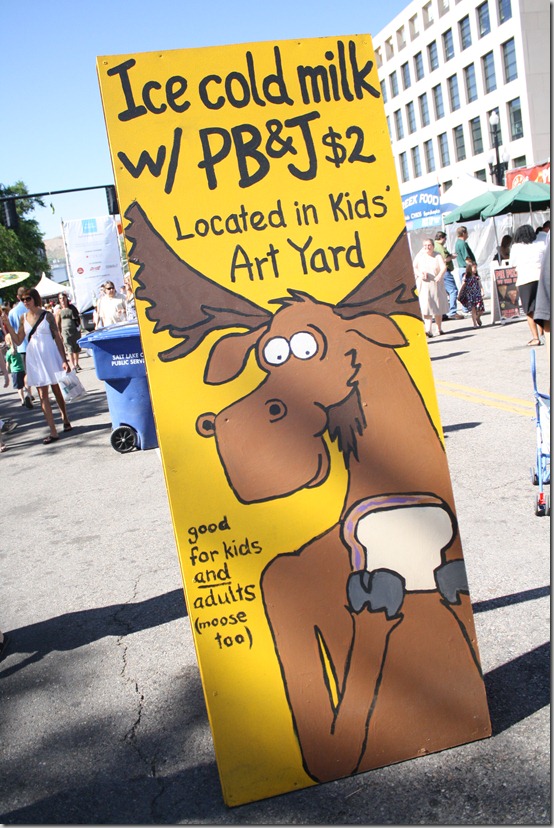 we browsed the art for awhile and then went to grab some dinner.
dinner at the desert edge pub: gazpacho with grilled shrimp.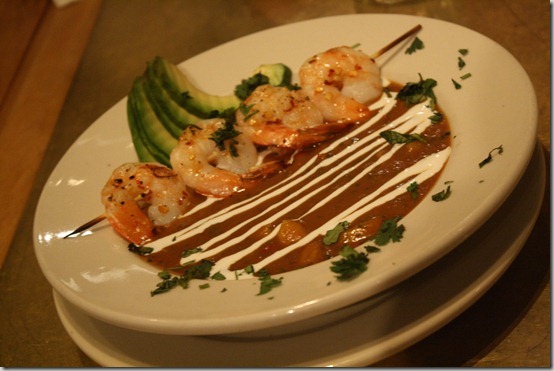 'twas tasty. spicy, but tasty.
and that, friends, was my weekend. you may notice i didn't workout once this weekend. sometimes good times overrule a good workout.  speaking of good… good job if you made it through this whole novel!
Qs~
1. best thing you ate this weekend?
2. tell me about your favorite piece of artwork in your home.
xo. janetha g.