it's thursday, which means it's a good day to knock off melissa's weekly feature where she bitches about three things that are bugging her.
1. cancer.
this morning i woke up to some really shitty news about my dear friend susan.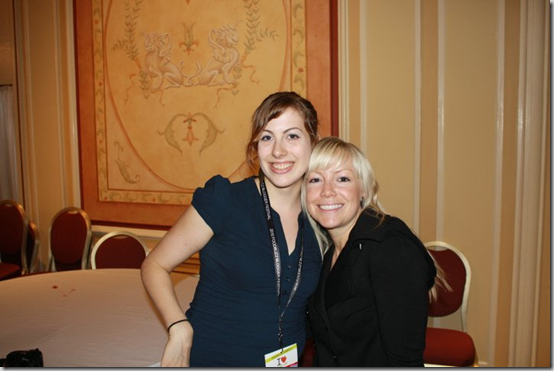 susan + me, foodbuzz festival 2010.
i bet a lot of you know susan and know what an amazing, strong, inspiring lady she is. she's been hit with the bad luck stick twice recently—first with a shattered elbow and now this. my initial reaction to the news was "WTF CANCER?!".
i am sure everyone can relate. i have never met one person who has not, in some way or another, been affected by cancer. it sucks. and it needs to just go away.
oh—and on the topic of susan, everyone needs to check out her post titled, "why i am no longer a healthy living blogger".. it'll make you think. and it'll make you smile. it's the best post ever, basically.
well.. that was my #1 thing for today. i don't anything can beat that one.. but since it is THREE things thursday, i will think of two more. all in the name of alliteration, right?
2. straws that come with water bottles but are too short.
i drink a protein shake every morning for breakfast. i use the same bottle for said protein shake.  this bottle is awesome. i love it! i got it from target, FYI.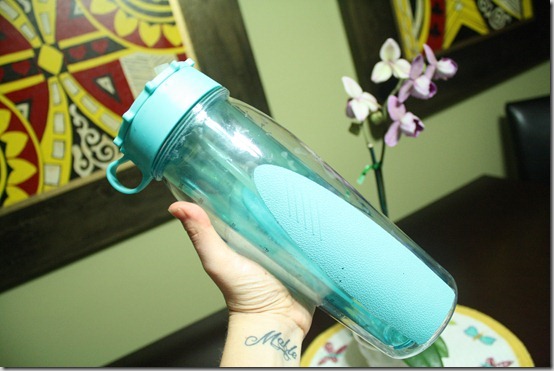 it came with a built in straw, which is awesome, because i prefer to drink all my beverages with a straw.  partially because i have sensitive teeth, but mostly because i think it makes things taste better. something about the liquid going directly to your taste buds through the straw or something. i don't know.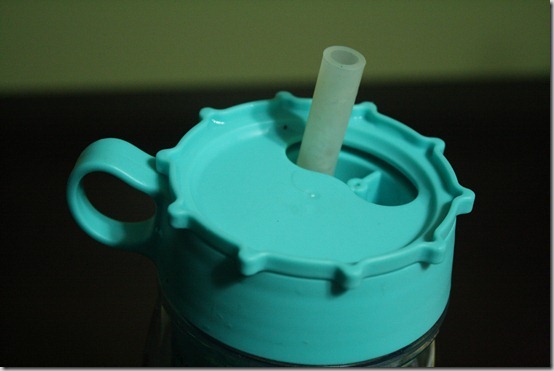 anyway, this straw that came with my bottle doesn't quite make it to the bottom of the bottle, meaning i can't quite get the last bit of my shake without taking the lid off.  it's annoying.  why couldn't the manufacturer just make the straw one inch longer? that 3 ounces of beverage not available via straw.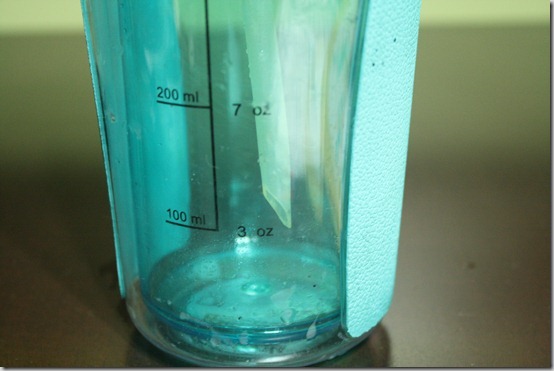 yeah, it's a white girl problem, but it's thursday and this is one of my things and melissa taught me that it's perfectly acceptable to bitch about anything, no matter their significance.
3. all this dog hair in my house!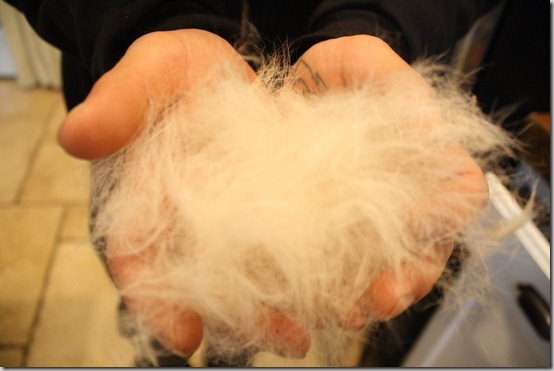 i realize it is now summer. it's hot. today was the hottest day of the year! my poor pups are shedding like crazy.  we sweep and vacuum fairly regularly and marshall tries to keep up with brushing penny & randy, but nothing can keep up with the monster hairballs that are all over the place.

[nataliedee.com]
i better just learn to live with the hair.. because penny and randy are basically in charge around here, and i am confident that they aren't going to stop sleeping on my bed anytime soon.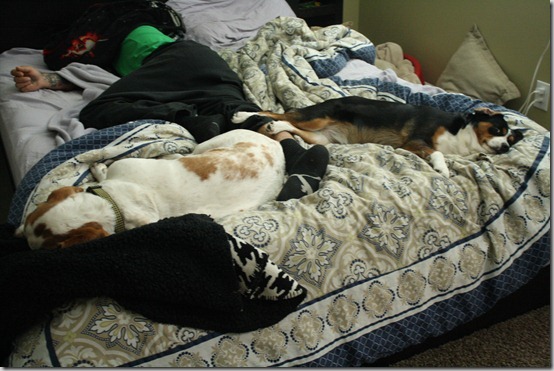 in other news, marshall & i made tin foil dinners tonight! well, okay, marshall made them. i ate one.
we love tin foil dinners and usually only eat them when we are camping.  well, since we can't get work off to go camping, we improvised and used the grill.
i was at bikram, so marshall did all the dirty work.
marshall cooked them over low heat on the grill for a total of about an hour. when i got home they were ready and waiting. thanks, husband.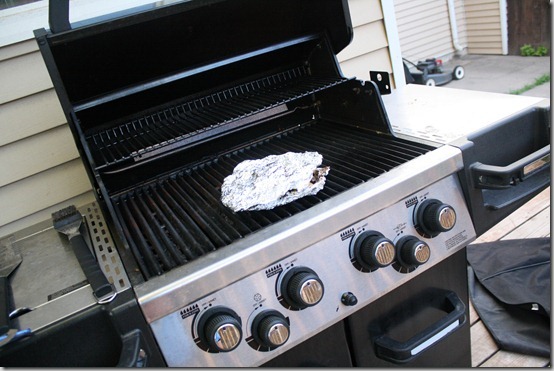 inside the foil:
steak (i marinated this overnight in a blend of worcestershire sauce, BBQ sauce, frank's hot sauce and TJ's 21 seasoning salute)
baby red, yellow and purple potatoes
carrots
celery
red onion
seasonings a la marshall (the world may never know)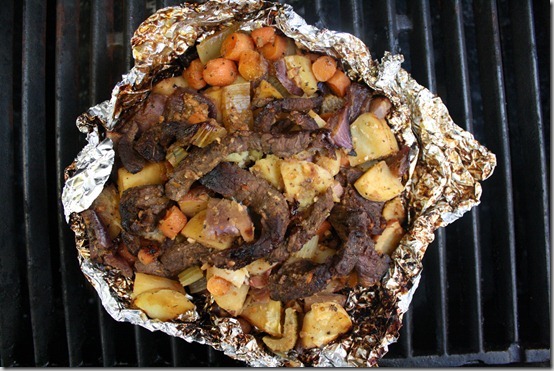 i topped my tin foil dinner with greek yogurt and ketchup.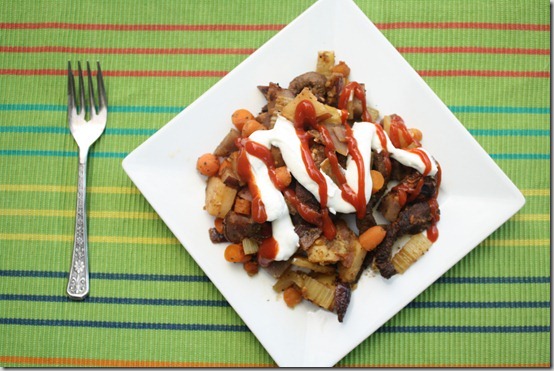 just so you know, greek yogurt tastes just like sour cream when in a savory setting.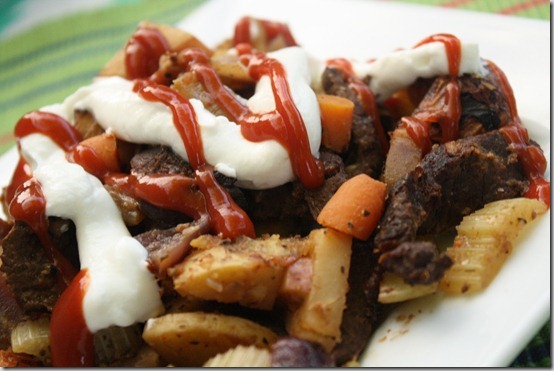 delicious.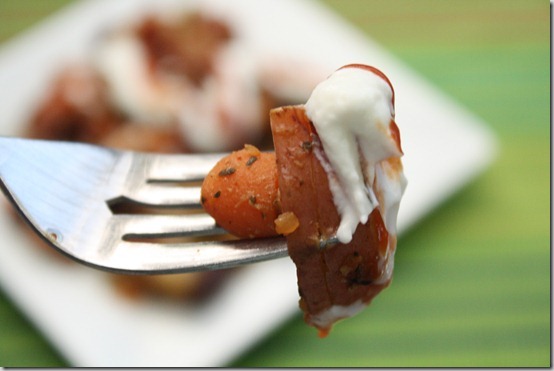 i can't wait to make other combos of tin foil dinners. they aren't just for camping! i am thinking the next one will have to have chicken, artichokes, tomatoes, asparagus and pesto. yes, please.
we just got home from getting frozen custard. i know that eating ice cream—or some form of it—every night may very well turn me into a fat kid, but at least i will be a happy fat kid. sometimes frozen custard with marshall on a random thursday night is necessary. it's good for my soul.
no questions—just a request for everyone to please keep susan in your thoughts and prayers!
xo. janetha g.