when i wrote yesterday's post, i had no clue it would be such a hit! turns out we are all fat kids at heart.  damn those pesky metabolisms. i fully enjoyed reading each and every comment and list.. and extra points to those of you who rattled off ten things of your own.
i am sitting here eating dinner, realizing that i took absolutely zero photos up until this meal.  it's been a whirlwind at work lately.

i am still enjoying a protein shake for breakfast each morning and today's lunch was a leftover breakfast burrito.  for those who asked, YES.. these are great leftover! go ahead and make them in advance, wrap them in foil or plastic wrap and heat one up when you are ready to eat it.
tonight's dinner didn't turn out quite like i had expected.. but it is actually fantastic!
i was planning to make a creamy ranch chicken in the crock pot, adapted from kelly's recipe, but i ended up with.. well.. a ranch chicken dish that wasn't creamy at all (as you can see).  BUT, it was still really tasty.
here is what i ended up with.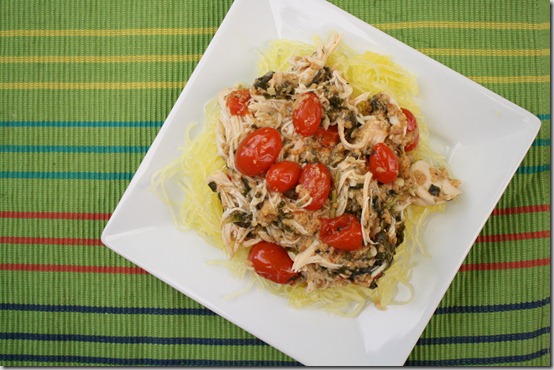 tomato basil ranch chicken. (crock pot recipe)
makes four servings, adapted from kelly's healthified kitchen
ingredients:
1 lb (16 ounces) of organic, boneless, skinless chicken breasts
1 cup (225 grams) 0% plain greek yogurt
1 1/2 cup (360 grams) all natural cream of chicken soup (i used health valley brand)
1 cup (200 grams) grape tomatoes
1 cup roughly chopped fresh basil
1 envelope of simply organic ranch dip powdered mix
2-3 cloves of minced garlic (jarred will work)
salt & pepper to taste—you probably won't need salt because the dip mix is salty
directions:
combine all the ingredients except the chicken in your crock pot.  mix everything really well.
place your chicken breasts in the crock pot and cover with the sauce. 
cook on low for 5 hours or high for 3 hours.. until chicken is cooked through. when it is done cooking, shred the chicken with two forks.
serve over whatever you want. marshall had his chicken over wide whole wheat noodles. i had mine over steamed spaghetti squash. this would also be awesome over rice or quinoa (or any grain, really!)
the chicken was so moist and tender. and yes, i hate the M word.. but sometimes there is just no substitute.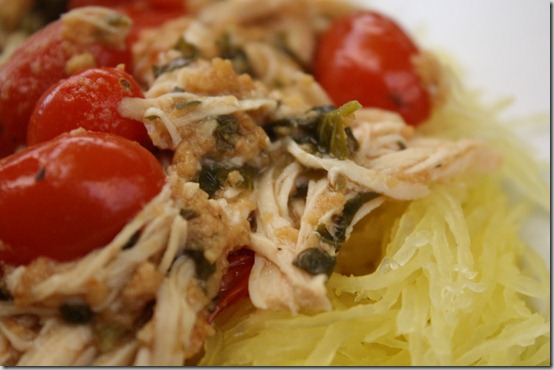 i had a couple slices of garlic bread, too.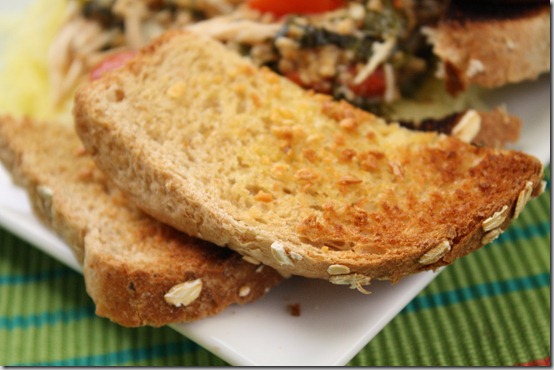 so, as you can see, it's definitely not a creamy dish. i have no idea what happened! the juices in the crock pot were actually almost clear.  it doesn't matter, though, because the taste is all i care about.  this will be made again and again!

the reason i wanted to have a crock pot meal is because i went to bikram yoga!!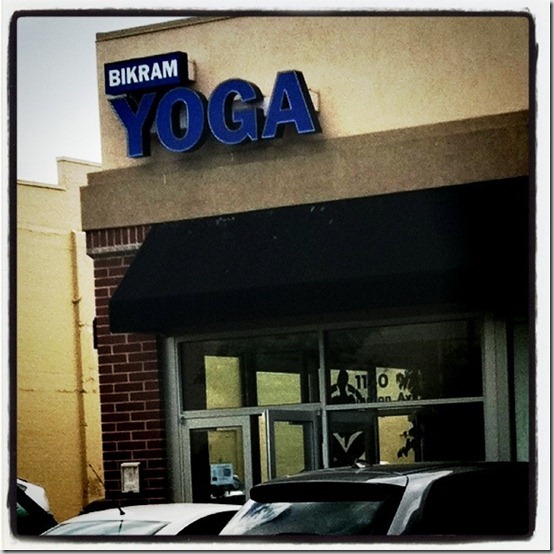 oh bikram, i missed you lots.
side note: i finished the insanity workouts on tuesday, but i am not doing the final fit test until saturday. after the fit test, i will recap the insanity program.
anway.. back to bikram. i met my friend lindsay at the sugarhouse location.  i was a little weary of going to this location because i had heard the floors were carpeted (rather than hard wood like the first studio i went to) and i was afraid it would be super funky.
it was a little smelly at first, but my nose quickly adjusted and i hopped right back into the bikram yoga groove.  i hadn't been since the beginning of may and i really missed it! it felt so damn good.
warning: deep thoughts ahead.
the teacher (her name is jules and if you live in SLC and want to try bikram—GO TO HER CLASS, she was awesome and i learned a lot!) said something during one of the postures that really struck a chord with me.
one of the students was doing a posture wrong, so she went over and corrected his form.  he apologized, as we often do when we are called out on a mistake, and jules replied with something that i plan to repeat to myself every day from this day forward:
"don't be sorry. this is just a practice. you have your whole life to get there."
wow. yes, she was talking about yoga postures.. but this is something that i thought about quite literally for the remainder of the class.
we are all working toward various things each and every day of our lives.  maybe you are trying to lose weight. maybe you are trying to learn trigonometry. maybe you want to quit your day job and blog full time. maybe you are trying to learn to play a new sport. maybe you have planted a garden and are working on making your plants grow. maybe you are working on making your relationship with someone better. maybe you are trying to get $1000 in your bank account.
okay, i will stop with the "maybes".  my point is.. we all have things we are working on.  three things that come to mind for me:
i am trying to touch my toes before the end of the year.
i am trying to eat clean each day (aside from free day/free meals).
i am trying to get this whole being a wife thing down pat.
sometimes i get discouraged because i am still not even close to my toes and the year is almost halfway over (it was my new year resolution).  i try to eat clean the majority of the time.. but sometimes i get a wild hair and binge on 4 bowls of cereal. this makes me REALLY, REALLY discouraged. and yes—that happens. more often than i would like it to. sometimes i have a fight with my husband. it sucks. and it is usually over nothing significant.. it is just tough to adjust to living with someone.
but the key to getting through all the rough patches?  just think about the quote above.. we have our whole lives to get to where we want to be.  each day is another day we are given and we get another opportunity to practice, practice, practice at whatever it is we are striving for.
don't get upset if you have a practice session that is less than stellar.
so i forgot to stretch one day. that's ok.. i have my whole life to touch my toes. one bad day isn't going to take me further away from touching my toes.
so i ate a whole bar of toffee filled dark chocolate with sea salt.  no big deal.. tomorrow is a new day to focus on eating clean and i have my whole life to work toward a healthier me.  one bad day is not going to make me gain 100 pounds.
so i had a ridiculous fight with my husband. don't sweat it.. i have my whole life to focus on having an awesome marriage. one bad day is not means for a divorce.
there is always tomorrow, there is always next week, there is always next month.  as long as we make sure to do our very best at whatever it is we are after, we should be happy with ourselves.  if we tried our best and ran into a snag.. don't give up completely.  just brush it off and try to be better tomorrow.  if you treat each new day as a new opportunity to practice, practice, practice.. you will eventually get to wherever you want to be.
okay.. that's the end of my deep thoughts for the night. i am off to practice sitting on the couch with my dogs.
Q~
what is something you are practicing at the moment?
xo. janetha g.