you know summer has hit when weekend activities involve  baseball games and farmers markets. i have experience both within the past 24 hours.
utah isn't well known for baseball, but we do have a minor league team called the bees. we are the beehive state, after all.  last night, we headed out to the ballgame.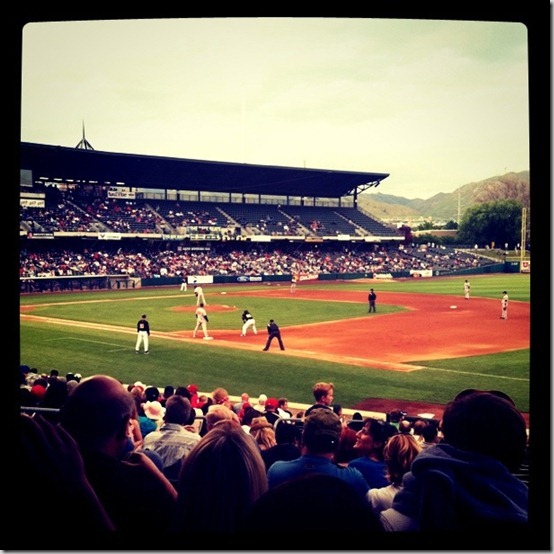 we hadn't had dinner, so our first item of business was snagging some food.
now, i am not a big fan of hot dogs, but there are two occasions that i will eat one: around a campfire and at a baseball game. (oh, and at the airport in chicago, i guess.)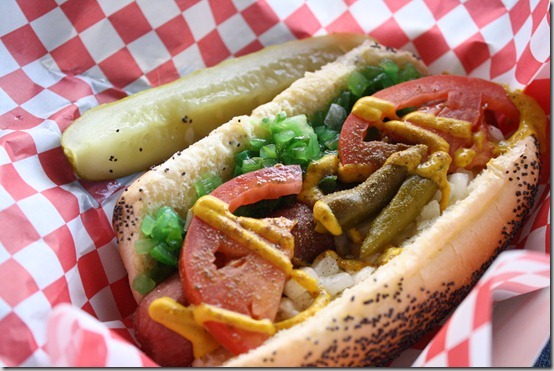 a chicago style hot dog with all the fixings. i am not gonna lie.. it was good. maybe i am coming around on my hot dog stance?
marshall had an all american dog and that didn't tame his hunger beast, so he grabbed some fries, then i grabbed a few from him.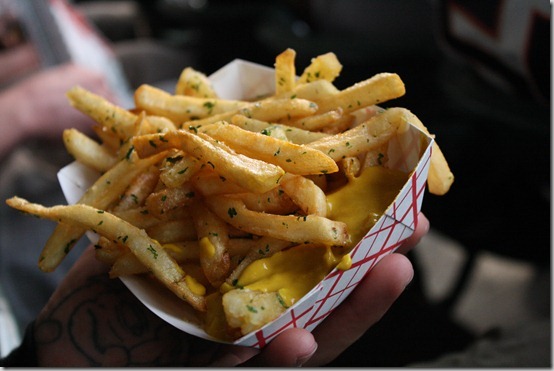 yes, he dips his fries in mustard. he actually hates ketchup.
turns out, baseball games are fun.. but not very intense or exciting.. so it makes a lot of sense to keep leaving your seat to get food.  right around the fifth inning, marshall got an oreo shake.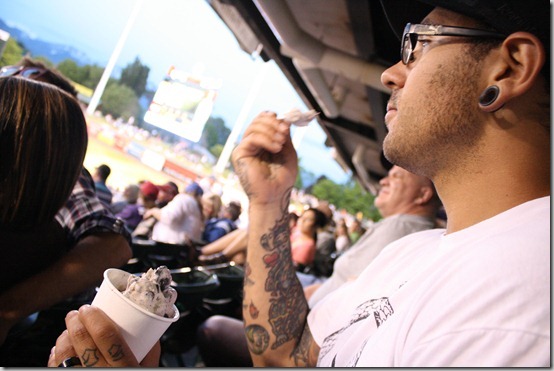 oreo shakes are my weakness. well, any kind of ice cream is.. but oreo just so happens to be my second favorite (right after vanilla bean with fresh peaches).. so i managed to steal a bite or ten from him.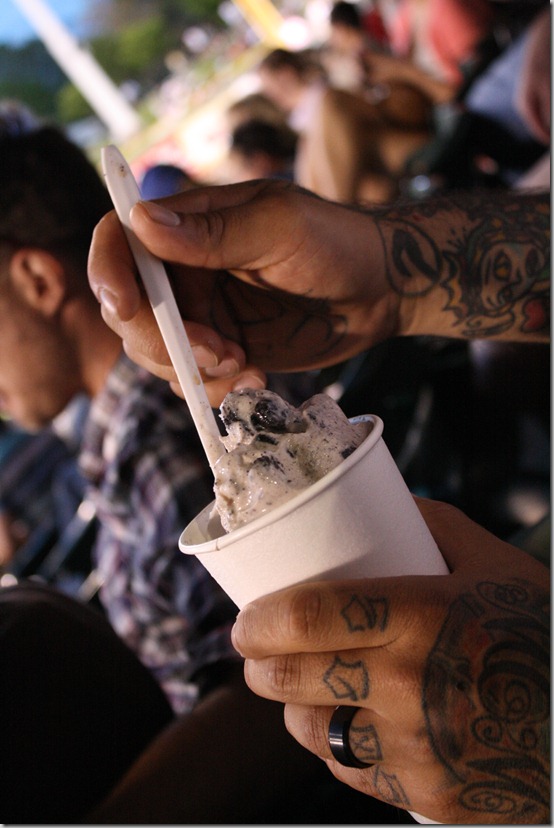 it started raining at the tail end of the game, but we stuck it out to the very end. it was worth it, because the bees pulled ahead and ended up winning by a point! or is it by a run? are there points in baseball? don't ask me.. i never was one to talk sports.
moving on.
today was the first day of the salt lake city downtown farmers market. finally! i love the market!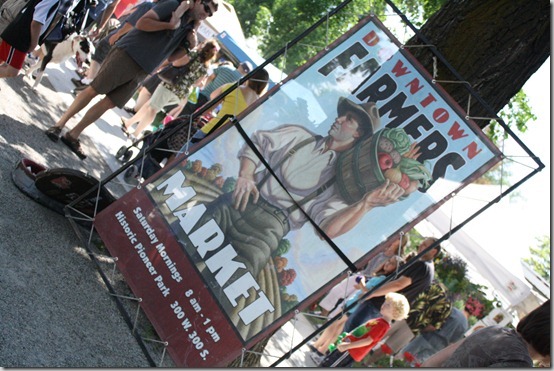 we had the pups with us. me with randy and penny with marshall, of COURSE.
iced coffee is a necessity on a hot day at the market.
unfortunately, there weren't many crops yet.. this weird weather we've been having has taken a toll (or so said the farmers on the news last night.) but there were a ton of rad arts and crafts!
i ordered a custom made bag from velo city bags—they are a lot like chrome bags and perfect when biking! it'll be ready in a few weeks and i will be sure to show it to you guys.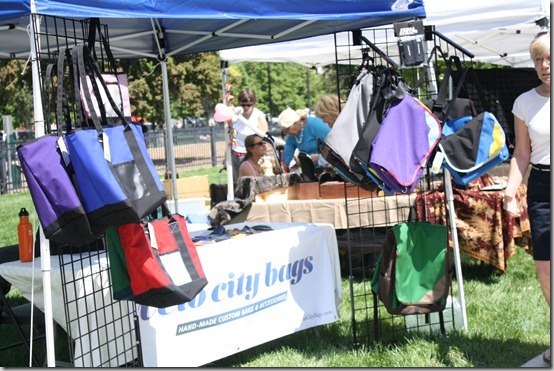 marshall fell in love with this rooster painting. lucky for him, there was a smaller print of it (framed!) for only $20, so he snagged it.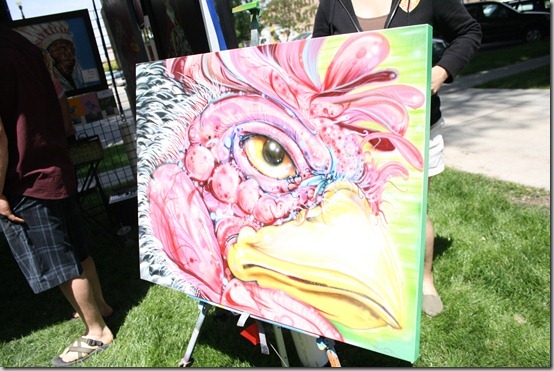 the name of this booth caught my eye–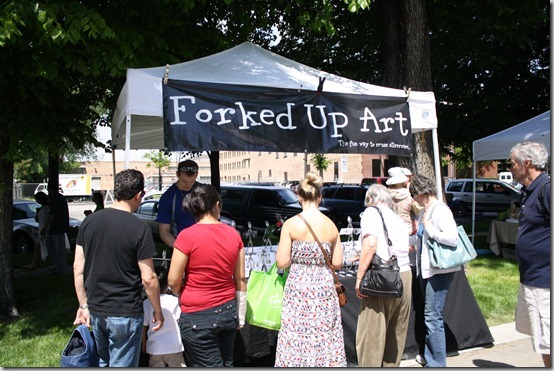 and his artwork cracked me up! what a creative way to utilize old silverware!
after walking around the market for over an hour, we decided to head home. marshall was craving a waffle from bruges, so we made a pit stop. penny, randy and i waited on the bench while marshall went in and ordered.  penny was crying the whole time, wondering where marshall went. when he came back out she was SO relieved and hopped up into his lap. what a little baby.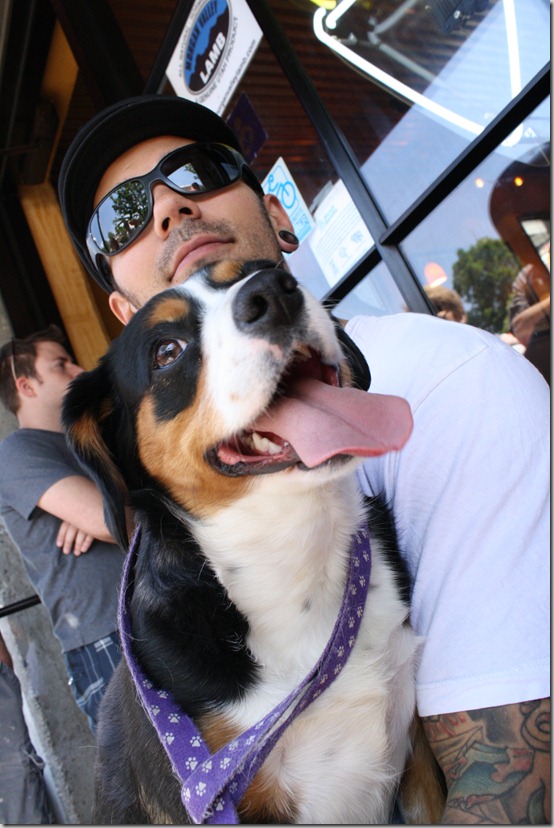 randy then tried to act like a lap dog and hop into MY lap.. but i had to veto that attempt. sorry, randy. you are cute, but you are huge.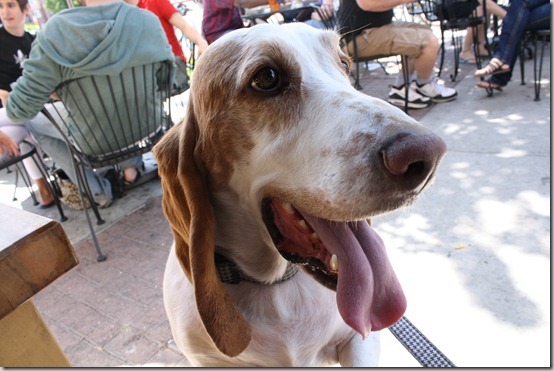 marshall had ordered a cinnamon waffle with fresh bananas, strawberries and whipped cream.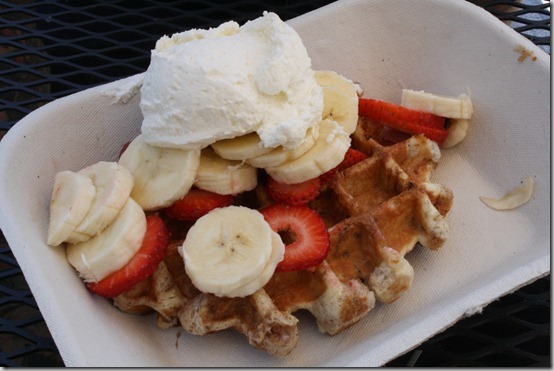 you bet i had three bites.
we spent the rest of our day on the go.  i came home and had an egg sandwich and tackled my insanity workout (only 3 more workouts to go!) and then quickly got ready.
we had a huge family party to go to at marshall's grandpa's house. there were a whole lot of people there (many who i didn't know) and i left my camera tucked away in my purse.  it was a good time! i knew there wouldn't be much there in terms of clean eating items.. so i had a protein shake on the way there.
after the party, we went to the gateway (an outdoor mall) where i bought a pair of tom's and marshall bought a pair of pumas. weeee.. new shoes for everyone. well, not the dogs. but dogs don't wear shoes. at least ours don't.
we also had dinner at jason's deli. i had the salad bar and am confident none of you need to see another salad. it was tasty and i had a complimentary ice cream cone after my meal.
welp.. that's all for now. off to enjoy a summer night! hope you are doing something fun with your weekend.
Qs~
1. what is your favorite sport to watch?
2. does your city or town have a farmers market? do you go?
xo. janetha g.