isn't it weird how some weeks take a really long time to go by and other weeks are over in the blink of an eye? yet every single week is the same exact amount of time.  the phrase, "time flies when you are having fun" is so true.  as is, "time stands still when you are stuck at work after hours almost every day this week."
because i have been absent from any sort of quality blog posting this week, i am going to try to make it up to you guys! we shall see how this goes.

breakfast has been the same exact thing every day. i am in love with it. it's high time i show you.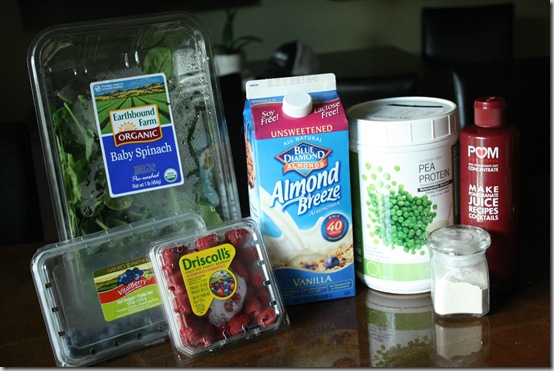 a protein shake with:
1 cup milk (i have used either almond or skim this week)
1 scoop vanilla pea protein powder
a squirt of concentrated POM juice (i got this in the mail as a gift from POM and when it is out i am going to be sad because i haven't seen it in stores! it adds a lovely, tart punch to the shake.)
1 – 1 1/2 cups frozen blueberries & raspberries
2-3 cups spinach
1/4 tsp xanthan gum (because i spilled all my guar gum on the floor)
15 ice cubes
3/4 cup water, give or take, to get things moving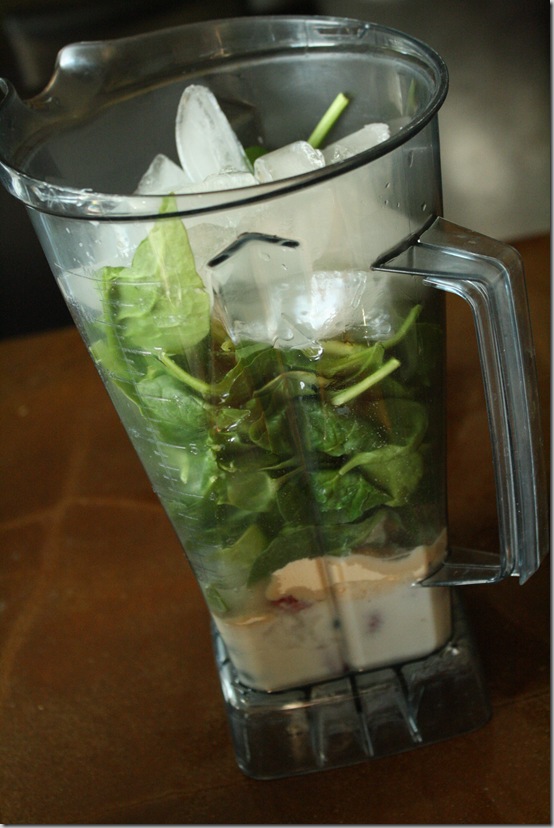 after a quick blend in the vitamix, the result looks pretty unappealing.. but trust me, the taste is amazing! don't let looks deceive you.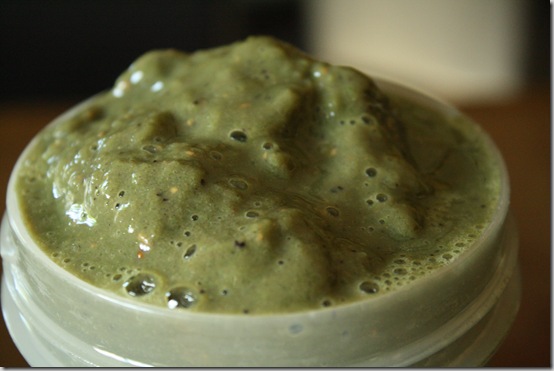 i love my giant blender bottle because it holds the whole shake. top it off with a straw (a necessity for me) and i am good to go. every morning.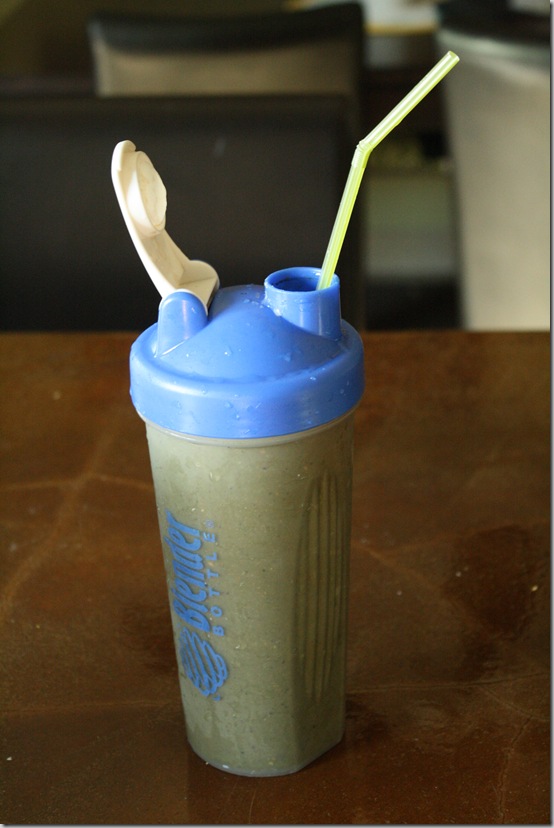 this is surprisingly satiating.  i actually don't start to get hungry until four hours after drinking the shake. and because my week has been crazy, this bad boy has had to curb my hunger for up to six whole hours.
lunch has been the same thing three days this week. what can i say, i am a creature of habit.
one of my standard meals: cottage cheese + ranch seasoning with crackers (in this case, akmaks).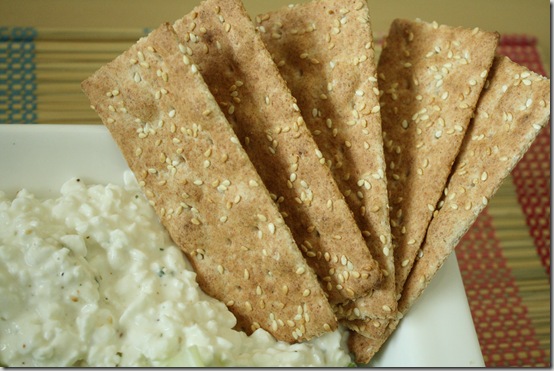 and a childhood favorite: celery + peanut butter.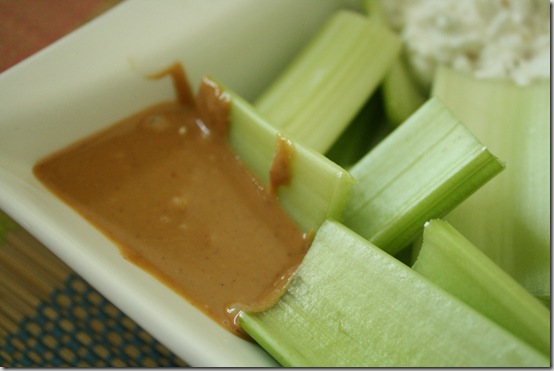 work has been crazy and this lunch is easy to eat little bits and bites of between the madness.
i had to stay late (again) today, but luckily i had my favorite protein bar to keep me company for my snack.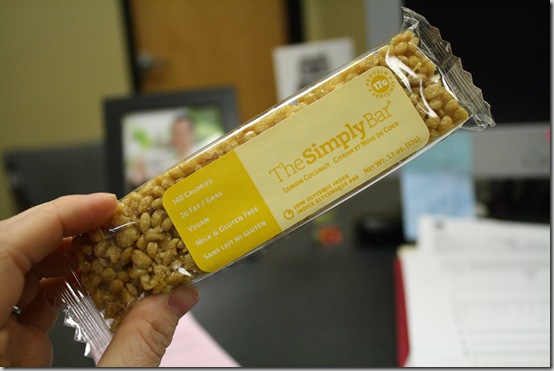 the lemon coconut simply bar. i could eat it every day. lemon and coconut were meant to be combined, i am sure of it.

when i finally got home from work, i still had to get my insanity workout in. i only let out a few groans and whines before tackling both the max cardio conditioning and the cardio abs workouts. yes.. a double header today. six workouts to go until i am done!

dinner was a creamy asparagus & roasted tomato pasta with chicken served in THE RADDEST BOWL EVER.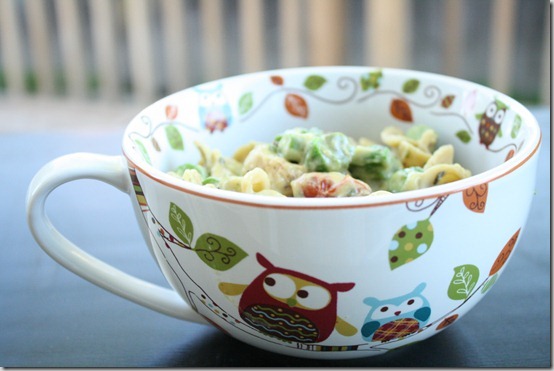 THANK YOU MISSLE! er, missy ;) she sent me two awesome owl bowls and some other fun goodies for my birthday. you know i had to use the owl bowl right away.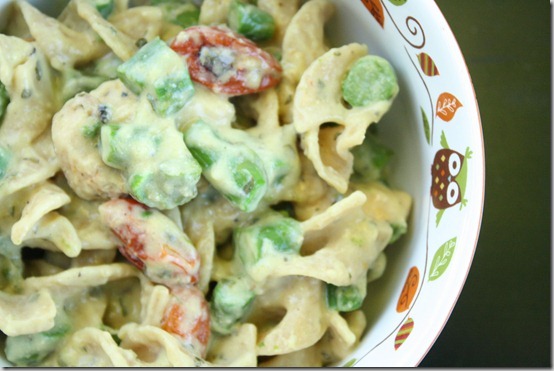 this pasta was amazing and super healthy. recipe tomorrow!
SO. guess what i totally forgot about? the 30 day challenge! i bet you forgot, too. i had to look and see where i left off…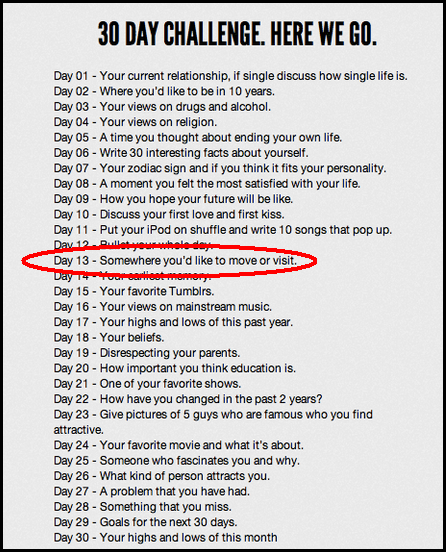 somewhere you'd like to move or visit.
well which is it, mister challenge, move.. or visit? how about i answer both?
first off, the place i most want to visit at the moment is greece.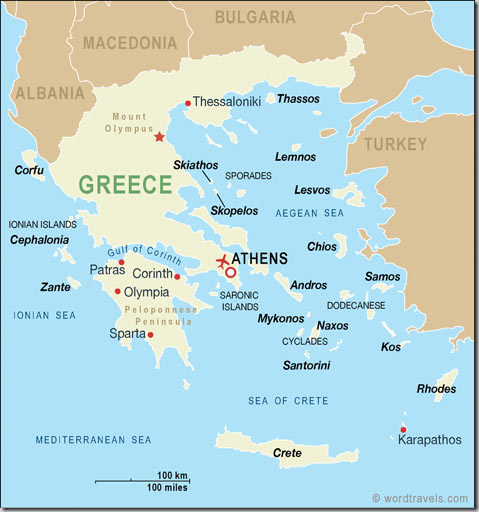 it's beautiful and i have never been.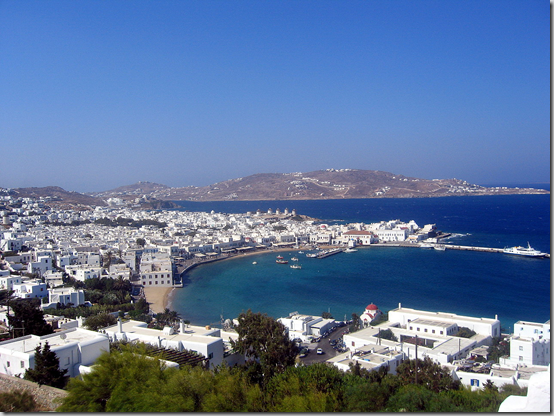 plus, eating the real deal greek cuisine is something i've always wanted to do.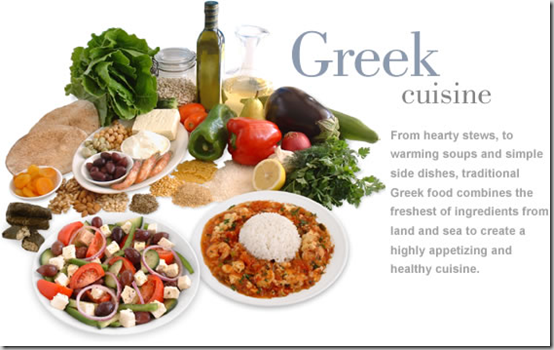 however, i am certain that i can't get enough time off any time soon to make the incredible journey.. so i will just have to look at beautiful photographs and dream of my future trip to greece.
as far as somewhere i would like to live?  well.. a few cities come to mind:
london
san francisco
oslo, normway
maastricht, holland
seattle
these are places i have been and thought, "i would love to live here."  however, i am sure there are a plethora of places i haven't been that i would love to live.  i really don't want to live in utah for the rest of my days! neither does marshall.  however, it would be so hard to move away from family.  i wish i could up and move all my family and friends to a new place.
i think the best way to spend money is by traveling. seeing and experiencing new places is my #1 favorite thing to do.
Qs~
1. what is your dream vacation destination?
2. if you could move anywhere in the world, take your family (and your career if you want) with you.. where would you move?
xo. janetha g.