have you ever heard of chlorella?
i hadn't even heard or read the word until sun chlorella contacted me.  in fact, i had no idea to even pronounce the word.  so, if you know what it is and know how to pronounce it, you've got one up on me.
if you are on my level and totally clueless, let me fill you in! learning is fun.
chlorella, pronounced klo-rel-a, is a nutritionally superior species of freshwater, single-celled, green algae. 
as i mentioned above,  sun chlorella contacted me to try out and review their products.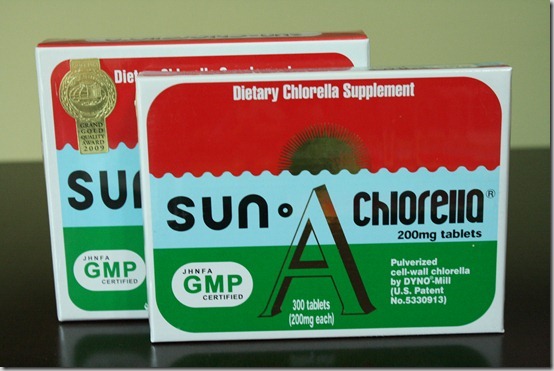 the company states that sun chlorella is "nature's perfect superfood" and "mother nature's superfood" because it is derived from a lineage of pure green algae that have existed naturally on earth for thousands of years.
sun chlorella provides vital nutrients that our bodies need such as potassium, all of the B vitamins, magnesium, zinc, iron, eighteen vital amino acids, beta caroten and letein. (wow.)
if that isn't enough information to process, here is a little more…
sun chlorella is rich in chlorella growth factor (CGF), which gives our bodies a revitalizing boost.  CGF is the key to chlorella's ability to rapidly reproduce itself during growth, can help speed up our own revitalization process within our bodies. 
sun chlorella is also rich in chlorophyll (more like bore-o-phyll! hehe couldn't resist).. it contains the highest percentage of natural chlorophyll, nature's most powerful purifying agent, of any plant source.
the sun chlorella products i received came in both tablet and powder form.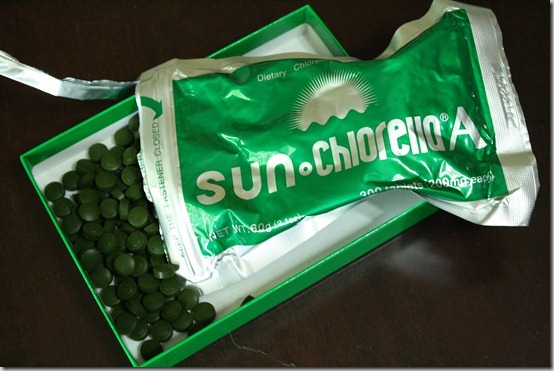 the sun chlorella A tablets are super green! i had no idea what to expect but i wasn't expecting such a bold shade of green.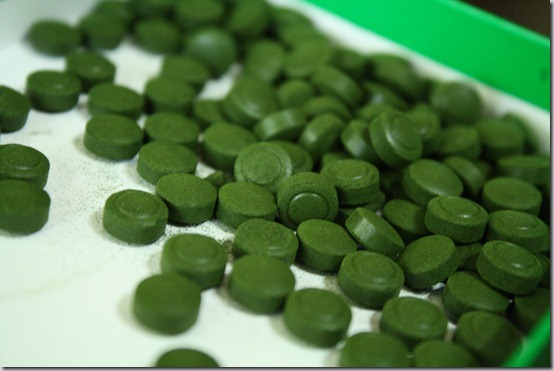 these tablets contain no artificial colors, flavors or chemicals. they are freakishly green on their own.
one serving is 15 tablets (or 3 grams) which can be taken all at once or spaced throughout the day.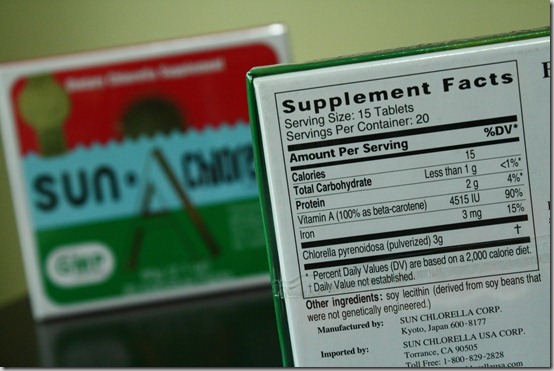 if you don't want to mess with tablets, the sun chlorella also comes in granule form.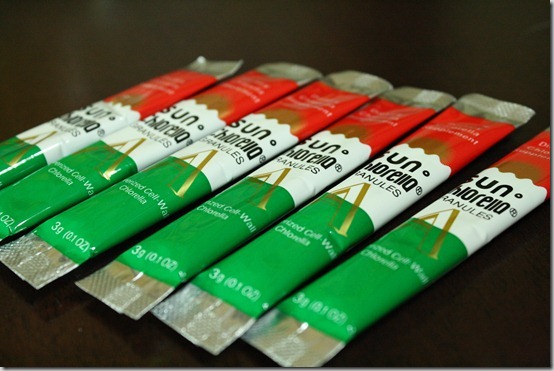 each packet is a 3 gram serving of nutrient packed chlorella.
again, a brilliant green color!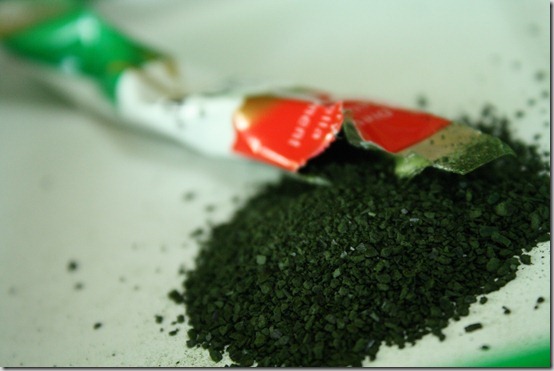 the little packets are super handy for mixing into smoothies, and if you hate taking pills then this is a great option.
to give you an idea of how this stuff measures up.. here is an ounce per ounce list taken from their website.  sun chlorella contains the following:
Six times more beta-carotene than spinach
More dietary fiber than leading fruits and vegetables
More complete protein per serving than soy – and twice as much as steak
Higher nucleic acid content than any food – even more than sardines – for slowing down the visible signs of aging
50 times the antioxidants and flavonoids as Vitamin C or Vitamin E for fighting free radical damage
The world's highest concentration of chlorophyll – the powerful blood detoxifier and toxin eradicator…Sun chlorella has five times more chlorophyll than spirulina, wheatgrass, or barley grass. And ten times more chlorophyll than alfalfa, from which most commercial chlorophyll is extracted.
Chlorella Growth Factor (CGF), found only in chlorella, this unique substance revitalizes cells – keeping them young – and builds up your natural defense system.
18 powerfull amino acids including glutamic acid to help sharpen memory and defense boosting lysine, and arginine to enhance your natural production of immune cells.
More than 20 vitamins and minerals to encourage optimum health and energy.
here is a bit more about why you would want to take sun chlorella (taken from their website):
Sun Chlorella has the powerful ability to help detoxify your body. Since additives are almost impossible to avoid in today's food supply, it's important to take Sun Chlorella regularly. In fact, we highly recommend that you take a serving of Sun Chlorella with each meal, because whatever pesticide may be in the food that you are eating can be absorbed by the chlorella, and may not even get a chance to be absorbed into your body.

These chemicals in the food we eat, the water we drink, and the air we breathe bind to the chlorella, and are then excreted through our stool, urine, and sweat. One serving of Sun Chlorella is equivalent to one serving of fresh green vegetables (without the pesticides)!
i will say the one down side to all these benefits is that these supplements don't come cheap.
a 20-day supply of either the tablets or granules is $38.25, so roughly $2 a day.  if you buy in bulk, you can catch a break and get a 100-day supply for $157.50, which is roughly $1.57 a day.
however, if you can afford it, i think the benefits of the sun chlorella products are worth the price.  some people, including myself, are willing to pay for high quality supplements and vitamins.
i am always into learning more about (and trying out!) new supplements and vitamins.  i only try things out that i truly believe i will benefit from. the fact that sun chlorella is all-natural and boasts so many health benefits really appealed to me and that is why i accepted their offer to try out the product.
if you are interested in trying sun chlorella out for yourself, they have offered to give one of you guys a 20 day supply of each products: the tablets and the granules. an $80 value!
three ways to enter:
three ways to enter. none of them are mandatory.. just do one, two or all three. it's up to you. make sure you leave a SEPARATE comment for each entry.
i will announce the winner on wednesday, june 8th.
good luck!
xo. janetha g.
*as per FTC requirements, i received this product free of charge. i was not paid to say what i said. sun chlorella is supplying the giveaway prize and i am not affiliated with the company. i used sun chlorella's resources to supply information for this review.