lots of B's!
last night was my brother doug's 31st birthday! i love that our birthdays are just days apart.
doug was having a birthday BBQ at his house, so marshall and i decided to ride our bikes to the party.  his house is about four miles from mine, but it is all uphill. oy.
the journey took us just over a half hour.  it was HOT.  i was carrying a backpack and wearing my helmet and i had jeans on.  note to self: shorts next time.  when we got to doug's house, i had to blow dry my sweat-soaked bangs and change into one of my sister in law's t-shirts! once i was all cleaned up, the fun began.  because we all know the fun doesn't begin until i am there, right? ha. right.
doug and linds have a huge, beautiful yard and it's always fun for parties. you might remember his 30th birthday last year when we had a similar celebration.
lots of family and friends were there… and an extra lot of KIDDOS running around. birth control times ten.  kids are cute.. but i prefer them not to be mine.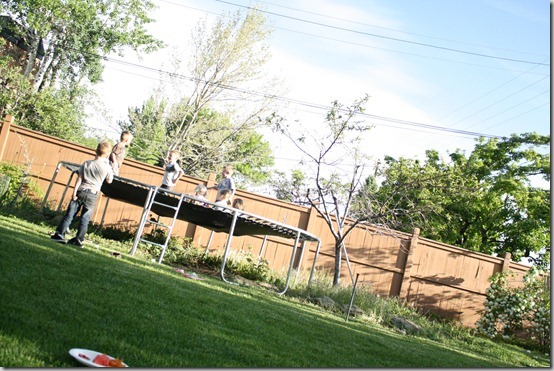 my nephew ben is always ready for his close up!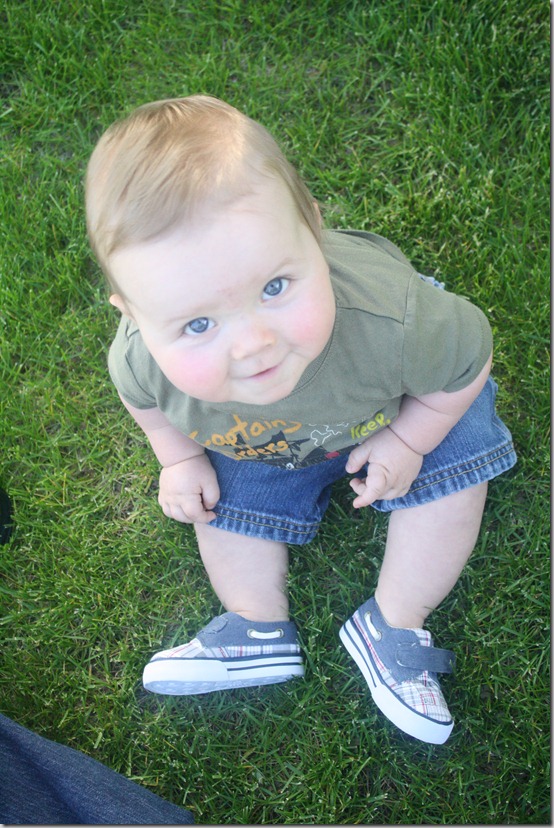 the birthday boy was manning the grill.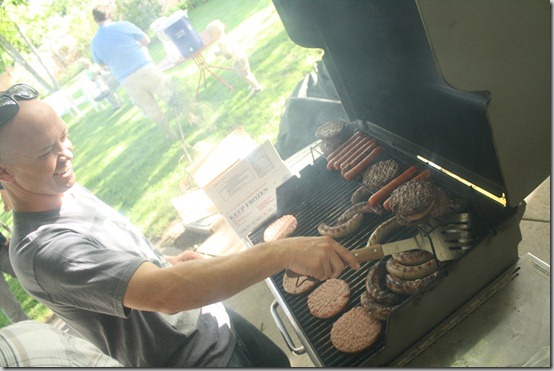 there was a delicious spread of various salads and fruit. i made danica's harvest grain salad again because it was such a hit at my own birthday party. it's SO good, maybe even better the second time around.
marshall must have worked up an appetite on the bike ride up the hill.. he didn't waste any time grabbing a burger.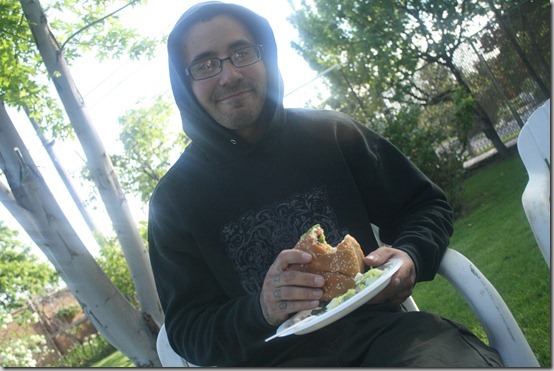 i was super hungry, too, since my lunch had been a simply bar. 
my sister made the greek salad on the left and it was phenomenal.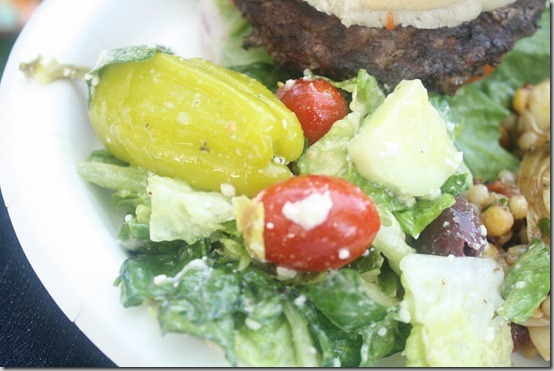 nothing screams "summer" to me more than a burger hot off the grill.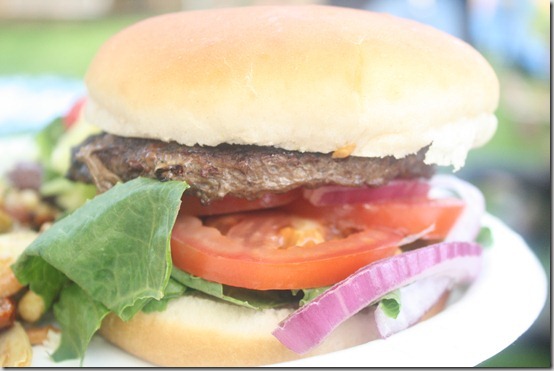 i also ate my weight in watermelon and cantaloupe after polishing off my plate. watermelon is another one of those "IT'S SUMMER!" foods for me.
hang time..
my niece iz with her daddy's shoes on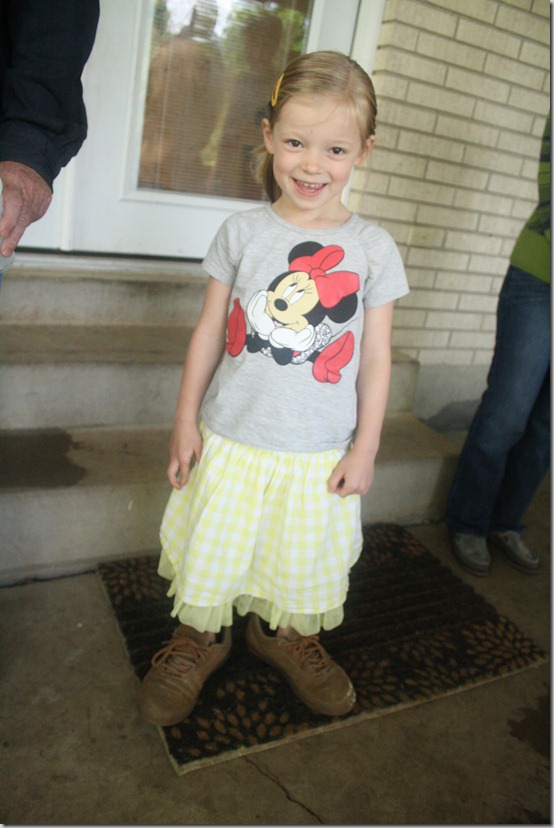 marshall + momma b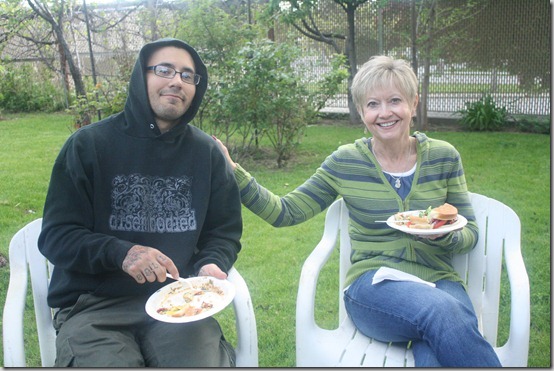 my sister and her little fam, minus a couple boys.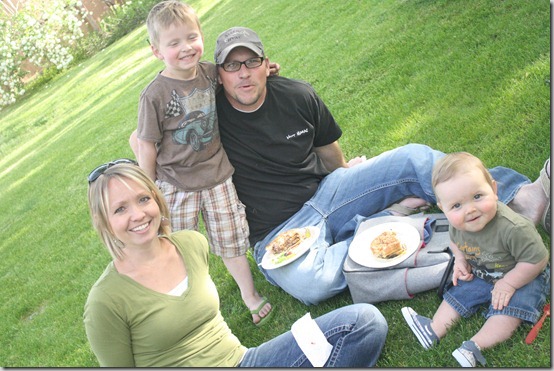 there was homemade root beer. ben wanted in on that business!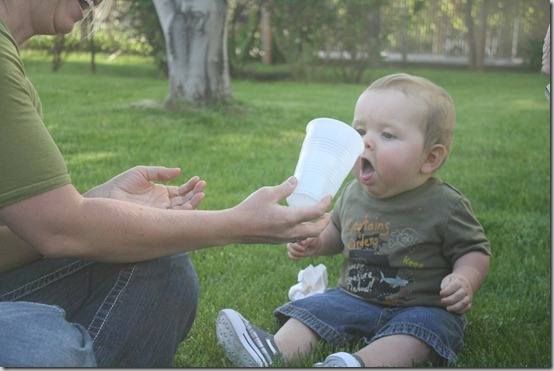 i took a photo of my blue shoes.. because i love them and it was easier than taking a photo of myself.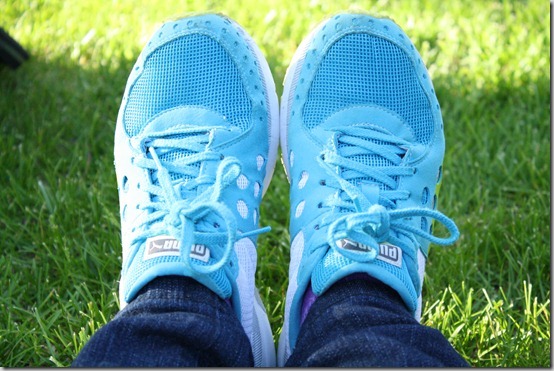 my dad + nephew greyson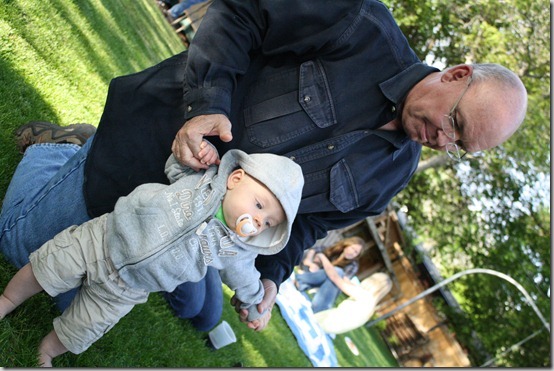 what's cuter than these little girls eating pickles? not quite sure.
the big boys were skating on the ramp. i am not quite that skilled.
marshall hates photos. hates them.  have i ever mentioned that? well, he does. hates them so much that he always makes faces. oh well.. you can't win them all.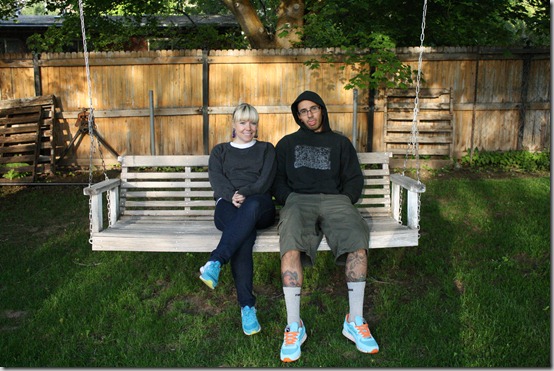 for dessert, there were popsicles! no need for cake. after a rousing rendition of "happy birthday", izzy passed out the popsicles. it was a very important job for her!
marshall is just one of the kids in a slightly larger body.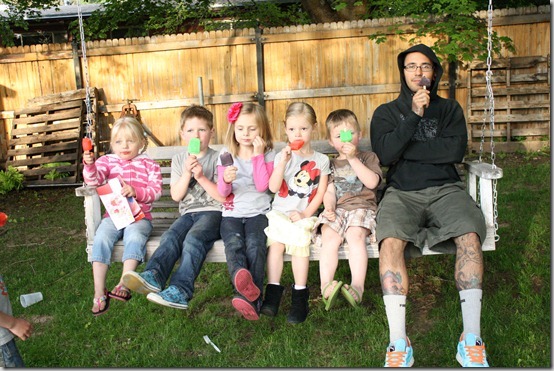 after the party, we geared up for our bike ride home.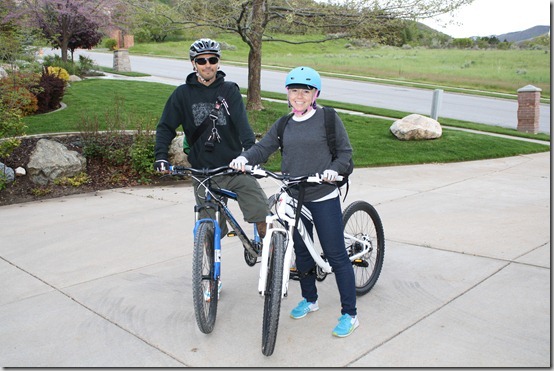 all downhill! much easier going down than biking up.
well.. that's all for now. it's a gorgeous day today and i want to get back outside! i ran a race this morning and i am about to go lay in the sun in my backyard. cleaning and laundry can wait, right? of course right.
Qs~
1. what food(s) scream "SUMMER!" to you? watermelon, sweet corn and basically anything hot off the grill screams summer to me. also, foods cooked over a campfire. i cannot wait to go camping!
2. what is your favorite popsicle flavor? mine is peach with root beer as a runner up.
xo. janetha g.