hey there!
the rest of my birthday yesterday could not have been better. after posting the first half, i immediately shut my laptop and turned on my TV for a little shaun T action.  i am almost done with my insanity challenge! i can't believe it.
actually, when i asked marshall do do insanity with me starting on april 3, i wanted to do it so i would be finishing right around my birthday. i wanted to give myself the best birthday present: to be in better shape.
yesterday i was reflecting on this goal and i am so happy that i stuck to the program. yes, i took a week off due to the flu. and yes, i missed tuesday's workout.  but i figure cut your losses and focus on your gains, right? i am in much better shape now than i was two months ago! all it takes is a little dedication.  well, dedication and sweat. and maybe a little pain.
after my workout, i got ready and we headed to dinner.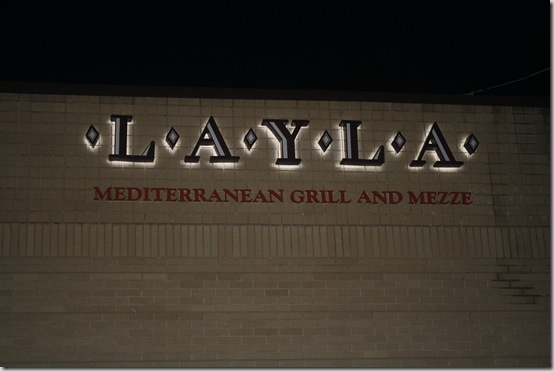 i can't remember which one of you told me i had to check out layla grill in holladay.. but it was one of YOU!  and whoever it was, i owe you big time.
right when i walked in the door, i fell in love with the restaurant. it was a quaint, single-room dining area scattered with candles to create a fun, yet relaxing, ambiance.  it was decorated with mediterranean artwork and knick knacks that added character to the dining experience.
i immediately zeroed in on the hummus appetizer. are you surprised?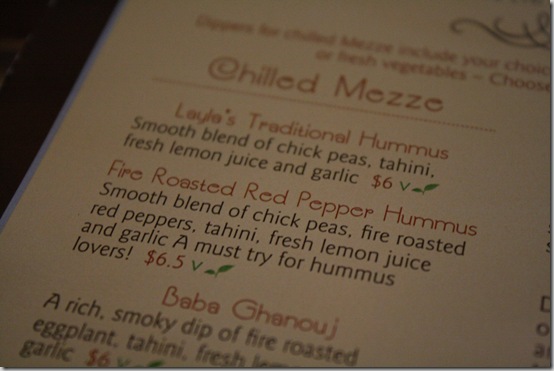 red pepper hummus with warm pita bread and fresh vegetables.
kristen & rory ordered the signature fries and i had to steal a few.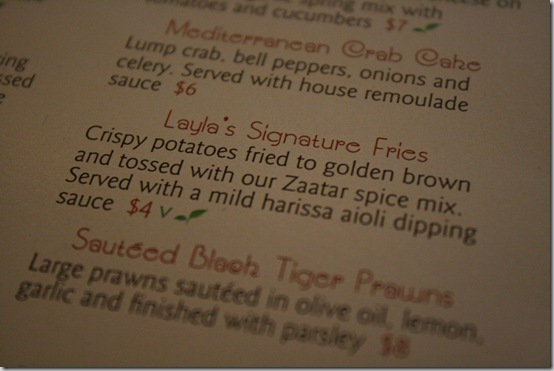 the harissa aioli dipping sauce was so delicious—i could easily have eaten a bowl if it by itself.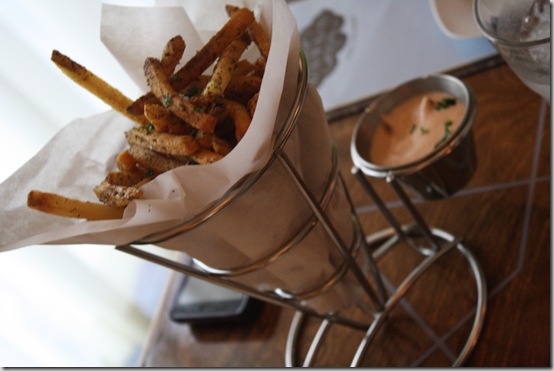 i was also in love with the serving platter for the fries.. how cool is that little attached sauce holder? i am easily pleased.
we had to wait for a few friends to arrive, so i had plenty of time to browse the menu.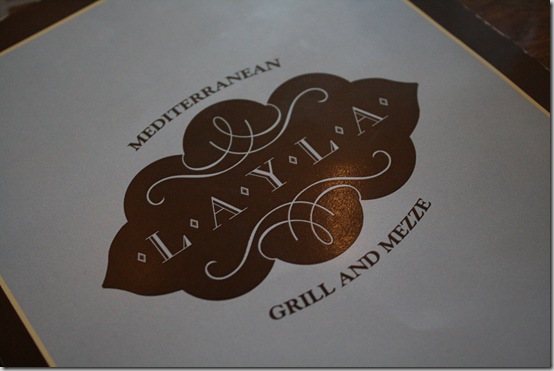 i was pleased to read this little tid bit on the back of the menu: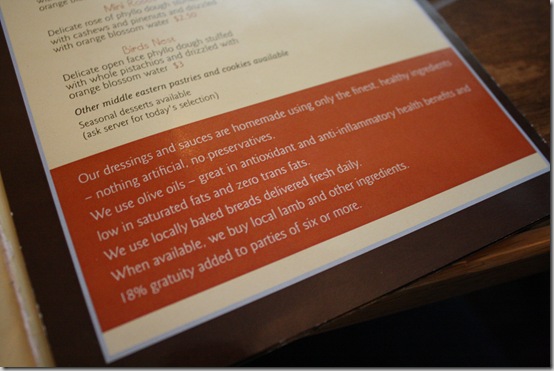 that's my type of restaurant!
when it was time to order, i had to hurry and make a decision. i hate making decisions! luckily i knew that whatever i went with, i would be satisfied.
i ended up starting with a bowl of mulligatawny soup.  i had never had mulligatawny soup before! never in my 28 years! i ordered it partially because it is fun to say and partially because i heard about it on the soup nazi episode of seinfeld.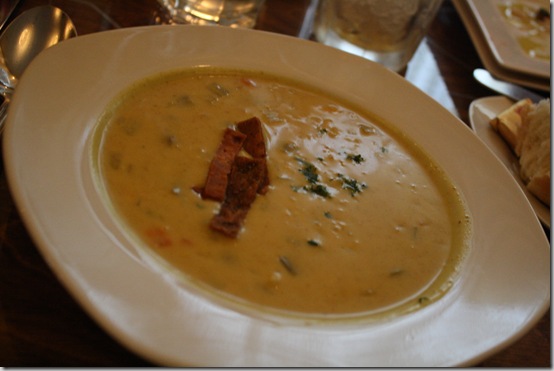 mulligatawny—which means "pepper water" is a traditional indian stew that can be made with various ingredients. this one had curry, celery, apples, rice and raisins. it was nothing short of amazing!  i am thinking i need to make angharad's version ASAP to recreate my mulligatawny experience.
i sopped up the stew with a warm roll.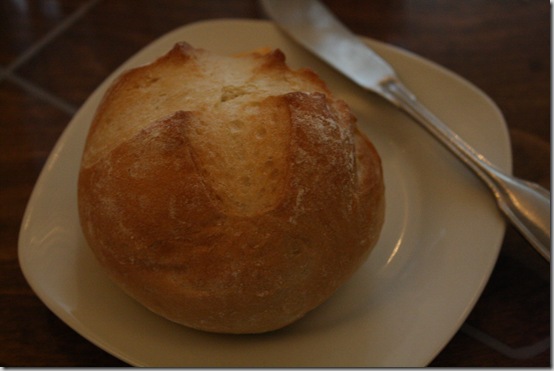 why am i showing you guys a photo of a roll? lame.
anyway, for my entree, i couldn't decide between the crab cakes and some amazing fried cheese (come on, it's fried cheese!), so i got both!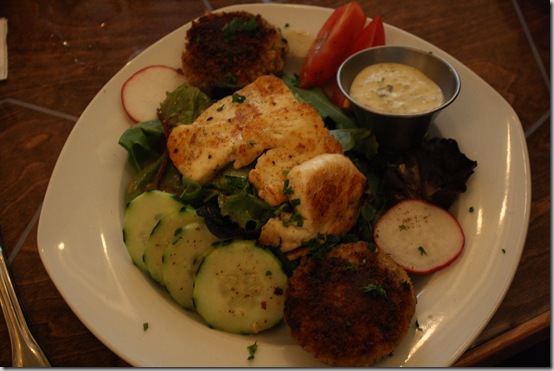 Halloum Cheese Salad: Pan fried Cypriot sheep's milk cheese on
a bed of organic spring mix, tomato and cucumbers. Served with your choice Mediterranean Vinaigrette.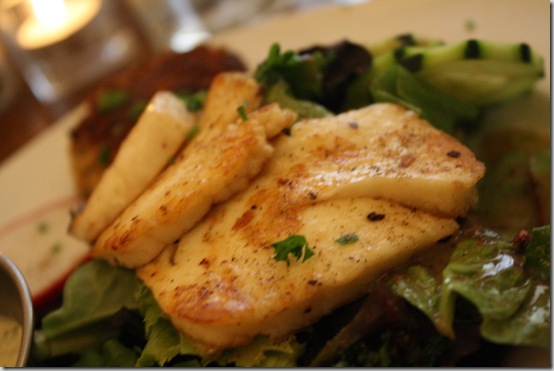 Delicious Salad Toppers:  Mediterranean Crab Cake $6
don't mind if i do add a delicious salad topper, thanks!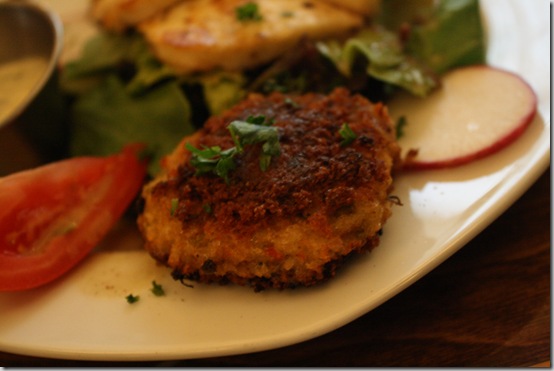 have you guys ever had fried halloum cheese?! if not, you need to get on that right away. it's amazing.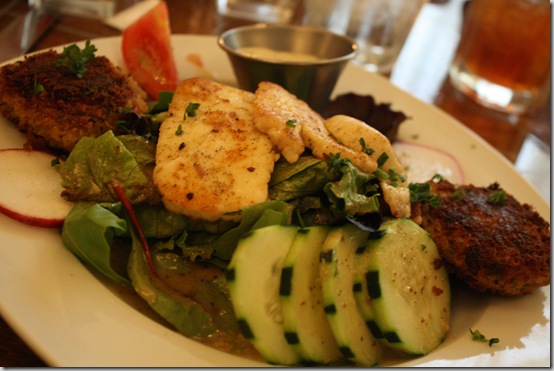 unfortunately, the dressing hurt my tongue (i have geographic tongue)~ so i couldn't finish the salad greens. don't worry, i ate plenty of everyone else's meals to make up for it.
this was some of the best food i have ever eaten in salt lake city! go to layla grill. now.
after devouring our entrees, we relaxed, digested and chatted. the restaurant was nearly empty by this time, so it was nice to have it almost all to ourselves.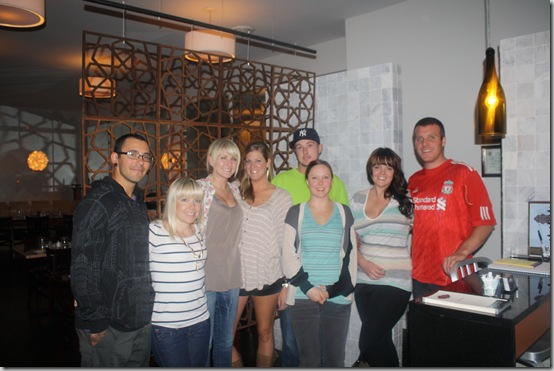 on the way home, marshall and i made a pit stop at orange leaf frozen yogurt even though i was absolutely stuffed. there is always room for ice cream.
coconut, pineapple and orange creamcicle. i don't mess with toppings.. it's all about the ice cream for me. i actually really was so incredibly full.. so i shared some with penny and randy.
it was the perfect sweet ending to a fantastic birthday! thanks to all of the people who made it special. including you guys!
because birthdays are a week-long ordeal, we are going out to dinner again with some family. i have eaten out so much lately! but sometimes, ya gotta.
Qs~
1. when dining out, do you decide what to order right away or do you take 7 years like i do?
2. what is your favorite kind of soup/stew?
xo. janetha g.
p.s. get a $20 gift card to old navy for $10. can't beat that! click here.