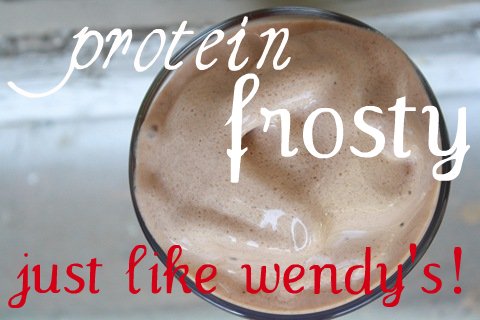 to see the original post & comments in entirety, click here.
it has been super hot, so i have been eating my faux protein frosty a lot this week.
i thought i would re-visit the recipe since i haven't talked about it in months!
faux protein frosty (taste's just like wendy's!)
serves one
ingredients:
3/4 cup (6 ounces) almond milk (or milk of your choice, i use unsweetened vanilla almond breeze by blue diamond)
15 ice cubes.. maybe more!
1 scoop vanilla protein powder (use your favorite brand–it's important that you enjoy the flavor. i like MRM whey natural vanilla or plant fusion vanilla bean)
1-2 TB unsweetened cocoa powder (depending on how chocolatey you like it)
1/4 tsp xanthan gum (this is the KEY ingredient)
1/4 tsp guar gum (or use more xanthan if you don't have guar)
sweetener of choice (in this one i used 1/4 of a frozen banana for my sweetener, but i always switch it up. other ideas: stevia packet, a few dates, xylitol, or agave)
directions:
blend, blend, blend.
devour.
here are the nutritional stats using the plant fusion protein powder and 1/2 a medium frozen banana: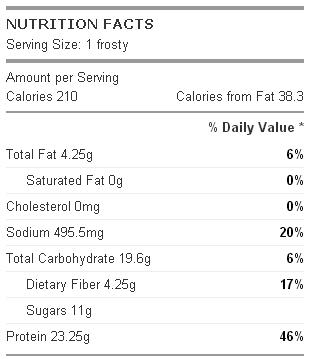 SO good and so good for you!
i kid you not, this tastes identical to a wendy's frosty. but it's healthy. and i love it. a lot.
xo. janetha b.