Hello Meals & Moves readers!  My name is Deb and I hang out in a chilly, frothy part of the blogosphere at a place called Smoothie Girl Eats Too.  Janetha was one of my very first bleeps (blog peeps) as she befriended me when I started my blog about 3 months ago.  For this I will always be grateful!
If you are reading these words, you already know that Janetha rocks the house. When she asked me to be a Guestie while on vacation, it made me think about exactly why I like her so much, and why I learn so much from her blog. That got me thinking: what a good idea for a guest post on Meals & Moves.  Sure she may blush a little, but what the heck!
So here in no particular order are some of the reasons why I love Janetha's blog:
Perseverance: I remember when I did a post about obsessing over blog statistics, Janetha sent me an email about how she had a previous blog that went months without a single comment- MONTHS! She did not let it get her down. She just kept on going.  That's cool.
Personal touch: I know that there are a lot of great blogs out there and we all want to leave meaningful comments on them. But sometimes there just aren't enough hours in the day. Janetha reads a ridiculous number of blogs,  yet always manages to leave insightful, sweet and clever messages.
Community: I loved her "This girl" post (and not just because I was mentioned!). I thought it was really clever, and was a window into the world of her varied friendships that she has formed in her short 6 months as a blogger.
Super Mom!
SuperMom reduced to a heap in fits of laughter
Awww!  Such a cute couple!
Sharing struggles. I remember the first time that I read about her weight frustration. It was here. She was having an open, honest rant. Sometimes that is refreshing because it makes you feel much more normal for having your own meltdowns if your fave jeans are a tad snug. We've all been there. And sometimes it feels good to share.
Fur Fest: As an animal lover, I get that there is a special inter-species connection that is hard to describe if you haven't already experienced it. I remember thinking that this post was so sweet- about Blue, her beloved furbaby. There are musings and pics on her bloggie daily about her sweet animals, now, and I find myself squealing with delight. And lets face it, we all like to squeal with delight from time to time, right?
Fun Personality: The fact that she finds it completely optional, or perhaps even a waste of time to capitalize letters is something I find really cool. I could be wrong, but it just conveys the impression that this is a girl that saves her energy for the things that really matter in life. Easy, breezy and fun- that is what I sense about her.
Determination: It takes a lot of freakin' work to maintain the healthy lifestyle that she does. For most of us, there is no free lunch (sorry) and it is not easy to maintain any weight lost or a reasonable level of fitness. I considered attempting a week of BFL just so that I could write about it as a Guestie, but when I saw how darned hard it looks, I chucked that idea! Check out this hot babe and tell me she isn't an inspiration to the rest of us.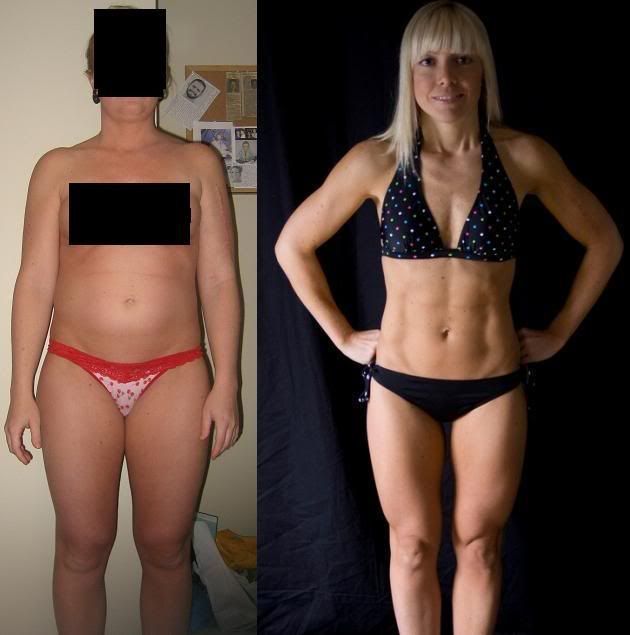 Humor. I love to laugh. It's what I live for. Whether it's a pee-in-your-pants belly-buster, or an coffee-up-the-nose snarf, or even just an under-the-breath giggle, I believe that humor is good for the soul. This is one particular post that made me realize that Janetha's funny bone is alive and well. Plus I was impressed with her computer skills!

She posted this after a long weekend away- cracked me UP!!
So, I'm sure I left out a ton of other attributes about this ab-fab gal, and so I'll turn this post over to you, her loyal M&M readers…tell me more of her wonderful traits or at least confirm that I'm totally correct in my belief that we are very lucky to have Janetha in our blogosphere!