hola chiquitas!  i just bailed on the dude party where everyone was watching the fights.. i came to marshall's house to hang out with the pups and blog.  is it just me who is just not into watching UFC? ugh, sooo boring!  i hate watching dudes beat each other up!  i made it through one fight and peaced outta there.  at least i made an appearance, brought the boys vegan brownies, hung out for a bit and gave the whole fight watching thing one more chance.  nope, can't hang with it.. especially not when i am under the weather.  i would much rather watch iron chef! haha.. that's how it goes with me. (the secret ingredient is bananas! B-A-N-A-N-A-S!)
geez i really need to get back on a regular blogging schedule, at this rate i will never hit post #100—i am almost there, and when i get there i am going to have my first giveaway, a super fun one at that!  a really dope company is having me host a giveaway for them.. and it involves designing your own product.. i am not going to say any more though, you will have to stay tuned!
well i have time to kill before marshall gets home, so i will talk about the past couple days with as much detail as possible, i love when i can blog at leisure :)
FRIDAY!
well i think i left you guys with me laying sick on the couch wondering where the little dog that wandered in my door came from. more on him later.. but after that i took a solid 4 hour nap with the little dog and woke up with a raging headache and a raging appetite to rival it.
i polished off the other half of the peanut butter perfect foods bar that i reviewed in my last post. this time i remembered to photograph the ingredient list for y'all
kind of crazy that it has bell pepper, papaya, mango, cranberry, fig, alfalfa, spinach.. just to name a few ingredients. whoda thought?! it just tastes like peanut butter cookie dough to me!
and then i decided to go carb crazy and had a bowl of cereal: fiber worms, PB puffins, optimum wheat flakes w/ rice milk
i love cereal as much as i love my own mother.
he wanted some. i gave him a doggie treat :) we call him rosco.
and then i wanted something savory so i had a slice of tillamook medium cheddar
what is that i spy?  the head of an owl? jup! that is the owl painting my buddy did for me.. he framed it an errythang!
exact size is 24" tall and 10" wide. so freaking amazing. i named her lillith which means screeching owl in the bible. did you know that?
photographs never do paintings justice.  but it is radtastic. he is a tattoo artist at the shop marshall's roommate owns, he's gonna go places, mark my words!
oh yeah then i had a fuji + naturally more PB in my square apple slicer. ridiculous.
i laid around for awhile, posted some "found dog" ads online, searched for missing dog links.. sigh.. someone is missing this little dude and it hurt my heart a lot a lot.
no luck.
hmmm then i had to quickly throw myself together because the ladies hollered and wanted to do an impromptu girl's dinner. sure, ok, i can't taste much but i agree to go for the socializing factor.
we went to a mexican spot called el chihuahua.. i declined on the death star that is so popular there. it is a crazy huge drink that comes in a glass the size of my head, no joke. i kept it casual with an unsweetened iced tea.  i'm not much of a boozer anymore.
my friend and i split the chicken quesadilla:
i ate these three triangles..
from what i could taste, they were good. i will have to go back to this spot when my taste buds are cooperating!
back at home i hung out with all the roomies, i had not slept at my house in over a week!  i was at marshall's forever because i have been spending lotsa time with my family. my mom lives closer to marshall's house than she does to mine, so it just made more sense. but daaaang i missed my lovely friends! i am stoked that i live with my very best buds, it makes for a great arrangement.
i downed some grove made simply orange OJ.. yes, it is basically like drinking an orange, there is so much pulp in the grove made variety! i love simply orange.. and simply grapefruit, simply lime, etc.  i don't get how people don't like pulp in their OJ! the more pulp the better!
orange juice tastes so good when you are sick. so does sprite, but i gave up soda long, long ago.
around midnight i called it a night and tried to get some sleep. it didn't work out too well, i was coughing all night and was real stuffed up and couldn't breath.  i woke up a couple times every hour and around 4 AM i ate a bowl of cereal and downed some nyquil, this put me out until about 10 AM!! yessss.
SATURDAY!
well it was weird that i ate cereal at 4 AM when i was having so much sleeplessness.. i was starving for some reason, and i can never sleep on an empty stomach so i just did what i had to do and i think the combo of the cereal and nyquil helped me finally get some sleep.  i wasn't hungry right when i woke up so i made some coffee and after awhile i decided to cook exactly what i was craving because when i am sick, i don't make rules about food.
french toast & scrambled eggs, coffee (with cream!) and simply orange OJ
i made the french toast by just dipping it in eggs, no milk to the wash.. just eggs and cinnamon.  i saw this on someone's blog awhile back.. hmm it was susan's or caitlin's i think? i can't recall. but this made the french toast so nice and crispy on the outside and still moist and chewy inside! perfecto!  i topped it with some sugar free syrup and smart balance light. such a good breakfast!
this breakfast gave me lots of energy and i tuned into a crazy person cleaning machine. this is what i did:
emptied dishwasher
filled dishwasher
washed extra dishes by hand
removed all appliances and jars and items from counters, deep cleaned all counters
deep cleaned sinks
moved kitchen table & chairs from kitchen, swept & mopped
dried the floors, put it all back
swept up 82 pounds of dog hair from the living room/hallways hard wood floor
dusted all the tables & furniture
took out the trash..3 times
scrubbed the shiii out of the tub/shower
mopped the bathroom floor
scrubbed the toilet/sink
ok, i did all this even though my room is an absolute mess.  but the reason it is a mess is because it is covered in clean clothes and i ABSOLUTELY HATE folding laundry! so i did all this other crap to avoid laundry folding. haha.
then i baked!
vegan brownies (click for recipe) nom nom nom.
these are good. coming from a non-vegan gal.. that says a lot. if you are vegan and want some bomb dot com brownies, whip these up!
well by the time i was done with all that i worked up and appetite so around 5 o'clock i made a gigantor salad in a mixing bowl..mind you.
wanna know what was in it? let's see if i can remember:
lettuce blend
snap peas
cucumbers
cottage cheese
hummus
corn salsa
black bean salsa
sprouts
mushrooms
boiled & shredded chicken
it was divine! i loved the mixture of salsa+hummus+cottage cheese!  who needs dressing? not me.
okay, so wanna hear what happened to little rosco?
i took him in to see if he had a microchip—no luck.  sigh.  then a girl called saying she saw my ad online and believed this was her dog, "turbo".. i told her to come on over! well, she came over with her boyfriend and said her dog had been missing for a month, but she thought maybe someone picked him up and then he ran away from the new family or something.  she took him with her, but then 20 minutes later i got a text from her saying: "this is not my dog, my dog is trained and this one is not, he is not mine"
um.. ok?  i don't know about all you dog owners out there but there is no way in hell i could ever mistake my dog for another. ever. mable (RIP) was lost for 2 weeks once. i looked at yellow labs all across the salt lake valley when she was missing.. when i finally got a call from a family who had a lost dog and it was her! immediately i knew it was her. plus, she peed all over the floor when she saw me.. heh.  anyway, so i tell this girl that there were a few people interested in giving the pup a home if i couldn't find the owner.  i lined her up with this guy who was interested in adopting him and i told him that if i get a call from someone looking for the dog i would send them his way.  sigh, i hope rosco has a happy ending! poor little fella, i know someone is missing him. :(
give your dog a kiss! and MICROCHIP YOUR PET!
i left to go to the fight party around 9:30.. i had a little snack beforehand because i knew there would just be junk food at the party.
oikos 0% + peach + sooo much cinnamon!
all mixed up!
'twas delish. peaches are by far my favorite fruit!
at the party i did have a couple handfuls of some chocolatey chex mix and also a sliver of the vegan brownies.. but that was it! pretty proud of myself for resisting all the other tempting goods. i did manage to polish off the last of my bottle of grove made simply orange which i forgot to photograph, so i give you this photo from last summer of marshall getting crunk off the OJ (btw–he does not drink, never has, never will.. but he can pretend that OJ gives him a buzz)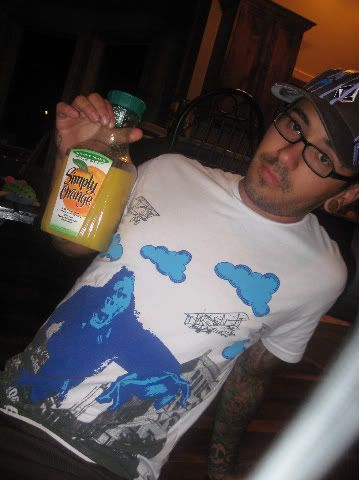 yes i drank a whole bottle to myself in less than 24 hours. so??
i had a slice of tillamook cheddar when i got to marshall's.
so that wraps up the eats as of late! it was quite the long rambling, if you made it this far give yourself a hug and say it is from me.  oh, and i am not done yet :P
let's talk about mail! i got not one, not two, but THREE fun mail things today…
finally my sun butter sample came!
have not tried it yet.
and my amazing grass sampler came!!
after hearing soooo much about this stuff on the blogs, i can't wait to try it for myself! everyone has reviewed this stuff with amazing praise except for heather, i am anxious to see what i think, but i am going to wait until i have my full sense of taste back!
my last package is kind of a secret, i will talk about it in my next post.. i am not sure if the recipient of the item is reading or not.. so it's on the DL for now!
and i know you guys are TOTALLY bored with me by now, but i gotta send a shout out to ellie who awarded me with this super stellar award!
it is late (1:30 AM!) and this is already long, so i am going to tackle the award business on the next post.. but i wanted to give a thanks to my girl :)
wow this was a long one, eh? i always like hearing your answers to my questions of randomness.. so here are a few more for ya!
1. how do you like your orange juice~lotsa pulp, some pulp, no pulp?
2. what is your MOST DESPISED household chore?
3. what is your favorite fruit?
my answers were in the post, so i won't repeat them. hope you all have a relaxing sunday before the work week starts up again! hopefully i am well enough to WORK OUT tomorrow.. i am seriously going crazy being sick and away from the gym!
xo, janetha b.