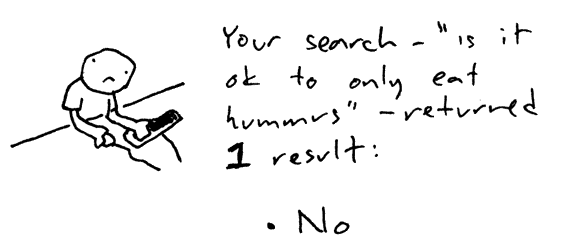 sigh, i guess i better not go with that plan.  too bad.
TUESDAY!
yesterday's lunch was a repeat of monday's.  wrap + meatloaf + sprouts + LCL + lettuce along with a veggie plate+hummus (naturally)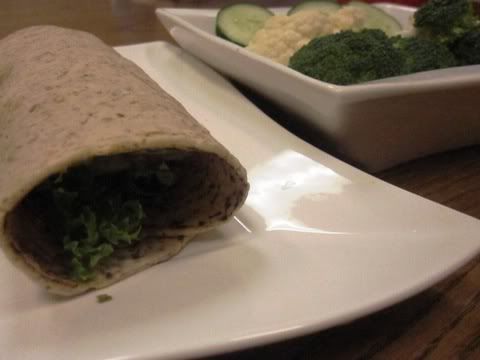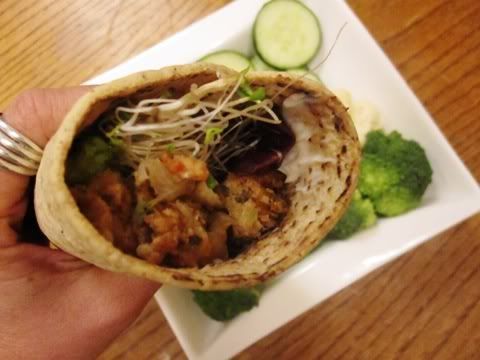 i DID have a little something different for lunch yesterday though..
mi madre!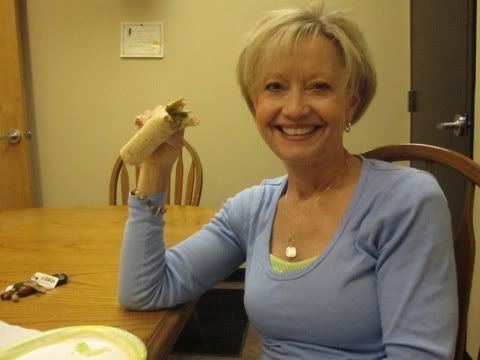 my mom is the cutest ever. i can't wait to be exactly like her in thirty years :)
post workout and pre dinner i munched on a couple items thanks to danica:
TJ's bbq pop chips
TJ's PB & A nut mix
TJ's PB filled pretzels
sooo.. yesterday was special-ish.  two years ago yesterday was the first day i ever went to marshall's house.  i remember it so vividly.  i got all cute and ready and whatnot, i even shaved my legs *gasp* and i drove to his house ultra nervous.. even though marshall and i had worked together for 2 years prior to this, we had never actually hung out.. and 2 days before june 9, 2007 we went on a date to a movie and we both were too lame to hold each othr's hand even though we both wanted to. haha. hahaha. so anyway two years ago on the way to his house i was constantly reapplying my lip gloss on the 30 minute drive to his place and wondering what we would do and if his friends would like me and, and, and.. when i got there his house was clean. his room was SPOTLESS. i remember it well. i even remember what i was wearing.oh and marshall's face was NOT hairy at all. and i knocked on his door.
then i compare it to last night as i drove to his house.. i had worked out and then showered, threw my hair in a ponytail, no makeup, wore my VS pj pants and a volcom tshirt and flip flops to his house. and i got there and of course his whole house, especially his room, was the usual mess. marshall's face was hairy as ever (i give him a lot of grief, i hate pokey hairy facial hair!).. marshall was in puma soccer shorts and lounging on the couch (reading the fourth twilight book no less) and i just let myself in as per usual. and we laughed about all this when i got there. a lot changes in two years, it was fun to look back on that first day i went to his house though.
i always remember dates. i am a date/number freak. i mean, i count my steps when going up and down stairs and i look for synchronicities in phone numbers. am i alone here or do you guys remember the most insignificant dates as well?
dinner was good. hamburger salad!
7 lettuce blend
spinach
mushrooms
tomatoes
avocado
sprouts
1 hamburger patty (i have millions left over from my birthday bbq)
shredded cheddah
ketchup, mustard & frank's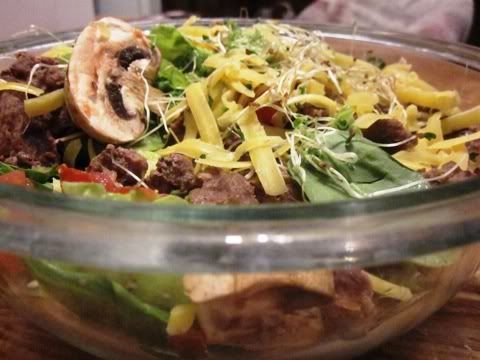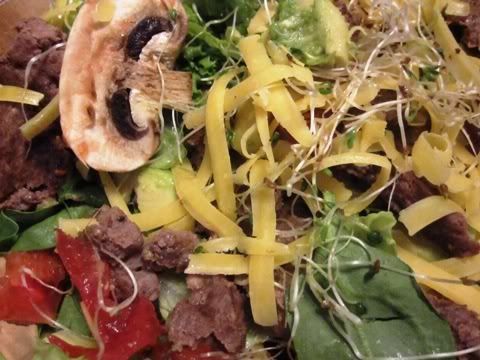 THIS WAS DELICIOUS TO THE MAXXXXX.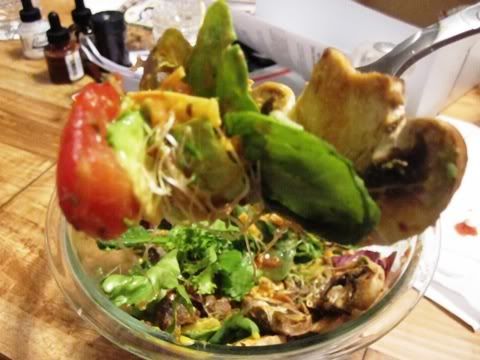 who needs salad dressing when you have burger condiments?
marshall is cute. he posed his burger and asked me to take a photo. i love him. he has never read my food blog (he reads my real-life blog) but he asked for the address to it last night. perhaps he will check it out :)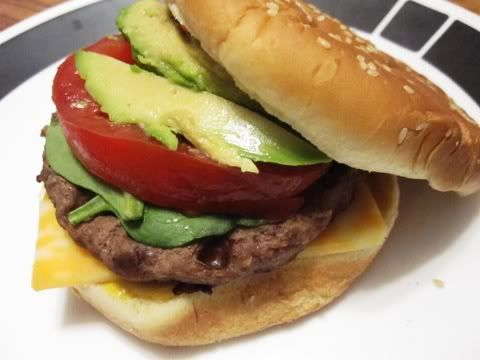 oh! as you all know, marshall's roomies are who i refer to as "the vegans".. and they have been working on getting buff lately. it is hard to get all your protein in as a vegan, well, if you are going for high protein intake that is. nick had this weird looking loaf thing. i did a double take.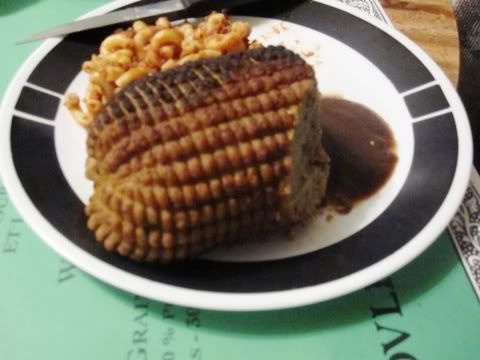 apparently it is vegetable loaf.. and that bad boy packs 140 grams of protein!! wow! and 30 grams of fat. he didn't know the carb content, i would like to know.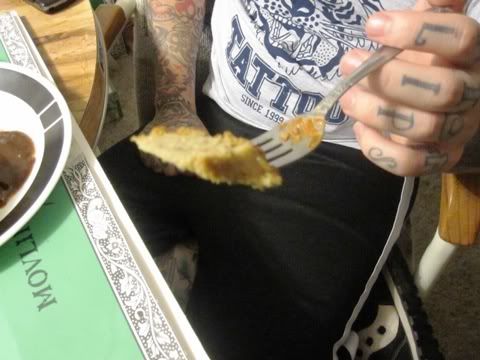 he gave me a taste. it was pretty good, but very, very dense.  i couldn't eat much of it, that is for sure. he didn't eat the whole thing.. but daaaang, that is a lot of protein in such a little loaf! have you guys tried this? i like the way they shaped it.
it was a classic TWSS moment when i said, "i love the way it looks, and it is so big!" ahaha.. everyone had a good laugh at my remark.
i got to the gym yesterday for a high intensity interval training sesh! it was a classic BFL-style HIIT.
minutes 1-2 warm up @ 5mph
minute 3 @ 6 mph
minute 4 @ 6.5 mph
minute 5 @ 7 mph
minute 6 @ 7.5 mph
minutes 7 – 18 repeat of the cycle above
minute 19 @ 8.5 mph
minute 20 @ 4.0 mph
sooo my ankle is messed up. the left one. i thought it was just sore from my run the other day, but the soreness has gone away from the right ankle and the left one is giving me grief. so bad that i had to stop running and step on the side of the treadmill a few times. i hope it is nothing serious, because i have a 10k in less than a month! ugh. better get to the doc just to be safe.
i was going to go on a hike after my run. utah is known for our glorious hikes, they are all in my backyard, it is sooo rad.  but then as i was driving home it was basically like i was driving into the depths of hell and a huge thunderstorm struck. my friends still went hiking in the madness of the storm.. but i bailed and went to marshall's. i already had worked out twice yesterday, i think i was ok on passing up the hike. next time, next time.
plus i have killer DOMS in my hamstrings from my deadlifts monday!!!! love it. hurts so good.
WEDNESDAY!
i was late for work today. 40 minutes late. i can not wake up to save my life.  all you lovely bloggie friends are SUCH morning people.. you are like yeah, i woke up late at 7 AM.  waking up late for me would be noon.. really.. i don't know if i will ever be a morning person.
i turned to an old friend for breakfast.. ohhh how i have missed my protein oats! made with good old fashioned quaker oats.  i used to eat this every single day of my life when i was doing strict body for life challenges. i forgot how much i love them!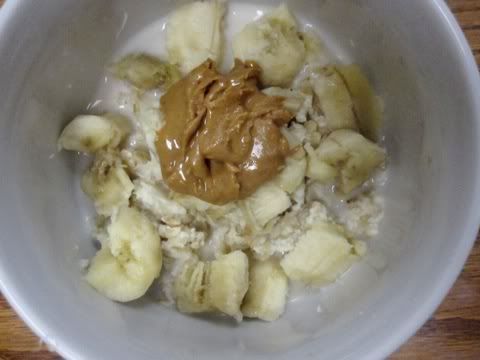 this bowl was spectacular. it included:
1/3 cup oats
1 scoop EAS vanilla protein powder
1/2 cup water
then i cooked it in the micro on level 3 for 4 minutes and added:
splash of almond milk
1/2 of a medium banana
scoop of creamy PB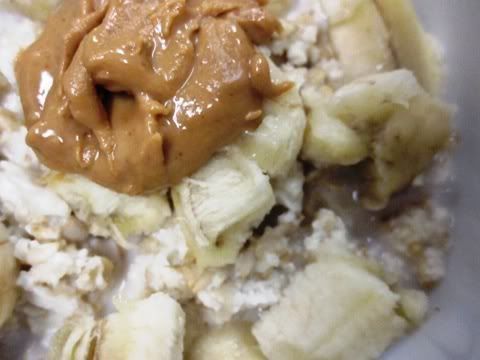 deliciousness in a bowl.
and i had some coffee.
lunch came next, i just got done eating it actually. i had a pizza wrap and i took a play-by-play while making it.. enjoy!
flat out + TJ's red pepper spread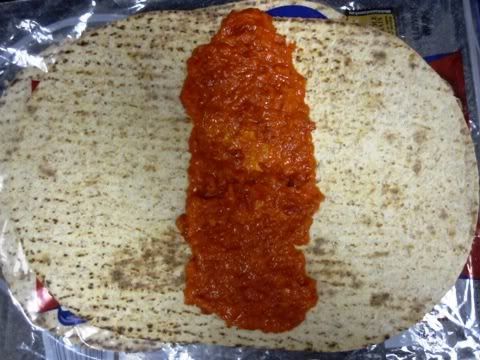 turkey pepperoni+spinach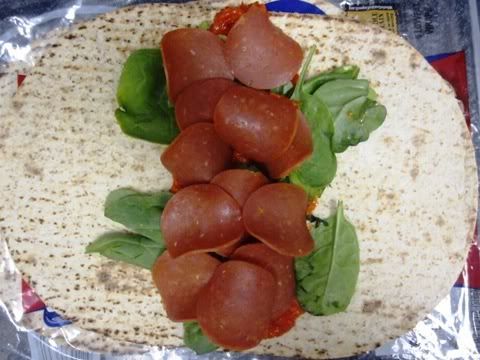 green pepper+mushrooms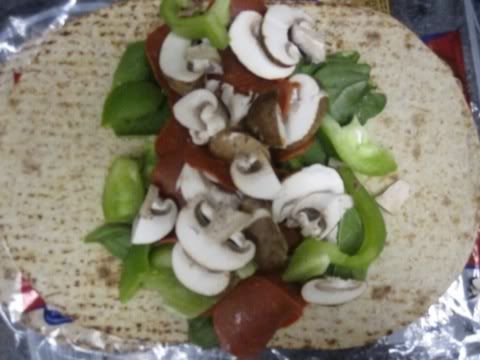 sprouts+extra sharp cheddar (the sharper the better)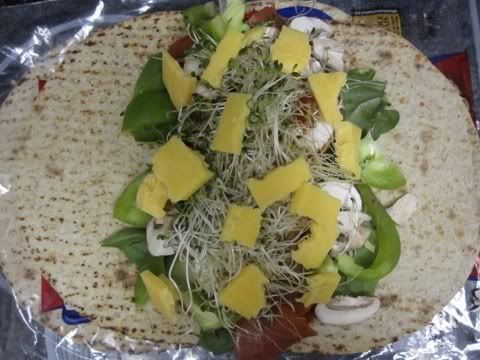 as i was trying to wrap it up, i was the only one there to answer phones at the moment so i had three failed attempts at my wrapping up business! but i finally got it handled and it was glorious!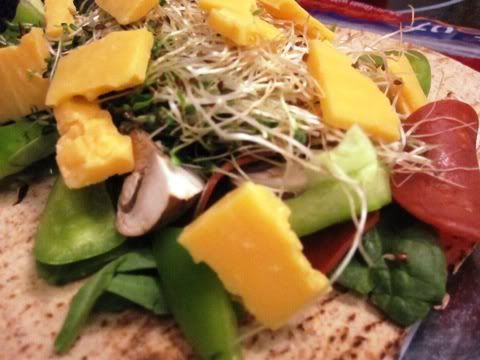 i ate it in halves.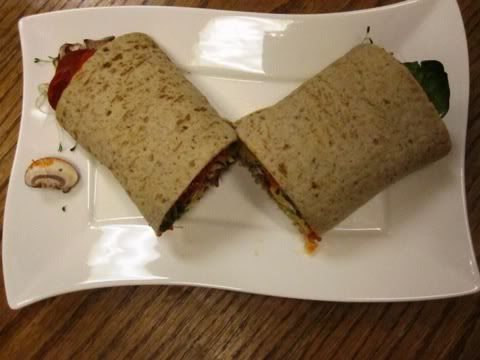 the insides!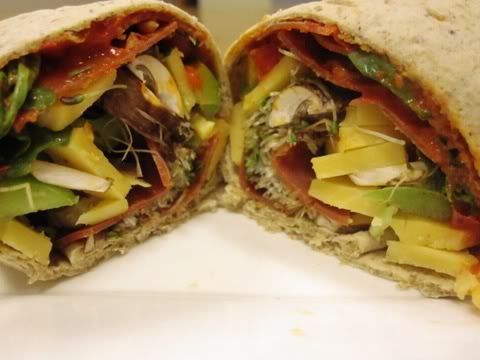 polished it off with some agua.
okay! well.. my posting times have been weird lately, seems like i have lost my routine and am posting half of two days instead of all of one day. oh well, it still works out i think! i will continue to roll with the punches.
thanks for all your suggestions on the potluck! i forgot to mention it is not totally a potluck, we have this group of amazzzing mexican bbq-ers that work here. ever since they started working in our factory we have swapped out the regular potluck for mexican fiestas because they make the most amazing marinated carne asada, authentic beans, rice and cabbage slaw.. oh and salsa that would make jess blush.. seriously their cooking is off the chain amazing.
but my boss loves my cooking too, so he asked me to make and bring some stuff.. i have decided to whip up a huge batch of guacamole and then do two different salad.. probably a pasta salad and a green salad. haven't decided which salads yet exactly though.. better figure it out quick since it is tomorrow!
i better bail, i have a lot to get done today before i am off work.. and then after work i have to do an upper body workout, the shred, grocery store, target, cook for the luncheon, shower, head up north to the boy's town to go see the hangover! oh but my week goals are going just swimmingly!  i have managed to get a full gallon in both monday and tuesday, actually way more than a gallon yesterday. i have knocked out two days of the shred and one HIIT session and one weight training session. i tried two new foods (PB vitatop & vegetable loaf). i have done 440 ab reps and my goal is 1000, but i am not counting the reps from the shred dvd.. this is separate.
questions:
1. have you always been a morning person? are you one now? or are you like me and could sleep til noon and not even wake up to pee…
2. do you love DOMS like i do? or do you haaaate it?
ciao for now!