heyo! more on the title in a second. first you have to listen to me ramble about yesterday!
well i am a genius and didn't take my camera home with me yesterday, so all my photos were at work and no posting was going on.  that was okay though because i was a busy janetha b last night anyway!
i can't even remember where i left off, but i do believe i need to tell you all about the monday eats.. right? yes.
breakfast was at my usual monday morning sales meeting. i was not feeling my usual eggbeater scramble so i switched it up.  i ordered one egg over easy, dry wheat toast, 1 piece turkey sausage & a small fruit.
i ate the fruit first.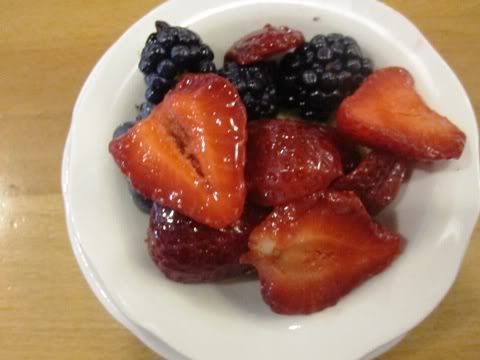 and then the rest came and they were out of turkey sausage.  bah.  i was not about to eat any of the other protein choices (bacon, pork sausage or ham) so i just said forget it and i ate my egg and a slice of toast: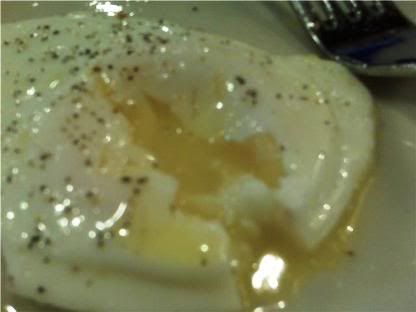 meh. not that impressed. sometimes i wish i didn't have to go to my weekly monday morning sales meeting because it is at the same place every week (the original pancake house) and while they do have some healthy options, i have to watch everyone else i work with get belgian waffles and french toast and greasy scrambles.. here are two prime examples of what i am talking about… last week both of my bosses got the same thing: 3 eggs scrambled with bacon, sausage, ham & cheddar cheese. it looked like a heart attack on a plate! ick. and then one of my sales reps got a belgian waffle with ICE CREAM on top. yes, that is considered a breakfast at the good ol' pancake house. i couldn't believe they offered that, it is their new special. so crazy to me. although it did look delicious unlike the triple pork scramble i just mentioned. but not for breakfast.
yesterday was national jelly filled doughnut day.. i brought something to work but i did not indulge.. if i am going to eat something bad for me, it is not going to be a doughnut.. i just don't love them enough.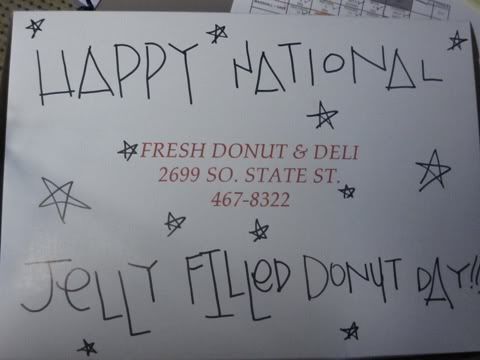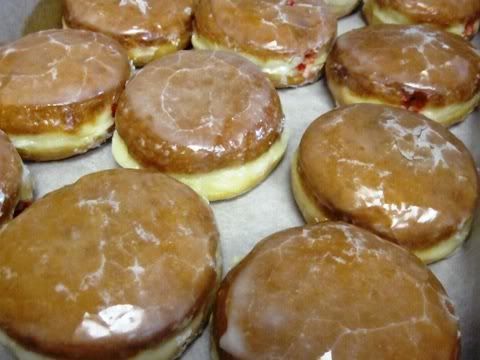 oh! i had the most amazing lunch yesterday!  actually my mom is coming to my office today so i can recreate it for her. it was just that good.  like.. i was eating it and i didn't want it to be gone.  so so good. promise.
flat out+turkey meatloaf+LCL+lettuce+sprouts & a veggie/hummus platter.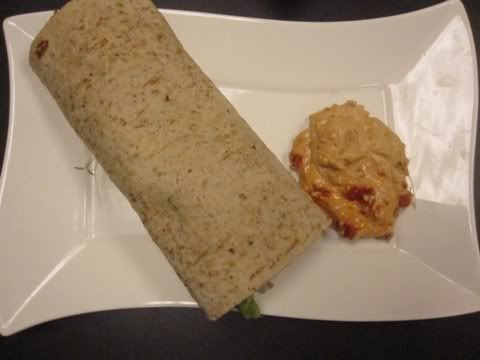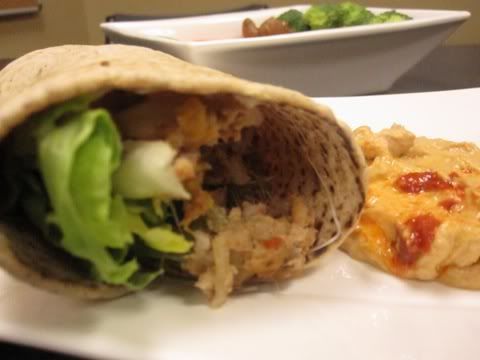 this is some of the meatloaf i made in my BSI recipe the other night.  i put the LCL on the flat out and then the meatloaf and heated it. then i added the lettuce and sprouts. i can't really explain why this was so good, but it honestly was one of in not the best wrap combos i have ever made.. and if you know me, you know i do A LOT of wrappin!
the photos don't do justice.. but honestly i am tooting a symphony of my own horns right now.
oh yeah, and of course i had me some veggies and hummus, because i am diligently working on turning into a garbanzo bean.
ain't it the truth??!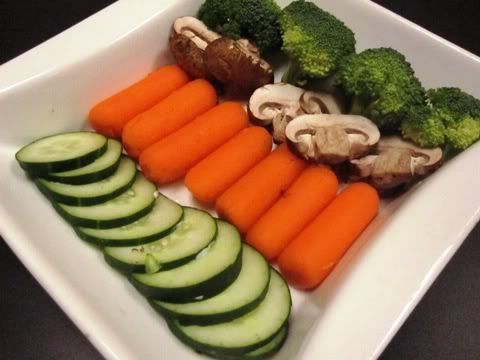 (hummus was on the wrap plate)
that held me over through the end of work.  it was actually not a bad monday. no problems, no stress.. i was pleasantly surprised!  right after work i went straight to the gym, did not pass go, did not collect $200.. i would like to know where go is and what i need to do to collect $200 every time i pass it though, now that would be fantastic.
the gym was amazing! i have been a slack ass and haven't been in awhile, i have been shredding but not full fledged gymming it, and that is what i need to be doing. so without further ado, i give you my workout.
i was debating what i should do in the gym, but since it had been awhile i went with my fave: lower body workout :)
barbell dead lifts: 5 sets of 15 reps w/ 40# barbell
i alternated these sets with oblique twists on decline bench w/ 10# weight, 50 reps each time.  i did a total of 200 reps (or 4 sets)
and then i did stability ball hamstring curls, 15 reps.  i used the body for life method of working out the sets, but not for number of reps or weight.  so basically, i did 5 sets of one hamstring exercise and then 1 set of another hamstring exercise, with abs in between.  i followed this same pattern with my quads:
first i warmed up my quads with some bench step ups with a knee-up with 5# dumbbells, 24 reps and i did a bicep curl with every knee-up. i don't know how else to explain what i did. sorry if that makes no sense.
barbell sumo squats: 5 sets of 15 reps w/ 30# barbell
and then i alternated these with 50 ball crunches (4 sets)
and after my fifth set of squats i did stability ball wall squats w/ 7.5 dumbbells with a bicep curl on each squat.
then for some butt action i did two sets of 50 lying butt bridges w/ 10# plate and alternated this with two sets of 20 reverse crunches.
then i had sometime to do calves and i did 4 sets of 15 reps standing weighted calf raises @ 20# weight.
whew! the end. i had JLS when i left. JLS=jello leg syndrome.  my friends and i made that term up and we use it often after a long day of snowboarding. i looove jello-y legs!  so shaky you can barely walk.  love it.
i went home and hit the showers. marshall got home from california and i went to pick him up from the rental car spot. awe! stoked. i missed his hairy face (but i hope he shaves real, real soon).
well since i didn't have a camera i will just quickly tell you what the rest of the night's eats were. cauliflower + hummus (of course). then we went to my friend's wedding reception and i had: 2 stuffed mushrooms, about 2 ounces of cheese (gouda & pepperjack) and 3 wheat crackers+artichoke dip. i think i fared pretty well considering the massive spread that was at my disposal.  what i did choose was DELISH!  it was too bad i had no camera, because it was really pretty, fancy looking food!
TUESDAY!
i woke up and immediately did the shred.  working out in the morning makes me feel so great! i just wish i was a morning person so it was easier for me to do more often ;)
i now bring you to my title :)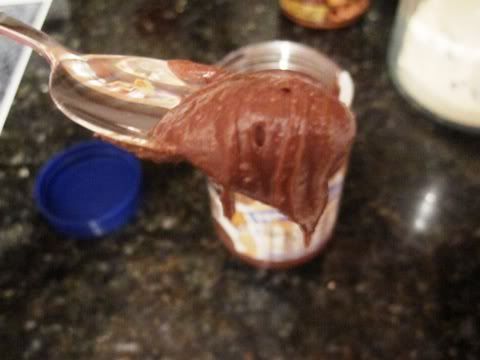 what better way to enjoy my new purchase of PB & Co's dark chocolate dreams than with a parfait ala k of course!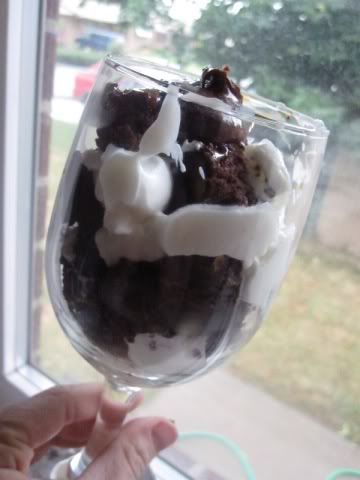 this one included a new variety of vitatop: peanut butter fudge.  i tasted the peanut butter on the vita after toasting it but before adding it to my parfait.  i am not that impressed with the peanut butter flavor and would probably prefer the deep chocolate over this one.  but, it was nice to try.
then i added some fage 0% and topped it with a scoop of the DCD crack! i can already tell this jar will go ultra quickly!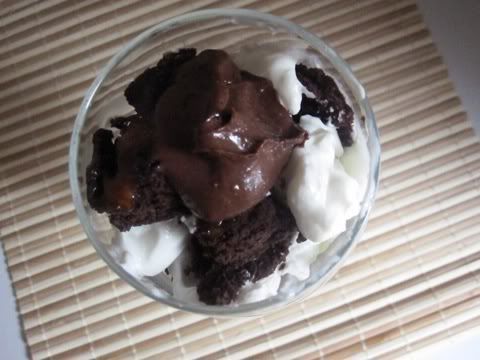 gahhh.. it was so good. i know i was saying that the ice cream on the waffle was more like a dessert not a bfast.. but THIS was for sure dessert-worthy! AND it was good for me! like my lunch yesterday, i was sad when this was gone.
a few more shots for pornography purposes.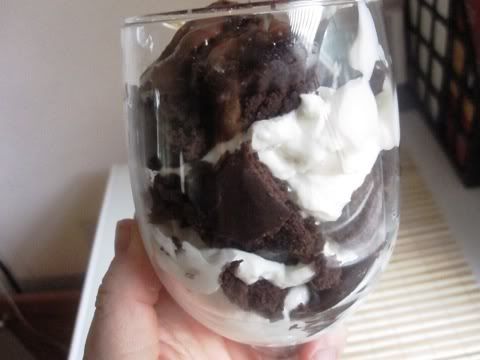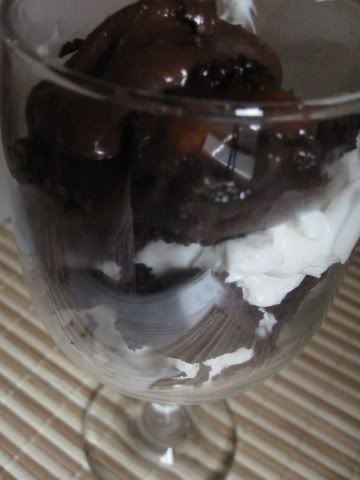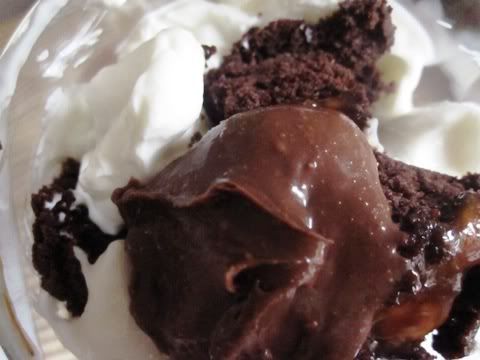 straight up dreamy!
do i even dare buy the WCW???!
and that, my friends, brings us to the here and now!  i have not had a chance to catch up on all your blogs and my lunch will be with my lovely mom, but i am at work until 5 today, it is my late day, so i hope to catch up on all y'all sometime soon!
not much time for other news but there are a couple sweet giveaways going on over at jenny's blog and erica's blog!
oh! question!!! i am having a work party thursday, so it is time to tell me WHAT IS YOUR FAVORITE DISH TO MAKE & BRING TO A POTLUCK? (besides hummus ;) ha!)