hi everyone! two posts in one day? wow janetha must have a lot of time on her hands, right?
how did the weekend pan out for all of you? my day has been really productive because we were stuck indoors due to thunderstormy stormness! we had originally planned to spend the day at the park, plans were foiled! but that is ok, i got a lot done.
after i posted that blog down there from earlier today, i made some sweet potato rounds.. sometimes the sweet potatoes at the store are white.. sometimes they are orange.. sometimes they have both.. sometimes they are called yams.. sometimes they are called sweet potatoes.. i don't really know the science behind it all.. i just know they are TASTY!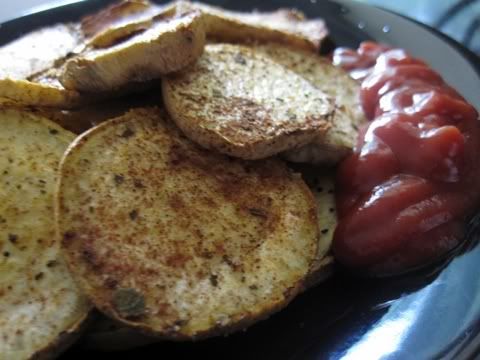 angelic snacky goodness
and then i proceeded to clean my entire room, clean out my closet and both of my dressers and MADE myself make a huge "yard sale" bin. you see, my room is the size of a shoebox. and not an adult shoebox.. the shoebox that a five year old's shoes come in. good thing i am little because i barely fit in this little room of mine. i have issues with parting with my clothes. serious issues. so when i filled up most of a 20 gallon bin full of items to get rid of, this was a huge accomplishment! for reals. i just need to get rid of them quick so i don't have second thoughts!  do you guys have that same logic.. "oh i haven't worn this in two years, but WHAT IF i need to wear it sometime to really perfect an outfit? better keep it for another two years!" ugh, i wish i could change my mentality. i am working on it!
then it was grocery store time! love it. i didn't get much, but i had to go to get some muuuch needed produce and a few other items to get me through the week. here are my non produce finds:
eggs
couscous
fage 0% (yes just one. it is WAY cheaper at WF so this is just to get me through until i can get to WF)
frank's red hot
fat free half n half (for those weekend cheat coffees)
coffee
sabra.. i know i said i was going to make my own hummus next time but this was on sale for two bucks off!
PB & Co DCD! im a virgin to any PB & Co PBs!!
this was on sale so i went for it. i hope i like it.. i am sure i will.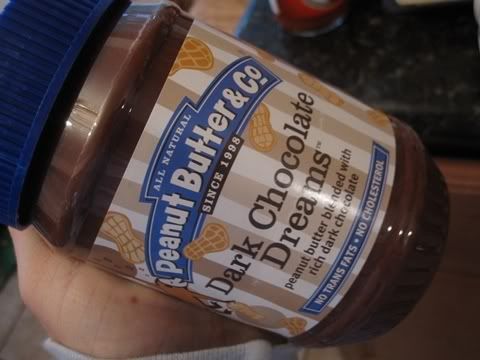 and then the produce included: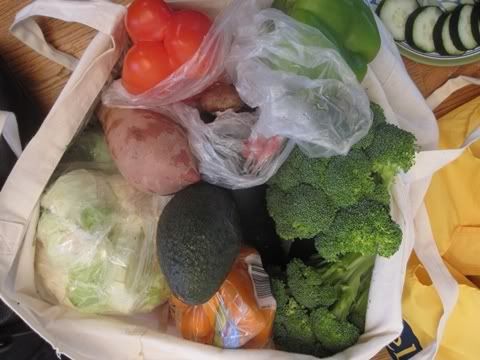 cucumbers
cauliflower
avocado
broccoli
sweet taters
tri color bell peppers
carrots
crimini mushrooms
oh and i got 2 new plates! i love buying new dishes.
and then i set out to make my very first ever participating recipe in a BSI challenge! i made stoplight stuffed peppers. you can check out my recipe by clicking riiight here!
while i was cooking i had a cucumber & hummus plate. on one of the new plates :)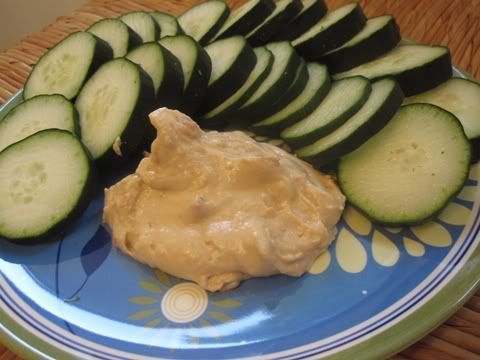 and then i chopped up the cauliflower and some didn't fit in the tupperware so i threw that on the plate with more hummus. ima turn into a garbanzo bean. true story.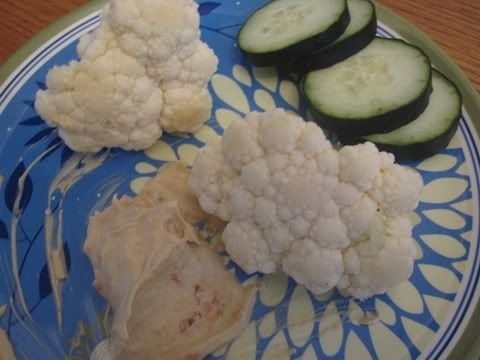 i did the shred while the peppers baked.
here was my finished product! red means stop, green means go. but in my case, red meant go because that is the one i ate. after dousing it in frank's & annie's of course.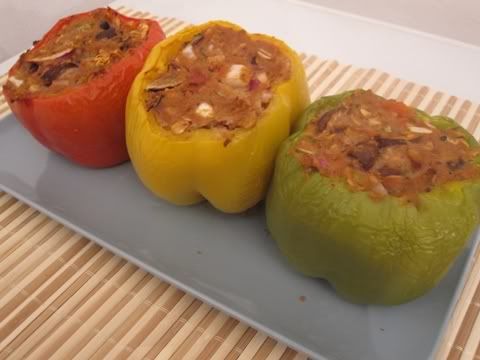 finished off dinner with a camera shy calcium chew.  i think i might have to sample the DCD tonight.. maybe.
well tomorrow is the start of another busy week! the weekends fly by too fast for me. i am sure you all feel the same. i have a wedding reception to go to tomorrow as well as a busssy day at work AND marshall gets home! yaaay. i miss that nerd.
oh! i have decided to run the 4th of july 10k with my brother in law, and marshall said he wants to run with us too! so that will be fun. i have only done a 5k so a 10k will be a new challenge for me and my bunk knees.
anyyyway, i am going to go catch up on my blog stalking reading and then think about calling it a night. whenever i work out late at night i have a hard time going to sleep. how about you guys?
here are my goals for the week, in case you wondered, i am sure you did:
drink 1 gallon of water a day
3 high intensity interval training work outs
3 weight training work outs
6 days of shred
1000 ab reps total for the week
run 10k to see how long it takes
make an appt with the accounting advisor at the U since i'll be enrolling
try a new recipe
try a new food
i think those are some good ones for now.
what are your goals for this week??
xo. janetha b!