…then don't say anything at all.  that is how the saying goes, right?  well i like to look at the cup half full, the bright side of things and i really have an optimistic way of seeing most things in life.  so basically, i think we should revamp the saying to be: "if you have something nice to say…say it!" all too often i am thinking something nice about someone, sometimes a stranger and other times someone i know.  i find myself constantly thinking of nice things about people when i see them, but i rarely spit it out unless they are someone i know.  yesterday i was sitting on the patio of cold stone (more on that later :)  and a woman walked by in a super cute outfit.  usually i would think to myself "wow, i love her outfit. and her purse. and those shoes rock my face off." and that would be that. but instead, i simply told her. she seemed ultra giddy to get a compliment from a total stranger.  my goal from now on is to tell people what i am thinking when i think it instead of keeping it to myself. who doesn't love a compliment? it is simple, free and makes someone smile.  and it is genuine.  :D
that is my feel good thought of the day.  now i have a lot to talk about!  i have been turbo busy, going full speed ahead.. honestly i am pretty beat but since it is only thursday i have to keep on keepin on and make it to the weekend!
yesterday i bolted home really quick-like, packed up my stuff for working out and for getting ready today since i stayed at marshall's. before bolting out the door to head to b.town (aka bountiful aka my home town aka where my parents reside) i decided i HAD to have a snack pre-workout.
apples & PB on the go!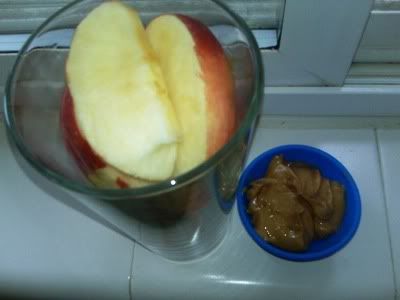 my mom bought me those cute silicone cups, they are meant to use in cooking and baking but i have found they serve as an awesome little nut butter dish to dip my apple wedges in!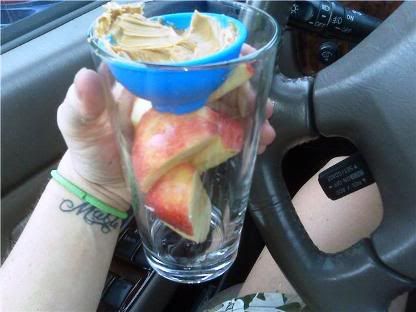 classy on the go snackin'!
i got to my mom's and we did the shred.. it was day 2 for me and day 3 for her.  basically she is ready to throw the dvd out the window.. no..not because it is hard.. but because she can't stand listening to the same commentary one more time! i don't blame her.  i think i will have to throw some tuneage on and put the DVD on mute when i shred it up today!  do you guys listen to it over and over or do you put jillian on mute?
after the shred it was time for ICE CREAM!  basically one of my top fives.  my top five foods of all time are, in no order:
ice cream
cereal
burritos
hummus
this one i leave open for debate, because i can never decide.. it changes from time to time.. it has recently been sushi, bagels and peanut butter.  don't hate on the indecisiveness that is janetha b!
so i decided i had to get some running in!  it was national running day, after all! so i hit the ground running.. from my mom's casa to.. yep, you guess it, cold stone!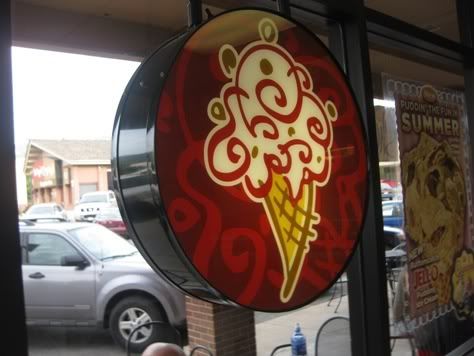 it was a quick 2.2 miles and it took me 18 and a half minutes.  not the fastest but for sure not the slowest! i felt fanfreakingtasic afterward!  and i definitely deserved what came next.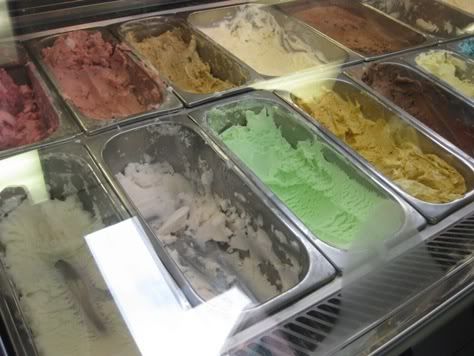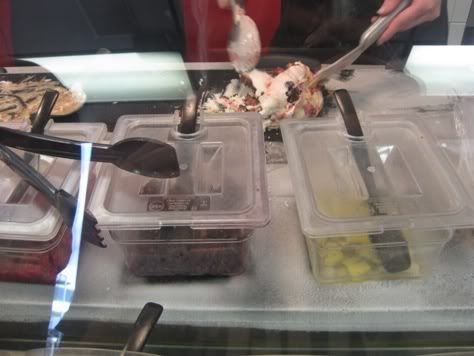 love it sized cup of half sweet cream/half coffee, raspberries, almonds & brownie.  yep. i really indulged.  you only turn 26 once, right? ;)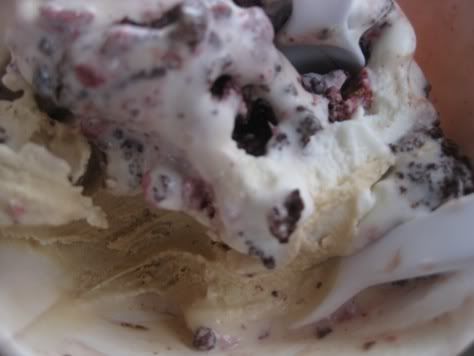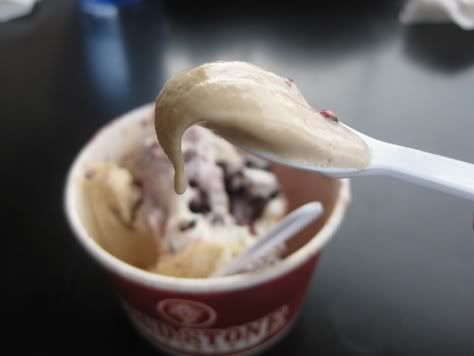 well i was absolutely appalled because i couldn't finish my ice cream! if you know me, you know i can eat (literally) a half gallon of vanilla bean in one sitting.  i am not joking.  i guess ice cream immediately after a run is not in the cards for me.  but we really had no choice but to get the dessert at 7 pm before the little kiddos (my niece and nephew) had to get to bed!  so it was a backwards way of doing things but i didn't mind.. ice cream time is anytime!
a lot of my fam was there, we sat outside and enjoyed our treats and my brother and i got some birthday presents! his birthday is two days after mine but he is three years older. i'm the baby. where do you fall in your sibling tree?
birthday kids…i look extra haggard from my sweaty run!!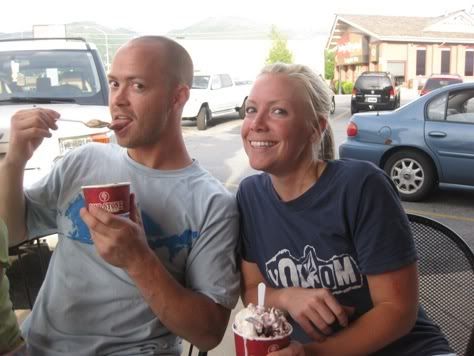 my stinking cute niece.. she has houndstooth kicks! I AM OBSESSED WITH HOUNDSTOOTH!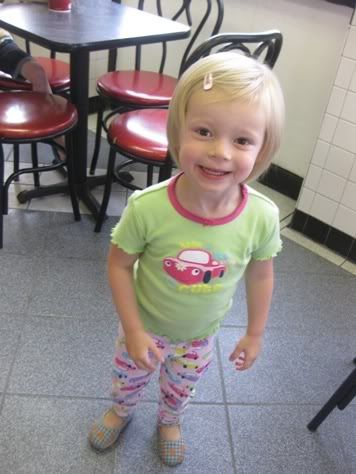 yes she dresses herself in car PJs for ice cream dates. she's so stylish!
my awesome nephews were reeeal excited for their cotton candy cups of goodness!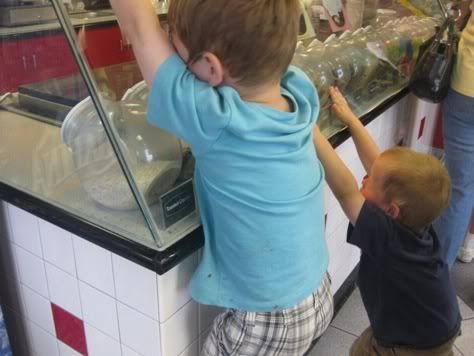 loving it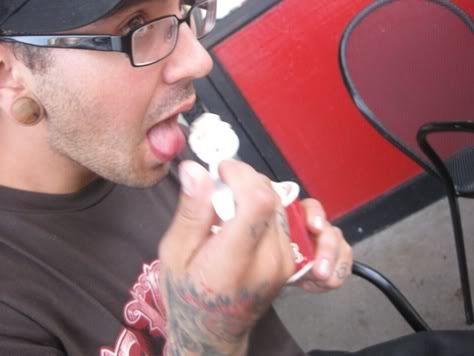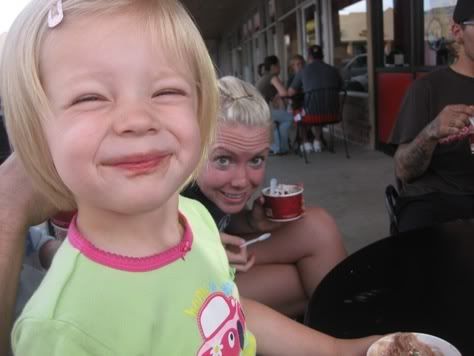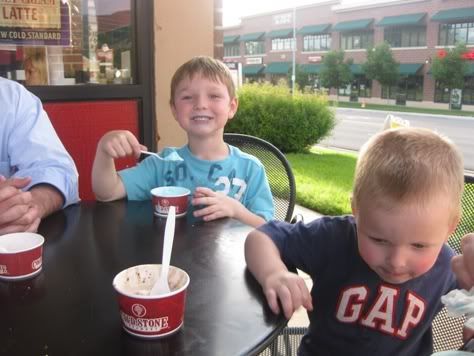 i got some fun trader joe's loot from my sister.. my fave cereal and some corn salsa (i was out!! yes!)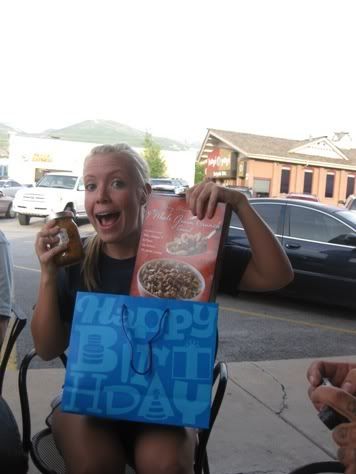 and my mom got me a bobby flay cookbook!  i love that guy.  and also she got me a shirt and threw in some restaurant coupons in a card. she is so funny.  she was like, "they are good coupons! i knew you would use them and i wouldn't!" haha.. she is right. i am thrifty!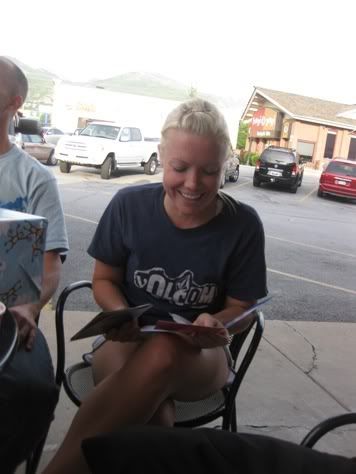 but the BEST GIFT OF ALL came from my parents and was my brand spankin new CAMERA!!!!! YAY!  i have been needing a new one since mine broke in february!  she got me the most amazing canon powershot SD780 IS.. it is 12.1 megaPz and it is solid black and it is insanely tiny.. STOKED TIMES INFINITY PLUS ONE!!!!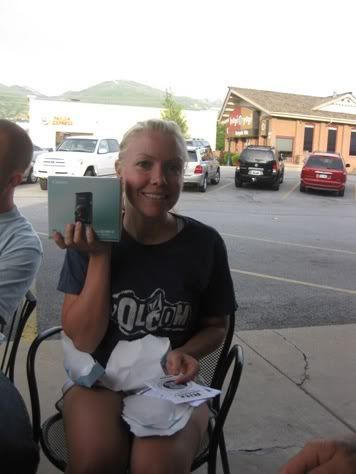 thanks mom and dad!
ALSO.. as an added bonusable sidenote.. i have a Polar F7 heart rate monitor on the way! it was back ordered. i can't WAIT to get it and start using it!
i wanted to say thanks to all my readers who suggested various cameras and HR monitors to me when i was asking.. i took all your thoughts into consideration and i am pretty excited with what i ended up with!
later that night i headed to marshall's and made dinner.  yeah, dinner after dessert.. it's casual.  marsh was craving stir fry and since i love to cook.. stir fry he got!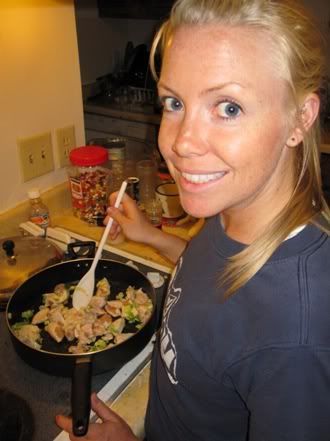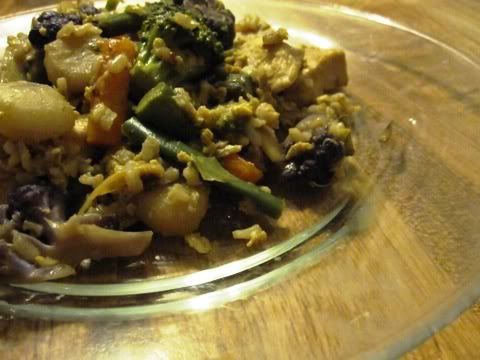 this included:
chicken
eggs (for national egg day!)
brown rice
broccoli
asparagus
water chestnuts
bamboo shoots
green beans
green onion
bell peppers
carrots
purple cauliflower!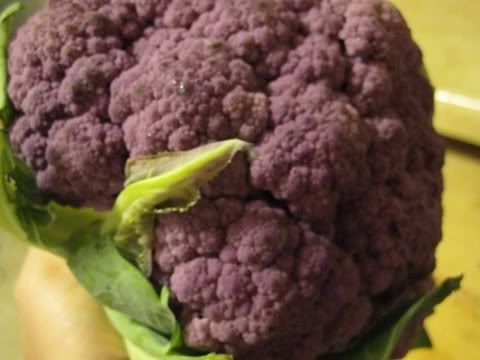 yes that is right folks, i finally crossed over to the purple side of life and got some of this goodness! it is so pretty :)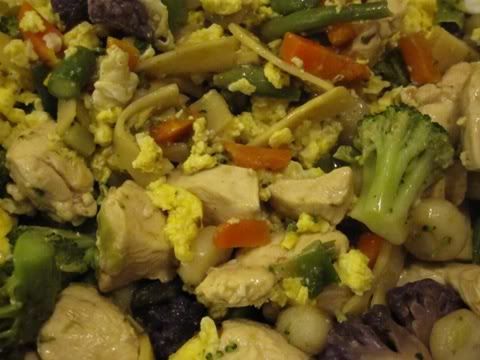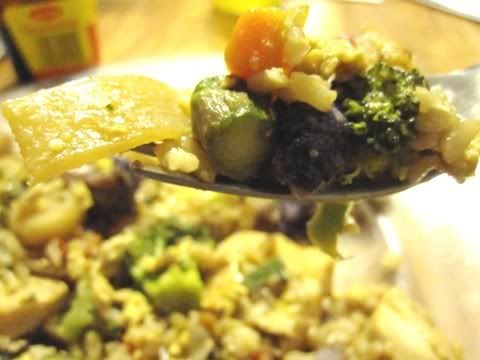 the stir fry was the perfect lighter dinner for me since i was not all too hungry from my ice cream extravaganza earlier.  i spent the rest of the night learning about my new camera while marshall read the fourth book of those crappy twilight novels ;) i can't hate on them, i've never read them, so obviously i am just kidding around.. but i definitely have NOT jumped on the all-the-rage bandwagon that is twilight. meh!
ahem!! question about photographing food..
what ISO do you guys find is the best for food photos?
if i have no natural light available what setting should i use to get the best shot?
any other camera setting tips?
i have a lot to learn. i haven't had a good camera since february (it was also a canon power shot) and back then i didn't ever even THINK about photographing my food.. in fact if you told me back then that in a few short months i would be posing my food for a close up, i would have looked at you like you had three heads. for reals.
so yeah, any tips?
THURSDAY!
breakfast=clean version of the mcmuffin..
double fiber EM + LCL + morning star sausage patty + 1 egg + 1 egg white.. whew.. long title for such a little sandwich!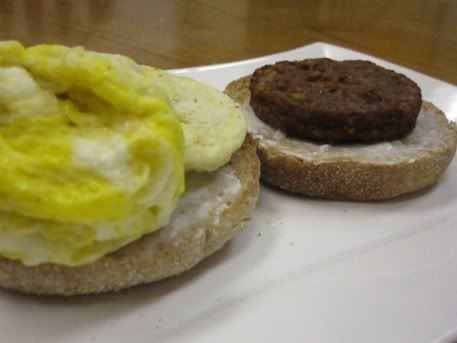 delicious. and i also did my part in celebrating national cheese day with the LCL!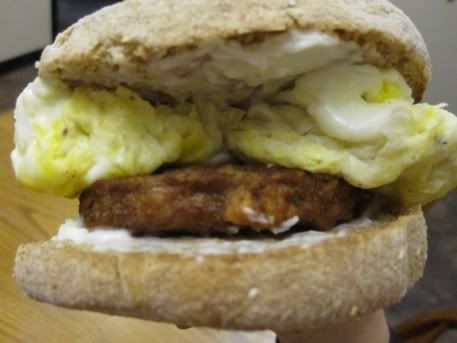 insert work, work, work, lots of coffee, lots of water chugging (it is thisrty thursday after all) and lots more work here. then i was hungry again!
alternative bagel (my last one!) + LCL (yes again) + turkey + cucumbers + romaine & cauliflower + carrots + sabra!
my boss looked at my plate and was like, "you're going to eat ALL THAT?!".. um yeah.. you eat mcdonalds every day of your life and you are hating on my huge pile of noshy goodness? i think this plate of vegetabley love is quite appropriate for a gal like me, thankyouverymuch.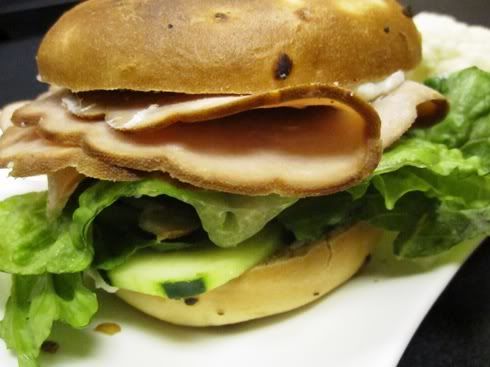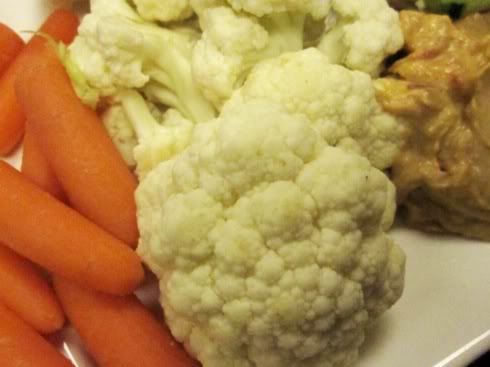 i licked the hummusness clean. what?
OH i have BIG NEWS! well, big news for me.  i have a PACKAGE AT HOME from miss danica's daily herself :D  and now since the clock has struck 5 i am going to go get all giddy over my special delivery! stay tuned to see what it contains!!!!!!
no time for other news, i have some giveaways to shout about and some other random riff raff to bore you with.. but it is quitting time, so i leave you with a top five question of the day!
WHAT ARE YOUR TOP FIVE FAVE FOODS? pretend like someone is holiding a gun to your head. yes, you must pick. ;)
oh and if anyone can please answer my camera Q's up there that would be rad! thanks!
xoxo.