today is special! that is right my friends, today is not only june third.. it is also my brother doug's birthday, national running day AND national egg day! i love eggs. and i love natalie dee. and toothpaste for dinner. so here are a few of the two comics i just mentioned in celebration of national egg day!: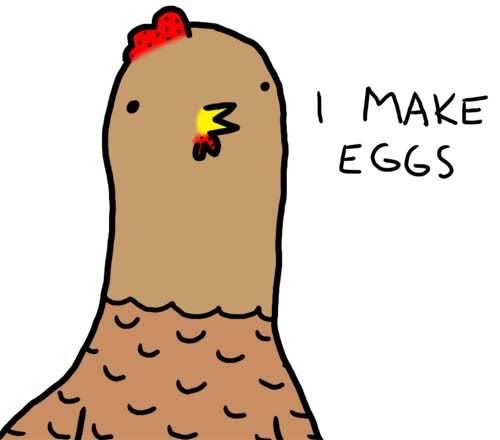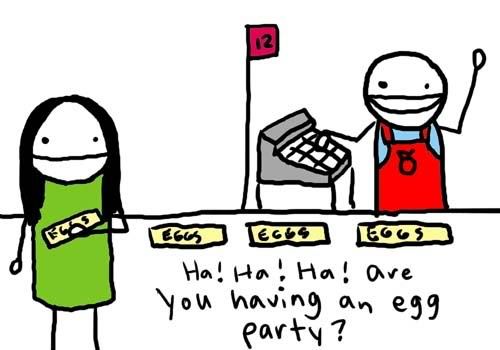 and while i don't agree with natalie's view on the HB egg.. this one is cute too..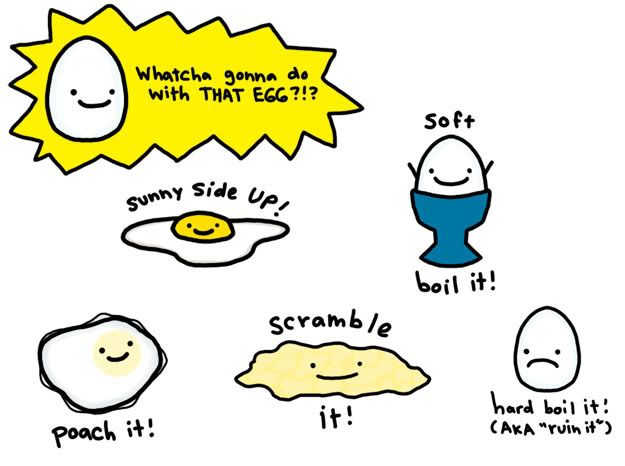 anyway, moving on. i did the shred last night for the first time. i really enjoyed it! i can see why all of you like it. since i have a gimpy robot arm for a left upper appendage, the shoulder press and lat raises were hard for me to do the whole time. basically my left arm just fails miserably and completely and i have to drop the weights. i wonder if my arm will ever be back to normal? am i doomed for life? does anyone else have a titanium rod holding them together? if so, how long did it take to get back to normal? it has been 2 years for me and it STILL gives me trouble. sheesh!
anyway. i say anyway quite a bit, don't i? i should find a synonym. post workout it was already 9:30 PM and i was not feeling like making a big dinner nor feeling like eating one.. so i went with a simple, sweet & delicious parfait ala k!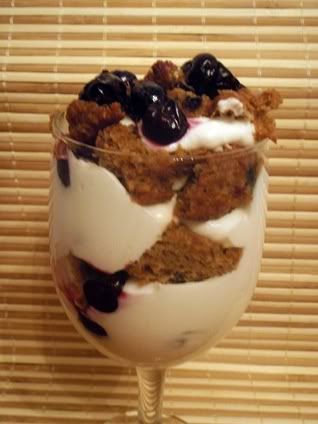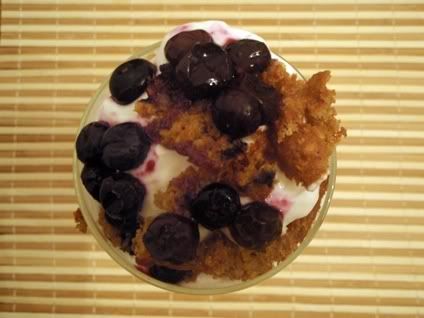 this one had some fage 0%, a bluebran vitatop and some blueberries that had been previously fresh, then frozen, and then microwaved to defrost them a bit.. so they got all juicy and warm and delicious. paired with a piping hot toasted vita and this basically tasted like a warm piece of cake layered with cold ice cream. okay okay, maybe not exactly but it was really sweet and tasted like an ultra amazing dessert!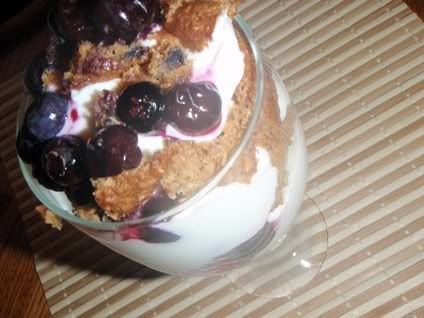 then i hit the sack.
this morning i had something we haven't seen around here in quite some time actually…protein oats! oh how i have missed you!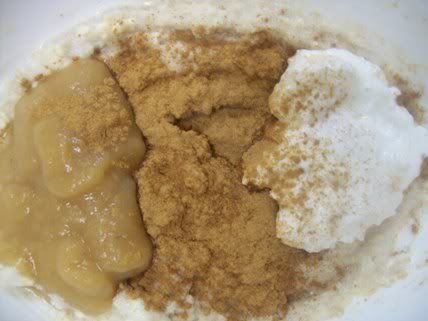 all mixed up: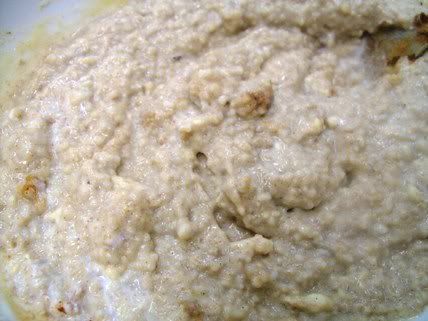 this bowl included:
1/3 cup oat bran
1 cup water
1/2 scoop vanilla protein powder (EAS triple blend..13.5g protein per half scoop)
dollop of applesauce
dollop of oikos 0%
plethora of cinnamon like woah!
so most people spell "woah" like "w-h-o-a" but when i read it i say "who – ah" in my head. i have always spelled it "w-o-a-h" and people always try to correct me on it. meh.
moving on!<—i say that one a lot too. hmmm. whatevs.
lunch was a gigantor salad bigger than my basset hound's head.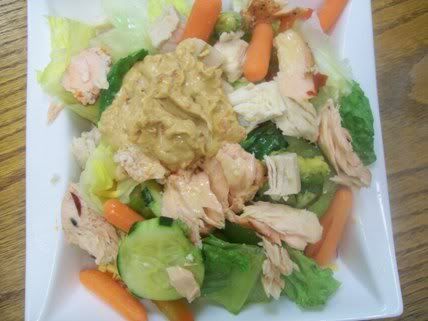 it had all sorts of things in it..
romaine
iceberg (ugh)
grilled chicken
broiled salmon
avocado
cucumber
green bells
red bells
cauliflower
red onion
baby carrots
roasted red pepper sabra for dressing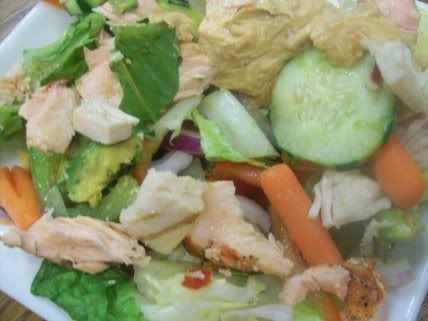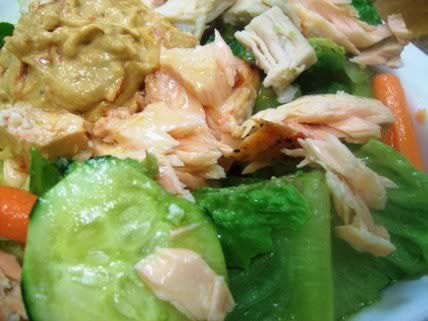 delicious! but then i had onion breath. i had to get rid of it. so i appropriately switched out my onion breath for coffee breath. upgrade? probably not. but it was a better taste in my mouth.
i followed kristie's lead and whipped up an iced coffee in my bullet, using coffee, UVAB and ice. no sugar for this girl. i really hate sweet coffee.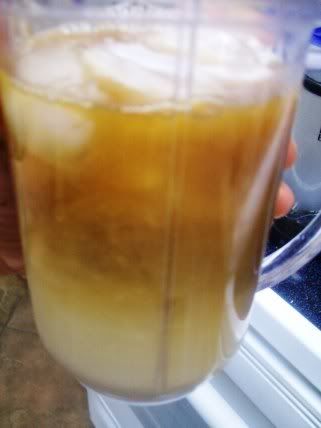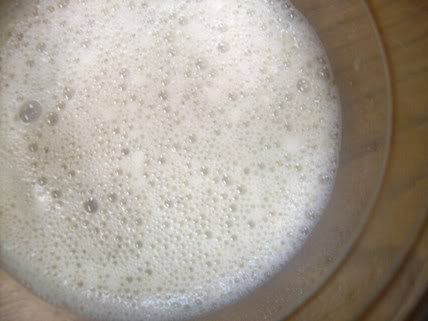 i enjoyed it at my desk while i lurked on all of your lives read some blogs :)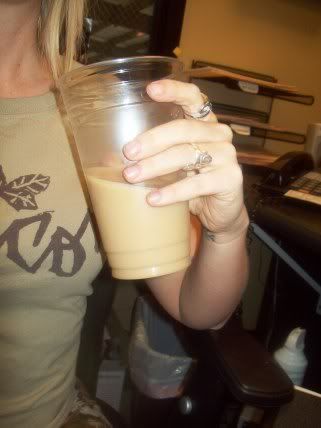 the plan today is to go home, grab some things i need for tonight/tomorrow, head to mi madre's so we can shred together <3 and then since it is my brother's birthday.. the family celebration is tonight, we are getting some cold stone and having a gift exchange of sorts! super stoked! i love cold stone.. good thing i am going to burn some calories before i eat my weight in ice cream have a little post birthday treat!
in other news!!~~~
the new sounds album hit stores yesterday! go get yourself some tunage to rock your face off with!! (i am patiently waiting for marshall to buy the album for me but i have listened to it online) we met the sounds the other night! check it out:

sunshine burger giveaway over at keep it simple foods!! weeeee!
megan is having a 100th post giveaway with some fabulous bars!

tomorrow

is a BIG DAY for national food holidays.. we have cognac day, cheeeese day and

fro yo day

! plan accordingly…
that is all for now!
hope everyone's hump day is going fabulous! i will probably not be back around until manana, but you can bet your sweet asses i will have some delicious ice cream photos.. just warning you.