holler! it is a rainy day here in the SLC and it is that ultra nice warm rain, we are hanging with the windows open and listening to the pitter patter on the pavement. one of my favorite smells is pavement after it rains. don't you just love that smell? anyway.. last night was a blasty blast!
it was my birthday party, for those of you just tuning in.
things started around 5.. we started setting out some of the eats which included cookies (vegan & non vegan)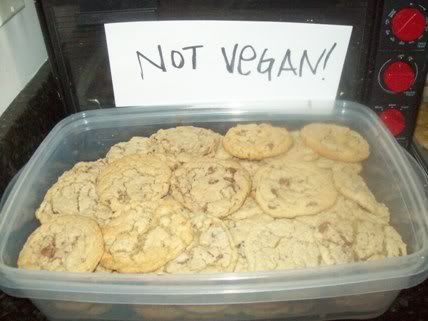 peanut butter bars (click here for recipe!)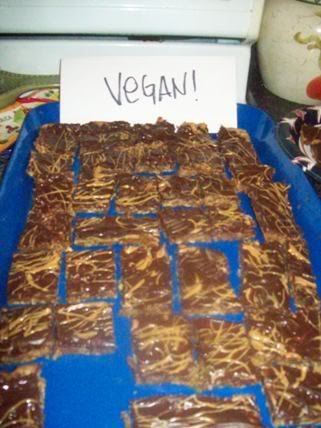 7 layer bean dip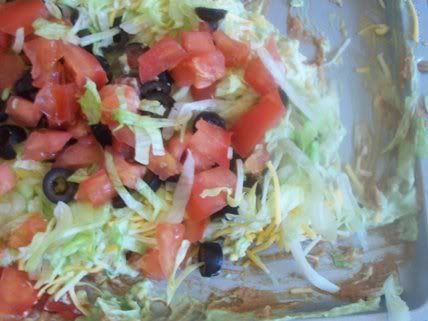 hummus & pita crisps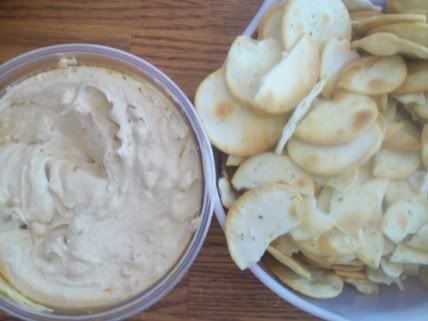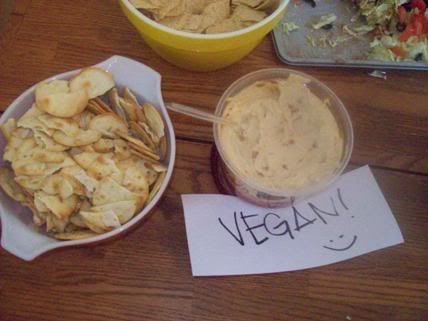 guacamole made by marshall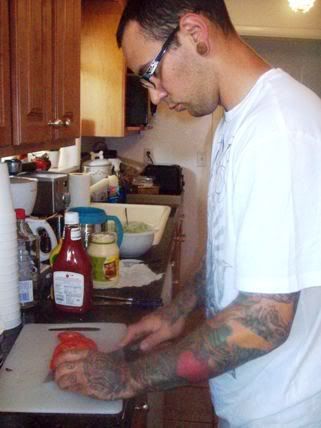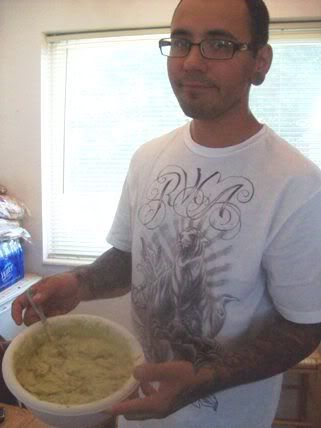 and there was a bunch of camera shy items (or i just spaced their photo shoot) of: chips & salsa, mozzerella & tomato caprese pasta salad, artichoke jalepeno dip, another pasta salad with apples, chicken, grapes, celery, poppyseed dressing & bowtie pasta, hugh jass fruit bowl, potato salad and  various kinds of chips. whew! definitely a feast!
my parents got me a fold up table for the party.. it saved the day!  i am sure that will come in handy often.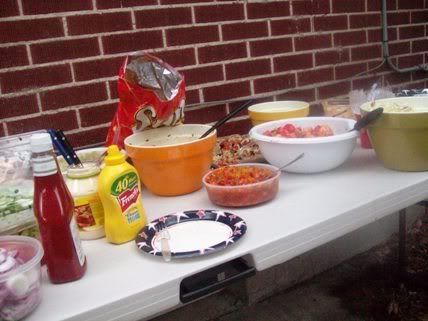 my mom also brought me 26 balloons! she does this every year.. it made for AWESOME decor!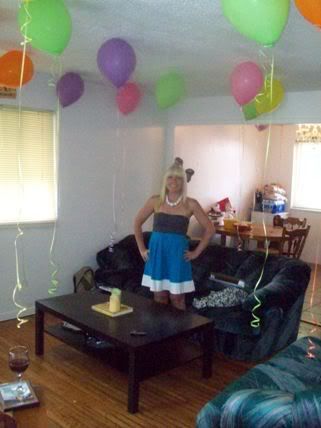 somewhere in the night, each dog got a balloon tied to his or her collar. so cute!!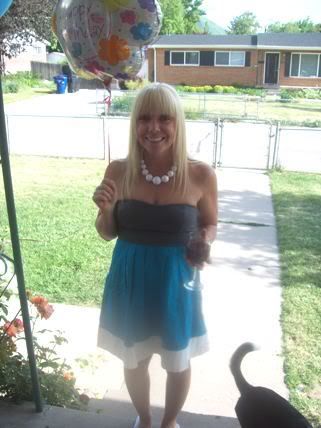 my amazing sister got me a 3 gallon drink jug and my mom delivered it to me before the party! obviously i had to put it to use and made some sangria.  my first time ever, but i am told it was a hit!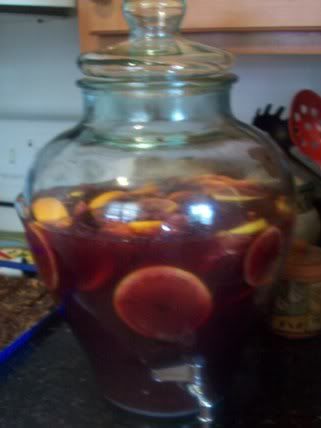 marshall gave me my gift.. i could not be more stoked..he got me a bangin' professional knife set complete with a travel carrying case and a wooden block for kitchen storage. thanks babe!!! oh and they have a lifetime warranty.. something i definitely need.
this was my reaction to the knives :)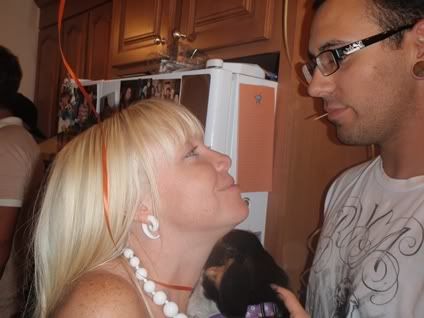 my friends started arriving and one of them brought me this sunflower cupcake.. cute!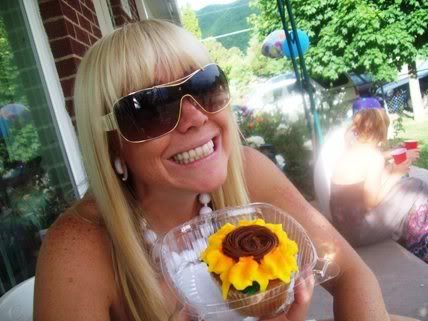 and my other friend is so funny.. he got me a package of laughing cow light and put a bow on it! he knows me well.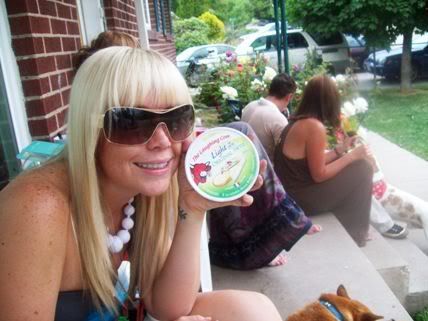 oh..now it is hailing!
then it was time to do some grilling!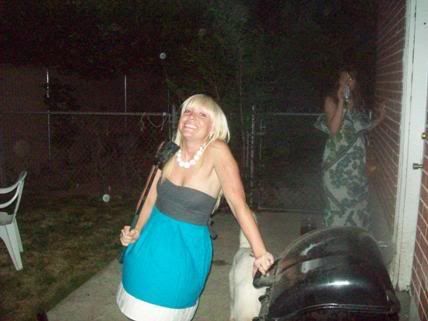 everyone kept asking me why i was manning the BBQ and to go have fun.. but what they didn't realize is that IS my idea of fun!  i love grilling!  and cooking and baking and…
so i had a burger.. it was delish. it had mayo and mustard and ketchup and cheese and lettuce and tomato and onion and it was on a white bun. bad bad bad and i didnt care one bit :)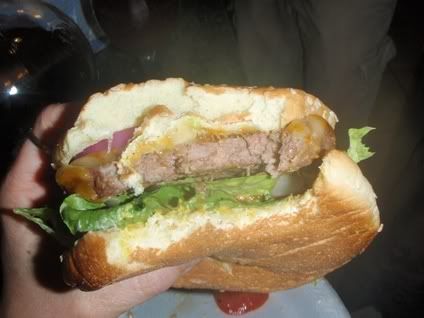 promptly at 9:10 (when i was born) my friends sang to me but there was no cake with candles! apparently there was some mix up and marshall thought my roomies were getting the cake and they thought he was.. anyway it made me sad but my friend had me blow out a house candle.. ha.. just not the same.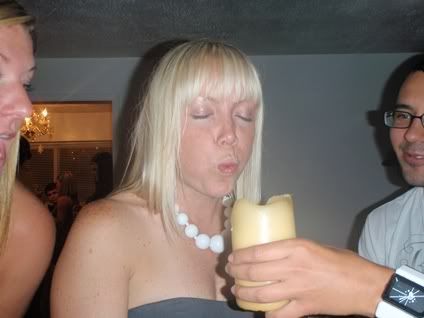 shortly after that marshall came in with a glowing cake and they all sang again and i made a wish a blew out the candles and it was all proper! :D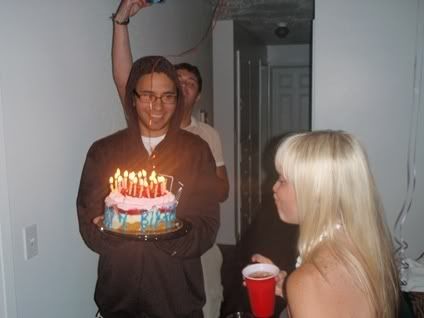 so that was a highlight. and then my friends who work at the local fish market (one of their parents owns the market! such a nice hookup) brought crab legs and we threw them on the grill!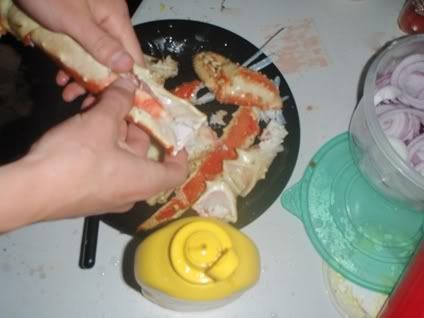 crab leg HEAVEN! (it was storming outside by this point.. but we were under the patio overhang.. it was so windy but still so warm!)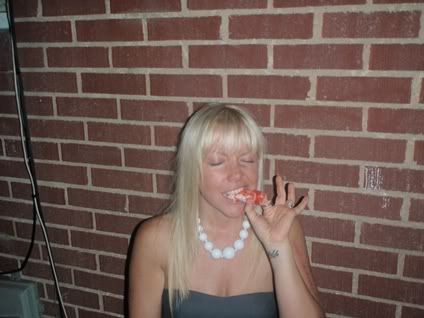 yuhhhmmmmmmmmm!!!
here are a few more party pics for your viewing pleasure!
it was this guys birthday too, my friend jon! same year and everythaang!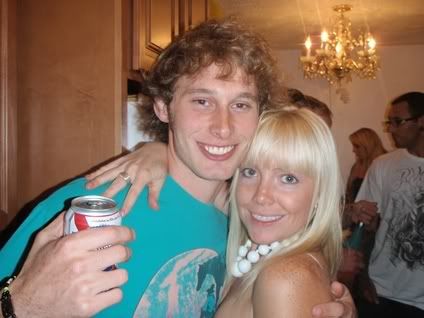 marshall's roomies.. aka the vegans :)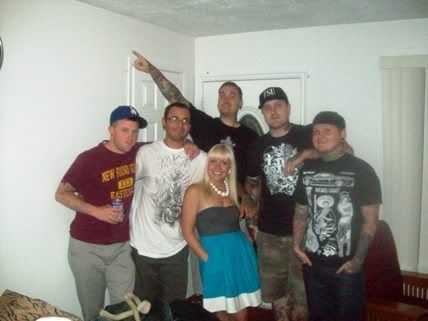 lindsay, me, allie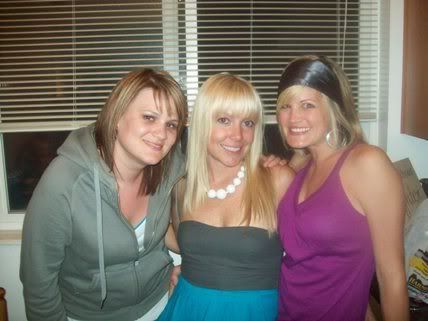 and at the end of the night i tried on the blue dress jessica got me (the other dress i was wearing was the one amber got me) and we all snapped a photo in our loooong dresses. i live with the tallest girls!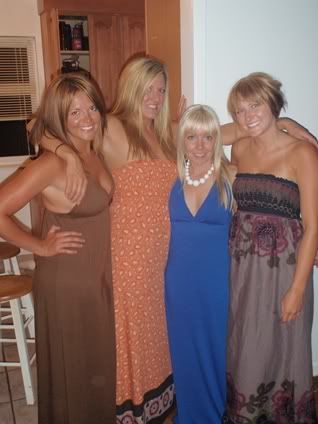 i was so shocked the cops didn't make an appearance! this was the first time they didn't.. i think it was due to the fact there was a sudden downpour (which put a damper–literally–on the slip n slide agenda).. and so most kids were inside. and so it was not very loud. plus my roomie michelle manned up and talked to a few of the neighbors letting them know the happs.  i love michelle. she is nearly a foot taller than i am. see: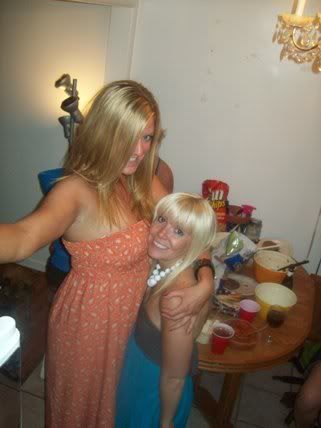 it was not a very late night–everyone was gone by midnight. i think i am getting old.  haha oh well, it WAS a monday night and most of us had to get up for the daily grind today.  which is exactly what i did!
i had some breakfast at work..
western alternative bagel + sabra + LCL + turkey + 1 egg scrambled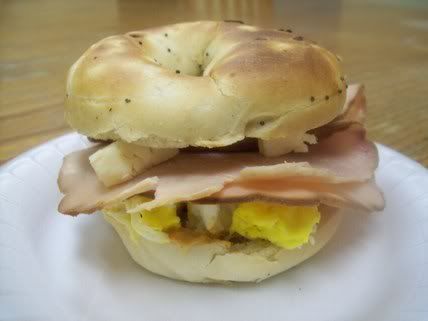 and coffee.  it was a good breakfast!
and then i worked really hard. like, really hard. i am so turbo busy at work these days. in a way it is nice but it is also stressful at the same time. i don't love the fact that they consolidated the work force and gave me all the responsibility.. but at the same time i feel honored that i am the one they trust with anything and everything.. it is a nice feeling to be needed.
marshall showed up back at the office around 2 and i had to take him to grab his auto..gettin' new brakes.. so i figured we would grab some lunch together and i scratched my original plans for a homemade lunch.  there's always tomorrow!
i had heard of a medeterranean spot called o'falafel, etc. and i heard they had insanely delicious hummus.. sign me up!
i got the chicken shawarma sandwich with exxxtra hummus!  it was delish! the chicken was very tender, the hummus was incredibly flavorful with the perfect hint of garlic and the "house sauce" had the right amount of spice and kick that i needed.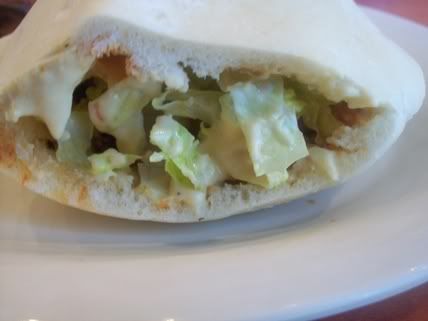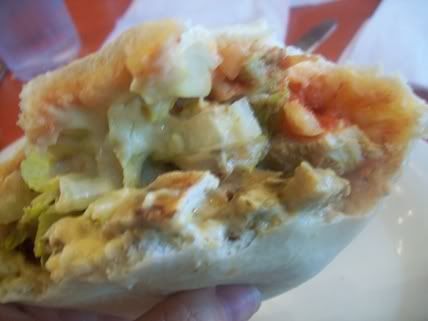 and marshall got the grilled chicken platter w/ batsami rice & veggies.. his was excelllente as well! he gave me all his mushrooms and zucchini :)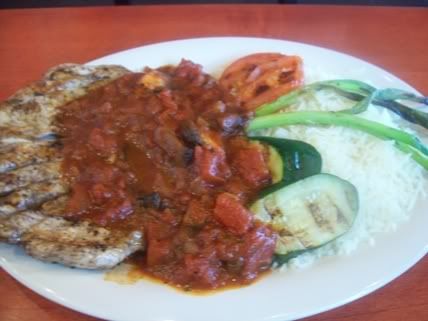 well i worked nine and a half hours today instead of my usual eight.. so i am beat.. but i am planning on doing the shred here in a few and then making some din!  i know, i know, i missed day 1 of the shred.. i guess i can chalk it up to my birthday! but from here on out it is shred to the maxxx.
oh! so yeah, it is june now isn't it?! crazy.. but that means i finished two challenges! let's see how i did..
the simple life challenge was organized by bobbi and was all about being frugal & more environmentally friendly.  i think i did very well.. i walked instead of driving in all possible instances, i made 97% of my meals at home for the whole month of may, i used reusable bags or just didnt use a bag, i replaced light bulbs in my house to energy savings ones, i took reusable tupperware, dishes and silverware to work as well as handtowels, i used the air dryer at the gym instead of paper towels, i raised $425 for no more homeless pets, i helped plant a garden, i never bought coffee, i cut back on the AC use, and probably LOTS of other things! i ended up with a total of 138 points for the month! woohoo! and that was all during the drama of my tonsillectomy.. ugh.. so it was hard to manage! thanks bobbi for organizing this, i think it is something we can ALL learn from!
the new foods challenge had to be my favorite, hands down! katie organized this and inspired so many people to try new things! i tried a BUNCH of new stuff and i still have more things i want to try.. i am not stopping now just because the challenge is over! some of the items i tried included: oat bran, shirataki noodles, vitatops, new brands of nut butters, dates, figs, a few new bars, ezekiel bread, soy protein powder, kale…hmm that is all i can think of! but there was probably more! thanks katie fo inspiring me to try new things!!!
OH! you all know i am sucker for national food holidays!  well since it is a new month i thought i would rattle off the wonderful things JUNE brings!
national iced tea month
national candy month
national dairy month
national fresh fruit & vegetable month
national papaya month
national turkey lover's month
national seafood month
so.. which national holiday for june is your favorite? mine is for SURE seafood! good thing i started the month out right with sushi & crab legs!
peace out y'all! xo.