glue said it best.. love that song.. and the lyrics easily double as a post title!  it is true too.. i have a lot to talk about from saturday and today and i also have so much prepping to do before my birthday party tomorrow! i am having a bbq at my house and that requires some cleaning of the room and prepping of some food.. although i did get a lot of the food business done today.
so wow, the past 2 days has been craaazy busy. where do i even begin???
saturday morning was the 14th annual strut your mutt.. which is a fundraiser for no more homeless pets in utah. i ended up raising $435! (thanks danica for your donation!)  we got to the event bright and early.. there was a huge turnout.. probably over 1,000 dogs!
here are a few photos from the 1.5 mile walk…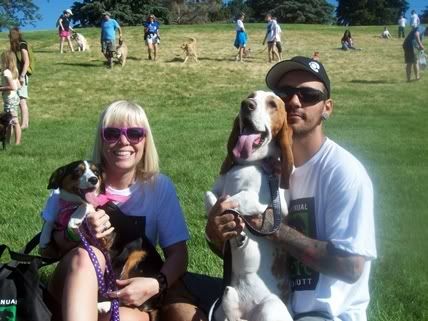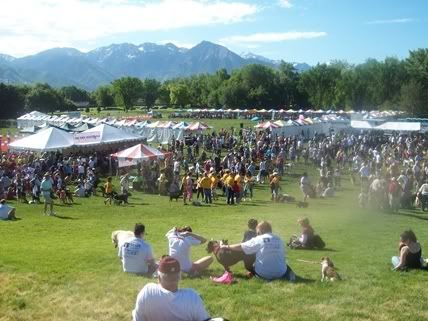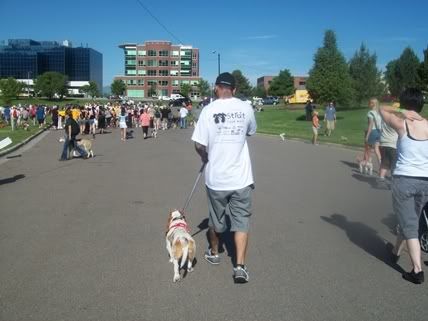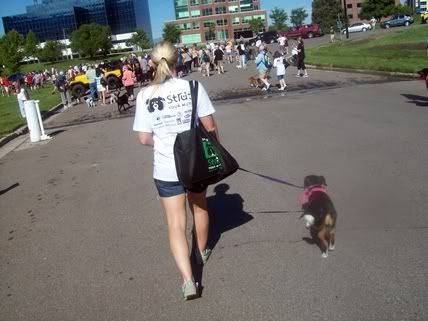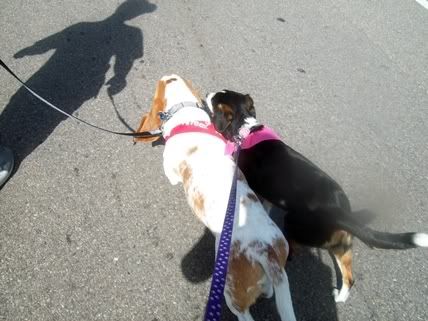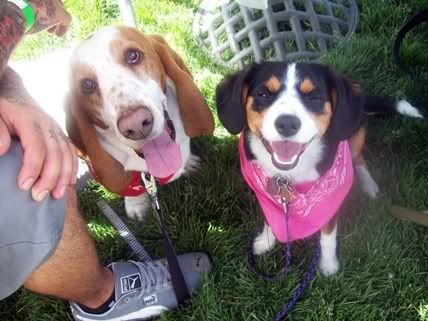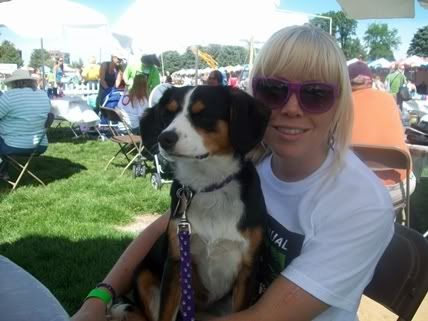 afterward we were able to hang out in buster's backyard because we raised over $350!  there was food provided and a raffle and some other fun stuff.. i took some photos of the food. basically a lot of sweets and carbs, but what do you expect from a free breakfast?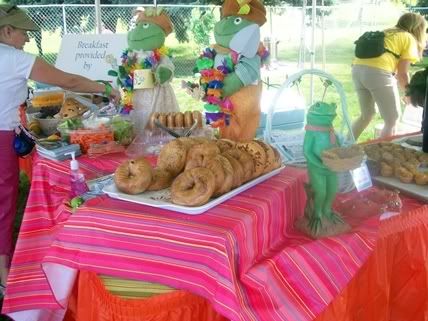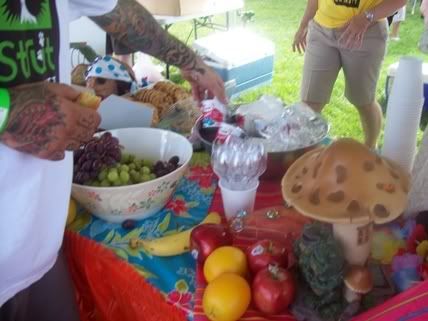 i had two plates, here they are.. i ate about half of that bagel and gave the other half to randy the dog :)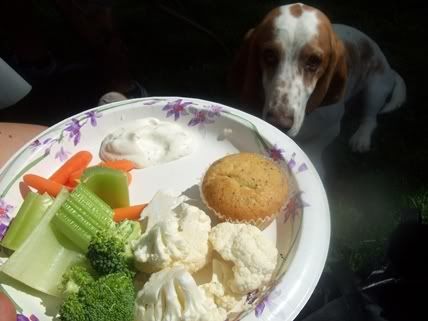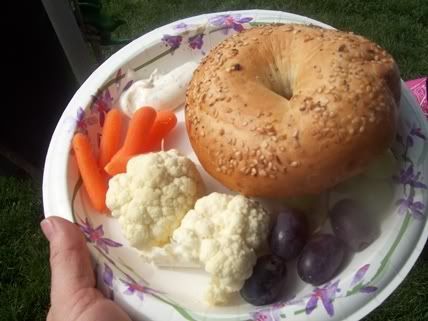 here is marshall's tattoo of randy next to the real randy. resemblence much?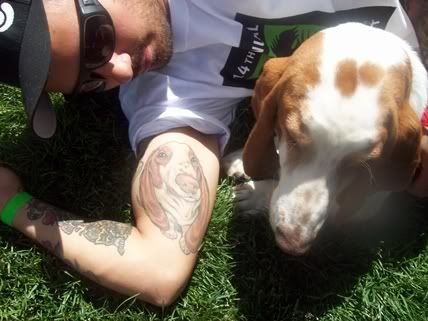 this event was SO much fun, i can't wait until next year. it is so great to see so many dog lovers united and raising money for such a good cause. i am soo dog obsessed, so this was my thang for sure!
we got home from the event around noon and although i had eaten a little at the event, i was craving something that i've been wanting to make ever since i read susan's post about yolky goodness.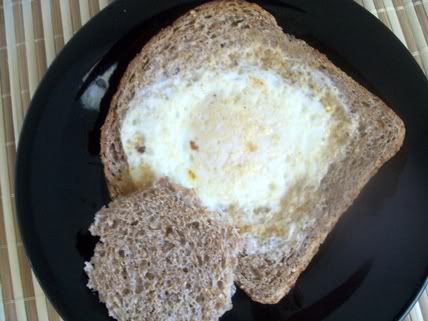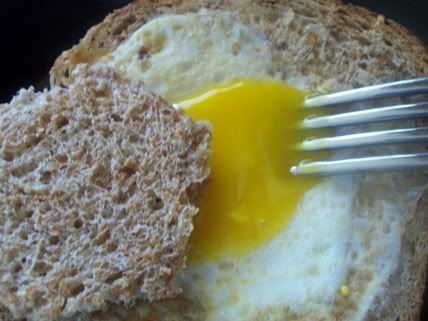 so i made an egg in the basket with one egg & 1 slice ezekiel. yum! do you guys ever make your eggs this way? it's so clever and basically the only way i can make an over easy without royally screwing it up!
well after this i had big plans, like i said earlier, to bake and clean and shop.  well, what did i do? i went to the pool. :) yeah.. what can ya do? it was a sunny day and you don't have to twist my arm to get me to go to the pool!
check out my friend's new puggle! he is 4 months old.. such a sweetie: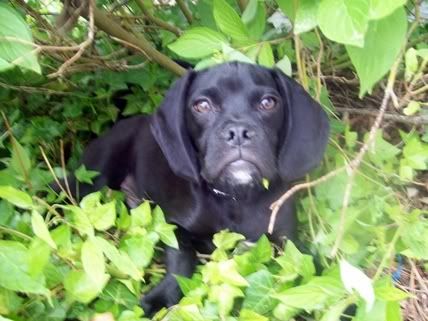 okay so what happened next was against my will. it was 7 votes against 1.. and i lost. after the pool all of my friends wanted to go to five guys.. okay there is NOTHING healthy to eat at this place. nothing. while i could have resisted and just declined eating, i decided to get a little size burger anyway.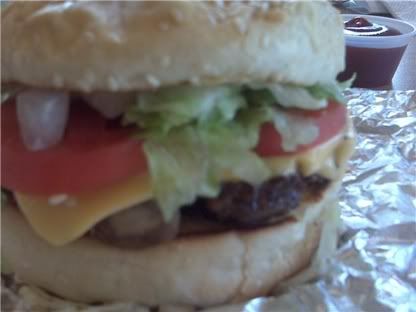 which i later regretted. it tasted great, that isn't the problem..actually it tasted downright amazing. but when i eat food like that i feel like garbage immediately after and it lasts for a few hours. does this happen to you? i felt sick upon walking back to the car. blech. oh well… moving on.
i got ready and headed up to the boy's house.. the plan was to go to a demolition derby! how redneck am i? not at all.. but i hear they are fun and the people watching is great, i was stoked for it!  we had to hang around at the tattoo shop for about an hour before we could go because marshall's roommates had to finish up a few tattoos on some random customers.. but finally we were out the door about 7:45.. a little late since the demo derby had already started.  oh well.
we got there and it was sold out. hmmm i guess these things are a little more popular than i'd assumed! i was actually pretty bummed about it! haha better buy some advance tickets next time around.. i hear they had discount tickets at burger king. too funny.
so we went to plan B which equaled mini golf.. since it was on the same street as where the derby was. i haven't mini golfed in ages! so we did that, hit up some arcade action afterward and i felt like i was twelve.. it was amazing. i love skeeball. and by then my stomach was feeling better and i had recovered fully from the gross burger feeling.. so we all decided to eat.
all the dudes are vegan so they usually pick somewhere typically healthy so i was glad when they said pita pit.  i had never been to one, there is not one in the SLC.. we were about 50 miles north of my casa in a place called ogden.. so yeah anyway we hit up pita pit and it was closed. hmph. and then the only other late night suggestion that came up was a place called the pie which=greasy pizza.  ugh. not again. i was really bummed out, i was not about to eat more garbage and their salads are purely iceberg lettuce and a tomato wedge.. lame.  but then there was a sign from god or something because we drove to the pie and there was another pita pit location right next to it.. and it was open! with 14 minutes to spare. stellar.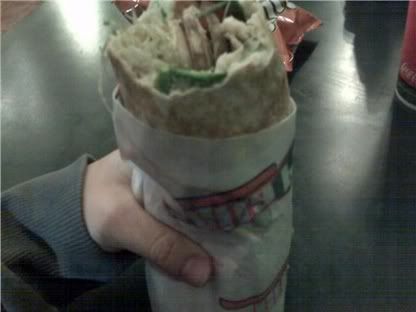 so i got a pita with:
grilled chicken
hummus
cucumber
sprouts
mushrooms
spinach
tomato
holy balls, i wish we had a pita pit in the SLC. it was so good! and i was so glad i didn't have the funky grease hangover afterward :D
oh yeah and last night my boyfriend made me watch twilight. yeah, you heard me right. i've never read the books nor have i been interested in it.. he has read the first 3 books in a week.  well he is almost done with the third. ha wow.. makes me laugh. i liked the movie though.. i don't think enough to go read the book. i like to read other things with my time. i sure don't get the whole twilight obsession at all. oh well!
fast forward to today around one, because that is the first time i ate today. it was a bagel sandwich that included:
hummus
chive cream cheese
turkey
lettuce
tomato
cucumbers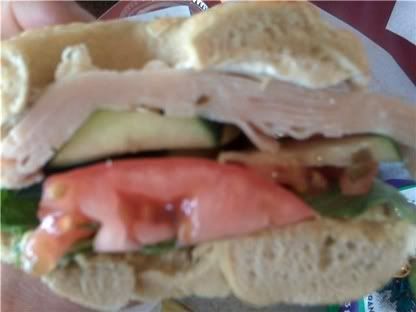 yeah have you noticed all my meals have been BB photos? sorry about that, my camera was dead after the strut your mutt thing and i didn't get it back in action until dinner at my moms!
marshall and i ran to costco & the grocery store to snag stuff for my bbq tomorrow:
48 burger patties
48 buns
gigantor tub of hummus
pita crisps (they were out of fresh pita bread :( )
huge salsa
tortilla chips
avocados (to make guac!)
tomatos, romaine & red onion (for the burgers)
mayo, mustard, ketchup
sun chips
baking ingredients (see below)
uhhh probably more that i'm forgetting!
then we went to my parents house!
so i am going to breifly give you a rundown of the phenomenal birthday dinner i had with the fam. i helped cook, my mom helped cook and my dad grilled. my brother, sis in law & niece came over as well as my bro in law & 2 nephews.. my sis in in vegas. and my OTHER other sis and her fabulous fam live in cali :( but there was lots of fam there and it was a blasty blast.
the menu included:
filet mignon (crusted with caramelized onion, garlic & thyme mixed with panko bread crumbs and blue cheese)
chicken breasts (crusted with caramelized onion, garlic & thyme mixed with panko bread crumbs and blue cheese)
sauteed mushrooms
corn on the cob
salad (red leaf lettuce, cucumbers, green peppers, red peppers, avocado, cauliflower)
fruit (pineapple, strawberries, raspberries, peaches, watermelon, grapes)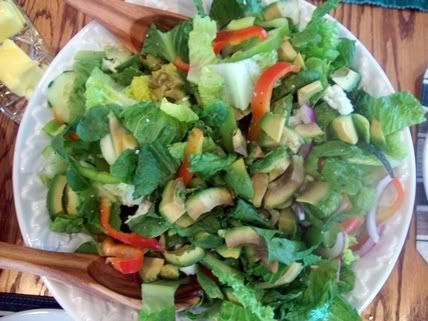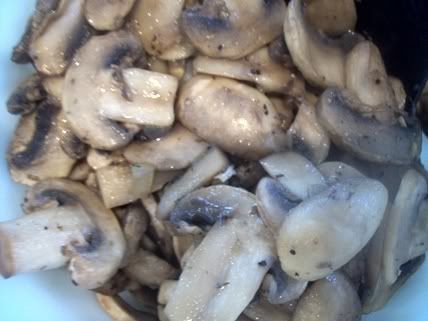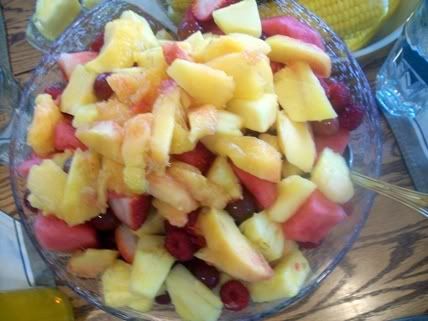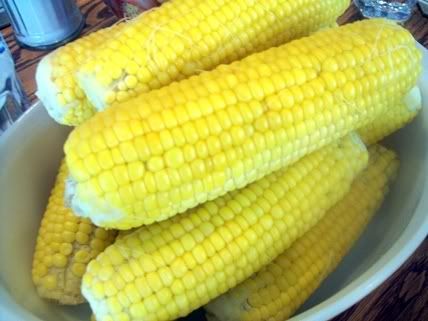 yum! here was my plate, i did't eat all that steak but i had a second helping of the salad (i used sabra as my dressing):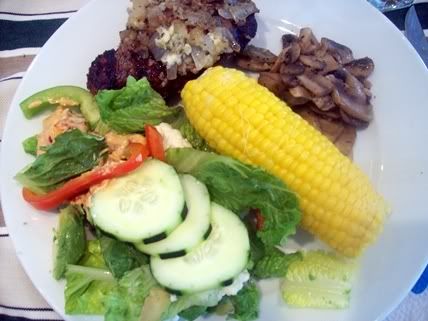 other angle..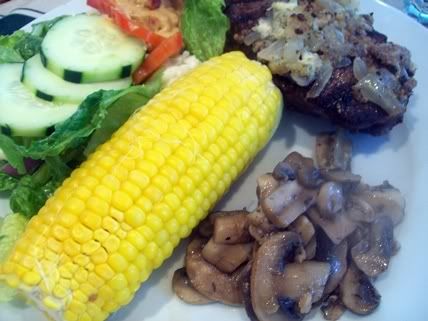 while at my mom's.. i did some baking.  i made a double batch of my chocolate chip cookies and also a vegan batch of the cookies where i replaced the eggs with applesauce & baking powder and i also made some vegan peanut butter bars which i will post a recipe for later!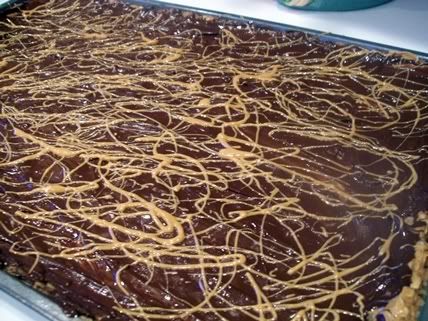 my brother ate a dozen cookies. not lying.
and THEN i had dessert myself, my mom surprised me and made my favorite.. peach cobbler + vanilla bean ice cream.  yummmmmmm. thanks mom!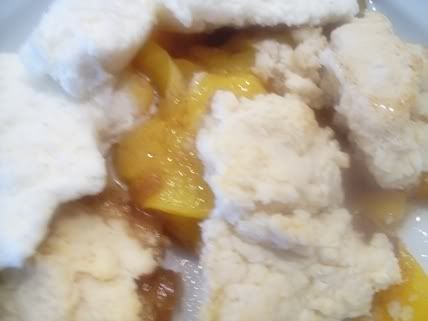 okay by this time i felt like i was going to die from overload of amazing food.. so i decided to stop.  good thing i didn't sample any of my baking or i would have for sure not lived to see twenty six.
so that is my really quick version of this past weekend! sorry it was brief and semi-lame.. but i have to be at work in 8 hours and have a LOT to do between now and then!
you probably won't see me tomorrow, i have a feeling.. but here is what is in store for the birthday shennanigans!:
work @ 7
sales meeting breakfast @ 7:30
work a little bit ;)
sushi with my boss & coworkers @ 11:30 at the BEST sushi place in the SLC
worry my face off about randy because he is getting neutered…
go home after sushi
do day 1 of the shred!! going to do it the 30 days in june with my mom!
slip n slide in the front yard!
get cleaned up
bbq with all the homies
make a wish, blow out candles and eat cake promptly around 9:10 PM when i was born
hang out more with everyone and hope my lame neighbors don't call the police
sleep! eventually
well i will check ya'll tuesday! hope you have a great first day of june tomorrow! xoxo
p.s. my reader is backed up again!  i will try to read all your lovely blogs when i get a spare moment, i haven't forgotten you, i just like to read the blogs when i have time to comment on them!  :)