well.. y'all are freaking geniuses because you are smart enough to pronounce my name!  but i kid you not, just today i had not one, not two, but three mispronunciation/mishearing incidences involving my name.
1. i went to the tonsil doc (everything checked out A-OK by the way!) and the nurse called me back.. "ja-NEH-tha". wrong.
2. i left a message for a customer at work stating my name, very clearly. she called me back. she asked for denise. um, way wrong.
3. i was on the phone with one of our financing companies and the man i was talking to called me "JAN-a-tha". wrong again folks!
i made my mom give her name with our lunch order. you can't mess up "sue".
that is why i was so surprised and very pleased to see you ALL know how to say my name.. ja-NEEEEEE-tha! holler! my favorite comment was k's suggesting i may be chaneling my inner viking and pronouncing the J like a Y.. my norwegian friend tonje does that with here name and i think it is adorably perfect.
last night was ultmatey fun! i danced my face up and stayed up way too late and had to work bright and early.. i guess that is what birthday season is all about though, right?? and i am only halfway through it.. ay ay ay!
oh crap, this morning was SUCH a nightmare at work. usually fridays are super mellow and not a lot goes on so i can read blogs catch up on paperwork and quickbooks.  not today! 3 upset customers before i even had my coffee. ugh. and i had a doc appt at 11:15.. guess what? the first time i ate anything was while driving to the doc at 11:00. so it had to be portable: fuji & almond butter!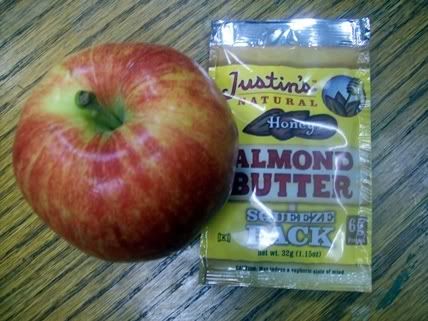 i had never tried this almond butter.. it can count for my new foods challenge! i really loved it. the flavor was perfect and the creamy factor made me smile. i want to get more so i can try it in some oats!
so after the name malfunction (fail) at the doctor and a clean bill of health, mom and i went for some much needed lunch! at first we tried to go to a place called the himalayan house which has epic indian cuisine.. but after a 15 minute wait we realized time was ticking and we bailed.  not before snapping a photo of my mom in front of her perfect parallel parking job though! yes, you can see where i get my trait of getting joy out of the little things in life :) too bad i dont have said photo, it was on her camera!
so we headed to a quicker lunch spot, a place called caputos.. it is an italian market that also serves sandwiches and salads with a hot daily special.  i went for the greek salad and i added turkey for some protein. mega delicious!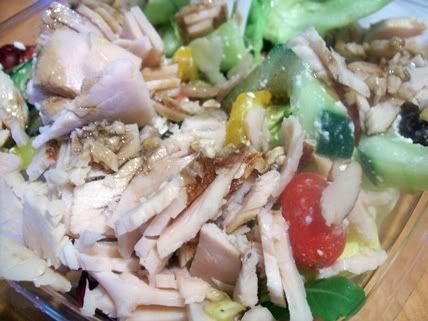 my mom got the broiled salmon salad and this photo does not do justice! it was a bad angle and i think people may have been staring ;)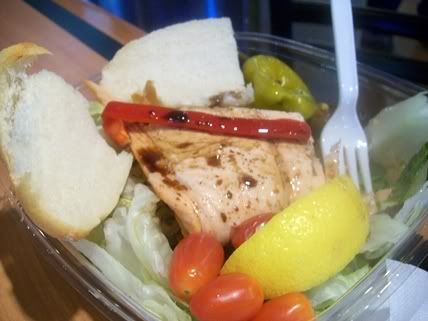 thanks for lunch madre! xo.
then it was back to the grind for a few more hours.. more drama.. more work.. stayed a little later to get things done. oh–since it is friday i took a bunch of the food i had at work home with me so i could eat it over the weekend, including my newly found delicious hummus!!
soo i went home, found my friends doing some porch sitting and so i joined them on the spot, set my bag of food down and was just chatting away when i look over to see ronin the shiba inu from hell going to town on my beloved hummus!  and not only that, he managed to spill the delicious garbanzo tahini goodness all over the rest of my food. grumble. so yeah, i am out of hummus again! such is life.
my friends had got some items for grilling and i couldn't be more appreciative! first we grilled some corn on the cob just by coating it in olive oil and some seasoning salt and grilling them in their husks..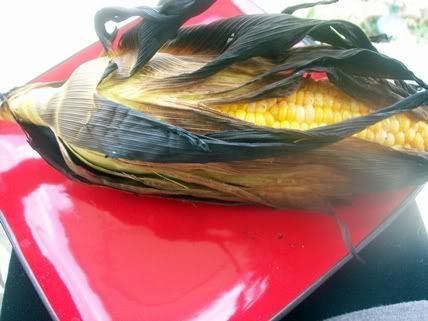 it was absolutely amazing! hooray for my first cob of corn this summer!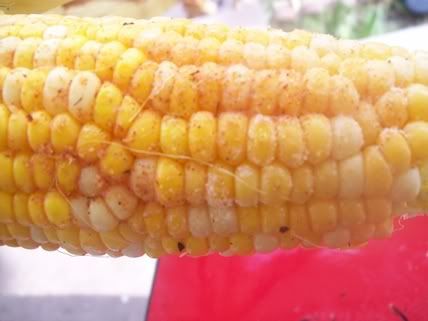 i wonder why it is called a "cob" anyway? i mean.. why not a core or something?
anyway, i had a few bites of my quinoa & black bean salad i got from WFs yesterday..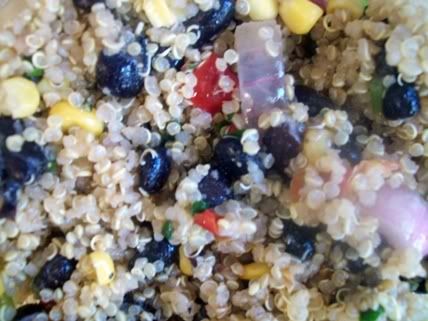 and then i made a hamburger salad!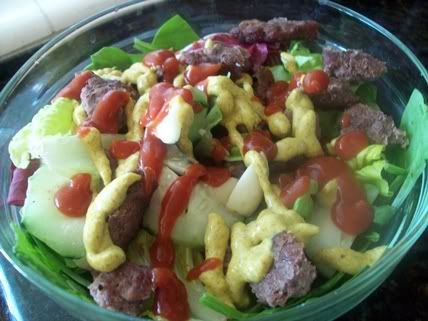 this included:
spinach
7 lettuce blend
black beans
cucumber
1 grilled hamburger patty
1 round of babybel cheese
plethora of dijon mustard & low sugar ketchup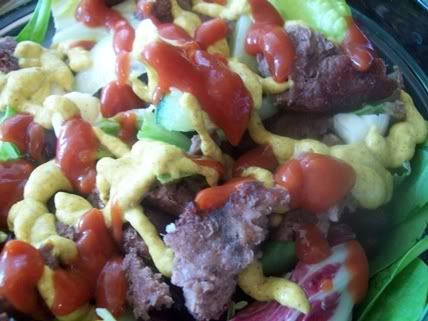 i was a little bitter about my lack of hummus, since it would have been amazing in this salad. sigh.
then i was craving a little something sweet so i followed susan's example and had a cinnamon wasa!but i used agave instead of sugar. only got the refined white stuff in the house.. blech.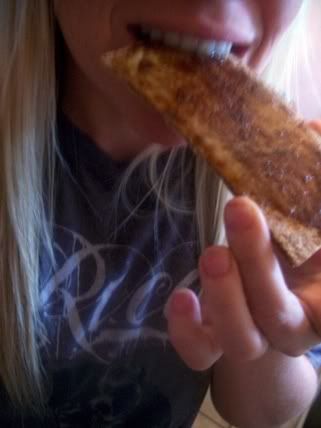 yuhm! she was right, just like cinnamon toast :)
well now i am going to make like a raspberry and jam out on the front porch with the dudes and dudettes, they screaming at me to get off the laptop.. haha but hey, i knew if i didn't get this up now i never would because ima be a busy girl tomorrow:
strut your mutt dog walk/fundraiser/dog PARTY basically i cant wait! penny is missing dog class for this, she's playin' hookie!
costco for bday bbq items
clean the crap out of my 4runner
baking treats for the bday bbq
date night–yes.. i think we are on the mend :)
oh i have a question! i am having a bbq on monday.. and my vegan boys will be attending. in your opinion..what is the best vegan burger? i haven't tried many.. im carnivorous ;)
have a great friday night everyone!! xoxo