*FIRST* item of business.. i want to thank ALL of you for your awesome, sweet, caring and fabulous comments on my last post. i think it is so touching that so many of you reached out and had such nice things to say to me, when i have only had this blog for less than two months.. i just am so moved by your friendship and i really appreciate every last one of you! seriously each comment left put a smile on my face! xoxo*
i also loved reading how you guys cheer yourselves up!  some things you mentioned were running, shopping and pets! all very good pick me ups!
also, i am doing better today, i wrote a novel of an email to the boy.. sometimes putting it down in writing helps me say exactly what im thinking, and i think it will help him comprehend it more rather than me rattling off a bunch of thoughts all at once. soo i hope things work out. i am pretty partial to him :) plus penelope won't eat when randy isn't around (randy is the boy's dog, penelope is mine)..
so, enough mushy stuff, right? sorry :P
i ate some quinoa today. the first time i ever knew about quinoa was when i read about it in my oxygen magazine. (speaking of which.. i am about due for another issue.. yes!) anyway, i never had to say the name of this food out loud. but you know how you say things in your head when you read them? so i pronounced quinoa as "kwi-no-ah".. just like it is spelled.
joke's on janetha.. eventually i found out from my mom that you pronounce it "keen-wah".. ok, how was i to know?! one time on the phone she asked me if i had ever tried quinoa.. and i was like no i have never heard of that! and then she spelled it for me.. and i said "oh, kwi-no-ah? i love that stuff!".. yeah, so i was way off. no shame :) but as i ordered my quinoa salad at WF's today i was thanking my mom for letting me know how to say it.
then i got to thinking.. with most of our friendships in food blog land being purely based on reading.. i am sure there are a lot of words out there that we are pronouncing wrong in our head! the word that sticks out the most to me is my name. i would say that 90% of people who read my name pronounce it wrong. after 26 years with a name like janetha, correcting people can get old. there is also the other side of it.. not the reading side but the part where i have to tell people my name and they look at me like i have 3 heads. then i have to repeat it seven and a half times and then proceed to spell it. grade school was pure hell and working in an office on the phone all day is not very awesome either. i can't decide if i hate spelling it more or telling people how to pronounce it more. when i order food and they take a name.. i am usually ashley or lindsay or something simple.
so i was wondering how do YOU all say my name in your head? just curious.
eats!
breakfast this morning was a little rushed, i usually eat bfast at work but i knew i had a meeting downtown first thing this morning so i had to eat at home.
i was missing my parfait ala k this morning so i whipped one up!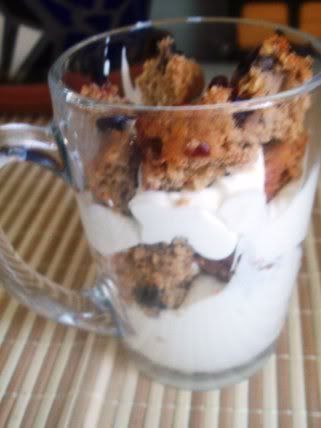 i used a new flavor of vitatop!  it was appleberry and it was delicious!!!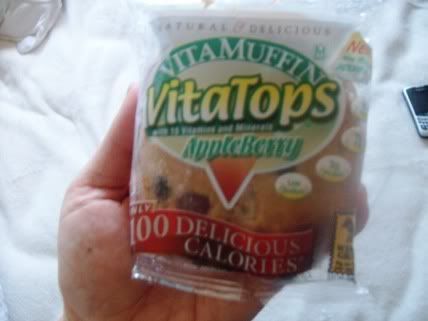 reconfirming i like the branny style vitas over the chocolatey ones.  i also added some agave to the parfait and smashed it all up before devouring.
after a 3 hour long session at my company's accounting firm.. i was st-arv-ing. guess what i was by? whole foods!!
sooo i changed it up a bit for the regular salad bar thang.. i went for some quinoa & black bean salad, chili salmon and veggies + hummus.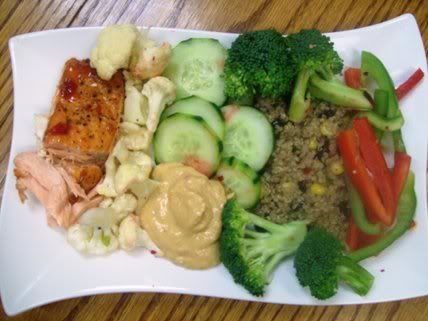 WFs doesnt have sabra.. and so i tried a new brand of hummus!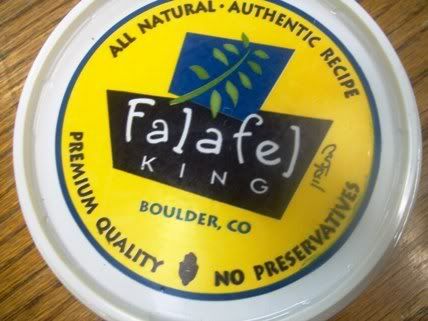 i think i may have a new favorite! have you guys tried this brand?? super creamy and flavorful! i was impressed.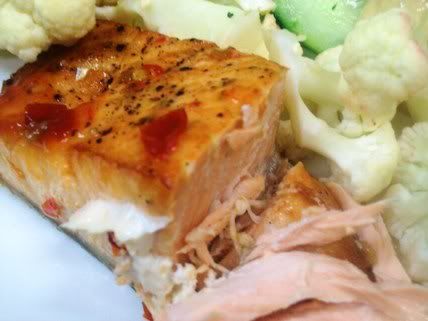 the salmon was really good too.. a tad on the pricey side ($21 a lb) my piece was 8 $$ and i split it into two so i can eat it tomorrow too.
really good lunch!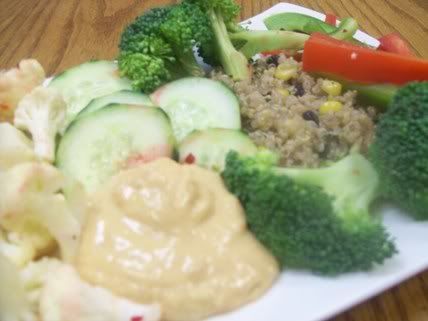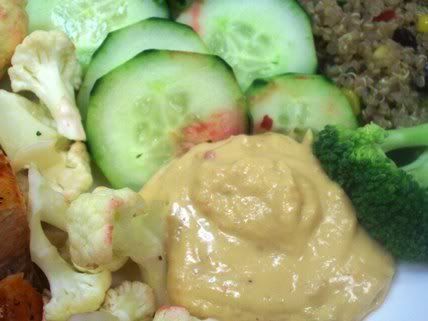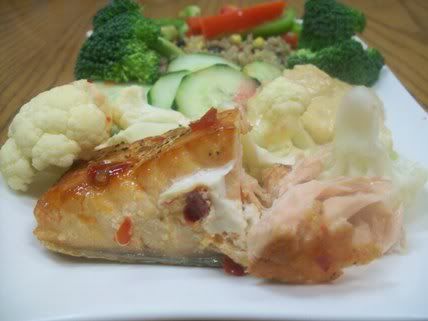 after work i decided i needed a little janetha time and so i did what any normal girl would do. i went to the gym, to the tanning bed and got a pedicure.. ahhh.. life is good again :) for now, at least.
so today was actually the first time i've done any cardio since my tonsillectomy.  my throat still hurts–yes, ugh, i know..dr appt tomorrow!–but i had to just run. so i did 2 miles of HIIT and it felt so amazing!  but i have for sure definitely lost some endurance. bummer.
after my pampering sesh i came home and whipped up dinner: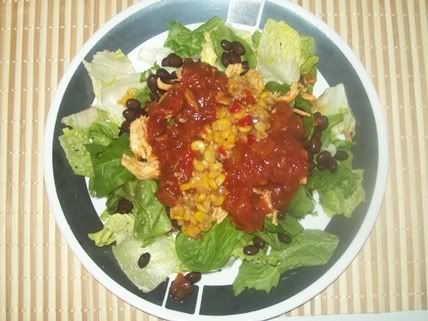 southwest style chicken salad..
this included:
7 lettuce blend
spinach
1/2 cup black beans
4 oz shredded chicken (cooked in spicy spice spiceness)
corn salsa
peach salsa
habanero salsa
triple salsa action shot!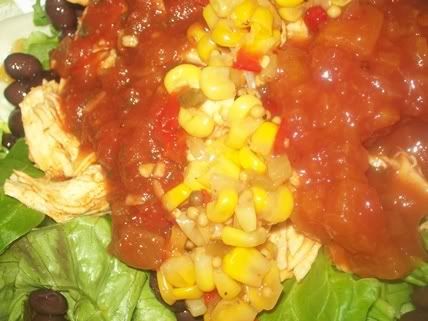 i threw some cottage cheese on there and mixed it up into a hot mess. and it was HOT. supa spicy, just like jess likes it.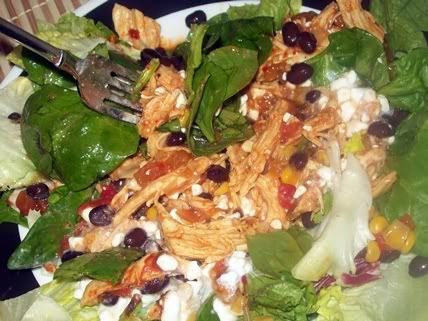 as i am typing this i realized i have some jicama in the fridge! crap. P.S. i totally thought jicama was pronounced "ji-came-a"hot "hick-a-ma" for awhile there. ha! oh yeah! k asked me what jicama tastes like.. while it has the consistency of a water chestnut, i think my sister explained it best by saying it tastes like a sugar snap pea. it is a little sweet and very crunchy. i love it!!
anyway, now i am quickly typing this bad boy up before going out tonight! it is my friend angela's 24th today and we are going to a new bar called club edge.. i found out my reallllly good friend from high school is DJing there tonight AND my close exboyfriend from high school is a bartender there! so it should be a grand old time.
in other news!!~~
well i have to hit the shower and get ready for tonight.. hooray for tomorrow being FRIDAY.. short work weeks seem to last longer than regular ones for some reason!
QUESTIONS!
1. do you have any words you pronounced wrong in your head and then realized you were waaaay off?
2. do you have a name you have struggled with explaining your whole life.. either spelling or pronunciation?

later skaters!