whenever i am sick, i go to work anyway.  my boss always tells me to "play through it".. something that john stockton, a former utah jazz player, used to always say.  apparently he never missed a game in his whole career.. or something along those lines.  when he says this to me, i say "yeah sure, if i was getting paid the same as an NBA player then i would surely play through anything!"..
anyway, today was a day i had to tell myself to play through it.  no, i am not sick. but work was hard for me to get through today without bursting into tears.. which i did do a few times.  i am having some issues on the boyfriend homefront..  not fighting or anything, no worries.. we don't fight. never have actually.  it has more to do with which directions we want to go in life. it is hard to love someone so much but have so many opposite interests yet still be incredibly compatible and in love.  it makes the future a touchy subject i guess.  opposites do attract, that i know. but also opposites can create conflict down the road 2 years. and  with my 26th birthday coming up on monday, we are running into ultra serious talks that are no fun at all.  this is a food blog so i am not going to ramble about it anymore.. but i have been crying on and off for the past 24 hours. bummer. i am not a crier.  i have a lot on my mind and my head hurts from thinking, sometimes i wish my brain had an on/off switch :P
ANYWAY.. sorry for that.
rewind to tuesday! because i don't think i've blogged those eats yet.. been a busy girl lately..
breakfast was at my weekly sales meeting, i did order food this time because i needed something to keep me awake. i was running on 4 hours of sleep because of the sounds/no doubt concert monday night.  i don't function very well on that little of sleep.
i had egg beaters+onion+mushroom+spinach+turkey sausage & side of tomatoes..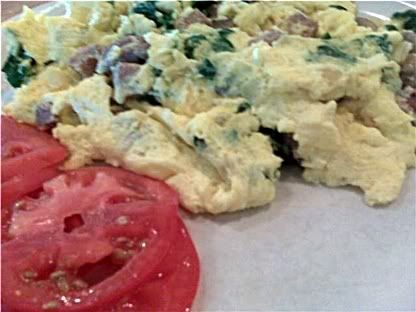 'scuse the BB photo
and a LOT of coffee ;)
lunch came a bit later. yes i realize i am not posting my meal times or eating at proper body for life times.. but i am staying in line with the body for life eating style. since i have not been working out very hard i've been trying to eat only when i am hungry.
western bagel + LCL + spinach + organic smoked turkey & jicama+celery+carrots+bell peppers w/ sabra~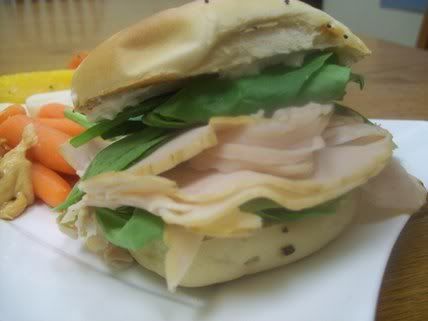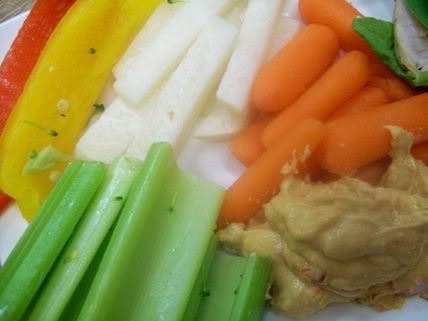 this lunch was bangin!! so good! i love the western bagels because they are only 110 calories for the whole thing! and they are delicious. i was stoked when i found them at the sunflower market :D
well then i worked and worked and worked, then went home and wrote my marathon post about moab and then the boy came over.. and i promptly lost my appetite.. but i know i had to have something so i made a protein shake for dinner.. it was actually REALLY good, tasted like ice cream!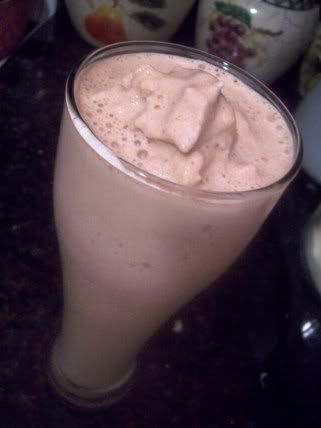 it included:
1 scoop chocolate whey protein powder
tsp cocoa powder
1/2 frozen b naner
1 cup 8th continent soymilk
and then i proceeded to stay awake until 2 in the morning.. and was up for work at 6 AM. lovely.
wednesday!
well i didn't have an appetite. at all.  the fact that he and i work together didn't help me this morning. too bad it's not socially acceptable to wear sunglasses at work.
i had coffee for breakfast. and i used cream. no shame.
lunch came early since i hadn't eaten all day.. around 11. i had a repeat of yesterday's because it was soo delish!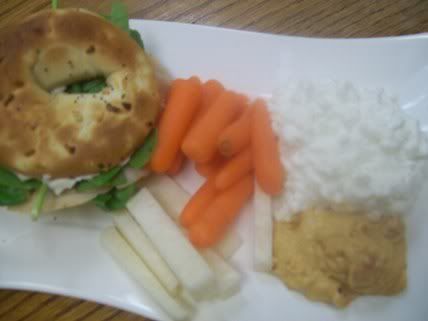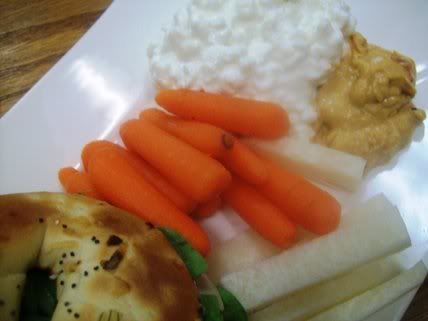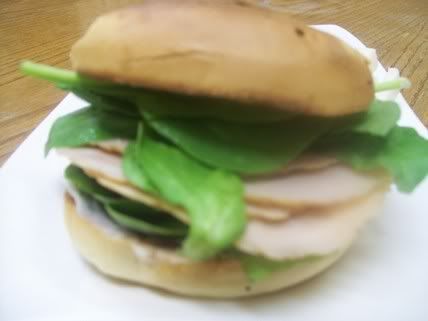 i also threw some cottage cheese into the mix for added protein.  i am now officially out of hummus! OMG i gotta get to the store STAT!
i got hungry again around 3:30 and had something i haven't had since i was recovering from my tonsillectomy…
greek yogurt + applesauce mess!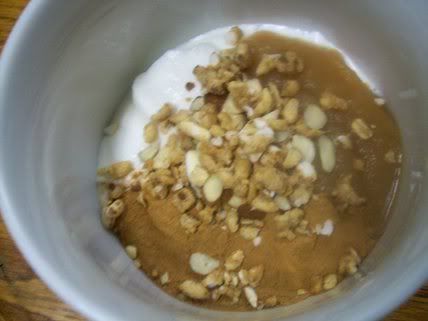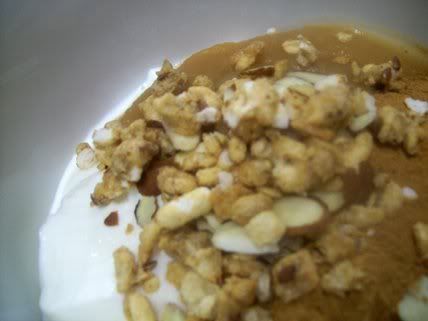 yuhhm. lots of cinnamon, of course! and a handful of this stuff: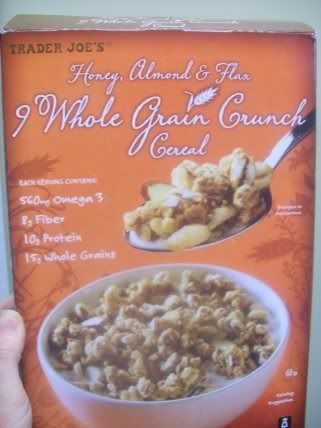 i am down to my last box. feel free to send me some more you TJ shoppers ;)
all mixxxed up.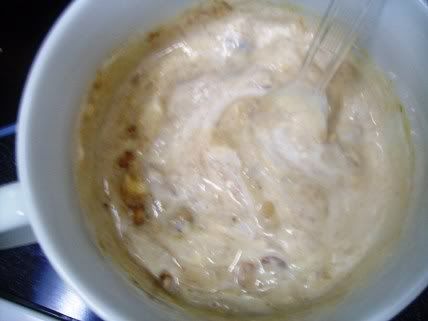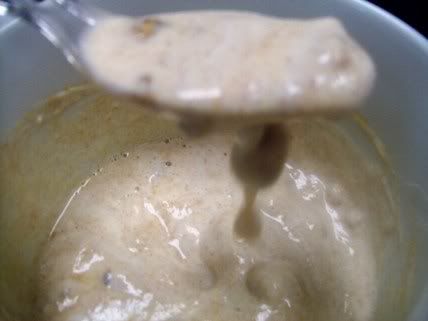 although it was a really rough day at work today.. there were 3 things that managed to cheer me up a bit.
amazing flowers from my dad. he is so thoughtful.  i love my dad! and i love getting flowers delivered at work!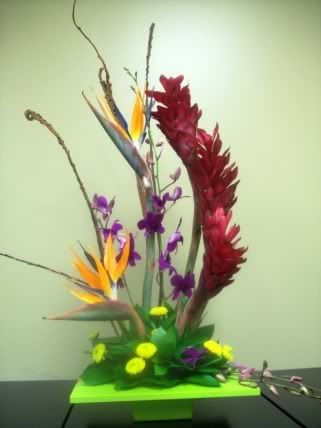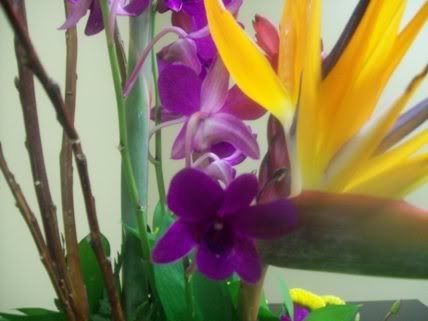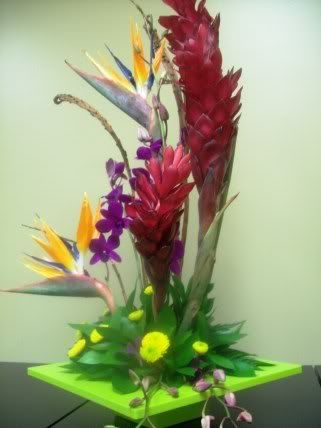 chocolate covered strawberries from my boss.  i didn't eat one yet.. but i think i will after i post this ;)
$100.  yeah, i have some nice bosses. sometimes they just hand me cash.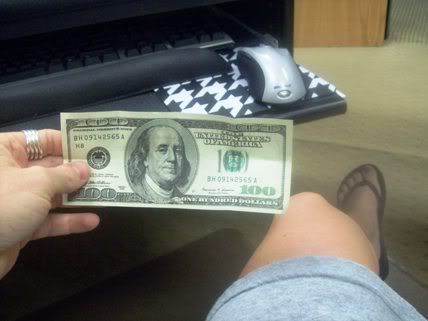 when i came home i found something else to cheer me up..
penelope jane.. dogs make the world go round.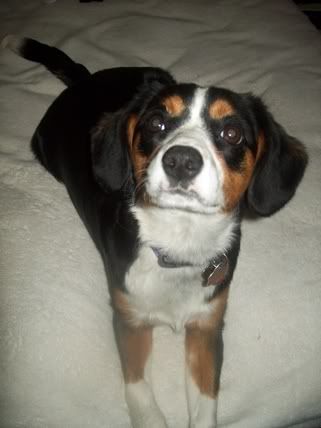 i did what i do best when i want to get my mind off things–after a 46 minute phone call with my mom of course (what would i do without her?!).. i cleaned and did laundry and vacuumed and blasted music all the while.  it helped.. now i am blogging in a spotless room with all my laundry folded. it makes me feel less stressed when things are clean. do you feel the same way? i think an organized room/house helps me relax.
after my cleaning sesh i needed something to eat even though i had no desire to eat a thing.. so i whipped up an open faced tuna sandwich..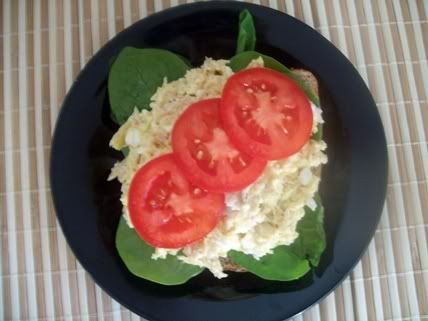 it was on 1 slice of ezekiel bread, 1 pouch of tuna, some cottage cheese for moisture and some mustard for flavor.  also threw on some spinach & roma tomato.
it was tasty :)
sorry to be such a downer today! i have too much serious business on the brain and i can't be witty and ramble like i usually do =/
ima go blast minus the bear and hang out with penelope <3
xo.
question: what are your no-fail cheer ups? even if they just make you smile for a second, despite the matter at hand.. what does it for you?