why is it that on the friday prior to a 3-day-weekend it is so hard to stay focused? i can't seem to get anything done today.. well, the whole fact that we had a baby shower for about an hour from 11 to noon didnt help my productivity.. but really i am just so anxious to be done with work today! more so than your typical friday.
rewind to yesterday! i think i left off at meal 2. i got off work and i had DOMS in my legs (still!!!) and in my arms.. and since i can't do cardio yet cause of my throat (yes, STILL hurts.. they say 3 weeks until it feels better.. which is may 26)… i just didnt go to the gym at all. i am a slug :)
instead i went home and did some porch sitting with my dogs and roomie and enjoyed a little after work snack action with a broccoli + 3 flavor hummus plate:
it had garlic, plain, and red pepper hummus.. it was a trio from archer farms. best hummus next to sabra that i have found. although, i have not ever attempted to make my own.. hmmm..
didn't you love coming how from elementary school and having an after school snack? i did. oh, back in the days of no responsibility.
a little bit later i made some dinner..
meal 3: chicken + cucumber wrapped in flat out+LCL @ 7:30 PM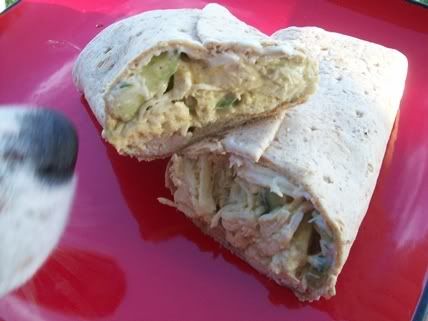 yes, that is a penelope jane nose gettin all up in my photo trying to get her nose in some of my dinner! i put a little ff mayo and curry powder in my chicken salad. blech why did i use ff mayo?! i didnt have any blended cottage cheese for moisture OR any greek yogurt so it was a last resort, sick. gross. i hate ff mayo. never again. but the curry part made it all taste juuust right!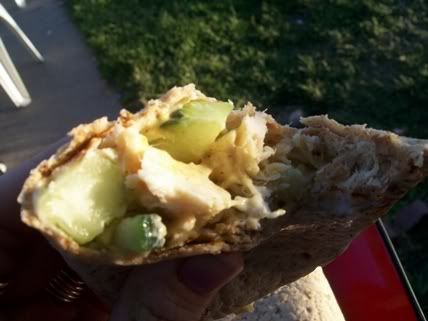 i won't bore you with the details of my night, but marshall and i DID finally watch the season finale of the office online. yay for pam & jim! i never watch television.. unless it is the food network, the game show network or animal planet. sitcoms and shows like lost, grey's, etc bore me. and reality shows like american idol and SYTYCD are just lame.. however, i do have a spot in my heart for the office, but since marshall has kung fu on thursdays we always watch it together online later. it's our thang.
i must admit i did have a few bites of marshall's cereal (i am a recovering cerealaholic) and that opened the door to my own bowl of trader joe's fiber cereal + UVAB. i kept it small, maybe 1/2 cup of cereal and 1/4 cup of almond milk. and i didn't take a photo. and i shouldn't have eaten it but i did, so whatever, moving on!
FRIDAY!
hallelujah. friday. what did i eat?
oh yeah, i downed not one but two cups of coffee before attempting to have anything for breakfast. i was just that tired.. and then i made a parfait ala K!
meal 1: double chocolate vitatop + chobani @ 8:00 AM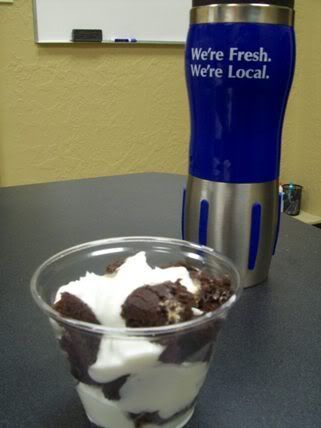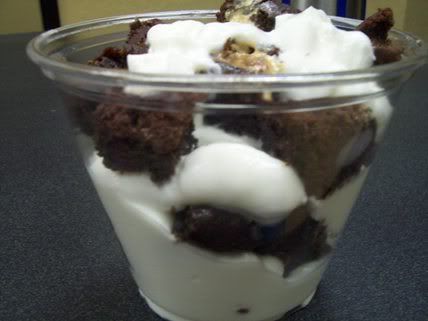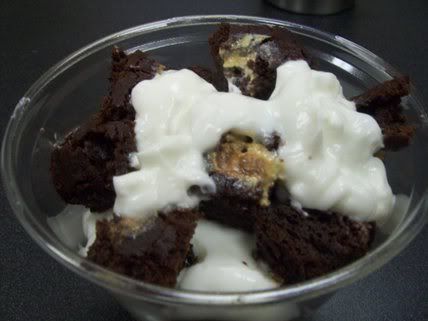 no mine is not pretty like K's creations.. but it was so good! i took her advice and mashed it all together before eating.. holy YUM! way better idea! here is a smashed up shot: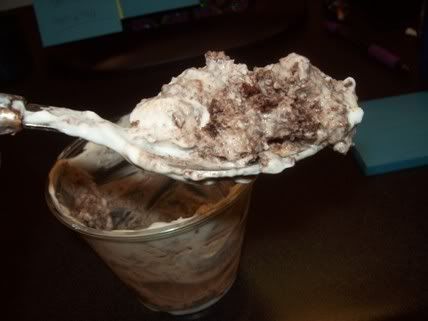 yes, i ate at my desk.. despite brittany's warning about it. i hope i don't keel over and die!
okay, then it was time for a little work before i decided to stop being productive again.. well.. work-wise at least! i was in charge of picking up lunch for the office! so i headed over to a local market that has killer freshly made deli sandwiches and ordered eleven made to order sandwiches. and not a one for little old janetha b! they have salads there, but they really are just iceberg lettuce and cheddar cheese and chopped lunch meat. i got some of the chopped meat for protein and added it to my…
meal 2: salad! @ 11:30 AM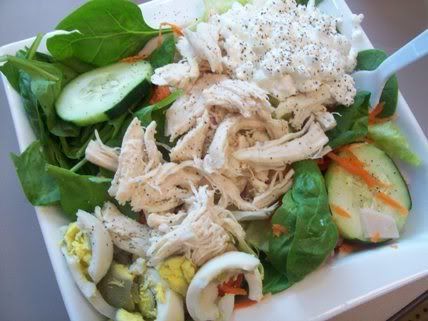 my salad included:
3 lettuce blend
spinach
chopped ham & turkey (from the deli)
shredded chicken (from the batch i boiled the other day)
1 hard boiled egg
cukes
carrots
cottage cheese
tomato wedge
black pepper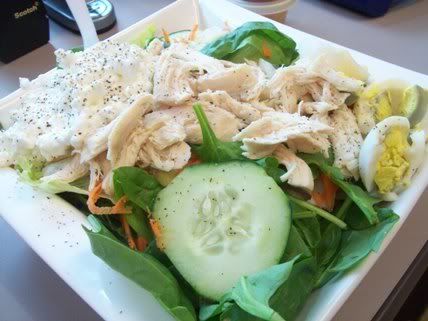 it was just as delicious as any of their sandwiches i am sure.. although i do love the bread at that market, i don't love the carbs & calories it packs. sigh. plus i will most likely be eating more than my fair share of food this weekend camping, so i had to keep it in check today!
we were having a baby shower for one of the gals i work with. it was really awesome, she builds in our factory and is about 2 weeks from her due date and has been doing physical labor up until today because she cannot afford to not work.. so my boss went and bought her all sorts of items like a pack & play, a stroller, a car seat, etc etc and the other girls at my office gave her a zillion hand-me-downs.. it made my cute little outfit i bought as a gift look like chopped liver, but it is the thought that counts, right? it was awesome to see her face when she saw all the loot.. she was nearly in tears and i love that we were able to help her out and make it a special day for her!!
confession: i had about ten lay's bbq chips.. but i DID pass up the glorious tres leches cake that they had for dessert!
i did manage to get a little work done today.. insert that here.. but then i needed a little somethin' somethin' so i whipped up
meal 3: veggie plate + dippers @ 3:00 PM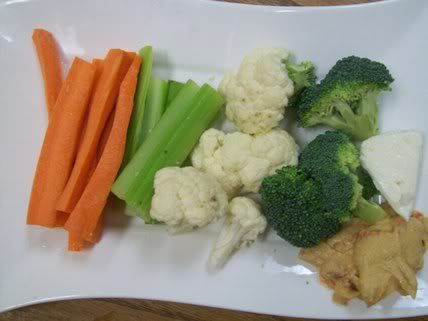 i know, not your standard BFL style meal.. but i was not wanting to have much and needed some veggies in my life so i fixed up a plate of cauliflower, broccoli, celery + carrrots…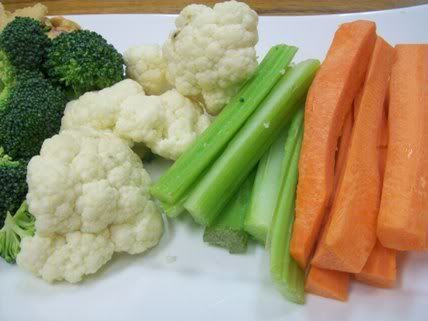 with some LCL + sabra red pepper hummus for dippin' action!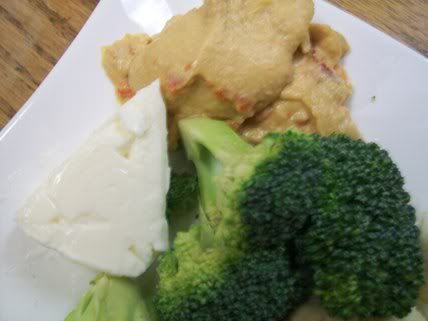 i used to hate cauliflower as a kid. can't get enough of it now though.. isn't it crazy how our palettes mature over the years? i wonder if i will ever decide to like raisins and hot dogs? haha.. doubt it. what foods do you love now that you never thought you would?
well that brings us to the here and now! i am crunchin on my veggie plate as i type. i have a few items of business to go over!
the simple life challenge update! dang, i havent updated these points in forever! but i have to send my total into bobbi today so i better do a tally!
i was @ 75 last time i tallied

17 points for meals made/eaten at home all week

6 points for using reusable bags through out the week

2 points for making 2 bday gifts

1 point for hoofing it instead of driving

1 point for hang drying the clothes

1 point for coupon usage

1 point for hand washing the dirty dishness
brings my total toooooo….(drumroll) 104! yayer!
new foods challenge has also been moving right along! i have tried a whole slew of food i would never have thought of. instead of recapping what i have tried, i will go over what i am looking forward to finding/trying!
chia seeds
steel cut oats
larabars
non dairy protein powders
pumpkin butter
sunflower seed butter
poyple cauliflower!

(never seen it!)
any other bright ideas?
in other news!!~~~
mara & her dad have crafted the most FABULOUS charms ever! check them out here, there is also a chance to win one on mara's blog, jenn's blog AND kath's blog! wow! even if you don't win.. they are so ultra rad that you should buy one, i know i will :)
do you love old navy flip flops? i do.. i have them in every

c

o

l

o

r

! you can snag them for just $1 tomorrow, all day long!
danica is giving away a signed copy of HG's 200 under 200! this is an

awesome cookbook!

go check it out!!
sunday is national escargot day! um, no thanks!!!!
that's all i got for now.. BUT i have a turbo busy agenda so i may be scarce here the next few days, if i find time to post at all (which i am sure i will because, like em, i am addicted to the bloggingness).. but here is what i have on my plate! er.. my social plate, not my food plate.. you already saw that.
go buy tickets to see the sounds (the sounds is basically the hottest swedish band around!) i am bummed b/c the sounds are actually OPENING for paramore and no doubt.. i would much rather the sounds be the headliner but i will take what i can get to see maja (the lead singer of the sounds)
go grocery shopping for my camping trip in moab that i leave for tomorrow
pack for moab
hang out sesh tonight with kristen my friend who goes to school in the AZ is home for the weekend! yesss <3 her!
penelope's school in the morning
leave for moab and camp saturday – monday
monday night see the sounds, paramore & no doubt
lots of fun these next four days!
question!! since i am going camping….and will be eating in the wilderness….
WHAT IS YOUR FAVORITE FOOD TO TAKE CAMPING?
i need some ideas!! i can do some baking before i bail, so gimme some suggestions!