my title was different. but i was a paragraph into my ramblings and sure enough, randy the basset hound yacks all over my newly washed bedsheets. fhejkwlhfjekwlhdjksaldfwtfw;a.
moving on.
my title did say "i should be sleeping right now" and then i went on like this…
…but i decided to blog instead. honestly, i have been so ultra tired lately! i have been working extra hours at my job and then have had so many birthday celebrations.. it is birthday season, after all.  as far as really close friends go.. like the ones i consider family.. we have birthdays as follows: may 3, may 7, may 12, may 18, may 20, may 28, june 1 (me), june 3 (my brother–actual family), june 16, june 17, june 21. not only that, there are a whole slew of other friend birthdays in there.. ya know.. like my casual friends that i frequent their birthday celebrations yearly.
enough about birthdays and barf, let's talk about food!
i was on a roll with the copycat breakfasts this week.. monday with susan's and yesterday's with k's.. but today i went with something all my own with a little creativity.  i really wanted oat bran but i forgot to bring protein powder to work.. so i made this:
meal 1: egg, turkey burger + mushroom scramble & half of a double fiber english muffin + red pepper hummus @ 8:30 AM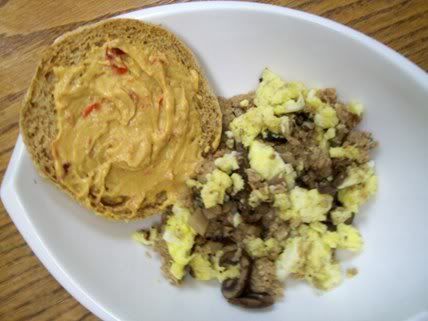 turns out the fact that my burgers last night were a little crumbly when removing from the grill was actually a good thing!  they broke up nicely for this little scramble and it was quite delicious and filling and lovely and all that good stuff.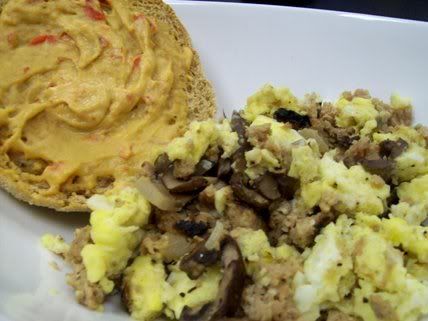 and i had my daily coffee.. yesss back to the hot stuff! although iced is still nice. i am still waiting for kristie to tell us how she makes her iced coffee!!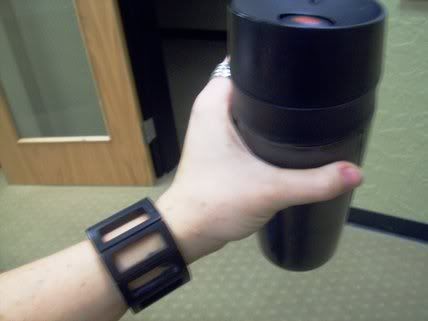 then i got toooo busy for my own good, let time pass by too long before i ate again.. but when i did it was glorious:
meal 2: greek yogurt bowl of nonsense @ 1:00 PM
this included:
5.3 oz chobani plain
1/2 scoop chocolate whey protein powder (EAS)
blueberries
blackberries
strawberries
splash of UVAB
slivered almonds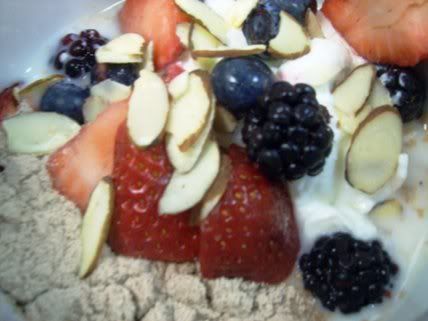 not heavy on the fruit, just a couple pieces of each berry to total maybe 1/3 cup of fruit. this, my friends, was fantastic.  all swirled up: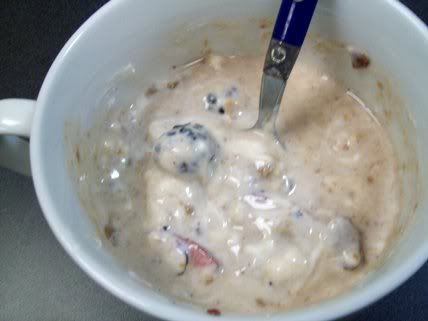 i worked a little overtime and then headed home to my sparkling clean house that my roommate cleaned, thanks jess! with 5 girls, 4 dogs, 2 frequent boyfriends over and a cat things tend to get messy quick.
i also came home to a package from stonyfield farm for some free ninety free greek yogurt! smashing. can't wait to try it. and they included a wonderful reusable bag which i am a huge fan of. use em every day. thanks stonyfield!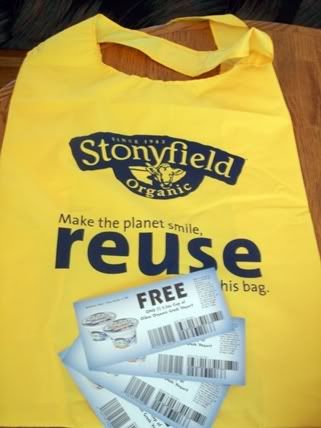 i whipped up a lil' something to get me through my workout:
meal 3: bluebran vitatop & a protein shake @ 4:45 PM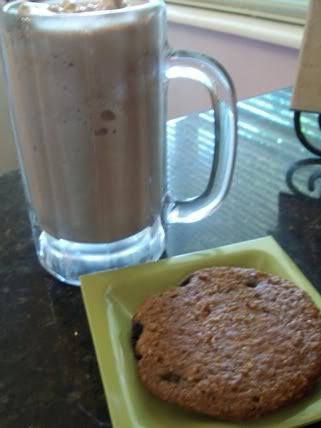 this protein shake included:
1 cup UVAB
1 scoop chocolate whey protein powder (EAS)
7 ice cubes
and some PB2!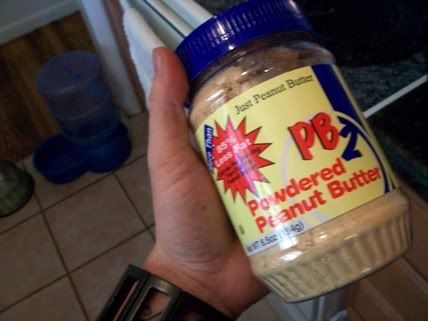 yep! i also came home to my package of PB2 that finnnnaallly came! so i added some of that goodness in there. tastes like a chocolate PB ice cream shake, f'reals.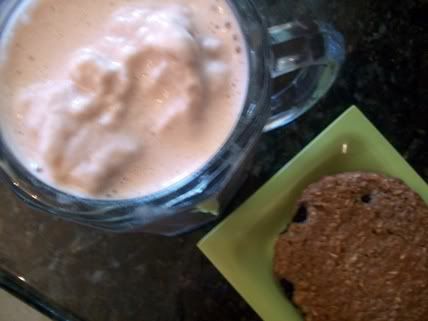 insert workout + grocery trip here!
got some stuff for dinner and a slew of veggies! i got all sorts. i can never pick a favorite of anything. not a favorite color, favorite movie, favorite vegetable.. i am just way too indecisive. so instead, i always just pick my "top 5" favorite things.. anyway.
i also caved and got a bag of these: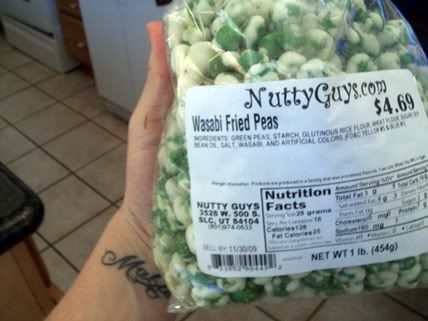 i portioned some out to snack on while cooking: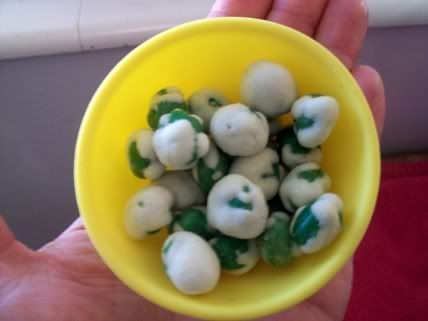 i am such an addict, if i dont portion them out i will eat all 16 servings in the bag at once! have you guys tried wasabi peas? they are the best. so are wasabi almonds.
then i made dinner.. which was delicious and i am still thinking about it right now..
meal 4: mexican style chicken salad @ 8:30 PM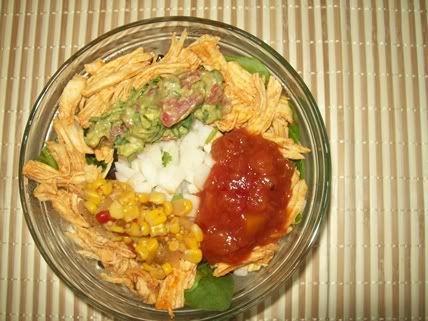 i will be posting a recipe page of this thang tomorrow, too late tonight. but it was divine. it included:
7 lettuce blend
baby spinach
jicama (new food! so i thought.. turns out i have had it before, just didn't know that is what it was called, nor had i ever purchased/cooked with it)
black beans
chicken
homemade guac (avocado, tomato, tapatio & cilantro)
TJ's peach salsa
TJ's corn chile salsa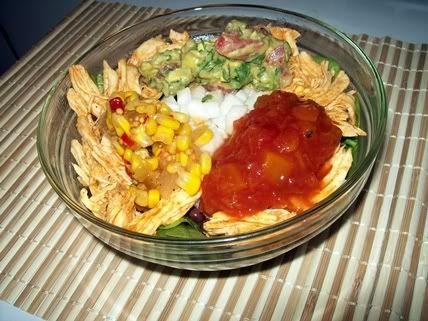 the guac:

erin had asked how i cut my avocado in yesterday's dinner.. i chop the slices while it is still in the peel and then i peel the skin off with my hands. this time around, i diced instead of sliced: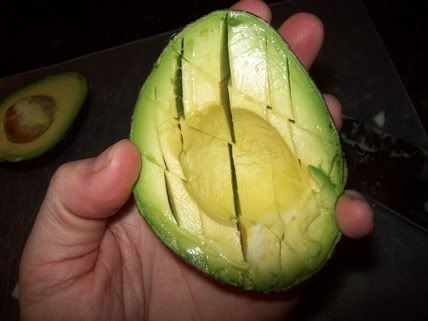 yes! love me some mexican inspired meals.  my favorite way to cook chicken is boiling it. it is healthy, had great flavor, is moist AND you can take it straight from the freezer to the pot of boiling water.. no defrosting needed. so i boiled a bunch and then seasoned a portion with some cumin and other mexican spices that i had in the cupboard.. a cholula one and some other blend. turned out really nice.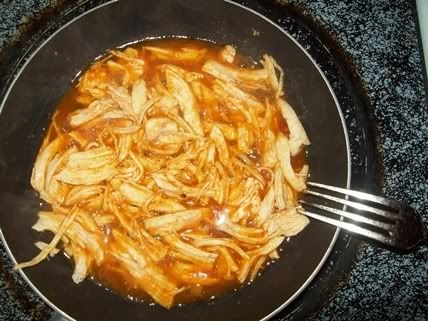 all mixed up…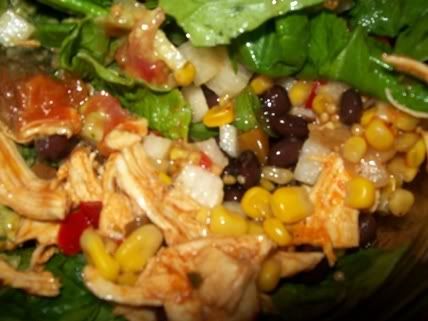 yeah and then i spent a lot of time catching up with my love jessica, my roommate who just got back from jamaica. she & michelle, my other roomie who went w/ her, brought be back this ultra cute spoon holder! they know me and my passion for kitchen stuff so well :)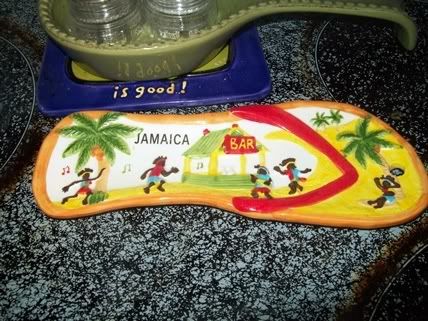 and then i spent an hour and a half cleaning my room and it is still not clean.. but really, how does one girl get a little 8 foot by 11 foot room messy so quick? i would like to know. i am horrible.  going to finish the job tomorrow.
oh! actually i did do some baking, i almost forgot. forgive me and my memory of a goldfish. i made some angel food cake for tomorrow, which is national strawberries & cream day!  so i am making a bunch of mini strawberry short cakes with whipped cream for my coworkers :D photos tomorrow.
sorry i am a slack ass on the good posting. to make up for it, here:
in other news!!~~~
exciting news huh?
so since i was talking about not being able to pick favorites earlier, i will leave you with this question..
what are your top 5 favorite veggies?
mine are (in no order, of course!):
avocado
mushrooms
bell peppers (all colors)
artichoke
asparagus
even just picking 5 was hard for me and gave me a little anxiety. i think i should go back and somehow include broccoli and corn and probably snap peas. i am the most indecisive girl around.
what's your top 5?