well, at least two. saving that for my lunch debut though.
first off, i would like to wish everyone a happy national strawberries & cream day! those of you not in the U S of A feel free to celebrate also ;)
i am a nerd and often times will make something in honor of the national food holiday and bring it into work to share with the homies. well.. actually i usually don't eat what i make, because it is more often than not an unapproved item for me to eat.. but hey, i like to cook and bake!
so today i whipped out sixteen strawberry shortcake trifles.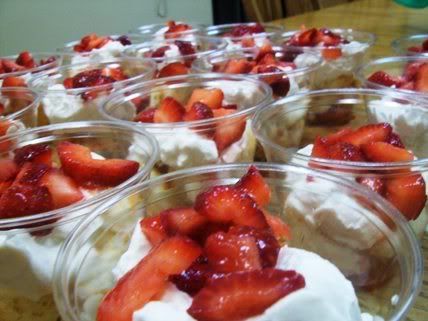 i made the angel food cake last night and ripped it to shreds this morning. i diced the strawberries last night too, so they could sit for awhile and make some strawberry juicyness while in the fridge. i whipped the cream this morning in between cleaning up piles of randy the basset hound's barf. poor guy :( he was a puke monster. i hope he is feeling better now.
once i got to work i assembled these dudes.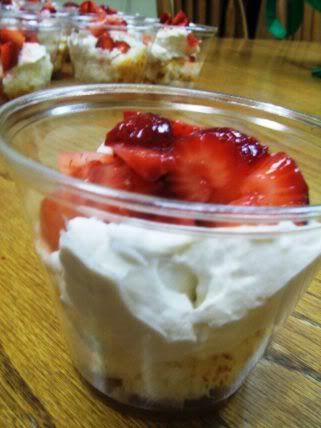 i despise canned and premade/packaged whipped cream. i think it is disgusting. i always whip my own cream and add a lot of vanilla extract to it, sometimes to the point where it takes on a brownish hue from the vanilla :P
welllll these were a hit. who doesn't love strawberry shortcake?!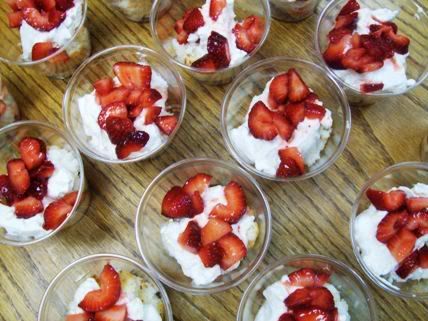 moving on to a breakfast of my own…
meal 1: oat bran! @ 9:00 AM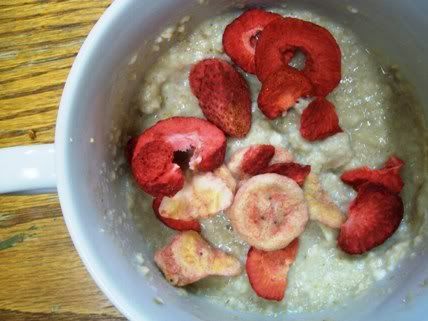 this lovely little number included:
1/3 cup oats
1 cup water
1 scoop vanilla whey protein powder (EAS)
probably more PB2 than i needed ;)
some dried bananas & strawberries
i love this brand of freeze dried stuffs! they have blueberries, tomatoes, pineapple, peaches, etc etc..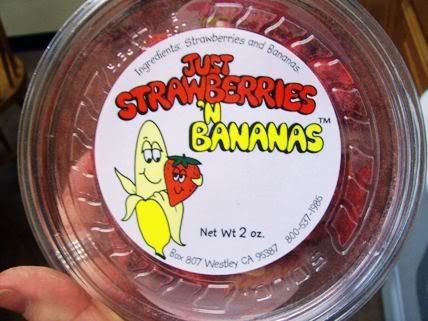 it is really good for trail mixes or just to snack on, the whole container (which is pretty big) is only 40 carbs.. so a few pieces here and there is not too bad. plus all it is is fruit! nothing more. love that.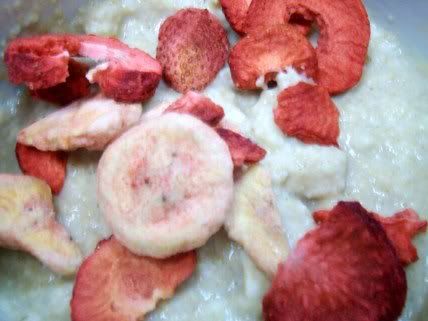 i did miss my cinnamon though, not gonna lie.
i did a little bit of work, then i got my hair did! tis the season.. seems like a lot of people have had hair appointments lately. finally i do not look like the shaggy D.A. with my bangs all up in my face! fabulous :)
my hairdresser happens to be right by allie's house so i dropped off her birthday present! there has been 3 birthdays in the past week or so..lindsay, cody and allie. i made 3 of these things.. they take about an hour and a half to make but honestly, it is such a rad gift!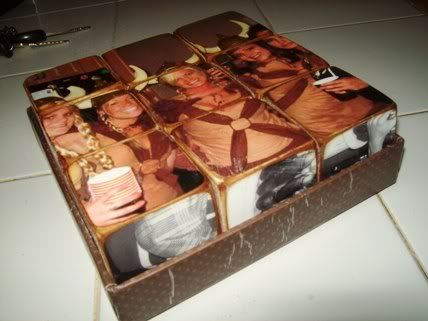 what is this you ask? well ya see…you choose six photos to use to make this super adorable puzzle block photo cube! it is such a stellar gift for guys and girls, who doesnt want a bunch of blocks with photos they love on them? then you make them look all old and worn and rustic.. it really is such a great item to have. much more creative than a plain old single photo in a frame.. it is SIX photos and you can turn them to have whatever one you want showing, or mix and match, which looks a little funky but it is fun. my sister made me one a couple years ago and people are always messing with it and it is a great item for any coffee table.
i love arts and crafts!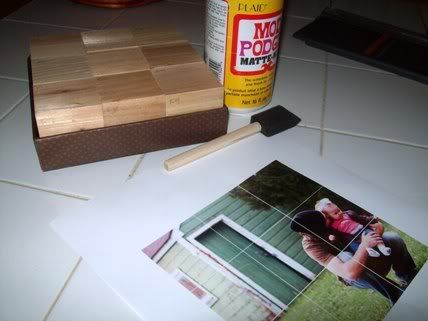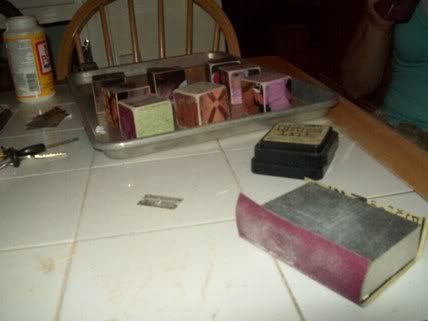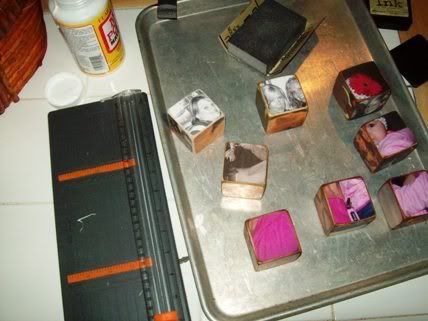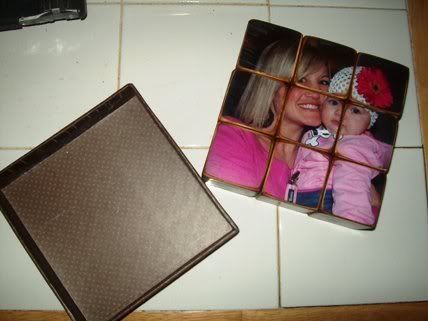 anyway, if you are interested in that sort of thing, you can buy the kit for these blocks by clicking here. stories by me (the company who sells them) also does a lot of other fun arts and crafts type projects, their website has it all!
then it was back to work for lunch and i was STARVING.
sooo it was leftover turkey burger to the rescue! (of course)
meal 2: turkey burger + guac pita & green peppers + LCL + sabra red pepper hummus @ 1:00 PM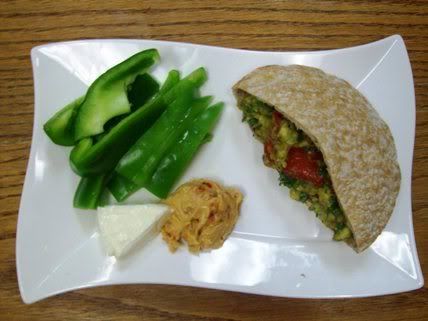 it is kinda hard to see anything in that photo but first i put in the turkey burger + mushroom combo from my bbq the other night: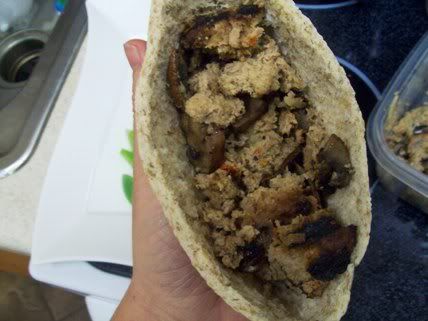 and then the guac from last night: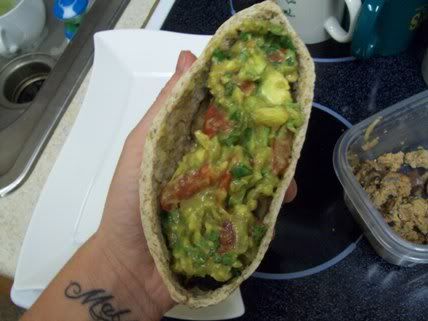 and it turned out really delish! served with a green bell pepper.. i can never decide which color to eat.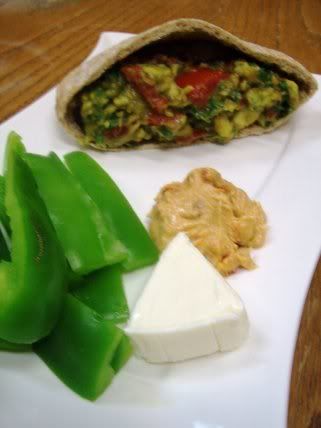 the photos are dark. i can't wait to get a new camera! my birthday is just around the corner. yesss!
oh yeah and i ate a fuji because i just needed something sweet.. extra carbs, meh.. such is life: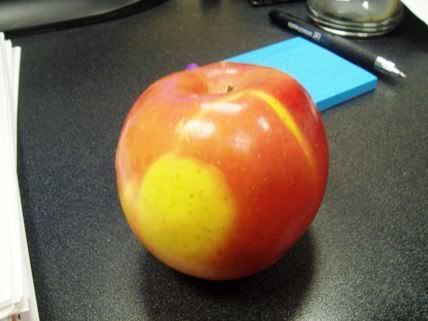 well that is all i have had today! i decided to break up the day's post because sometimes doing a whole day's worth of meals at night can be a little tedious, plus i have some things i need to get done tonight to prepare for my weekend!
we just planned a last minute trip to moab. i love it there! it is pretty close to me, probably 4 hours, which is amazing. sooo we are going to get our camp on down in the red rocks of moab, do some hiking and swimming and cliff jumping and fire burning and who knows what else. i can't bail until saturday though because of penelope's puppy class. but 2 nights in moab is still worth it since it is so close!
i love living in utah, it is the most beautiful place and has hot hot summers and cold winters with the very best snow on earth.. i love that i can snowboard my face off half of the year and play in the sun and water for the other half. i am a 4 seasons type of girl for sure!
what is your favorite season??
what are you doing for memorial day weekend?