yes, that is right, yesterday was my first day back at eating body for life style meals. phew.. i like that a lot more that soft mushy stuff and soups and whatnot. my throat still hurts but it is bearable enough to where i can eat almost whatever i want.
i just feel so much better when i eat a balanced 40-40-20 diet. i get enough protein, get enough carbs and get that healthy fat. also it is all clean eating and no junk. i will save the junk for free day ;) you will notice i did only have 4 meals yesterday, not 6.. for two reasons. one, i simply didn't have enough hours in the day to space out 6 meals. and two, i can't yet do the body for life workouts so i am not burning those extra calories. ideally, i want to be eating 5 meals a day right now, but if i can only fit four in then it is not the end of the world.. as long as i keep my body fueled and my metabolism revved up, i should be fine.
without further ado..
meal 1: parfait ala K @ 8:30 AM
before going into this one, i would like to send my love to K, who recently had a family member pass away. i am thinking about you girl and hope you are hanging in there <3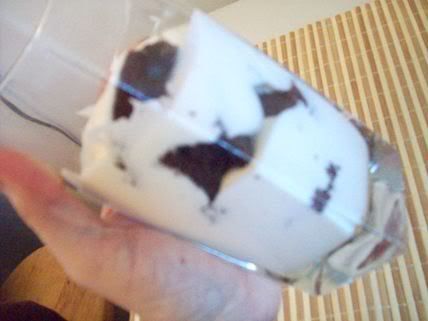 what we have here is:
8 oz voskos 0% greek ygurt
1/2 scoop vanilla protein powder
squirt of agave
1 deep chocolate vitatop (new flavor!)
okay okay, so my parfait is more like a cup of jumbled ingredients.. but hey. i don't have a parfait glass and i was in a rush to throw it all together.. it may not be pretty but it's the taste that matters!
and the taste was phenomenal! k knows what she is doing. i liked the deep chocolate vitatop, i warmed this one in the microwave as opposed to in the toaster over so it would be squishy and soft. my favorite part of the vitatop was the melty chunks of chocolate scattered about in it. it paired well with the greek yogurt. and it kept me full for a really long time.. up until i had:
meal 2: 1 egg+1 egg white, veggie sausage & double fiber english muffin + LCL @ 12:30 PM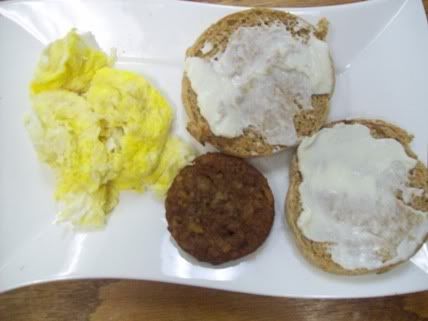 i looove morning star sausage patties, and i love that they are sold at costco :)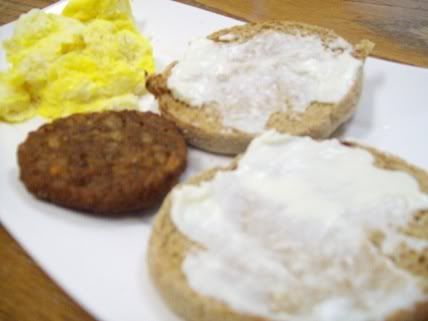 i ended up turning it into a breakfast sandwich so i could walk around and do stuff while i ate. it was a turbo busy day at work yesterday.. hence this late post.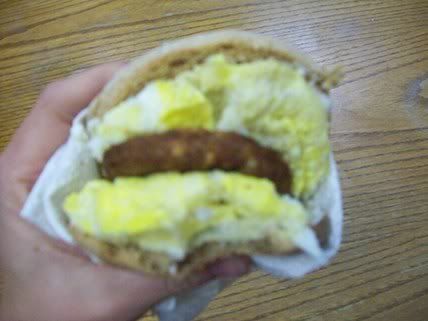 insert a slew of work here..
and that brings me to:
meal 3: edamame @ 3:30 PM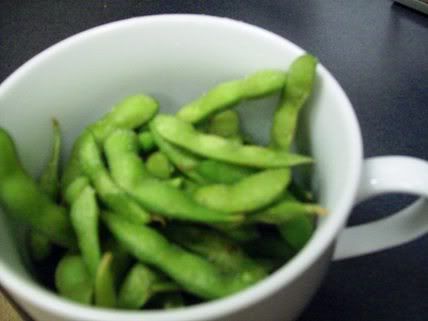 i love edamame and it is already perfectly balanced on its own! how spectacular is that? even better, a coworker cleaned the kitchen yesterday and found one of my favorite bowls that has been MIA for over a year. it was in some hidden spot. oh how i have missed you giant bowl with a handle.
on my way out of work..walking to my car.. i was the last one there.. my throat was hurting and i didnt have my pain peds, nor did i want them, so i had a good old friend that we haven't seen in awhile.. a 30 calorie popsicle: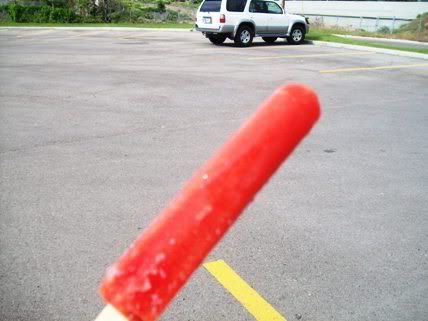 i went to my hometown and checked out my nephew's t-ball game. little dudes in huge ball caps is one of the cutest things. and then i told my lovely mom that i wanted to make some dinner for her (and myself). bless her heart, she has not been able to smell or taste since last thursday and it is basically making her crazy, i feel bad for her because that is the WORST when you lose your senses.. can you even imagine never being able to taste or smell again?! lucky for her it is just a sickness bug and she will be sniffing and tasting soon i am sure. but she ate my dinner i prepared anyway:
meal 4: grilled turkey burgers & baked sweet potato fries & veggies @ 7:30 PM

i made this cucumber & red pepper plate to snack on while i cooked:
and of course had some hummus for dipping: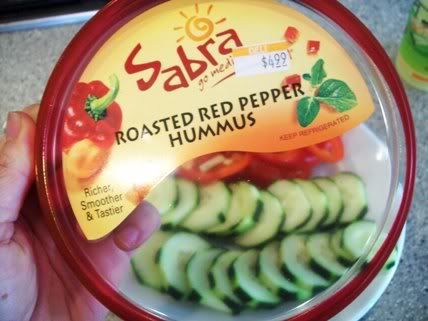 and then i did some grilling (my dad's burger is the all beefy beef one on the top right):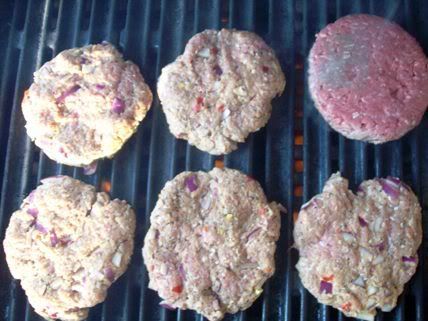 (i used this amazing recipe for the turkey burgers)
and i made a condiment plate: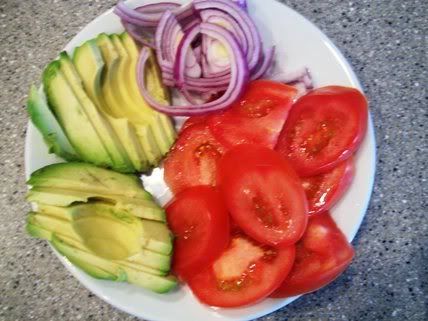 and sauteed some shrooms: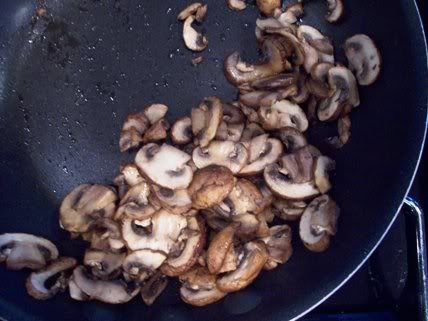 and baked some sweet potatoes up.. with the help of my "sue" chef :)
i had my burger sans bun since the carbs were coming from the fries: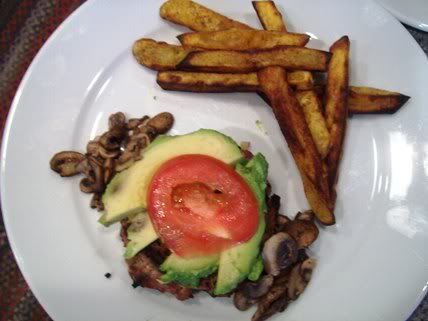 these where phenomenal! sorry you couldnt taste them mom, cause they were. the fries rocked my taste buds off to. yes, can i get a toot toot on my own horn?
after dinner i worked on making a friend's birthday gift.. HAPPY BIRTHDAY ALLIE! (it is today) but i am giving her her gift later today and then i will show y'all what it was.
then i went to the boy's casa and had two handfuls of kashi go lean before hitting the pillow hard because i was so hit the wall tired!
so that sums up day 1 of my back on the wagon-ness. loved it.
sorry to not ramble, i know you like to read my ramblings as much as i like writing them ;)
i just gotta get to work and make the big bucks! check you dudettes (and possibly dudes?) later!
question: if you had to give up ONE sense for the rest of your life (smell, taste, sight, hearing or touch) what would it be?