i'll elaborate on that title in just a moment.
first of all, my regularly scheduled eating..
last night i went to angels & demons, i had to go drop the pups off at the boy's and then meet the crew at the theater, WELL i made it just as the opening credits were on the screen! yesss. good thing for cell phones so i could find marshall in the big theater (both because we were texting about where he was and then when i walked in he held his glowing screen up so i could find him).. hum what ever did we do without technology?
the movie was a good one! i didn't fall asleep, that is how i can tell if it is good or not.. it rated rather low on the narcometer and i didn't even doze off. yeah.. so i fall asleep at any given time.. it's casual.
well i hadn't had dinner, just the protein bar earlier, so i was getting pretty hungry a half hour into the movie.. so i went to my purse and nibbled on one of these:
and when that was gone a little bit later it was danica's goodies to the rescue and i ate some of these:
and then when that wasn't filling enough i proceeded to eat my weight in popcorn have a few handfuls of marshall's movie popcorn sans butter. glad we both like it without the butter & salt. match made in heaven i tell you.
i also drank a whole buncha water during the movie and almost had a panic attack when it was gone because my throat was dry, but because of the tonsillectomy i can't cough, and when i try to cough i make this sad little whimpery noise.. and um i was in a movie theater.. yeeeaaahhh. it was marshall's sprite to the rescue on that situation. thanks babe.
back at the dudes' pad i was hungry so i had this: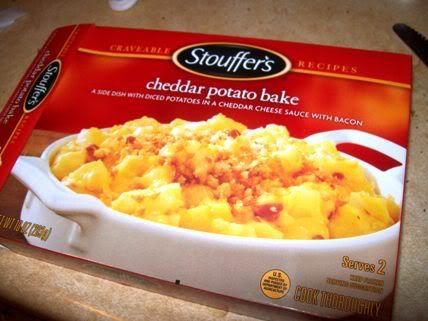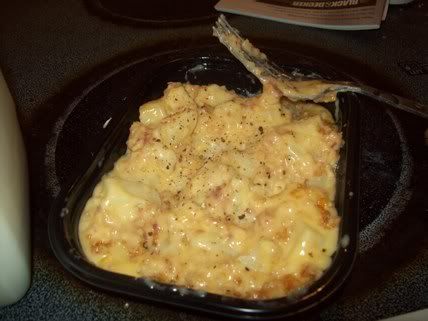 what?! wait.. no i didn't. that is what marshall had. that boy and his metabolism.. although if i had his metabolism that is definitely not what i would eat.. gross!
i actually had greek yogurt + kashi go lean + cocoa powder + PB: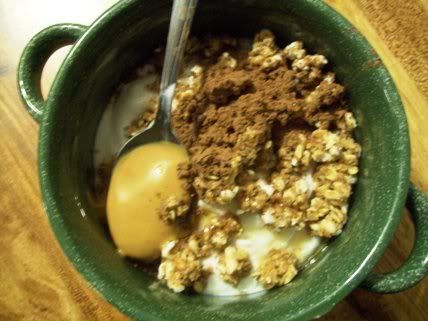 this is when i was asked by marshall's roomate: "um janetha what is that?"
me: "a camera."
roommate: "yeah i know that much.. but why are you taking a picture of your yogurt?"
me: "don't worry about it."
roommate: "oh.. it must be one of those weird body for life things you do, huh?"
me: "yeah.. exactly. body for life for life!!"
haha. always keep them guessing.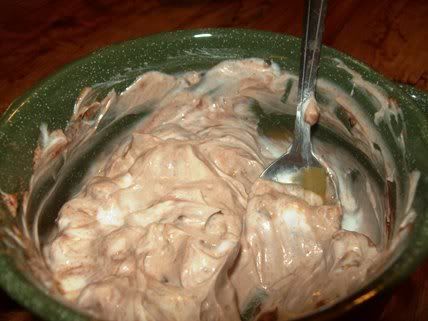 it hit the spot then i hit the sack. but not before i made my breakfast cookie!!
i am stoked my throat is finally mended enough to try out a breakfast cookie finally! i followed the lovely susan's recipe except made a few swaps dealing with what i had on hand at marshall's abode: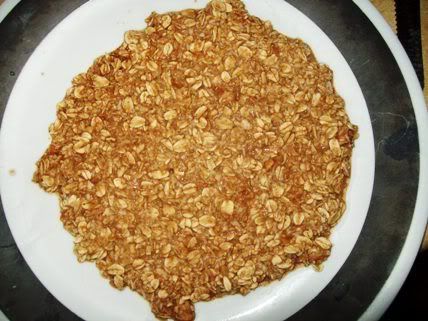 1/2 cup oats
1 scoop vanilla protein powder
2 TB unsweetened coconut
2 TB vanilla almond breeze
1 TB cinnamon PB
a whole slew of cinnamon
well, i did the full 2 TB of almond breeze because i figured with the full scoop of protien it would need the extra moisture. not true. this cookie turned out DELICIOUS but still a little moist. but it was all in all a success! next time i will be adding a bit less milk and also some chocolate chips ;)
side note: every time i type "success" i think of that full house episode where stephanie used mnemonic devices to remember how to spell the word.. "double the C, double the S and you'll always have success!" ok, maybe i am too old but does anyone else remember this one? ha!
anyway! at my weekly monday sales meeting i was not hungry because of my bfast cookie so i enjoyed a small bowl of fruit & black coffee: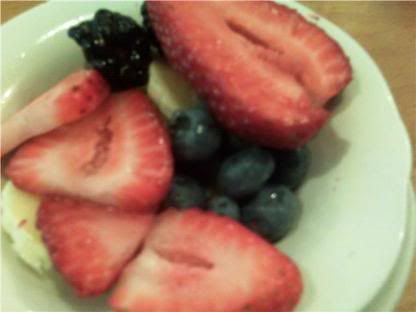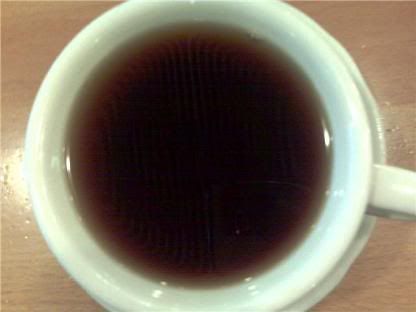 i was fullll all the way to one o'clock! stellar. then i realized i had no food here because well, i haven't been eating much as of late, so i went to whole foods and scored a ginourmous salad: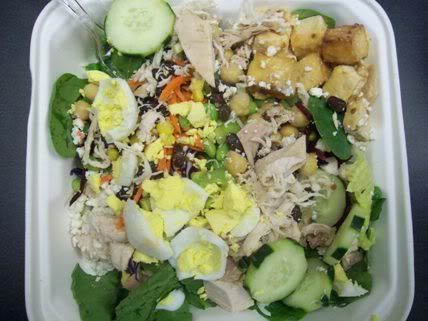 ohhh glorious vegetables! this is the first time i've been able to eat a salad in two weeks!
it had a lot of goods:
romaine
spinach
that other lettuce they have at the bar.. arugula maybe?
shredded beets
shredded carrots
cabbage
garbanzos
black beans
peas
carrots
cukes
celery
edamame
1 HB egg
tofu
chicken
feta
yummmmmm.. i bring you photos from the four corners of my salad bowl: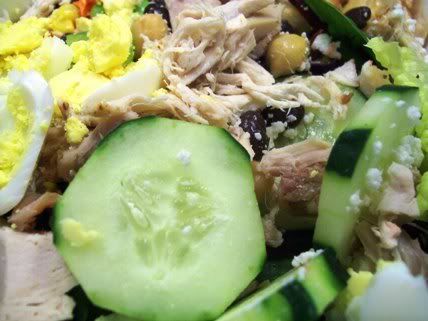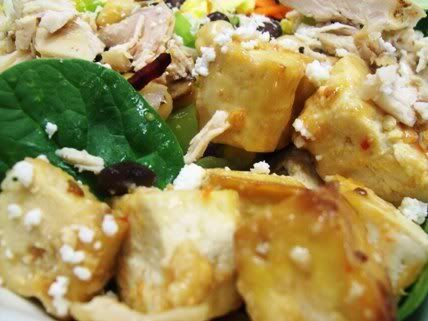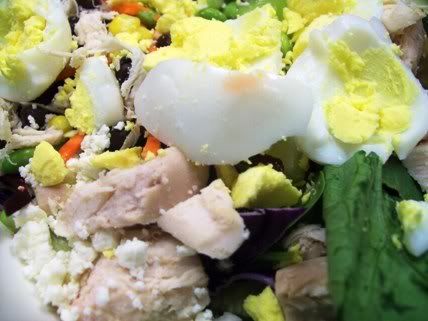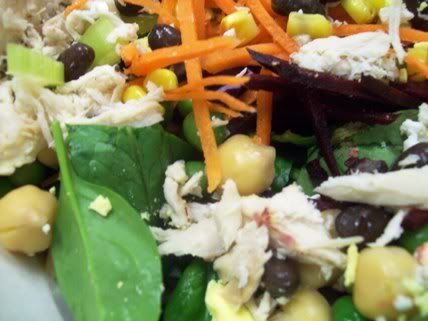 and to make things even better! they had bragg's as a dressing! i had just been thinking about how much i've been wanting to try this stuff and there it was, window of opportunity to give it a try! i gladly accepted. and i loved that stuff. i am going to go to their website to read up on it because i am sure it is just ultra good for me.. right?
speaking of things that are good for me, i have seen a lot of bloggers drinking this stuff: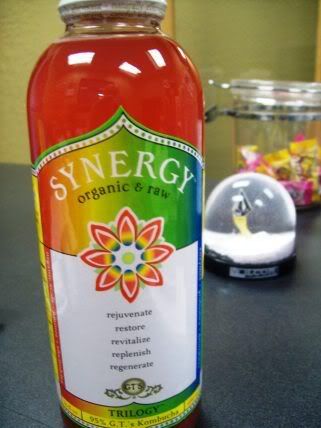 side note: yes that is a candy jar full of laffy taffy on my desk, a candy jar i stare at all day and have not had a single piece from since before the new year. my new year's resolution was to giev up candy. holler.
so when i was stocking up on my greek yogurt for the week, i glanced over and saw a whole wall of this synergy stuff. i though sure, i need a beverage to go with my lunch.. and usually it is just good old h2o because i don't like to drink my calories..but i was feeling risky. i saw that the whole bottle was only 60 calories so i went for it.
um. well. first of all when i opened it it nearly exploded in my face. i guess it was a lil' shook up from going over the railroad tracks? i had no idea it was even carbonated though..
so after that experience i let the little guy settle down for a minute before opening again.. and then i gave it a taste. hum.. interesting. not what i expected. i got the trilogy flavor. i wouldn't say it is bad.. but the intense bubbly effects really don't feel rad on my throat.. so i think i should give this stuff another shot when i am fully recovered. i should also read up on it.. i see it all over the place but really i don't even know much about it. what can you tell me about synergy?
and that brings us to the here and now.. my synergy is singing to me. the lid is on but i can hear the bubbles screaming "let me out right freaking now!" and it is making this high pitched screeching noise.. hum.. interesting. i wonder if it will start dancing for me as well?
random question.. do you guys put your food photos in after you have typed all the text or put the photos in as you go? i usually do it all after, but today i did it as i went along. not like it matters.. just something random to wonder!
mmmk no time for other news cause i'm outta here.. but i will check you all later tonight! time to get some exercise in! yesss. hope i can manage :)