yo banana boy! erm, i mean blogland.  sorry, my palindrome love just took over there for a minute.  okay so this has gotta be quick-like because i have to cruise up north to the boyfriend's because we are going to see angels & demons for sunday movie night!
SO i accidentally ate a cookie and then to make sure i took full shame, i photographed a different one after i ate said cookie, no worries, i put the second cookie back in the jar.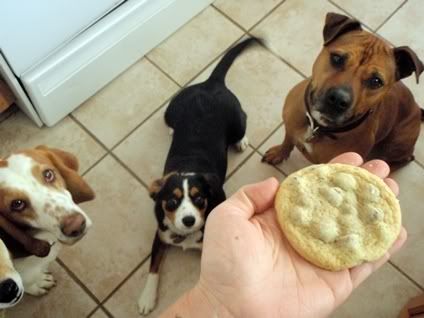 the dogs sure wanted that cookie.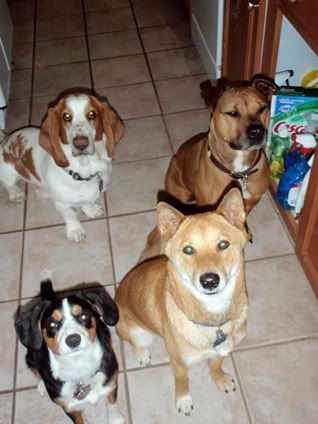 i gave them some treats afterwards because they were crying about it.
i decided i better make good of my cookie situation and have something better for me..
open faced egg sandwich!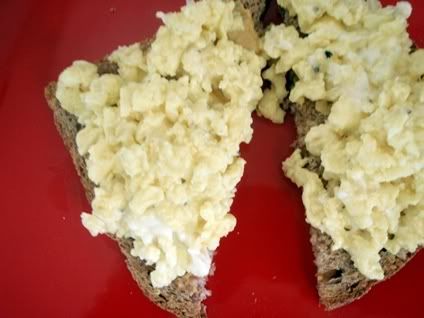 this included: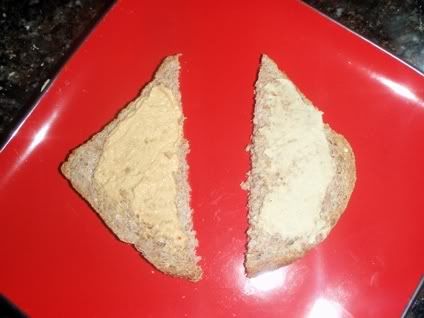 1 slice ezekiel toast (new food!)
one side red pepper hummus
one side plain hummus
egg beaters + 1 egg white + 1 wedge LCL
it was perfect.  i love the ezekiel bread! the only thing is.. you keep this stuff in the freezer, right? so basically you gotta toast it if you want it right away otherwise you have to let it thaw out? or what? how do i eat this stuff like normal bread, not toast? anyway, i loved the taste of it, and i know it is super good for me.. plus i like toast so it worked out for me!
then we went to my favorite sunday summer destination (my sunday winter fave is snowboarding..of course)  the dog park!! yeaaaahhhhhhhh.
we threw the dogs in the water, they absolutely hated us for it!  penelope has never been tossed in so this was her first time swimming and she was not a lover. much more of a fighter.
some shots of the pooches…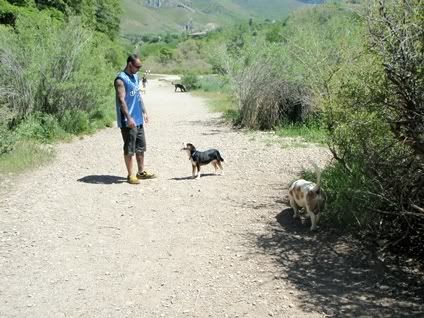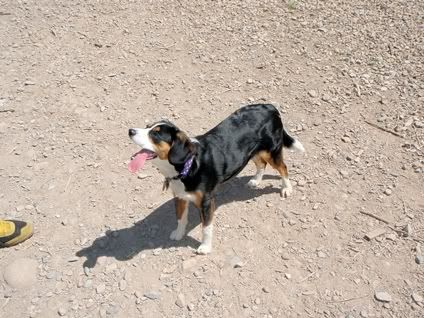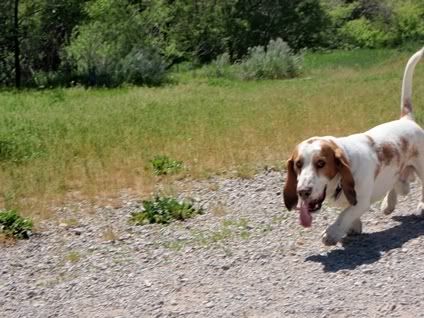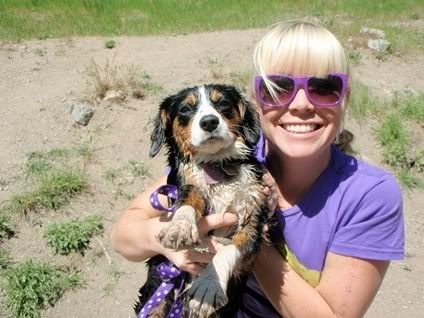 we threw the dogs in the way back of my 4runner and WOW they were ridin dirrrrrty.  you know what that means.. BATHTIME! so this was hilarious. poor dogs hate the cold water out of the hose, usually they are spoiled with warm baths during the winter.. but once warm weather hits, they get the hose!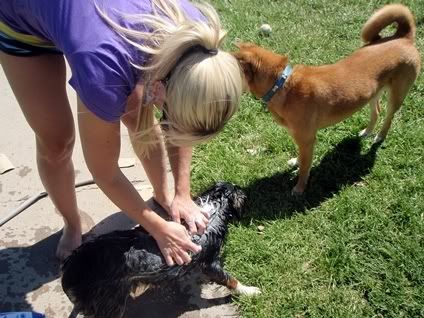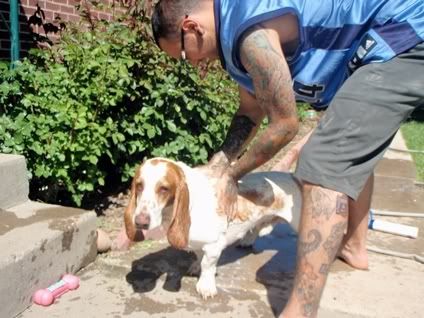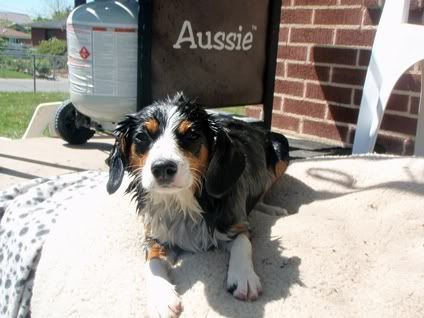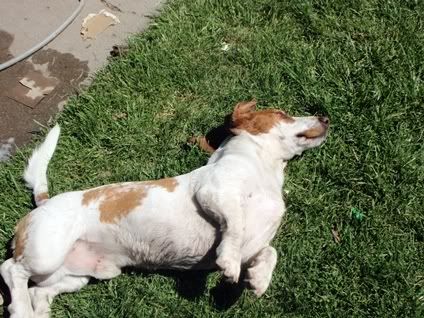 oh wait, is this a dog blog or a food blog???
well then marsh bailed and i got in my car and.. uh oh.. look where i ended up: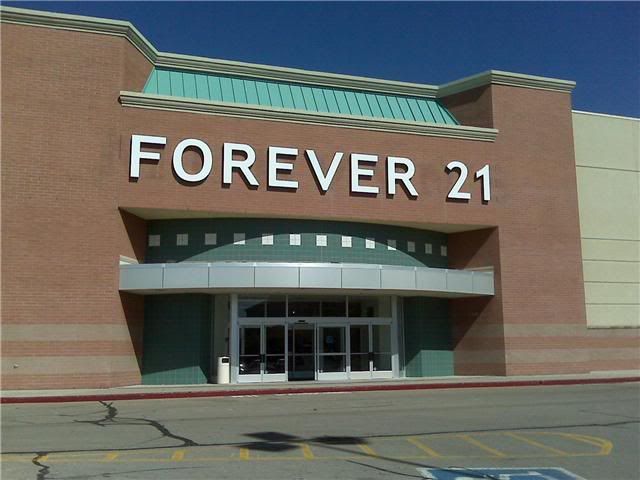 woops! got a super cute dress for work though. i excuse my shopping addiction with the reasoning that i need more summery work dresses. right? sure ok.
well i was wearing these shoes while shopping. i forgot i had them (i've had them for a couple years) and decided they would be cute with my outfit today: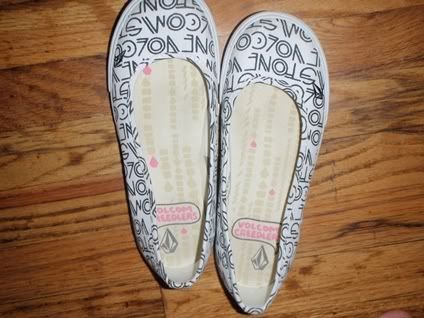 oh yeah i remembered why i stashed these shoes in the back of my closet. i need to write a letter to volcom.  this is kind of how it would go:
"dear volcom, please stop making adorable shoes that are ridiculously uncomfortable to walk in.  99% of the time i will chose function over fashion and these shoes just don't fit the bill.  makes some changes.  sincerely, janetha b."
ugh my feet hurt so bad by the time i'd made twenty rounds around forever (it's a big one).. that i opted to skip out on my trip to WFs on the way home.  that is not normal for me.  ouch.
well i kind of figured i would get hungry during my travels, so i conveniently brought along a garden of life fucoPROTEIN bar in peanut butter crunch flavor for the ride..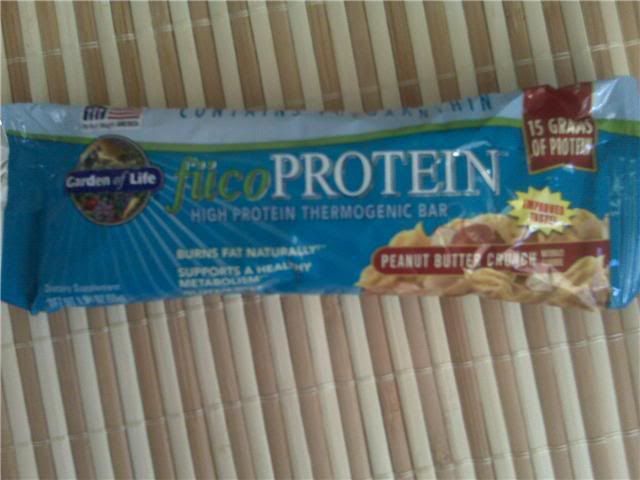 i can't even type the name of this bar properly because i don't have a "u" with two dots over it on my american keyboard. sorry folks. i picked this bar up at the whole food's checkout stand once while waiting in line.  yes i am a sucker for checkout stand items.  guilty as charged.
so i grabbed this bar because the stats seemed reasonable and i could pronounce all of the ingredients.. but i never got around to eating it. until now. time for a review!
what the package says: at garden of life, we are dedicated to empowering extraordinary health.  that is why we developed deliciously nutritious fucoPROTEIN high protein thermogenic bars.  fucoPROTEIN bars are high in protein and contain fucoxanthin, a natural thermogenic found in several types of marine vegetables, long considered among the most nutritious vegetation on earth.  fucoxanthin naturally increases metabolism, burns fat and assists in weight management.  so don't delay, try this incredible bar and visit www.fucothin.com for additional information today.  also available in chocolate with macadamia nuts.
suggested use: adults enjoy two bars daily to supplement a calorie conscous diet and moderate exercise. product not intended for children.
ingredients: organic pur wildflower honey, organic peanuts, organic peanut flour, Fiber Blend (organic acacia, chia meal, chia seeds), organic peanut butter, vegetable glycerin, organic vanilla, sea salt, Garden of Life organic extra virgin coconut oil.
nutrition stats: 230 calories, 8g fat, 2g saturated fat, 0g trans fat, 25g carb, 15g protein, 9g fiber, 9g sugar, 85mg sodium.
my take on it: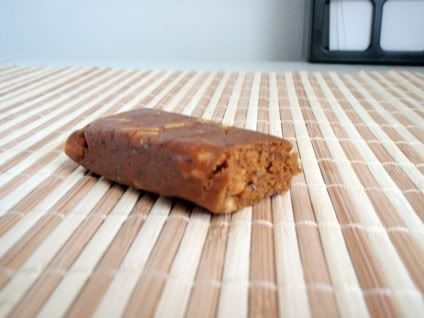 i liked this bar.  the first bite i tried i wasn't sure of it.  i chewed it slowly and put the bar back in my purse so i could think about it.  but before i knew it, i found myself pulling the bar out to taste more of it.  i ate half of the bar before returning home.. i would have eaten the whole thing but i wanted to take some photos of it.
here is exactly half of the bar, so you can get an idea of the serving size.  the packaging is a lot longer/wider than the actual bar that is inside: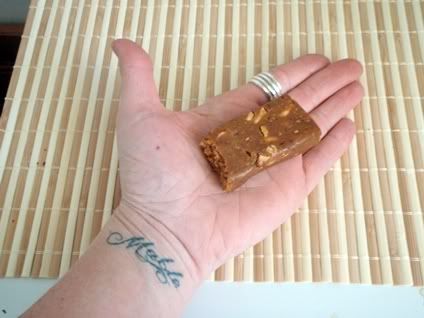 i really liked that the bar had whole peanuts and chia seeds!  i could see the little black guys in there saying hello to me!  for those of you who dont know, i have been searching high and low for chia seeds to try them on their own, so this was my first experience with chia.
the flavor of the bar was good, it did not have any weird aftertaste at all.  the texture was soft and a bit sticky, but not chalky at all like lots of protein bars are.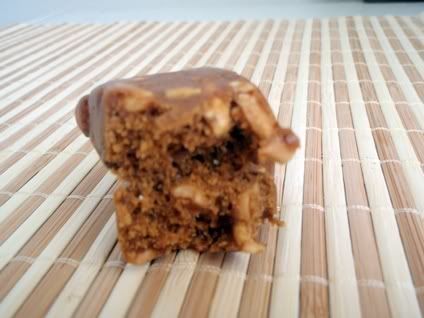 i was not going to eat the whole thing because it was 230 calories and i planned to make something to eat when i came home, but it tasted so good that i ended up eating the rest of the bar.  i really want to try the chocolate macadamia flavor if i can find it.  the packaging boasted "improved taste"– hum,  i wonder what the old taste tasted like? the world may never know.  but i really did enjoy this bar.  i like that the protein to carb ratio was not as extreme as some bars out there, and i like knowing that the fat grams came from the nuts & nut butter listed in the ingredients.
will it keep me full? we will see. it has been an hour since i ate it and i am not hungry yet. the bar was high in fiber so that is a plus!
as far as the thermogenic factor goes.. it has not given me any of those weird anxious feelings that some thermogenic products have given me in the past. in fact, i can't even tell i ate anything thermogenic at all.
final verdict:
for bars, this was a good one. i would totally buy it again.  the only downside is it was $3 which is very high in price for a protein bar, in my opinion.  but considering the fact that i don't eat bars very often, i think it would be an OK splurge every once in awhile.  maybe i will pick some up if they go on sale.
well that is that. have any of you tried these bars?
whew! i have to be up north in less than an hour! crap! better run.. check y'all tomorrow! oh–i hear you canadian folks have the day off tomorrow! yay! hope you enjoy it.. i wouldn't really know how wonderful canada is.. i got deported from there a little over two years ago.  that is a story for a different day though ;)
oh! do you like salsa?! check out julies giveaway!