ey! i was MIA yesterday, deepest appologies, i was livin' life.  but i did document my eats, no worries.
before i get to that though.. gotta talk about a LOVELY package i came home to last night!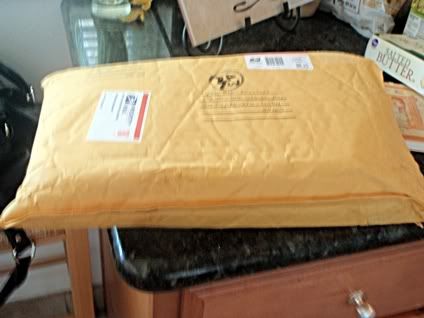 danica is the biggest sweetheart around and she got me a signed copy of lisa lillien's (aka hungry girl) 200 under 200 cookbook!  and as if that was not enough, she included a whole bunch of annie's loot to go along with it! i am super stoked!!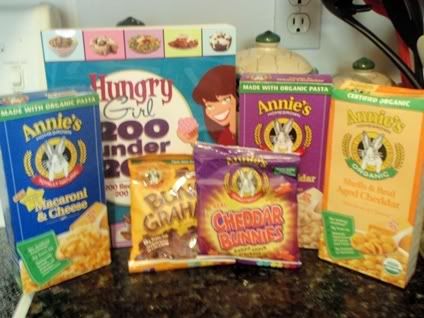 THANKS DANICA!!!!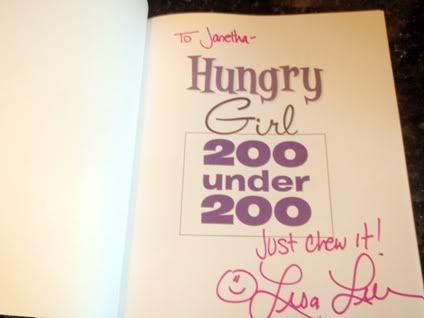 lisa's play on nike's slogan made me smile :) i just had time to briefly flip through the book, but i am excited to put it to good use soon and start making delicious food while keeping my calories in check. i love the hungry girl newsletter so i am sure i will love this book.
okay.. onto other businesss.. food!
yesterday's bfast was a small bowl of fruit & egg white scramble..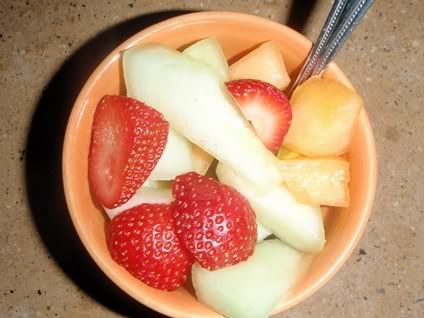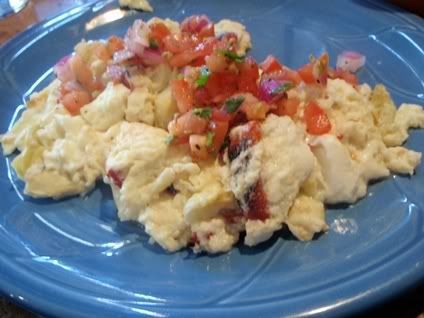 the scramble was delish, it included:
4 egg whites
artichoke hearts
sun dried tomato
goat cheese
whole lotta pico
after eating i walked to the grocery store to get some goods for my baking adventures that were to come. i made my chocolate chip cookies again as well as some lemon bars!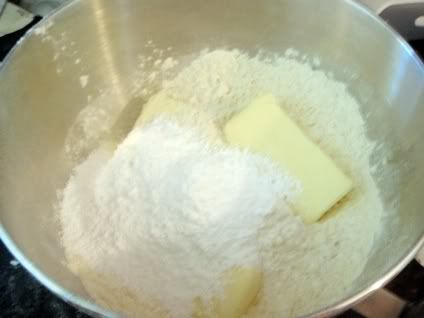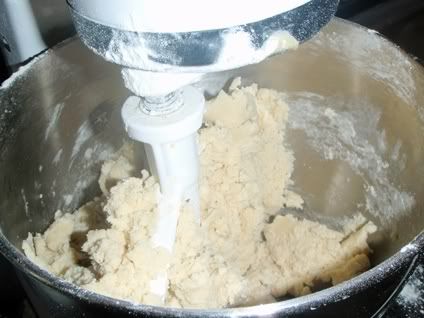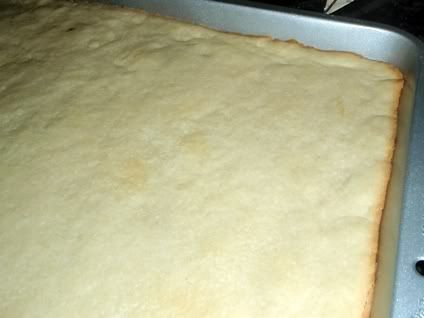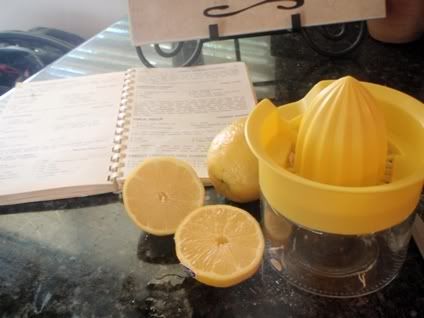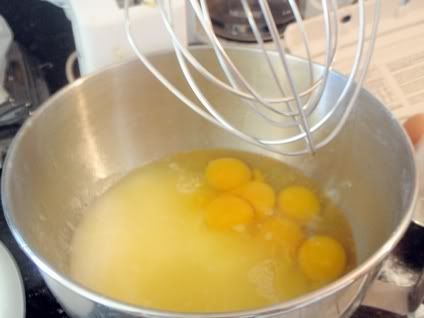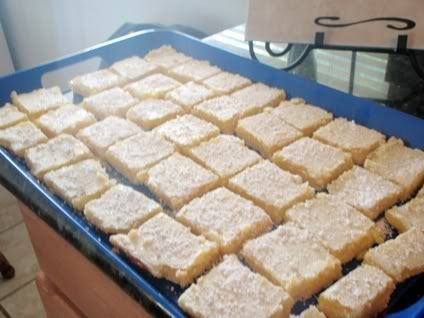 i snacked on a bluebran vitatop while baking..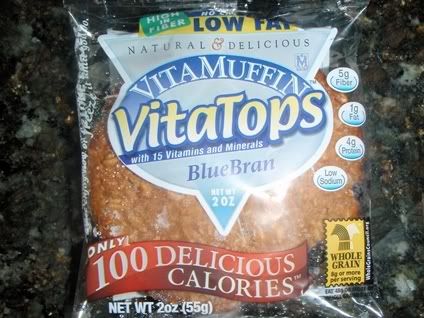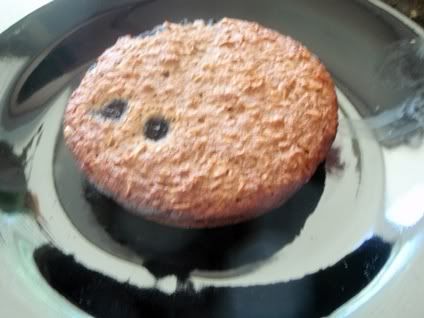 i loved this variety of vitatop, i think because i really like bran stuff.  i am more into bran muffins than i am into sweet muffins so i think this flavor was meant for me.  i am excited to try the cranbran!  i will review the whole vitatopness later, after i've tried them all!
the vitatop was eaten in hopes to prevent myself from tasting any of my final products.. but in the end i did have a taste or three of these amazing lemon bars.. they are one of my favorites! but horrible for you, pure sugar ;)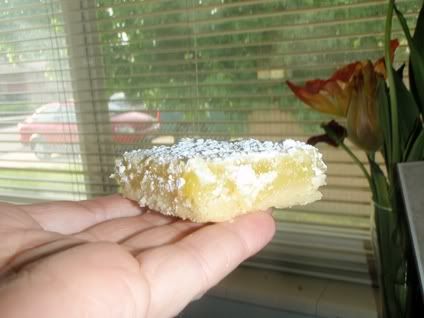 then i quickly got ready and we left for my friend's birthday bbq!  she had asked us to snag an appetizer, so we stopped at target and got:
sabra greek olive hummus
archer farms red pepper hummus (they were out of sabra)
pita bread (they were out of wheat.. ugh.. so we had to get crackers for me)
kashi TLC crackers
i also snagged something that was on clearance!  it was two boxes of kashi go lean + coupon for a free 1/2 gallon of silk soy milk all for $4.66!  talk about a steal of a deal :D
i knew the eats at the BBQ were going to be gourmet because my friend neal was cooking.. he is a culinary genius! when we got there i put the hummus out and cut the pitas into triangles and lightly toasted them and added them+my desserts to the table which already had chips + neals home made salsas: one red salsa that was spiiiicy as hell, and one grilled pineapple salsa that was well, equally as spicy.  my poor throat couldn't hang with such nonsense.. but i had a small taste and they were super yum.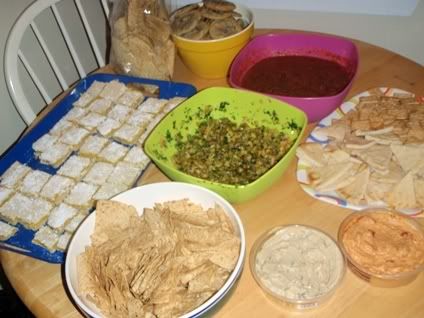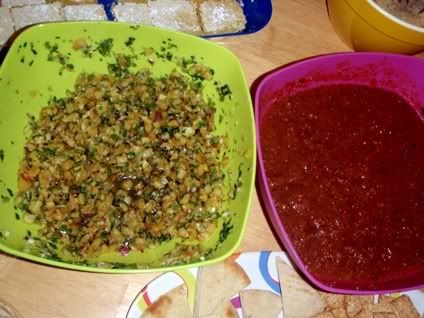 i snacked on hummus, kashi crackers & pretzels while drinking water and hanging with everyone while neal cooked.  he made this fantastic pork loin that he has made once before.. it is covered in cilantro, shallots, jalepeno and ummm other amazingness…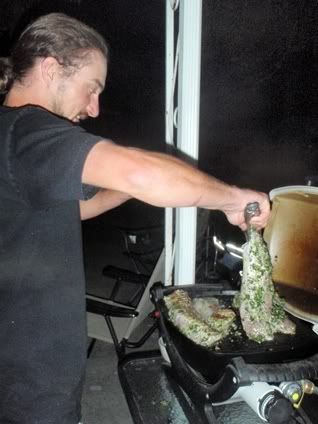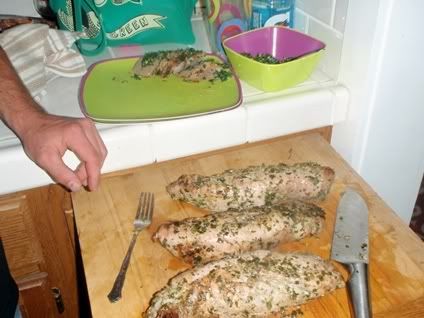 i had two and 1/2 slices that were this size: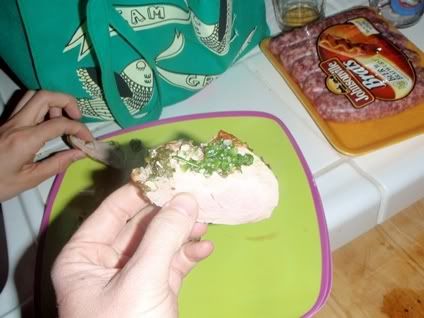 ugh it is the most tender, flavorful, juicy pork loin ever. a spicy cilantro explosion in my mouth. yummm.
and then it was on to the chicken!  he coated it in crushed pineapple + annie's dijon mustard + apple cider vinegar and grilled it to perfection…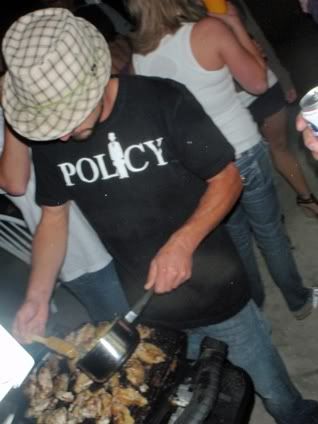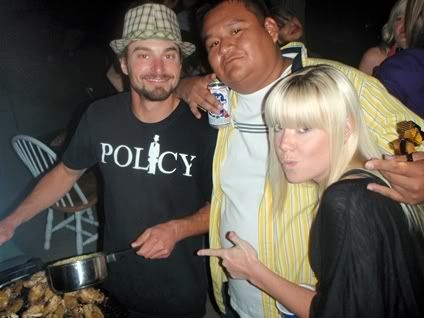 i ended up eating two chicken wings.  didn't get a photo though, my fingers were too messy ;)
i caved at the end of the night and had one lemon bar square.  i hadn't overindulged with my dinner so i decided meh sure why not?
so that was the BBQness.. it was more of a finger-food-free-for-all rather than a sit down and eat type of deal, and i think with the circumstances at hand i did really well!  have you guys found it is waaaay too easy to over-eat when there is just a big table of finger foods? i have issues with that all the time.. when you eat just because the food is there.  so i tried to stay very aware of what i put into my mouth and came out successful!
here are some party shots. alle's cat kitters made a debut on my camera against her will.. i used to live with this fluffy cat when allie & i were roomies and i miss her sooo much!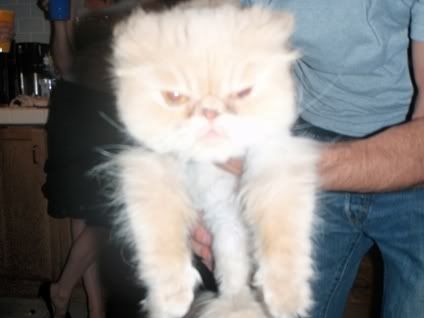 kitters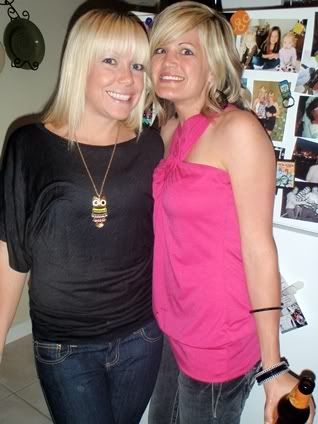 the birthday girl allie & i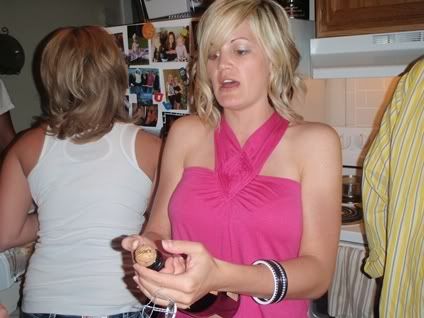 popping the cork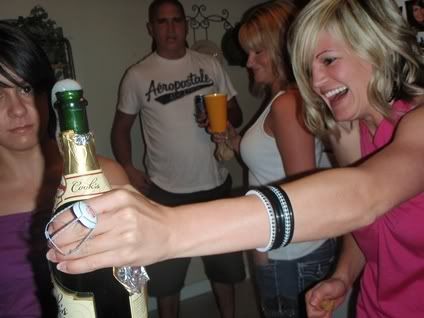 malfunctioning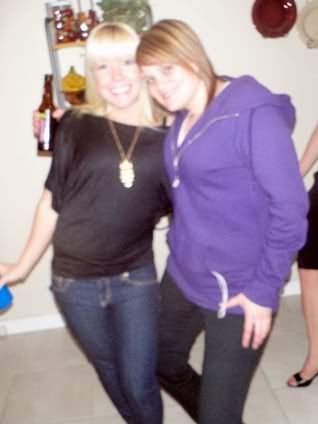 blurred linds & i
well i know this post is pretty matter-of-fact and not very exciting. sorry! i am trying to bust it out pretty quick so we can take the pups to the park since  marshall insisted on taking a 3 hour nap we didn't have time yesterday.
so far today i've just been enjoying a home made iced latte!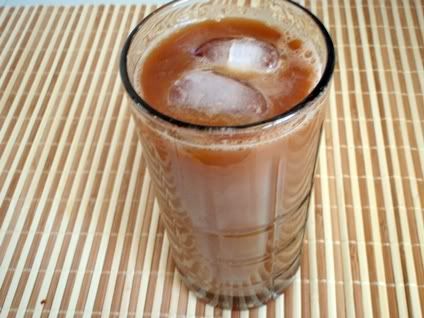 2 shots of kona blend espresso
1/2 cup plain light silk soy milk
tsp vaniilla extract
ice ice baby
perfect. i should eat something.. that will be next on my agenda!
ohhh real quick, i haven't updated my points for the simple life challenge lately! whoooops! i have been keeping track though… lets see i left off at 60 and then:
3 points for meals thursday
2 points for meals friday
1 point for using free meal coupon
2 points meals saturday (i only ate 2 meals.. cant count the vita)
1 point for not using any bags at the store
1 point for hosting a stay-in hang sesh rather than going out & spending $$
1 point walking to the store
1 point taking my own reusable bags to the store
1 point for potluck bbq partayy rather than the originally planned bar excursion
1 point i just opened my door and windows instead of turning on the AC
1 point replacing fridge light w/ energy saving bulb
brings me to…75! sweet!
and while i am at it i may as well recap the new foods challenge i am working on!
so far i have tried:
kale
shirataki noodles
enerG egg replacer
health valley veggie soup
oat bran
vitatops
dates
and i am still going strong!
well i hope you all are enjoying your sunday.. ima go catch up on your eats a bit and then enjoy this sunny day in the SLC!!
xo.