so i signed up for this foodbuzz thaang.  i'm one of those.. ya know.. "featured publishers" now.  sooo they created me a profile, oh geez.. i am a little confused. i mean, i hardly have the energy for facebook and now another social community is thrown my way.
bear with me while i figure it all out. maybe it is the liquid lortab or maybe it is the late hour or maybe i am just foodbuzz challenged.. but i am a little confused by it all as of right now.  is that normal?  hope so.
anyway i came up north and met the boyfriend at the tattoo shop (his roomie owns a shop and all his friends work there and/or hang out there at all times) and we all decided it was time for food.  well, the rules of the simple life challenge=no eating out…
so!  i cashed in my free coupon for free dinner at noodles! so it doesn't count as eating out since i used a coupon and dinner was free ninety free! holler.
don't mind the blackberry photography.. there are just some times i decide whipping out my camera is just not an option. i am sure you understand :)
i originally ordered a dish with the whole wheat linguine.. but of course they were all outta whole wheat noodles. rats.  so i said to hell with it and got the pesto cavatappi.  with some chicken noodle soup on the side.  i got my throat all numbed up with a lidocaine lollipop and braved this dish: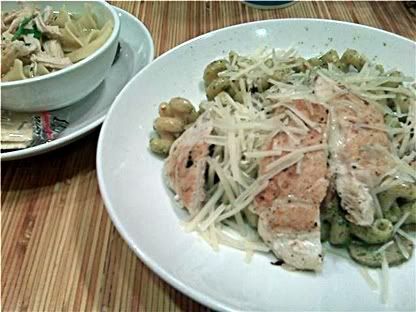 with exxxtra mushrooms.. of course.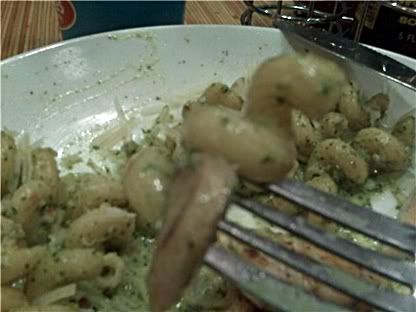 i washed it down with some unsweetened iced tea which was simply perfect: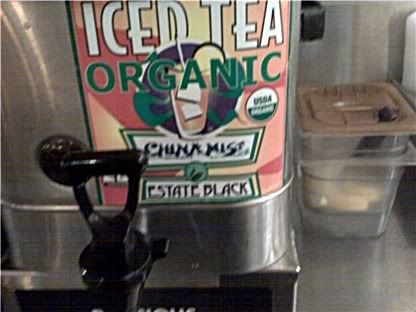 i don't know how people drink sweetened iced tea. blech.
noodles has a new dish with meatballs in it, while we waited for our food i was admiring this little dude on the number card for our food. the meatball is wearing high heels! haha i got a kick out of it.  i would.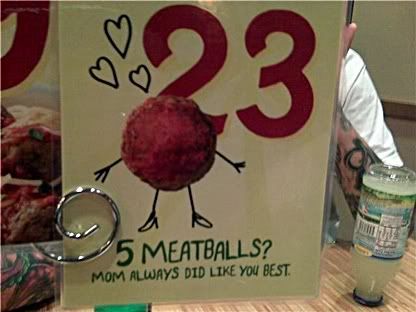 the best news ever is i was able to eat this! sure my whole mouth/throat was pretty numbed up but i got most of it down, aside from some of the chicken which was a little too solid.  i am on the up and up in the eating department! yesss.
we went back to the boy's casa and everyone was over for poker night.  oh!! guess what?! the cookies were an absolute hit!  i had both the vegan ones and the nonvegan ones out in two separate containers.. there was some trickery going on and one of my vegan friends thought he had accidentally taken a bite of a nonveganized cookie.. spit it out.. then realized he was being fooled and promptly gobbled it up. it is nice to know that they were such a hit.. usually vegan baking is not my specialty. well, unless it is my peanut butter bars.. but anything with PB is always good! so jeah, score one for janetha's baking efforts.
actually the cookies were a hit at the office earlier today too, i forgot to mention that. my boss's wife called me demanding the recipe. awe, love it when my national food day celebration treats are a success!  sunday is national cherry cobbler day.. hmmmm maybe i will have to bust some out. we shall see.
well i am going to go back to hanging with the dudes, and then going to watch the office finale online with the boy. weeeee!  tomorrow is a good day:
pick my 4runner up from the shop (more on that later)
dog class with penelope jane
basking in the sun and probably hitting up the dog park
baking and/or cooking treats for one of my best's birthday bbq!!
hopefully exercising if my throat permits ;)
attending said bbq/after party at some bar i am sure
yawn. boring post. sorry, i basically wanted to throw dinner up here and then also tell all y'all about this foodbuzz nonsense.  maybe i need a tutorial??