yep.. the title says it all. man i love acronyms. UVAB.. LBWO.. DOMS.. and those are just ones i use on here a lot. i usually say a lot of things in acronyms.. like PIBE (play it by ear) and IDSWN (i don't see why not).. in addition to my love for acronyms i also have a strange obsession with palindromes. "go hang a salami, im a lasagna hog" and "yo banana boy" and "dr. awkward" and "murder for a jar of red rum" and "never odd or even" are some of my faves.. but sometimes i sit around and google palindromes. it is amazing what some people come up with!
i told you it has been a long week, didn't i? well proof was in the pudding [what the hell does that phrase even mean? and why am i using it?] this morning when marshall called me at 8:10 asking me where i was. we work together, and i was supposed to open the office at 7:30. woops!! i hate that feeling, i scrambled out of bed and threw on a mish mash of clothing (luckily it is casual friday) fed the dogs and was out the door in about 13 minutes flat. not bad.. but i probably look about as good as i feel.
after a rough start to my day i decided to chill out a bit when i got to work and immediately made breakfast before doing anything.. i mean, i was already late anyway, right? right.
apple cinnamon oat bran once again, this time i photographed it pre-cinnamon dousing! i did put some cinnamon underneath though.. i like to layer that powdered goodness.  but guess what? i am an absolute and complete moron and downloaded the photos of my oat bran on my work computer but then never uploaded them to my photobucket. wow janetha, good one! .. ugh and it was a pretty snazzy set of photos too! oh well, better luck next time.
i also don't have the photos of the other stuff i ate at work.. a string cheese and a 30 cal popsicle.  i hope you can make it through the rest of your day without seeing these two items that my body is now digesting.  i have a hunch that you will.
well now i am home! i was hungry because oat bran, string cheese and a popsicle is not enough for this lady.  i decided to make some soup!  well.. decided to open a can of soup and throw it in the microwave.. yeah, i am classy like that. i also had to pull the can of soup from the recycle bin to photograph it for my review.. double the class!
vegetable soup & 1/2 a double fiber englsh muffin + PB!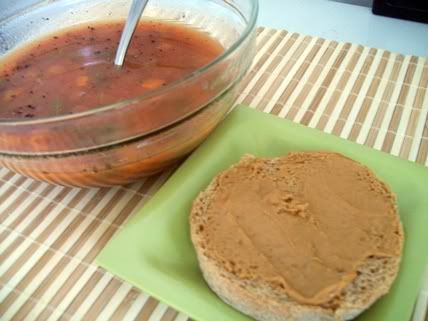 the soup was a new one for me, adding to my list of new foods for katie's new foods challenge!
this is the soup i ate: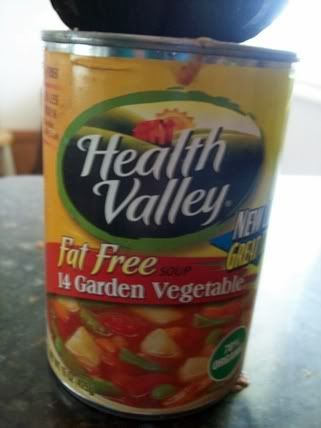 health valley 14 garden vegetable soup
these are the ingredients:
filtered water, organic carrots, organic tomatoes, celery, organic potatoes, organic peas, organic green beans, organic tomato paste, small white beans, honey, organic great northern beans, granulated onion, broccoli, cabbage, organic onions, vegetable concentrate (carrot, onion, cabbage), cauliflower, spinach, sea salt, potato flakes, green bell peppers, granulated garlic, spices, concentrated lemon juice, white pepper, cayenne pepper.
these are the nutrition stats:
per serving.. which each can has "about 2" servings (i ate the whole damn can) 80 calories, 0g fat, 17g carbs, 4g fiber, 8g sugar, 6g protein, 390mg sodium.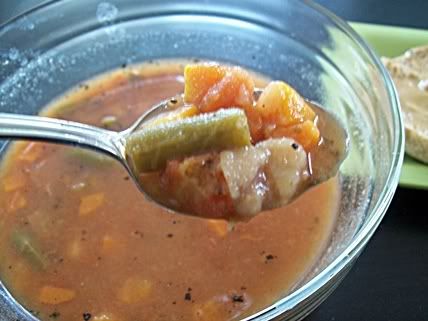 this is my take on it:
pros:
70% organic
good variety of vegetables
no freaky ingredients
lower sodium for a canned soup
fiberous
veggies have good flavor
cons:
a little bland, probably due to the reduced sodium. fixed this with a little s&p of my own.. and hot sauce ;)
serving size would not fill you up.. most people would definitely eat the whole can.. i find this with most canned soups
would i buy it again?
yes! as you can see the pros heavily outweigh the cons.  the hot sauce and s&p made the soup have a little kick, and i really enjoyed the addition of white beans to the soup.. something you don't always find in veggie soup.  even though i ate the whole can, the nutritionals were so low that it is nothing to cry about.  the amount of veggies compared to the amount of broth was generous, there were lots of good veggie bites and not too much broth.  although it claims to be a 14 vegetable soup.. which it is after looking at the ingredients, the only veggies that dominated the soup were carrots, celery, tomatoes, potatoes, green beans and peas.  the white beans and great northern beans were also dominant.  all the other veggies listed were not detectable, but i am sure they all contributed to the overall flavor of the soup. good job health valley!
so that was that..
and then.. i baaaaked.  i made katie's recipe for chocolate chip cookies and i am thinking maybe it was the altitude or something because they turned out a lil' too oily and perhaps needed a bit more flour.. hum.. but no worries, they still taste fabulous!  (yes, first hand opinion here people.. i just ate waaaay too many cookies)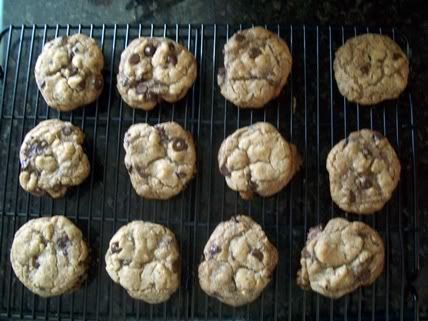 it was also my first time using enerG egg replacer.. wait, i think that counts for the books for the new foods challenge!  yep, sure does. so that is two for today!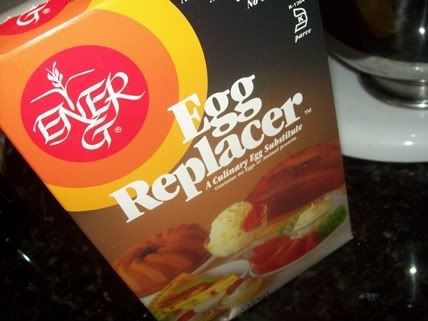 as you might see, they were a tad on the oily side in the long run, so next time i will make a few adjustments.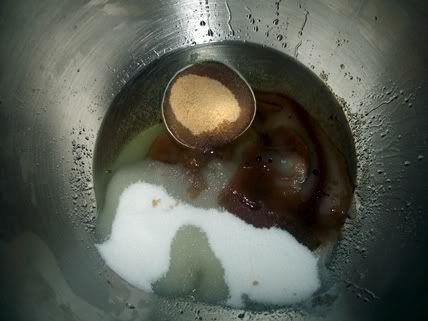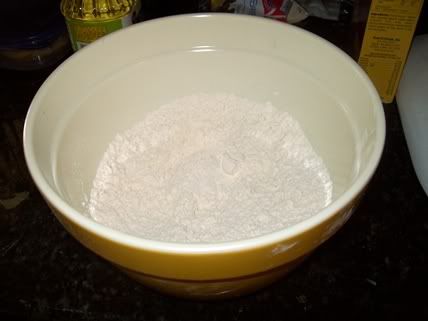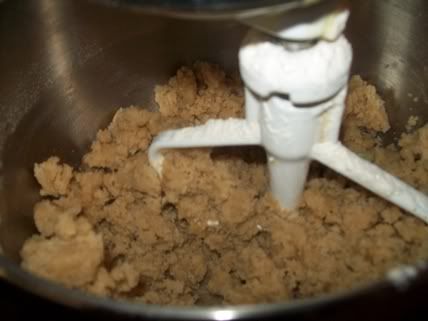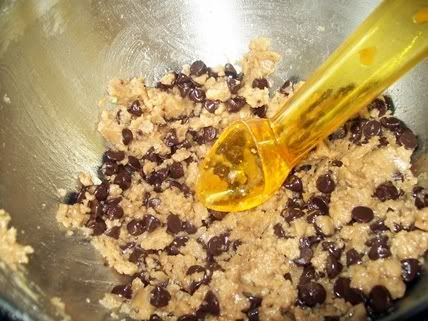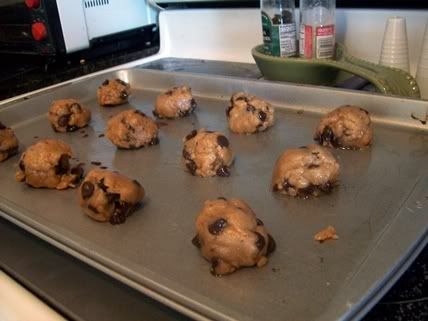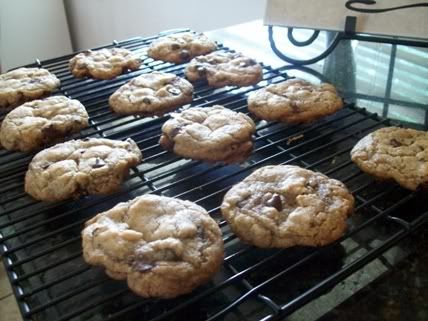 hope the vegans like 'em. they are pretty picky about their baked goods.
well now i am going to throw this up right quick, take a shower and head up to the boy's casa for poker night.. i usually just watch them play and save my mad poker skills for girls poker night.  i mean, i dont wanna snake the dudes out of all their money! :)
thanks for all the veggie intake suggestions on my last post! i am going to for sure try some of your ideas. i am hoping to be back to normal next week.. cross your fingers.. i would really love to eat normal food and work out! i am just dying for some DOMS! (for those of you who don't know what that is… it stands for delayed onset muscle soreness which comes 24 to 48 hours after strength training and it hurts so good!)
OH! something really important to me!  i registered for the annual strut your mutt.. which is a thing the SLC does every year, it is a 1.5 mile dog walk and it is to raise $money$ for no more homeless pets in utah.  hand in hand with strut your mutt is a fundraiser that participants hold prior to the big struttin' day (may 30) and all proceeds go to no more homeless pets in utah!!!  SO what i am getting at is this..
my donation page for my no more homeless pets in utah fundraiser!
every little bit helps, and if you can spare a small donation that would be ultra amazing!!! :D
well i have things to do! gotta run, but if you want to win some sweet loot check out ashley & bo's blog!