seriously, what gives? it really messes with my laundry jive.
i woke up today thinking "is it seriously not friday yet???" it has really been one of the longest weeks at work ever! i think the combination of my intense throat pain + not being able to eat good food or get proper nutrition + covering for the production manager (she is on a cruise) has all piled up to make for one crappy week for janetha b!
oh well, enough complaining, right?? right. this morning i decided to be late for work so i could make myself a green monster because it has been awhile and i realized i need some greens in my life like something fierce.
well, sad to say, it didn't work out. i have discovered something about this little head of mine. when i try to drink a smoothie/protein shake.. my ears hurt WAY worse than when i eat food. not sure why this is, have not made that discovery yet.. but i am thinking that the thick liquid fills up the holes where my tonsils used to be and puts lotsa pressure on my ears. that is my theory.. take it or leave it.. all i know is it means no more green monsters or protein shakes until i am back to normal. which brings me to the problem of having no way to get my veggies in, and this is bad. a girl at work told me today that i look really pale.. um yeah i am totally malnourished here people! any ideas how i can get some veggies in my life? i am thinking some soup in a blender? maybe i will try that. or this:
anyway! i didn't have anything to eat today until 12:45 pm. what! i am crazy. no i am not anorexic.. it just hurts so freaking bad to eat that i would rather be hungry. but when i finally couldn't take it anymore i made myself a new thang.. apple cinnamon oat bran!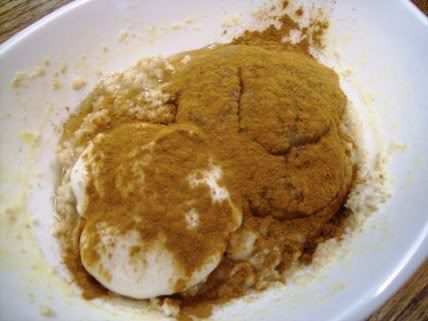 i shoulda taken a photo before i doused the whole bowl with insane amounts of cinnamon, it was much prettier prior to my shakefest with the cinnamon bottle.. but here is what it included:
1/3 c oat bran

2/3 c water

1/2 scoop vanilla protein powder
i nuked it on level 4 for 4 minutes.. this is the time and temp i have found works best with my microwave.. and then added:
dollop of 0% voskos greek yogurt
dollop of unsweetened applesauce
squirt of agave
boat loads of cinnamon
i swirled it all together to make a creamy apple cinnamony bowl of love.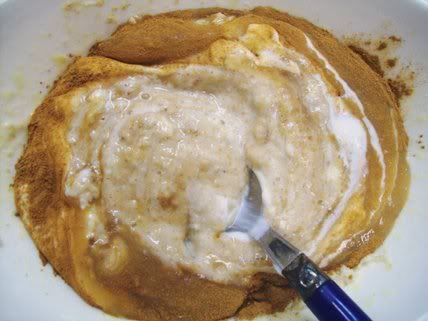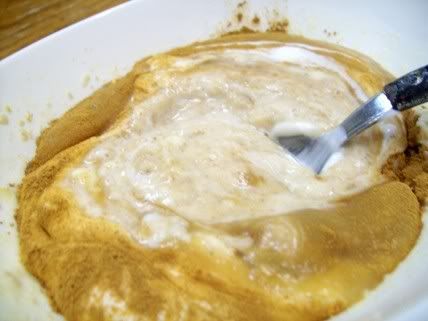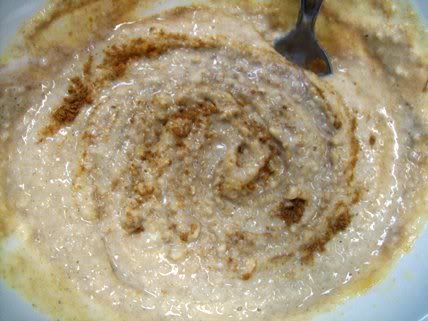 and as if that was not enough cinnamon, i kept the shaker next to me so i could add more as i ate. what can i say, i am a total cinnamon junkie.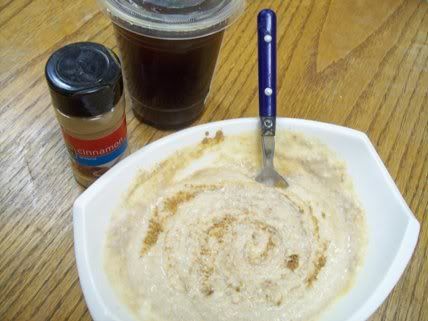 while eating my oat bran i sipped on an iced americano that my sweet coworker brought me :) thanks sim!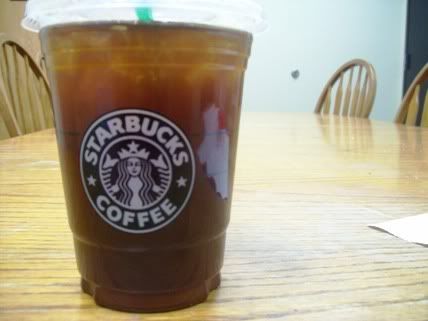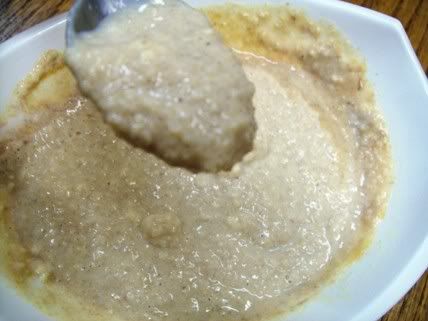 well this held me over for quite awhile, i worked the day away and when it was time to leave i knew i wasn't going straight home so i snagged a cup of watermelon..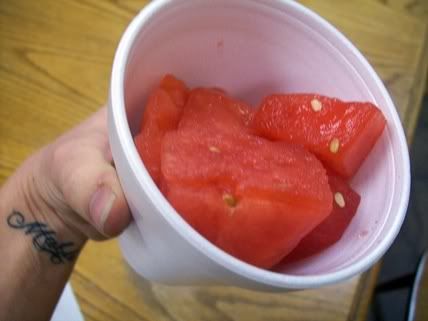 my last bit.. sigh, guess i will have to wait until leftovers at mom's again when she gives me half of a watermelon to enjoy all week. i am not one to slice my own watermelon.. you should see the knives in my kitchen. and i refuse to buy nice ones because they will just get haggard anyway.. that is what happened with all my pans.. ohhh when i have my own kitchen that will be fanfreakingtastic.
ANYWAY.  after work i gave my friend linds her bday gift that i made! but i am not yet going to show what it is because i am making one for another friend's bday this coming week and she could very well be lurking about ;)
when i got home i decided it was time to try my first vitatop, i chose the banana nut flavor.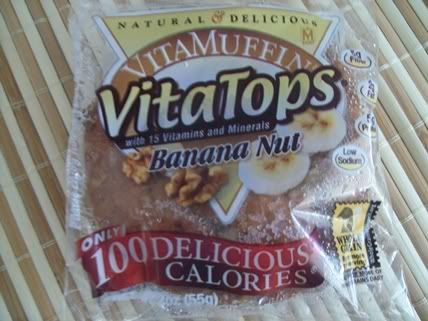 i will be reviewing this in full once i try all of the flavors, but i really enjoyed my first vitatop experience! the flavor was good and the texture was perfect.. i toasted it in the toaster oven straight from the freezer.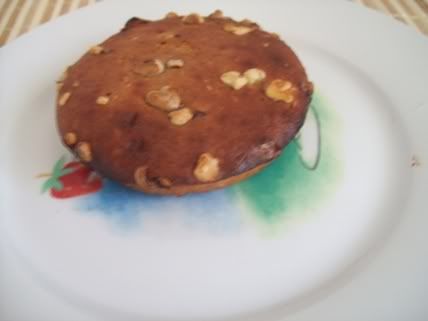 i enjoyed one of the bites with a little PB smeared on top.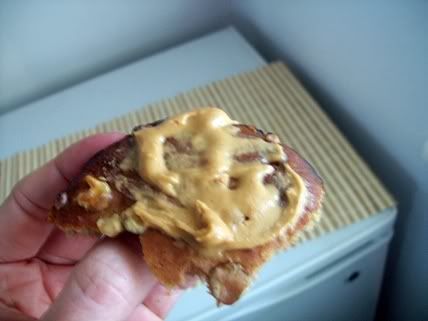 can't wait for my PB2 supply to get here!
i washed it all down with an orange. it hurt my tongue but it was delicious (i have geographic tongue so some fruits give me grief).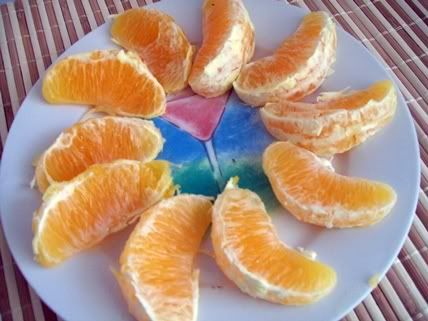 well then i decided my kitchen and living room were unbearable, and there was too much dog fur on my sheets.. so i went on a rampage.. cleaned + laundry + dishes + taking out all the trash which led to cleaning the yard yadda yadda yadda… then i went to the store!
i had to pick up a couple things for my baking adventures.  more on those later, first.. dinner.
protein pancake + almond butter & side of eggbeaters + LCL wedge.
susan's post today got my mind in the protein pancake gutter so i had to have one.  plus breakfast for dinner is always a good idea!  actually marshall's favorite meal is breakfast.. he is always wanting it.
i didn't want a whole individual batch because i wanted a side of eggs so i made a bit smaller of a recipe:
1/4 c oats
1/4 c ff cottage cheese
1/3 scoop protein powder
1 egg white
splash of vanilla extract
squirt of honey
whole lotta cinnamon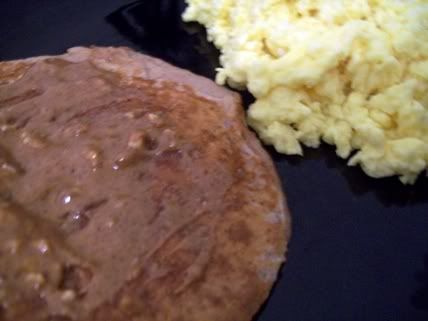 this made the perfect amount for one good sized pancake and then i scrambled half a cup off eggbeaters and then melted in a LCL wedge.  perfecto!
onto my baking.. tomorrow is national chocolate chip day so i decided to bake some cookies! i wanted to bake a batch for work and also a batch for marshall's roomies because they just got home from rome and i've missed them and i will be up at his place tomorrow night for poker night. sooo i made a non vegan batch tonight and i will make a vegan batch for the boys tomorrow after work.  i would make both tonight but i just got done with baking batch one and it is already eleven PM. ouch.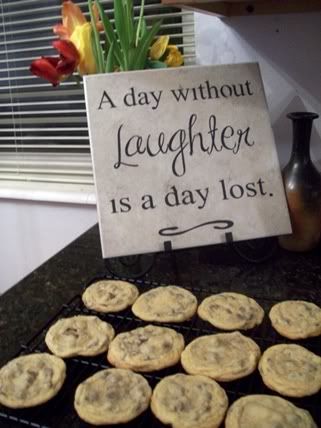 these cookies are amazing, i got the recipe from my sister, suni.  thanks sis! i am going to be making katie's recipe of vegan cookies tomorrow. stay tuned.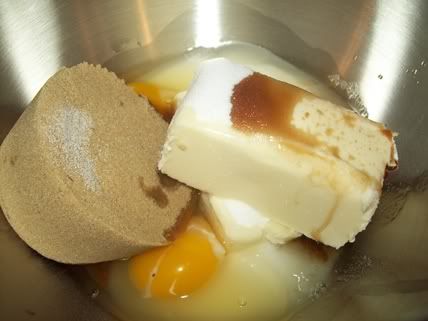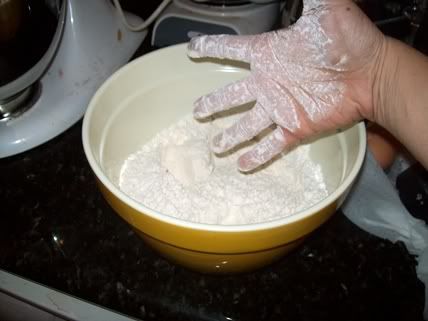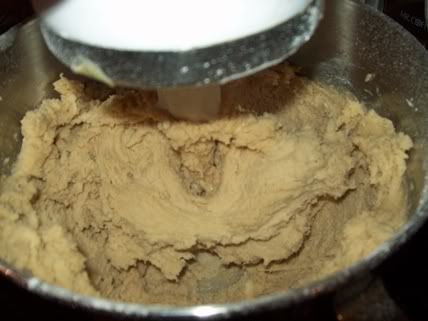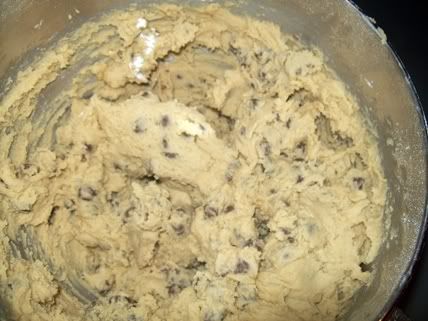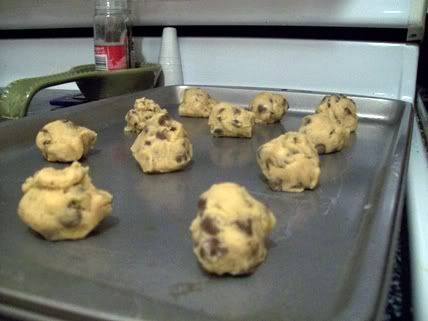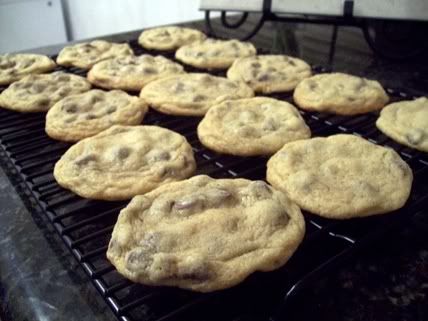 of course i had to try my final product! i baked a mini one just for little old me.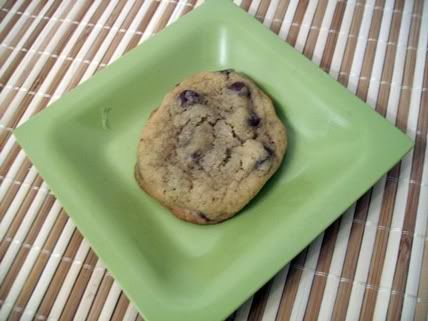 no vanilla bean tonight after that little guy. sorry mister ice cream.. i'd love to dig into you but i better not.
that's about it for the eats today!
thanks for all your comments on my last post and all the ideas of how to use the tofu shirataki noodles! i look forward to doing some more experimenting! i also can't wait to try some more new foods for katie's new foods challenge! it is still not too late to join in the fun, i promise it is the greatest idea to try new things! what baffles me is some of the foods i have never tried have been sitting there at the grocery store for years and years and i have always just passed by them without a second glance! and at the same times foods that i cannot live without are often getting passed up by other people.. it is crazy to think that staples for me are foreign to you and staples to you are totally new and fun foods for me to try. next up on the new foods list (some will have to wait for when i can physically eat them):
ezekiel bread
jicama
figs
chia seeds!!! gotta find them..
steel cut oats
quinoa
any other suggestions?
well it is damn late so i am not going to dive into the depths of giveaways and free crap and other random news.
but i will leave you with a random phrase that was searched to bring up my blog: "white spot that is not on my tonsil" ha.. sorry to disappoint you random googler.. i have no white spots AND no tonsils… this blog has no answers for you!
question: what is your favorite meal of the day?