yo! good evening to all y'all.  i am sure several of you are watching the lost season finale, no?  well yeah, i am watching it listening to it in the background while i blog. my boyfriend is all sorts of obsessed with it.. but i have never watched it before. i'm not gonna lie, it seems like an extra confusing television show.  maybe that is why i keep it real with the food network and game show network only.
anyway, after work was an adventure! not really.. but i dropped my auto off for an oil change, i asked them to check my brakes but they said it would be thirty bucks just to check them out. um no thanks.. change the oil. i take it to the dealership i bought it from for the oil changes b/c i got like.. 36 free oil changes with the purchase. i haven't paid for an oil change in a year and a half. stellar.
while my 4runner was gettin lubed up marshall and i went to the pharmacy to pick up some more lidocaine lollipops.  the pharmacist acted like he knew me and was really amped to see me in person. he was interrogating me about my condition and said he is a big fan of all my family members that have been in gettin' drugs for little old me. touching.
after my oil change i ran my car over to this place that my buddy from high school owns.. big o.. and left it with him because i knew it would be in good hands and he wouldnt rape me with random fix it charges.  thanks casey!
welllll then i went to the store and spent just five bucks on supplies for dinner. cheap! more on that in a second.
i walked in my front door and to my surprise.. a package!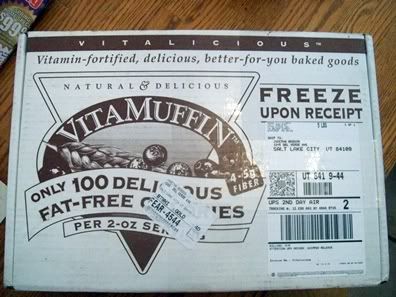 the nice man, frank, over at vitalicious.com sent me a big huge sampler pack of vitalicious items to sample and review! i am realllllly stoked! there ar ten flavors of vitatops and then a four pack of the vitabrownies!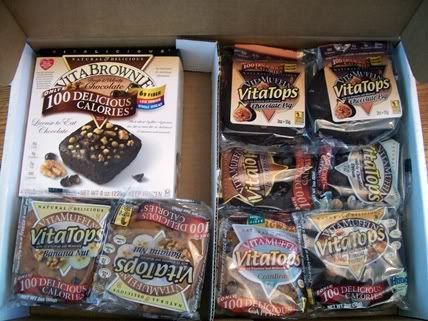 2400 calories of lovin'!  i am real excited to start sampling the flavors, but i dont think trying them all at once would be so smart ;) so once i have tried them all i will give a rundown on my experience with the liciousness that is the vita!
then it was time to cook, so i busted out the pots and pans and another new food for my new foods challenge.  what was it you ask?  shirataki noodles!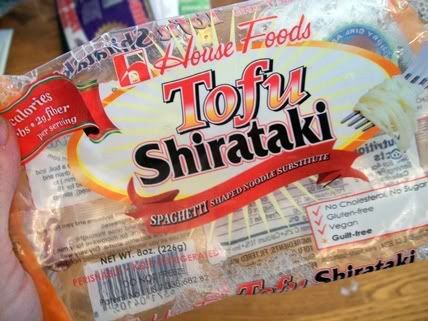 i have heard a lot about these noodles off the hungry girl news letters so when i saw them at whole foods i had to snag a package.  they had been sitting in my fridge until today.. like i mentioned earlier i saw a recipe on this post of the broccoli hut for some peanut butter noodles off of vegan a go-go.
i decided to add a few things to the recipe.. some extra firm tofu and some egg beaters.. yep, leave it to me to unvegan any recipe!  but i love egg in my pad thai, and this was similar so i thought it would be good. yep i was right! you can check out my play by play on the recipe here.
dinner was served: peanut butter noodley goodness!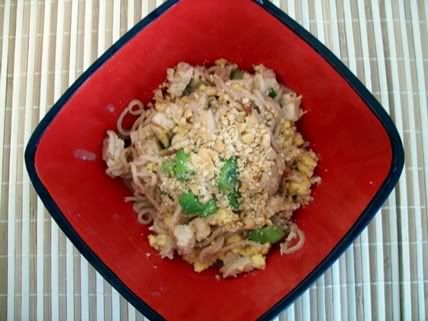 i had figured this was something that would go down my throat relatively easy and i was correct.  i ate it with little throat pain and my ears also didn't hurt too bad after the whole experience. double score.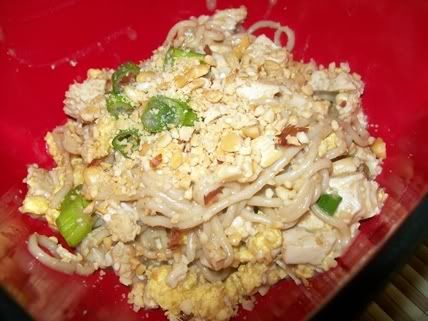 my take on the shirataki noodles?
pros
low calorie
took to sauce really well
filling
attractive to the eye (if presentation matters to you)
cons
fishy smell when opening (went away after a quick parboil)
chewy texture when eating
noodles clumped together quite a bit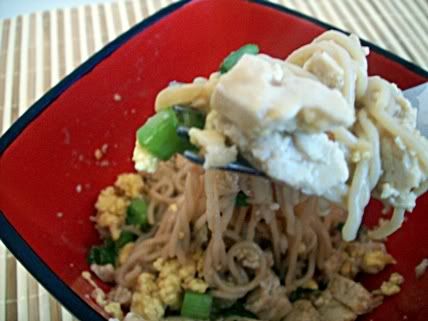 all in all it was a pretty good experience with the noodles. i think it was a good idea to have my first run through with the noodles with an asian inspired dish rather than italian.  i am not sure this texture of noodle will be good in a marinara setting, but that won't stop me from trying.  once i got past the strange feeling my teeth got when chewing through the noodles, i did ok.  i can't say what they tasted like, if anything, i just tasted the wonderful peanut sauce in the dish.  looking back, i should have tried a noodle plain to see what it tastes like exactly.  oh well, that will be next time. i am going to get the fettuccine shaped version and try an italian sauce with them.
shortly after dinner i decided to have a little vanilla bean love.. :)
well now i am snacking on a 30 calorie popsicle and about to take some pain meds. ive been doing really well, i went from taking it every 4 hours around the clock to just two to three times each day and not at all in the night. yesss!  also i think it is crazy that i am not dependent on coffee every morning simply because i can't drink hot drinks. i have been doing really well without it! actually i think i like the taste of it more than the caffiene effects.
time for an update!
the simple life challenge is going good! left off at 49 points.. time to add:
3 points for meals yesterday
3 points for meals today
1 point for carrying groceries to the car in my arms
1 point for some coupon usage
1 point for making a bday gift for my friend
1 point for trimmin' my own bangs
1 point for movie night at home rather than out at the pricey theater
grand total comes to…..sixty! holler.
well no more other news for now since i did some earlier–BUT i just saw on the television a little snippet preview for the ten oclock news.. they said there might be a trader joe's coming to utah! gasssp! i hope it is not just small talk.
that is all from me tonight, keeping the rambles to a minimum so i can spend some quality time with the boy + the doggies.. lost is over in nine minutes! (thank god)..
xoxo!!