yellow and welcome to my wednesday! it has been another ridiculously busy day at the office.
i will start off with letting you all know i called my doc about the absurd pain i get in my ears after eating. well, this pain (which they call "referred pain") is totally normal. sweet! i am glad the pain from my tonsillectomy and adenoidectomy (is that a word?) were able to refer the pain to my ears. maybe i should pay a referral fee?? what's fair.. fifty bucks?
anyway, i also asked them why the crap my throat still hurts just as bad as it did the first day back from surgery. that, my friends, is also totally normal. awesome. so on the upside my intense amount of pain i am experiencing is not out of the ordinary and it's not like i am having complications with my recovery. on the down side.. um.. well duh, i am in mass amounts of pain and there's not a damn thing that can be done about it.
eats!
(edited to add after uploading my photos: i realize my eats have both been very colorless and bland and gross looking, geez my diet consists of nothing amazing right now..i need some freaking crisp colorful veggies in my life STAT! get well soon throat!)
last night i had one more banana bread muffin before i hit the hay. they are really delish but i am sure they are not that great for me as she used butter and sugar to bake them. whatevs.
today i had another love affair with bob's oat bran.. shhhh don't tell the quaker man i am cheating on him. he may get his feelings hurt!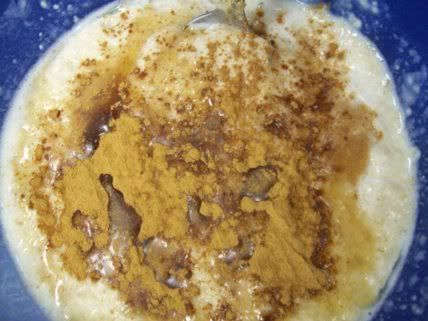 this time i used:
1/3 c oat bran
2/3 c water
1/2 scoop vanilla protein powder
cinnamon
agave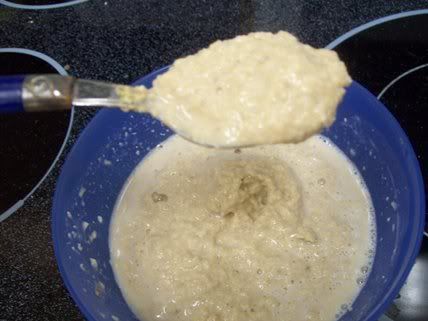 i forgot that i wanted to stir in a spoonful of greek yogurt for added protein and didn't remember until the oat bran was happily in my tummy. oh well, next time!
as i was cooking my bowl of goodness, i was reading the back of both the bob's oat bran package and the empty quaker oats tub.. which i now keep my bob's oat bran package in.. naughty. anyway, here is what i observed:
1/3 cup serving oatmeal vs 1/3 cup serving oat bran
oatmeal:
100 calories
2g fat
18g carbs
3g protein
3g fiber
oat bran:
120 calories
2g fat
21g carbs
5g protein
5g fiber
not only do i like the way the oat bran tastes compared to oatmeal.. it has better stats in my books.. more protein and more fiber! as an added bonus, the oat bran soaks up the protein powder much nicer than oatmeal does. yep folks, you heard right, i have been converted :) i am sure i will still eat rolled oats from time to time.. and of course when i can finally eat i will use it to make a breakfast cookie! but as far as hot protein oats in the AM, bran is the way to go!
okay so enough of that. insert a whole lot of work here.. more work.. then i had to run some errands with my boss (who, by the way, complimented me on my dress today to which i replied, "thanks, you bought it!".. haha.. he replied, "wow you don't waste any time do you?" nope boss, i sure don't!) anyway, errands were ran and i soothed my troubled throat with a gigantor sized unsweetended iced tea:
and right when i walked back in the door from that escapade my other boss insisted i help him take his son's car to the shop and then give him a ride to his own automobile.. so off i went to play musical cars. weeeee!
finally got back around one thirty and i decided that my hunger was outweighing my pain so i whipped up some lunch. don't get scared.. it was mushroom soup + soy protein powder..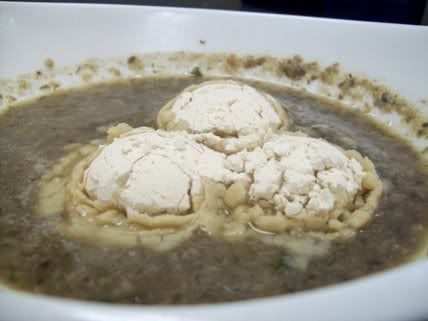 yes, i got the strangest looks from everyone at the office, they couldn't believe that what i had in my bowl was in fact my lunch and not some strange science project. but as creepy and disgusting as it may have looked, it was delish! i told them all to back off, i need my protein!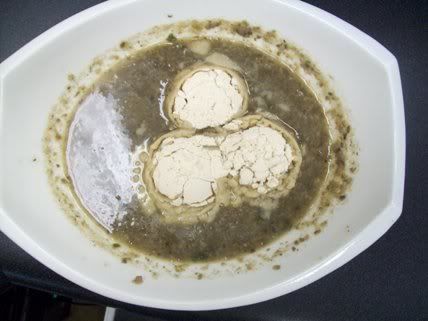 you can check out the recipe for the soup by clicking here.. and i bulked up the protein in the soup by 15 grams by adding some bob's red mill soy protein powder. i am now an advocate for this stuff!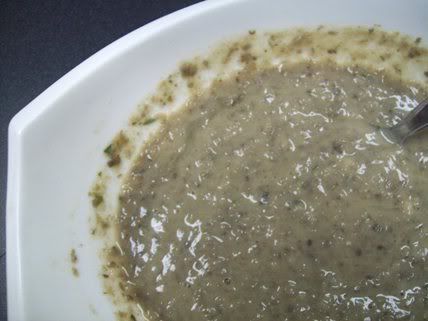 once i stirred it all up it did not look quite as freaky.
and that brings us to the four o'clock hour folks! yes i was supposed to be off of work a half hour ago but i am still here.. getting ready to leave as fast as possible because i have to take my 4runner to the shop.. it is time for an oil change PLUS the breaks started to squeak yesterday. UH OH! hope it is not something horrible. knowing my luck it will be.. but i am crossing my fingers for nothing ridiculous. last time my car was in the shop i had to get a new transfer case and it ended up being a whopping $1700! good thing i have that extended warranty on the old yota.
i didn't have a chance to make dinner last night because i was super busy, but tonight i am thinking of making a thai inspired dish with my shirataki noodles that i saw on C's post over at the hut. hope i have time for this!
well kids i am going to bust a move and get out of here, hooray to making it over the hump!
in other news!!~~
snag some free bakeware from easybakeware.com! they have a plethora of choices and you can pick one free item. you do have to pay shipping, but if you order additional items totaling $25, shipping is FREE.. plus they will give you the

most expensive item for free

!


calling all giveaway whores!

an apple a day is giving a way a whole slew of items from granola to hummus to flatbread to greek yogurt! the goods. click here to enter!
check out this post on danica's blog for some other sweet giveaways!

big ups to all of you who have given me digital camera and heart rate monitor advice! keep the suggestions piling in!
QUESTIONS!
1. do people ever check out what you are about to eat and look at you like you have 3 heads? how do you handle the situation?

2. what is the most $$$ you have spent on car repairs?
P.S. i am craving exercise. like literally.. going bonkers without it. this no working out business is whack!