that is what this post will be. it is ten thirty and i am ultimately beat.  before i ramble, let me show you the meager eats!
last night i had a little vanilla bean for a bedtime delight.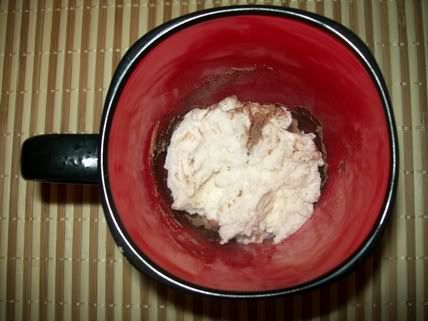 this morning i had two 30 calorie popsicles in my new flavors! hooray for variety. i didn't take their photograph though, it would take me longer to upload their photos than it does for me to eat them.. so yeah.
around eleven i decided to give something new a try!  can you guess what it was?
oat bran!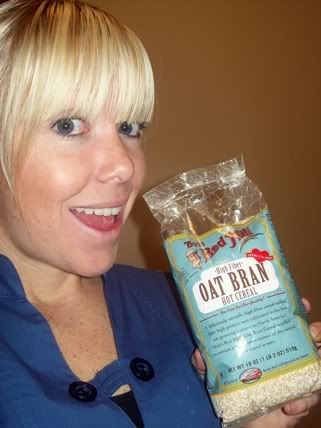 okay, big ups on this stuff people. all of you told me i would fall in love with it and that it was smooth and creamy and yes, you were all very correct on all counts.  loved every bite of this goodness!  and it counts for another food in my new foods
challege, yesss!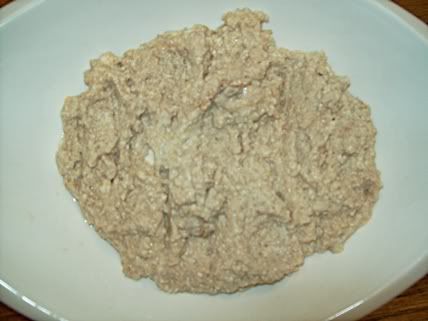 the mix was a simple one:
1/3 cup oat bran
2/3 cup water
1 scoop vanilla protein powder (EAS)
cinnamonnnn
agave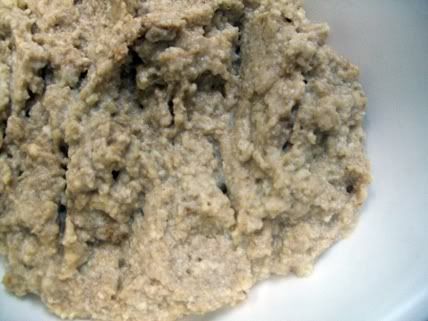 the oat bran soaked up the protein powder much better than rolled oats do.. i think i am hooked!
today was hellish and busy and dramatic at work, my throat was giving me lotsa grief.. felt like my esophagus was wrestling with a porcupine. ugh.
three oclock rolled around and i decided to have some watermelon.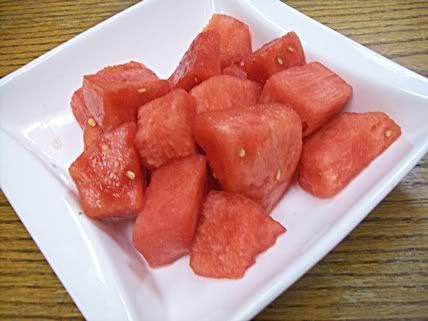 i don't know why, but every time i eat something my ears hurt suuuuuuper ultra bad. like the worst earache you have ever had.. times seventeen.  shoot me in the face please. thanks.
five oclock rolled around.. i was seriously dying of hunger. i whipped up a protein shake.  it included: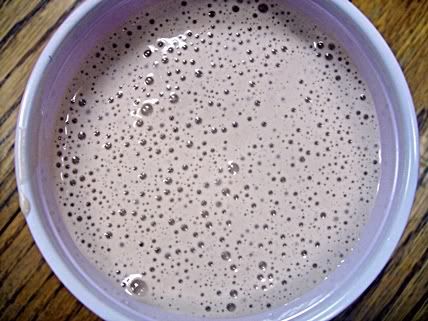 1 scoop chocolate protein powder (EAS)
UVAB
1/2 a frozen naner
not too pretty but at least it was something for my stomach.  oh and yeah, as predicted, it gave me the gnar ear pain.
then i decided to have some stress relief through shopping.  my boss gave me a spiffy cash bonus today because he loves my guts and knows i have been working hard even though im as miserable as a cat in the bathtub.
so i headed to the best place to get mass quantities of clothes for little amount of cash money.  forever 21.  i so wish we had an H&M here! ugh. but forever does the trick.  i got myself some good deals!:
skinny jeans ($12.50)
leggings ($4.50)
tank tops times 2 ($3.50 each)
dressy black vneck ($11.80)
super cute dress ($27.50)
gold owl necklace ($4.80)
jah.. love that place. thanks boss :)
that cheered me up a little. then i was off to my sister's house to make my friend lindsay her birthday present. today is her actual bday even though we celebrated the other night. i will have to take a photo of what i made her and show you tomorrow.. it is exxxtra awesome and you will all want to make one i am sure!
well that took longer than i thought, and it was 9 by the time we were done. thanks for your help suni :) so then i cruised home and was SERIOUSLY DYING OF HUNGER.  in fact while we were crafting it up, my sister heard my stomach growl and was like, "woah was that your stomach??".. yes it was, not to worry, there is not some monster in your house trying to steal your children.. it is just my stomach. it probably won't steal your kids but it just might eat them (if it weren't for the throat dillema).
sooo i walked around the kitchen for a good 20 minutes wondering "hum.. what can janetha eat that won't make her ears cringe in pain?"  so i decided on some applesauce+cinnamon..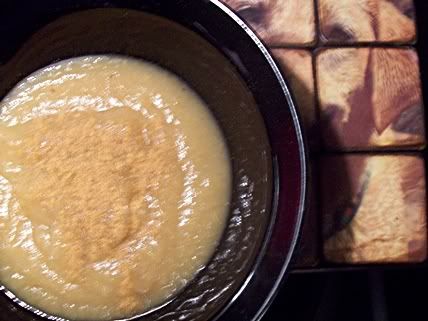 and that really didn't do it for me. my roomie baked some banana bread muffins.. they were moist and fresh and i decided i would give it a shot..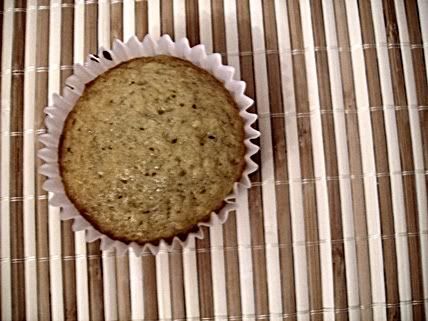 succccess! i had two muffins :)
well i am still hungry but it is late and i figure i can just hit the sack and wake up hungry and eat in the morning, that way my ears will only hurt once.  but i will probably end up eating some vanilla bean before bed.. because that is my new thing that i do.
NOW for the rambling.. with what little energy i have left.. i mean functioning on this amount of calories is pretty impossible.  i told marshall i could never be anorexic. it is pure hell being this hungry!
danica put a HUGE smile on my face when she told me she got me an autographed copy of hungry girl's 200 under 200! big shout out to you lady, you made my freaking day! probably my

whole week!

i have definitely been

stalking

reading up on all of you today, but have not had the time to comment since i was rather busy at work.. so my deepest applogies for not commenting all y'all.. i really love to give you my two cents but it has been a rough one. actually i probably like commenting

more than you like reading my comments

so haha.. my loss not yours ;)
my sister taught me how to

make my own laundry detergent

from scratch! project!! i will be sure to document this epic endeavor!
in other news!!~~~
yet

another chance

to win PETA's vegan college cookbook! jenn @ eating bender is hosting this giveaway!
are you fitness saavy?

put your knowledge to the test

with this fun fitness quiz!
tomorrow, may 13th, is

national fruit cocktail day

so make sure you CELEBRATE
that is all for now.. i am sorry this is the lamest, weakest post ever. can't say i didn't warn ya!
QUESTION!: i am in the market for a good way to monitor my calories burned while working out. so far, i have read up on the body bugg and a couple random HR monitors.  i need some advice!  what device do you use to track your calories burned? how do you like your device?