well as i said earlier today was day 1 back at work since my tonsillectomy.  i was at the office at 7 AM and before i even made it in the door i had my boss hollering at me for help. he needed me to unlock the gate lock for him because it is all janky and the numbers are hard to see… so it was janetha to the rescue. seriously, sometimes i wonder how my bosses get by in life.  i love them to death, but they always have me doing the silliest things for them.
i won't elaborate on the nightmare that was my office today, but let's just say it was nine hours and seventeen minutes of nonsense.  when i am not there.. things pile up.. and things go wrong.. it is almost harder for me to take time off because of the mess i come back to. but this time off was against my will. sooo what can ya do?
FOOD!
we have a 7 o'clock monday meeting where i enjoyed a 30 calorie popsicle with a side of coworkers.  i am not even going to take photos of these guys anymore, i eat so many of them. this one was tangerine.
this morning i managed to do pretty well for b.fast!  my camera battery was dead so please excuse the craptastic BB photos.. but i had egg beaters + cheese, applesauce & three 3″ whole wheat pancakes.  it all took awhile to eat, but i ate slowly and managed to finish it off..washed down with some icy coffee (not photographed). this was all around 9 AM.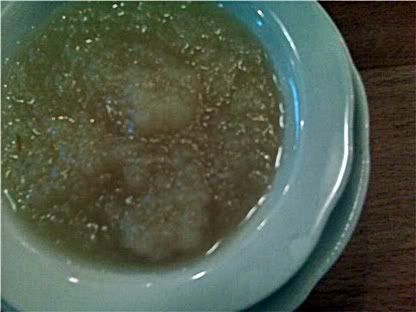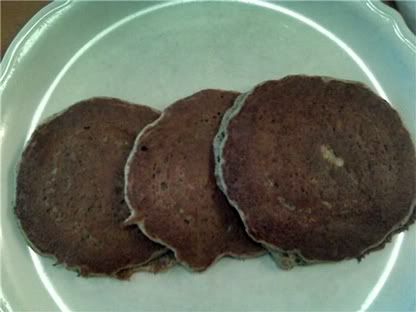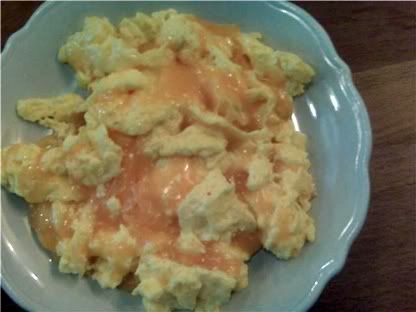 insert a slew of work here, and not even one minute to check my email or blogs or anything, i am such a diligent worker ;)
my throat was killing me.. big time.. and my sweet sister brought me some of my lidocaine lollipops!  thanks suni! i was out with no more refills.. i was doomed, but luckily she saved the day!  i got good & numb in no time.
then i was starving, so i had a big bowl of watermelon around 2 o'clock.
i had another popsicle around four, it was strawberry. and then another popsicle at 4:30, it was raspberry.
then guess WHAT?! i went to the gym!  okay, so maybe i didn't get some rock star hard core workout in.. but i did ride the bike for 35 minutes while reading my oxygen magazine (love it).  i went a whopping seven miles.  lame.. but at least it was better than nothing, right??
so then i frolicked to a local market where i was in search of chia seeds because i am bound and determined here, people.  but much to my dismay they didn't have any. crap. BUT.. they did have a whole buncha good finds!  a few things i actually have been looking for recently! check it:
bob's oat bran (new food! never tried oat bran)
ezekiel whole wheat bread (new food! never tried this bread but i heart ezekiel wraps)
blueberry bran vitatops (new food! been searching for these at over 7 stores.. finally found them!)
double fiber english muffins (not new, but i love me some fiber)
more 30 calorie popsicles (this was exciting because they had a DIFFERENT FLAVOR MEDLEY! my lucky day!)
bob's soy protein powder (new food! and SUPER stoked on it because i've been looking for flavorless protein to add to my foods.. more on that in a minute)
an orange :)
still cant find any mighty maple. i did find some DCD and WCW and cinnamon raisin swirl all from PB&Co so it is nice to know they carry it.. but since i have 3 jars of nut butter in my cupboard and one in my fridge right now and cant even eat any of it really.. i decided to hold off on buying any more right now.
so i would say this was a very successful grocery run!  while i was at the store i got a sample of yogurt+granola+fruit.. the granola was made from scratch in their bakery and was rather tasty.
i rushed home with big plans for dinner. i was soo hungry!  i mean, i am not used to eating the same amount of calories as a two year old. i need more in my life, thanks.
so i made tomato soup + soy protein powder & a double fiber english muffin + LCL + hummus + flax and ate it at about 7 PM.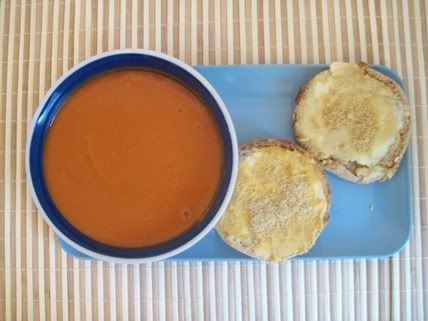 the stars of my soup were these two characters:
the soup is super good, it is only 80 calories for a 1 cup serving and only 16g of carbs (and 1 g fat).  they have lots of other flavors, but i went with the tomato. i think next time i will go for the portobello variety.
the protein powder got me all sorts of excited! it has 2o calories per tablespoon and packs 5 grams of pure soy isolate protein.. and the rest of the stats are zeros across the board.  so i put 4T (1/4 of a cup) of the powder in my 1 cup of soup which totaled 20 grams of protein! holler!  the soup+protein=160 calories, 20g protein, 16g carbs, 1g fat. not too shabby.
the protein powder really had no flavor to it, like the package said. it did lend a thicker consistency to the soup, kind of similar to adding some corn starch to it.  i think this is an amazing product to add to anything that i want to add a little protein to. i love that it is only protein and nothing else.  way to go, bob!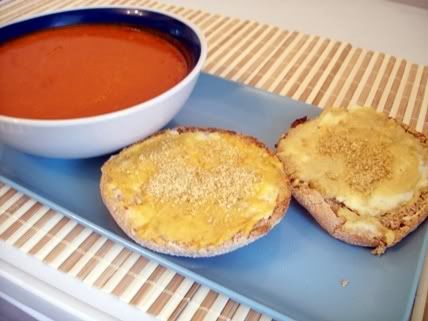 i paired it with the english muffin, i spread LCL on both halves and then on one half a T of red pepper hummus and on the other half a T of garlic hummus, and sprinkled both with ground flax and toasted them in the toaster oven.
perfect!
the whole meal worked out to be 410 calories, 52g carbs, 32g protein, 11g fat and a whopping 14g fiber!  this is probably the most healthy, fulfilling meal i have had since the surgery. i am stoked on it.
now i am just hangin out, not really knowing what to do with myself, although i should probably get some sleep i will most likely stay up way too late wasting time on something not very important like downloading music or playing scrabble of facebook. i lead an exciting life, go ahead and be jealous.
well let's check out how my challenges are going!
new foods challenge
kale.. check!
dates.. check!
soy protein powder.. check!
on the agenda (already purchased items)…
oat bran
vitatops
ezekiel bread
shirataki noodles
still looking for or want to try…
chia seeds
jicama
steel cut oats
anything else that comes to mind this month!!
i am having so much fun with this new foods challenge. i love trying things that i usually pass by at the store. so far i have loved the items i have tried. i am going to keep on keepin' off after the month is up! i love expanding my culinary palette!
moving onto the simple life challenge:
i left off at 45 points..
1 point for a meal yesterday
3 points for meals today
1 point for using my own bag at the store
1 point for recycling day
1 point for turning off the AC and opening the doors/windows
1 point for shutting down my computer at work instead of leaving it on
1 point for donating cans of food to the food drive
-5 points for eating out for brunch on mom's day :(
bringing today's total to: 49! bummer on the minus 5, but i honestly had no choice for the mother's day brunch with marshall's mom. i suggested cooking brunch for everyone but everyone insisted on going out for brunch. i guess ya can't win em all, eh?  i will just keep on finding ways to be thrifty & green!
well i am hoping tomorrow brings me one step closer to solid foods :) hope you all had a glorious monday!!! :D
P.S. if you love kashi waffles go here to print out some coupon love! <3