happy mother's day to all you mommas!  i want to give a shout out to my amazing mom who is obviously my very best friend ever!!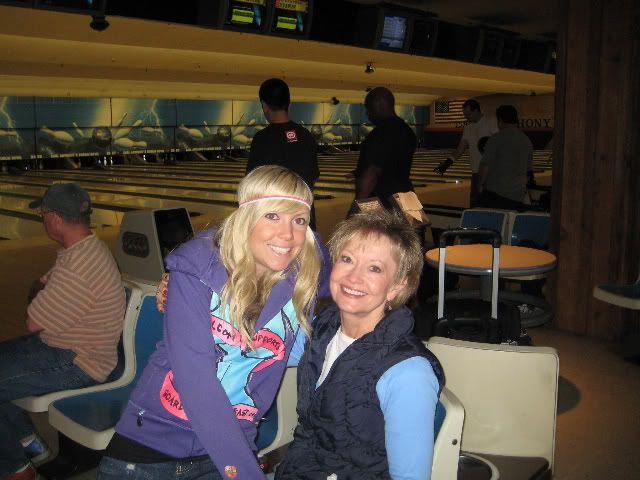 she is always the best, but lately she has been a true life saver taking such good care of me while i have been in recovery mode.  thank you mom, i don't know what i would EVER do without you.  for reals. i posted a lovely tribute to this fabulous lady on my other blog.. yeah you know.. the one that doesn't have a whole buncha photos of what i eat. :)
okay! so let's see.. what has been going down the hatch lately?  a bunch of frozen goodness, that much i know.
last night i had a power nap before heading out to lindsay's birthday party.  my throat was seriously hurting when i woke up (in a puddle of my own drool, thank you very much).. so we made a stop at red mango before the bar for some fro yo with strawberries and graham cracker crumbs!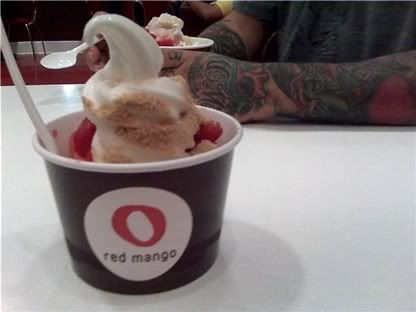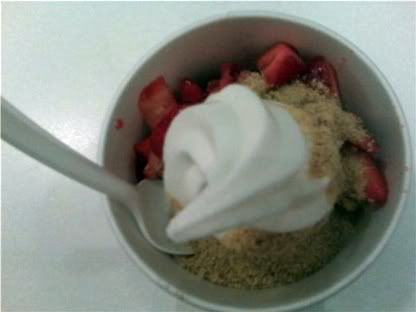 yum it was so soothing and delicious.. but have you guys noticed that the amount of money they charge for fro yo at these trendy places is highway robbery?! ugh, so lame. but it is yummy so of course i paid the moolah.
we were at the bar for about an hour, long enough to say hey to the birthday girl and for me to suck on a lidocaine lollipop and have all my friends ask me, "janetha why the hell are you at the bar in your condition?!"  yeah, i know, but lindsay is one of my best friends ever so i couldn't just not go!
here are a few photos from the bar.. most of the photos were taken with other cameras because mine sucks butt.  i can't wait to get one for my birthday! i asked this before but only got one response so i will ask again.. what digital camera do you suggest i get???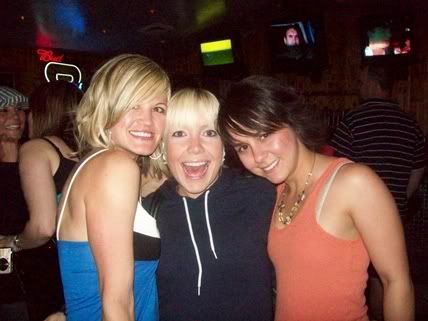 allie+me+ang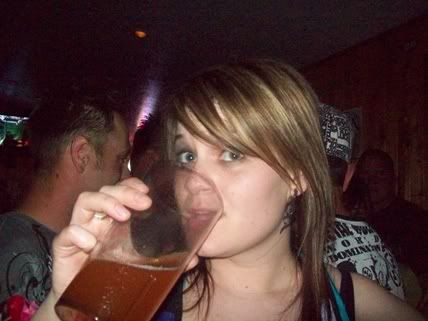 the birthday girl herself!

me + allie again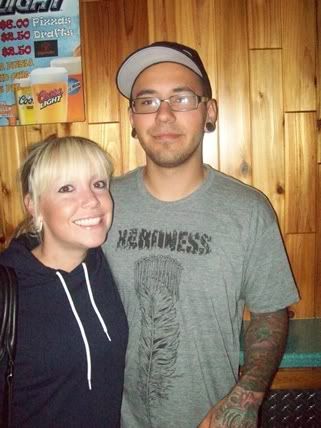 can you tell marshall LOVES going to the bar? he is not a drinker and is never stoked on being around mass amounts of drunk folks.
ugh see what crap ass photos it takes? i can't wait for a new one! suggest away people!
after the bar i was wanting something for my throat and marshall wanted nachos.  well i wanted nachos too, but you can't always get what you want.  so we cruised to the grocery store where there was a HUGE lineup of people buying last minute mother's day flowers and cards.. and the only checkout open was the self checkout.. this was at one in the morning. this one dude walked up to the line behind us and cried in an outrage.. "THIS IS A JOKE!" and proceeded to put all his groceries back and leave the store.  um, a little dramatic dont ya think? i mean the line was maybe a five minute wait.
so at home i had vanilla bean + sprinkle of nesquik + unsweetened coconut before hitting the sack.  it was delicious. i love me some vanilla bean.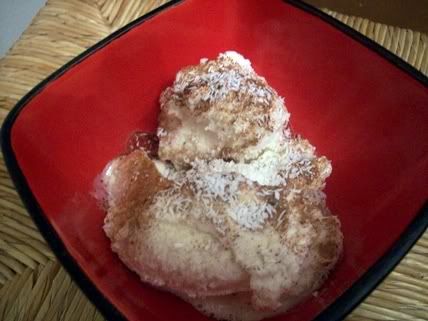 and i watched marshall eat his crunchy spicy nacho goodness. boohoo.
this morning we had a date with marshall's mom for a mother's day breakfast.  we met up with his brother, sister in law and mom at the original pancake house.  i ordered an iced coffee which was pretty tasty, and i cannot yet drink hot coffee so.. ya know.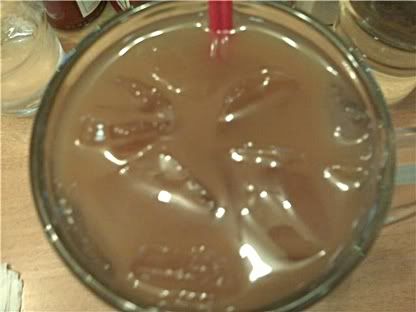 apparently my next move was a little over ambitious. i am not quite sure what i was thinking. i ordered a scramble with egg beaters + spinach + onions + mushrooms + turkey sausage and got applesauce instead of potatoes.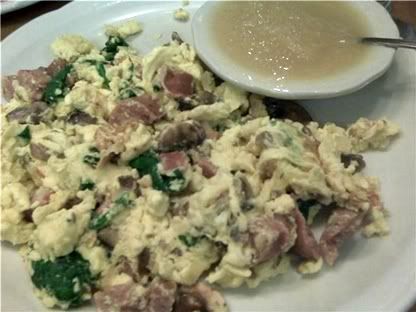 well… the applesauce went down nicely.  but the scramble was impossible to eat.  haha what a joke.  this is what it looked like after i tried picking at it for the duration of the meal…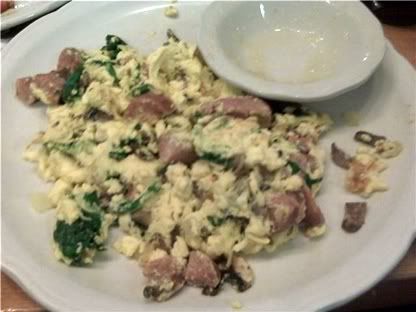 so needless to say i was pretty hungry. i did manage to have a few sliced bananas and strawberries as well as some buttermilk pancakes which were pretty soft and squishy.. but i didn't photograph those bites.  oops.
well i am back at home and relaxing with the pups.. since it is mother's day and all and they are my kids :) marshall has been a sweetie to me today and i told him i want a mother's day massage later.. we will see if he comes through in the clutch!
i have a bbq to go to at my mom's house here in a bit.. but i will be having more soup i am sure of it.  i have a tasty recipe to try out for a mushroom soup though so i am excited for that!
in other news!~~
jasmine is having a super sweet giveaway over at sweet & fit! create your dream granola mix for a chance to win it!
heather posted a super rad informative post on

chia

which is something i am looking for at the store to try for my new foods challenge. i found this post really good so i wanted to link to it!
today is national shrimp day! shrimp is super high in protein and DELICIOUS! so make sure you enjoy some today!!
i leave you with a few photos of my kiddos because after all.. i am their momma!! the first one is my dog mable who was hit by a car.  i have her name tattooed on my wrist (you may have seen it in some of my foodie photos) and i hate tattoos so you know she meant a lot to me if her death made me want to get a tattoo.  then there is my other two honey hounds.. penelope and randy.  love my kids!

mable ann the yellow lab (RIP)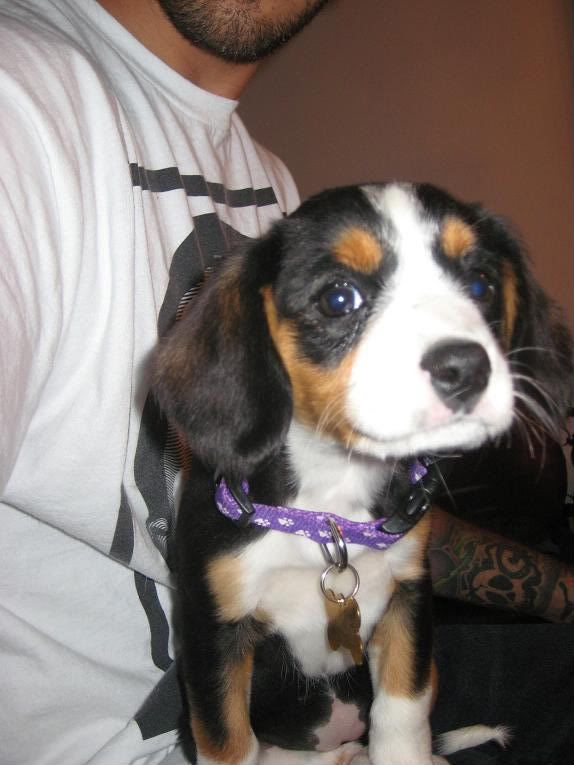 penelope jane the entlebucher mix puppy (she is almost 9 months now)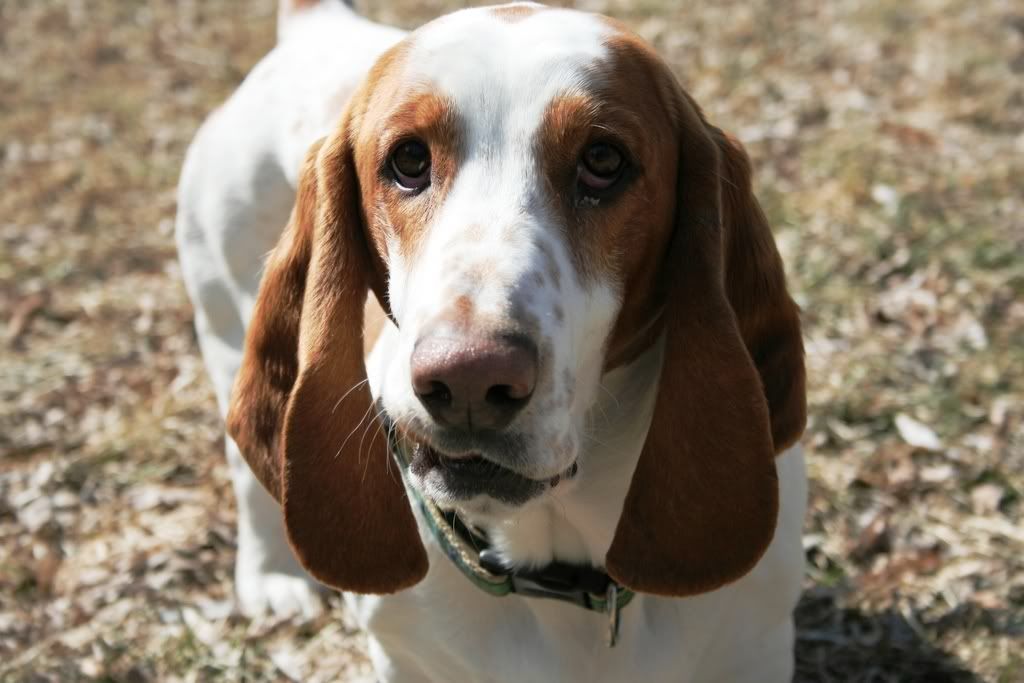 randall bernard the basset (he is marshall's but i love him like my own)
bye guys! make sure you give your mom some love today!