HI! so i am having another bout of insomnia..
i am watching my boyfriend and his friends play poker right now. my throat hurts to the point where i have debated getting some type of spit can so i don't have to swallow my own saliva anymore.  but then i would look like someone who chews tobacco and that is just wrong. gross. i wonder how people can stand that? an exboyfriend of mine chewed tobacco. he would have random cans and cups all over his room and car full of horrible, nasty, rancid brown spit. what exactly about chewing tobacco is appealing? surely the *buzz* you get from it is not worth the mouth cancer or bad breath or the turn offs it causes.. needless to say that relationship didn't last long. sorry if any of you are into that type of thing.. personally i am just in love with dental hygiene and choose to keep my gums & teeth for the long run.
anyway, where was i? oh yeah, it sucks to swallow. like every time my mouth is full of saliva again i have to concentrate really hard before i swallow, i give myself a little pep talk in my head to amp myself up for it, telling myself it won't hurt as bad as the last time i swallowed.  i let myself down every time.. it still hurts.  boo freaking hoo, enough crying i suppose.. let's talk about eats.
so i was thinking i could handle a grilled breakfast wrap (for lunch).. so i whipped up
1 egg + 2 egg whites, scrambled
1 wedge LCL
smear of red pepper hummus
flat out wrap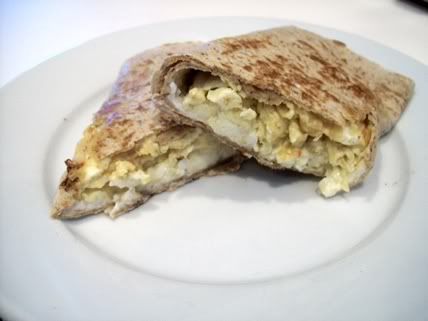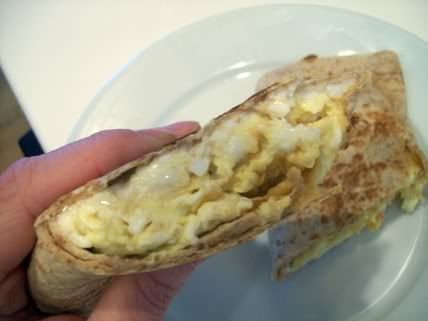 grilled it to gooey perfection and really loved that first bite. yum, i really miss eating wraps.. they are usually a daily staple for me.  i thought i could handle this one because i didn't put any solid fillers in it.. just cheese, hummus & scrambled eggs.  all things i have eaten since the tonsillectomy.  well ya see, the thing that ended up being the problem was the flat out.  i guess it was too hard or too sharp or too something.. because it got stuck in the depths of my throat, probably in the little empty cavities where my tonsils used to be. oh gross, i just re-read what i typed and that was just terrible. but it is true so i am not back spacing it. i had to swish with salt water to make things jive properly after that whole painful experience.
i actually managed to choke down half of it before the pain outweighed the deliciousness, and i gave the other half to my mom.  then i did what any normal tonsillectomy recovery victim would do: ate ice cream.
my new favorite mix of heaven: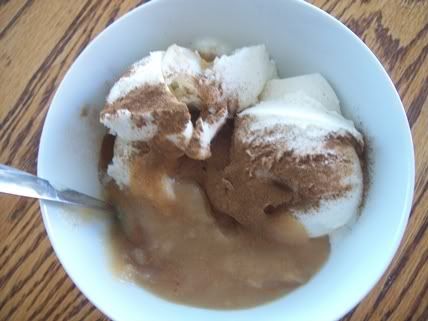 vanilla bean ice cream
unsweetened applesauce
buckets of cinnamon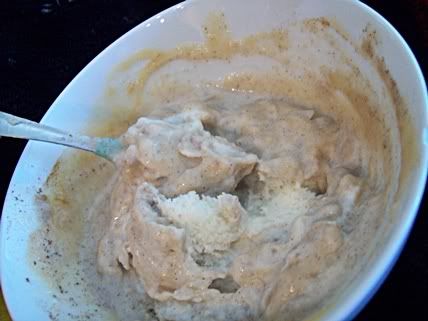 swirled together resulting in an apple pie ala mode explosion in my mouth. perfect. i loved the vanilla bean specs mixed with the cinnamon specs. super pretty deliciousness.
this made me tired, so i took a nap..penny chewed on her new bone (which she had tried to hide all over the house.. in the laundry room, in my dad's shoe, under the couch, before deciding to actually use it for what it was meant for, chewing)..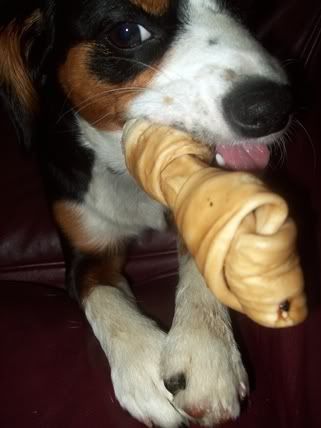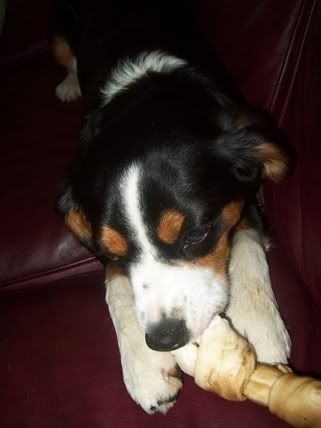 then i woke up, probably 45 minutes later, hating life because when i sleep my throat dries out and swallowing becomes even worse than it was before the nap. if that is possible.
marshall brought me an iced soy latte.  i drank about an inch of it. hurt too bad. crap i hate not being able to indulge in stuff that i love!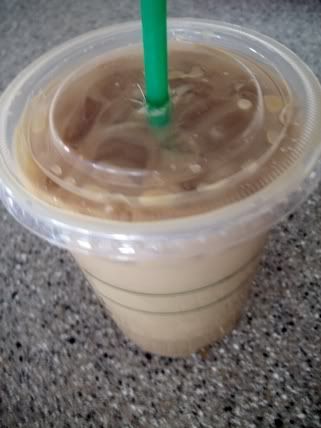 into the fridge it went.
sooo then i showered, got myself ready, that was a step in the right direction. i was meeting some girl friends for dinner at the bohemian.  this place is delicious.  i LOVE their food. they have really good german cuisine and ultra yummy salads and pizzas. too bad i couldn't eat any of it.  i ordered some french onion soup and mashed potatoes.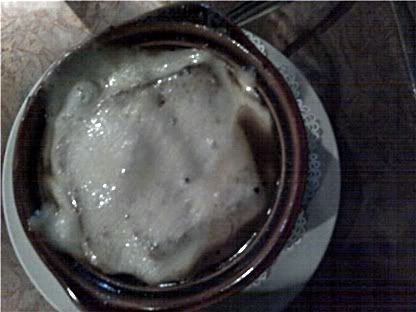 excuse the BB photos..
i ate one bite of the potatoes but they were dry and sticking to the insides of my throat. ew. so then i gave the soup a try and managed to consume just the broth.. not the onions or cheese or bread or anything. ugh.
we sat there for a good hour or so after eating.. or after they ate i should say..i sucked on my lidocaine lolly.  it was reaaaallllly great to get out and see them and have some social interaction!  i missed my friends.. and well, just life in general.  being a hermit is not my style.
haha love how i am looking like a hospital patient in a pony tail, boyfriend tee and leggings.. also flip flops if you go a little lower. whatevs.
by the time we bailed i was STARVING! all i'd had all day was the oatmeal, half the wrap, ice cream & some broth. my stomach was hating me bigtime.
so i cruised back to my mom's.. and made a green monster of love..
8th continent fat free soy milk
raspberries
blueberries
a white peach
kale
ice
vanilla whey protein powder
YUM! it made quite a bit actually.. more than usual, i am not sure why. i didn't put an extra amount of milk in or anything. huh oh well. i managed to drink the big one and half of the little one.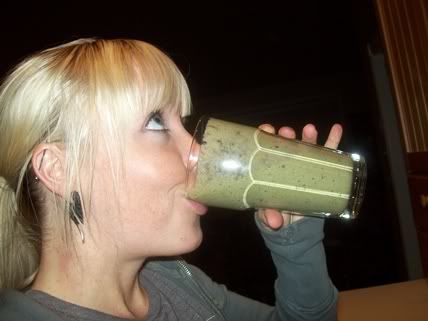 and then of course i was still feeling like something else so i had a piece of grandma sycamore's bread. yep, white bread.. i need to stop with that. but it is so fluffy and bad for me and delicious. i excused it with the fact that i had eaten hardly any calories all day today.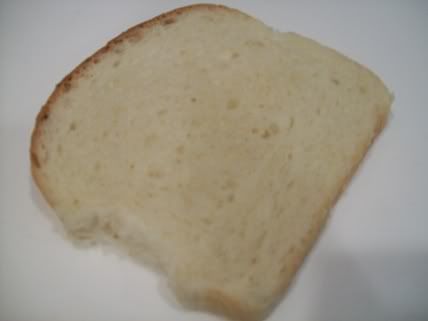 i grabbed another 30 calorie popsicle and hit the road.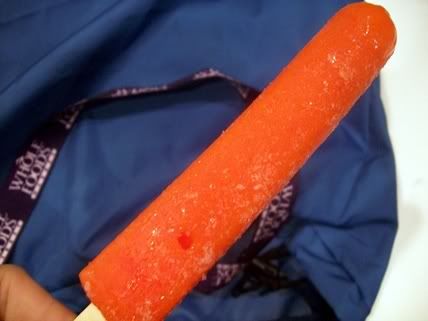 now i am at marshall's.. once again debating if i should swallow right now or wait another thirty seconds. i know it is going to hurt either way..
i wonder how long until the pain is gone? i guess only time will tell!
tomorrow i have a big agenda regardless of how crappy i am feeling:
personal train my mom on her LBWO
dog class with penelope jane
mother's day gift shopping
move home (i have a lot of stuff to take home with me..it is a task and a half)
hit up target
go to my friend's 27th bday partaaay
hope i can manage it all! i found that after my get together tonight, my throat was on fire. i should NOT be talking so much. it is bad for the recoveryness.
okay well no news to post tonight, i am too sleepy. hope everyone had a smashing friday night!
check you dudettes (and dudes?) later!