wow if you think you are sick of looking at what i've been eating.. try being the one consuming it! sooo sick of the food my throat can handle!
actually i woke up this morning with a worse feeling in my throat and ears than last night, if you can believe it.  i wonder when the whole "better" part of the "it gets worse before it gets better" thing will start?  hopefully soon, for my sake and for my tummy's sake! i'm serioiusly HUNGGGRY!
so this morning i went to my mom's, i had slept at the boyfriend's and i was seriously missing my mom! i became quite fond of her glorious house and fabulous company, to be quite honest i would not have a problem living there forever! she has a decked out kitchen, a full gym with all the bells & whistles, a sauna, a hot tub, i mean i wouldn't ever have to leave.. oh but there is that whole part about how i am a grown woman and being a few weeks away from twenty six probably is not the time to move back in with mom and dad, is it? haha. it has been nice to stay there though, after the whole surgery and whatnot.
so yeah like i was saying i went there to give my mom a lower body workout training sesh!  she is so cute and in shape and then when i put her through a routine she acts like i am some huge bully and she calls me olga the personal trainer, such an endearing term, i love giving my mom a hard time in the gym :) between ordering her around, i put on some make up and made a greeeeen monster: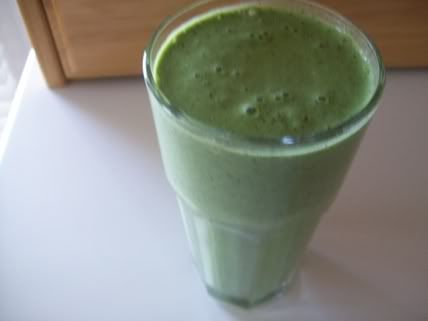 this glorious green glass included:
3/4 c UVAB
1/2 banana
handful blueberries
1 scoop vanilla protein powder (triple blend)
2+ cups kale
ice
but guess what guys? my throat hurt to bad to even drink this. i probably had about 3 inches of the glass worth and left it on the counter with a rumble in my tummy.
hey i have an idea..since i can't work out, i could post the workout i had my mom do! that way she can reference it for future use :) it was a short one and just targeted a couple areas because i had to get to puppy class, but it was still worthwhile!
janetha's LBWO for mom.
hams/lower back
single leg dumbbell stiff leg deadlift:
12 reps each leg w/ 5# dbs
30 back extensions on hyperextension bench: 10 straight up, 10 with a twist to the left 10 with a twist to the right
10 reps each leg w/ 7.5# dbs
30 back extensions on hyperextension bench: 10 straight up, 10 with a twist to the left 10 with a twist to the right
8 reps each leg w/ 10# dbs
30 back extensions on hyperextension bench: 10 straight up, 10 with a twist to the left 10 with a twist to the right
6 reps each leg w/ 12.5# dbs
30 back extensions on hyperextension bench: 10 straight up, 10 with a twist to the left 10 with a twist to the right
12 reps each leg w/ 7.5# dbs
12 stability ball ham curls, or until failure
this is how it was supposed to go.. but her coordination on the single leg deadlifts was a little rusty so we switched it up to regular stiff legged deadlifts with both legs on the ground and heavier weight. that worked out well too!
quads/butt:
squats on bosu ball w/ dumbbells in hand:
12 reps w/ 5#
50 butt lifts w/ feet on bench and 10# plate
10 reps w/ 7.5#
50 butt lifts w/ feet on bench and 10# plate
8 reps w/ 10#
50 butt lifts w/ feet on bench and 10# plate
6 reps w/ 12.5#
50 butt lifts w/ feet on bench and 10# plate
12 reps w/ 7.5#
24 bench step ups with knee lift with 10# dumbbells in hand
she did great with the balancing on the bosu ball and squatting! this is one of my favorite quad exercises because it works the core and the quads simultaneously! i sure wish i could work out…
so then i cruised home, i hadn't been home since monday!  i didn't even go in the house, i parked the car and grabbed penny's leash and we walked to puppy class (score 1 pt for TSL challenge!)
after puppy class i was seriously starving and as luck would have it, my roommate was whipping up pancakes, hash browns and eggs.  sweet! a bunch of yummy smelling food that i couldn't eat!! so rad!
so i bit my bottom lip, crying inside about the fact that i can't eat any real food and whipped up a bowl of greek yogurt, applesauce, cinnamon & agave.  it was ok. sure wasn't fluffy pancakes, homemade hashbrowns & scrambled eggs.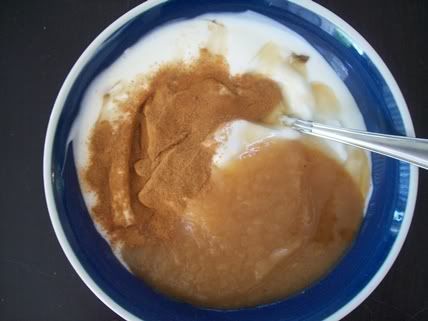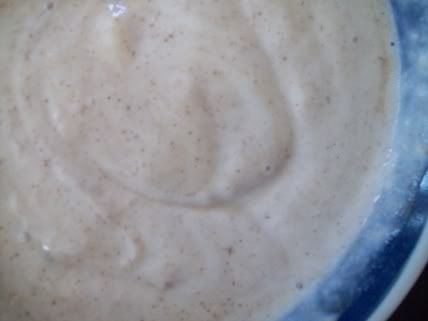 i ate it on the porch in the sunshine. that cheered me up a tad.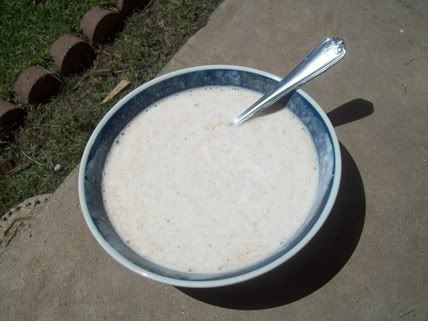 so then marshall showed up at my casa and we had some errand runnin' to do!  i felt like garbage but things had to get done and i figured.. i am going to feel like garbage if i sit here or if i go run errands so yep, off we went!
first stop was sunflower market which is a new(er) natural foods market in the SLC. much to my enjoyment, this store was the bomb dot freaking com!!!!! they had allll the natural foods that i love, for super duper cheap! it was rad, all the price tags said "serious food…silly prices" and they were right. i was in grocery store heaven!
i snagged a few things, but i will have to go back when i can actually do some real grocery shopping and i am not an invalid when it comes to eating.  there were aisles of cheap eats that i was dying to get my hands (and my mouth) on.  but alas, no point in buying crap i can't consume.. i was really just there to snag some mother's day goods.  and so really i am not at liberty to say what i picked up.  i will have to reveal that tomorrow because my mom reads the blog (hi mom!).  but i will have you know i did get some bargains.. i also picked myself up some more kale for 99 cents! it was three bucks at whole foods.. um wow what a difference!  i also picked up some goodies for my gift bag exchange for the simple life challenge which will be happening at the end of the challenge.. end of the month. so i can't reveal THAT part of my purchase either. but i will have you know they had larabars for a buck.  now i have never tried a larabar.. i see them all over the damn place on all of your blogs. but i just have never tried one cause of the stats. i mean they are real high in fat and carbs and not as high in protein.. but i am thinking if i pair one with some egg whites one morning that could make for a balanced out body for life meal. no?
stop numero dos was costco and yeah of course that meant a few samples.. i was not like marshall and did not wait in line for pork chops or a spinach salad, but i did have three items: a slice of pineapple, some shaved turkey & haavarti cheese & a chunk of a creamie.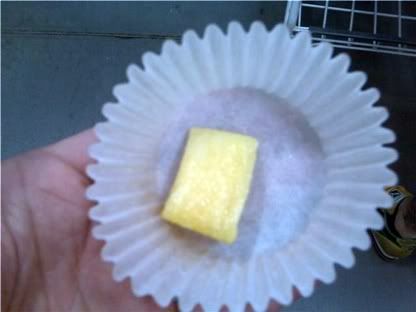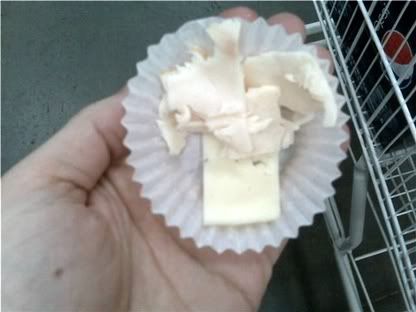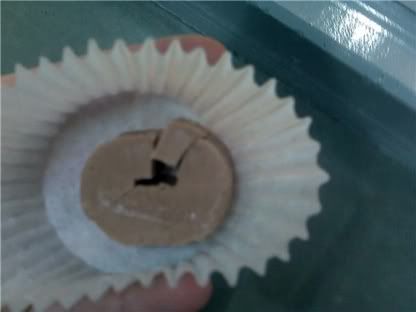 i picked up some cheap mags and some other top secret mother's day items while at costco.  oh and i did get some laughing cow light wedges because i always buy those suckers in bulk. i go through a lot of that cheese. so glad costco carries it. oh and guess what else they carry now?! sabra hummus! score! i just bought some hummus at target but you can bet your sweet ass the next time i need some i am going to costco. five bones for a two pound tub! holler!
stop number three was nordstrom rack. for marshall really.. he likes to find RVCA shirts there. i love RVCA but their girl selection at nord's rack is few and far between.  i did snag a cute skirt for work though!
all in all it was a pretty good errand running sesh.  but as you may guess those three little samples at costco didn't really satisfy my stomach.. and my throat and my stomach are in an ultimate battle against eachother and i am still waiting to find out who the ultimate champ will be.
for now they settled on finding some common ground.. marshall got me some bean and veggie soup which i was able to handle for the most part.. only a few chunks of it got held up in those holes where my tonsils used to be.  gross.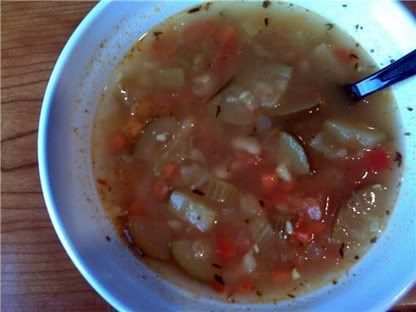 and now my 3 buddies (boyfriend, basset & penelope) are snoring loudly napping quietly while i blizog.. but i think i will go join them in their slumber for a bit before i have to hit up the bar for my friend's birthday party! i don't think i will be able to stay long, my ears are hurting ultra bad and well.. you all already know the story with my throat. we shall see how the night plays out!
i dont have much else to say.. just wanted to do a tally of my challenges!
for the simple life challenge i was at 34 points.  in addition to that i've got:
3 points for 3 meals yesterday (even though i couldn't really eat them in all their entirety!)

3 points for 3 meals today (yes i am counting my monster and greek yogurt as meals because they were for me)

1 point for walking to and from dog school

1 point for shoving my purchases in my purse at nord's rack

1 point for using a reusable bag at sunflower

1 point for carrying all my goods in my arms at costco and not using a box or a bag or whatever paper product they supply for you

1 point for buying in bulk, way to be thrifty JB!
that brings me to a whopping total of 45!  can't wait to do more things this week to rack up the points on bobbi's TSL challenge!
speaking of bobbi, she is trying to raise enough $$$ to run the san diego rock n roll marathon!  click here to donate to the cause! she only needs $120 so if a few people put 5 on it that will go a long way!
then there is the new foods challenge which i actually particpated in today!  at the sunflower market i sampled a date! i have never tried dates before!! it was a little hard for me to swallow but i loved the flavor and i will for sure be trying these again when i am back to normal eating! hooray for new foods! as you read before, i already purchased more kale which was my first new food i tried!  so week 1 and week 2 for CCV's new foods challenge are handled.. but i will still probably try some more new stuff this week!
not much else in the news today kids.. no time for entering giveaways but i am sure there are some out there waiting for some entries ;)
see ya manana! say a little prayer for my throat!!!