seriously it is friday? everyone is all in TGIF-mode but for me the days have all clumped into one big sore mess of a recovery glob. friday shmiday.
well it was another rough night at the oasis.  i was waking up every little while choking on my own breath.  my throat pain has spread to my ears.. i guess that was expected.. it is called "referred pain".. ugh. i was totally thinking i would wake up today feeling a little better, but that is not the case. i think what happens is i feel ultra crappy in the mornings, because my mouth has dried out from trying to sleep and my body is dehydrated and hates my guts.  and then i feel better at night because i've been up and drinking little sips of water and eating popsicles like there is no tomorrow.
so with that said, i dont look forward to my first morning back at work on monday.. seeing as how i have to be there at 7 AM. oh well, i will play it by ear and roll with the punches.
i didn't eat today until 10 AM.  i mixed up my overnight oats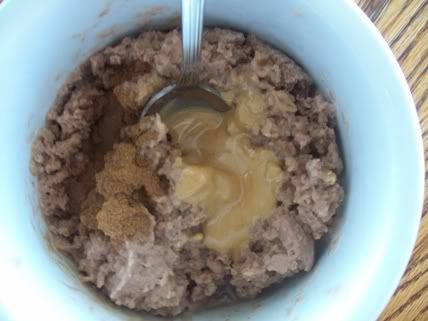 with
1 scoop chocolate whey
huge shake of cinnamon
spoonful of cinnamon PB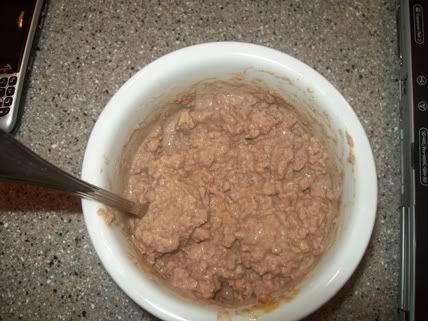 it was reaaallly creamy and sticky so halfway through i added some UVAB to make it easier for my disabled throat to swallow. what is pretty funny is right after i added the UVAB, i was reading this post where lisa photographed her oatmeal while she was eating it and so i decided to snap a photo of my oatmeal mid-devouring.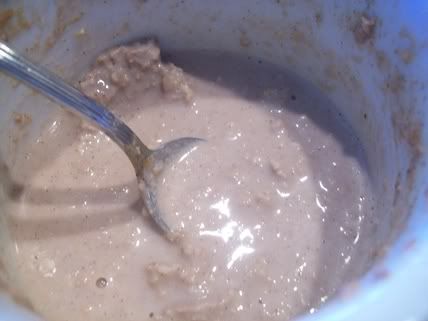 much better. it was delicious.. but for some reason the chocolate whey powder lends the oats a much different texture than the vanlla whey powder. no idea why that is but it happens every time. i wish i could get the chocolate flavor to demonstrate the vanilla consistency.. but nope, never happens. oh well.. keep eating.
then i laid around, stalked your lives looked at all of your meals, entered a couple giveaways and decided to type this up. it has been a rather uneventful day.  BUT i am supposed to get together with some lovely ladies tonight because my cute friend katie is in town from oregon with her husband and baby!  so i look forward to eating some applesauce or mashed potatoes or something with them.  i will let you know how that goes.  i hope i feel better by then, right now i am struggling. my mom went to refill my lidocaine lollipops.
so i did say last night that there was lots of stuff going on to make note of.. let's see…
the simple life challenge is going as good as it can for someone who sits on her butt at her mom's house for 4 days straight!  my last running total was at 25, and then i racked up some more points since then:
1 point for dinner wednesday
3 points for 3 meals prepared at home on thursday
1 point for mine&marshall's at-home date
1 point for coupon clippin' my little heart out (yes i will use the coupons!)
1 point for making a conscious effort to turn the water off when i brush my teeths now (cant believe i didnt before, i am lame)
1 point for letting my hair air dry.. which is good for saving electricity AND my hair ha!
1 point for using the same straw for all my beverages.. washing it out and reusing it.. ok i know it is little and dumb but i've had to get creative here people. i'm kinda limited to any activity so yes, i've resorted to straw preservation :)
that brings my running total at the end of week 1 (as of 12 noon) to 34 points! weeeeee! i am hoping to do better next week as i will be back at home and work so i can do more things that are thrifty & eco friendly.
the new foods challenge went well for the first week, i tried kale in my first ever green monster! i really loved it and i am going to continue to use it.  i saw a recipe for a raw massaged kale salad that i am dying to try when i am back to eating normal foods! also on the new foods list waiting to try are:
shirataki noodles
dates
figs
chia seeds
steel cut oats
jicama
anyone else have some foods they suggest i give a try?
in other news!!~~~
right now through may 9th, if you buy

four fiber one products

at target you get a free $5 target gift card! this includes all their products.. yogurt, cereal, bars, etc etc.
i found out about the above promotion from my sister, who found it on a blog.. check out money saving mom for more tips to save you $$$.. add the blog to your reader for up to date cash saving tips.
kelly is giving away a super sweet jillian michaels dvd, click here for details!
bounce over to on the threshold of greatness for a chia seeds giveaway! ive been meaning to pick some chia seeds up.. heard lots of goodness about them!
one last giveaway, erin of i walk this world is giving away some dr. kracker culinary crisps you just need to tell her why you heart eating whole foods!
if you want a free sample of sunflower seed butter then go to this website and enter the code "0428" to have one sent your way. thanks to lisa for this tip.
the mushroom channel's latest post linked mushrooms to having potential to prvent breat & colon cancer as well as collagen induced arthritis. not that i need a reason to eat mushrooms since i

love them

but it is a good read!
whew that was lots of other news, eh?
i am going to go pack up my stuff, i think i am going to take a big step and sleep at my own house tonight, i feel like nothing has gotten accomplished these past 4 days.. which is true.. and i want to at least spend my time off by cleaning & organizing my bedroom.  i also want to pull out some old clothes to donate to charity so i can make room in my tiny closet for new summer wardrobe purchases! so if i am up to it, i will be going home after my get together tonight. keep your fingers crossed.
well time to go figure out something for lunch :) bye!