disclaimer: this post ended up including a lot of bitching+whining.. sorry bout that.
yeah i woke up today and my throat hurts more than it has thus far in my tonsillectomy recovery.  bummer dudes and dudettes.  i am not stoked at all on anything right now, not even ice cream. what?! yeah i went there. i am sucking on  my  lidocaine sucker and waiting for the clock to say it is time for me to take another dose of liquid lortab and i am wondering what my throat looks like on the inside but at the same time i am afraid to look.  so i won't.
eats!.. or something like it.
marshall came by at 10 PM last night to hang out for a bit. i polished off his nielsen's frozen custard but didn't take a photo.  it was probably 6 bites of vanilla w/ strawberries. he had a big juicy double cheeseburger and fries, ugh i want real food so freaking bad.  not necessarily junk food, like marshall's, but just real food.  that i can chew and enjoy and not worry about it getting stuck in my mess of an esophagus.
at 8 AM i had a popsicle + pain meds: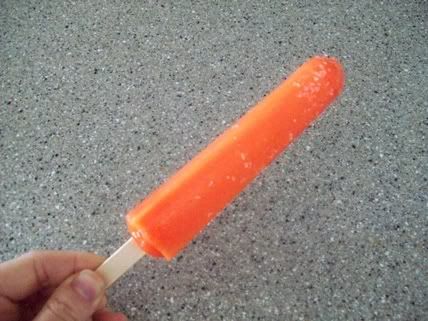 and then at 9 AM i had a delicious green monster:
vanilla whey protein powder
8th continent soy milk
1/2 a banana
handful of blueberries
handful of raspberries
handful of spinach
handful of kale
ice
yum. i am glad i know about these bad boys.. they are so deeeelicious!
from nine to about ten thirty i went downstairs to my mom's gym and was her personal trainer for her upper body workout + abs.  i told her what to do, and watched her work her butt off, and i felt guilty for sitting there.. penny laid in my lap most of the time.  i wish i could work out.
after that intense training sesh, i had a iced soy latte to replenish myself, since i had worked so hard.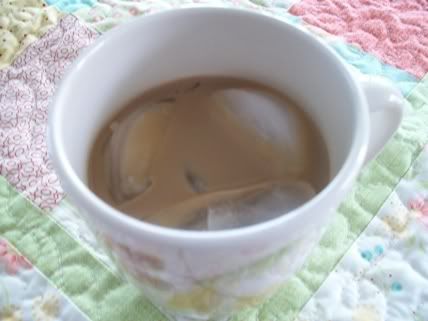 then it was back to the lidocaine sucker.
which brings me to here and now.. and it is finally time to take some pain meds again. maybe after that i can get my throat all numbed up and do something crazy like eat something.  holy crap, i am going insane…. please say a get well soon prayer for my poor little throat!!!!
in other news!!!~~~
lisa at life, love, violin is having a fun giveaway, PB loco & an assortment of bars.. click to read all about it!
and finally, megan at healthy on the run is ALSO having a giveaway.. a bundle of goods to get you through the day, here is the link.
it is thirsty thursday!  so make sure you chug a lug and get all your water in today.. and drink an extra litre for me because i am lacking on the h2o consumption :(

i promise, when i am back to normal, i

won't sit here and blog about giveaways

, but for now.. my life consists of the game show network and food blogs. deal with it :) richard dawson is amazing.
thanks to those of you who weighed in on my online ordering decision! sounds like PB & Co is the way to go. they have some fun gift packs. speaking of gifts…

question: what are y'all doing for your moms for mother's day?
check ya later dudettes.