hey everrrrybody.  WOW. cabin fever.  i have done nothing but sit around since yesterday, aside from my jaunt down the road to the park with penny, and that was too much for my poor little swollen throat to handle.  i want to work out so bad it is killing me.  i want to do something.. anything.. my boyfriend is at the soccer game, my pals are going to see the grouch & eligh at urban lounge, and i am sitting here blogging about my food.  ugh, i need to keep a positive attitude about this, things will be back to normal soon enough.
on the upside, marshall did drop randy off at my house. randy is his basset.. aka my son :) and it makes penelope happier, they usually will not eat without the other one there.  i love randy, but it is kind of sad when the highlight of my night is a smelly basset hound.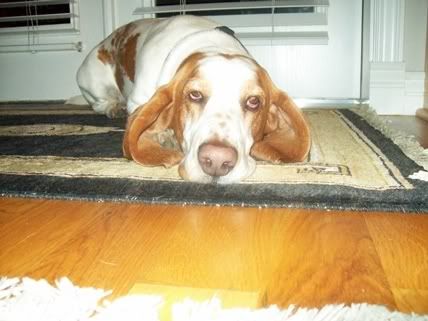 who am i kidding? that is not sad at all. he is awesome.
well let's get on with the show.. my title was my lunch.. or i don't know if it was lunch time.. everything blends together. speaking of blending together.. that is what i did to make this little number:
green eggs a la magic bullet:
which included:
2 eggs
5 grape tomatoes
handful of mushrooms
handful of spinach
s & p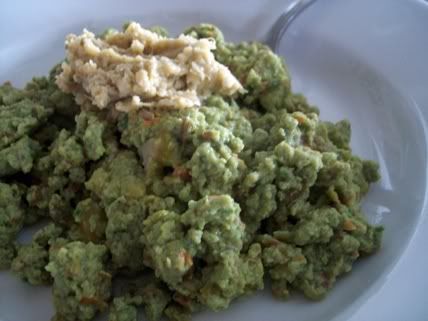 blended that all up in the bullet and scrambled it. topped it off with some spinach & feta hummus.  it worked out well because i have a hard time with solid foods.. but i still crave my veggies, so blending them into a scramble seemed like the best option.  i actually got this idea from danica's blog once upon a time, so thanks girl!
do you ever find comfort in grandma sycamore's bread?  um for some reason i do. so i sliced up some tillamook cheddar and paired it with a fluffy refined slice and gnawed on it as best i could.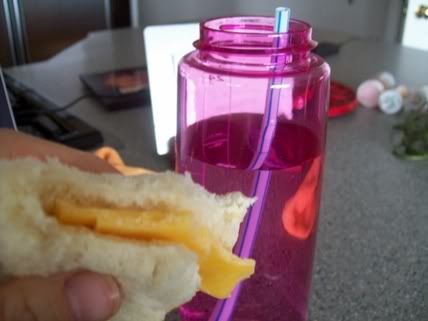 probably not the best option for a carb.. but meh. whatever. i'm so blah lately that i guess i just needed that. as you can see i am struggling with drinking my water. i am at about 56 ounces for the day so far. my goal is 72. it hurts to swallow. for real.
guess what else i needed?  vanilla bean.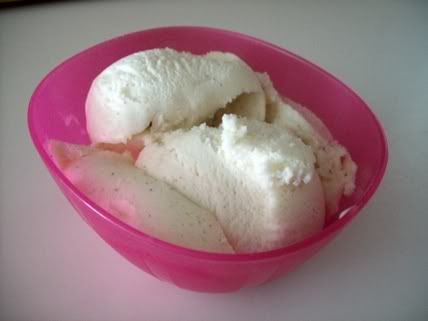 my very favorite thing ever, food wise, is vanilla bean ice cream. so i had a mini bowl of it.. like one of those IKEA kids bowls.. satisfactory.
insert a whole slew of laying around, game show watching, blog commenting.. la la la.. oh P.S. i never used google reader until yesterday. um, duh, what an amazing creation! so much easier to read all the blogs dude, i am retarded for not signing up for that business sooner.
then i had some dinner.. tomato soup + breadsticks..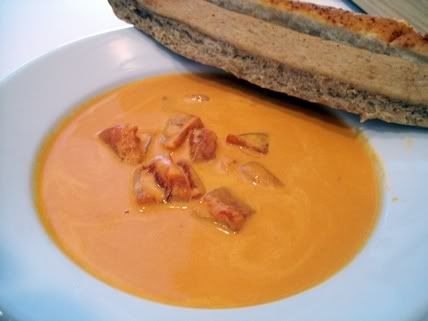 yum. more carbs, more fat, haha i need to go to sleep so i stop eating. serious.
i had another popsicle because my throat feels like razors are shredding it to bits.. and those help the pain, so i am glad they are only 30 calories. i didn't take a photo, but it looked just like the last eighteen that i ate.
annnyway, thought i would throw the rest of the day up here! i think some of my girls are coming to visit me tomorrow (stoked!) my mom lives a bit out of the way so it is not just like they can pop in.. so hopefully they make the journey to say hi before they peace out to jamaica. and my mom wants to go shopping so i hope i am up for that.
QUESTION.. i am looking to buy some new products online (because i can't find them in stores near me) but can't afford them all at once. if you had to pick one of the following to order first, which would it be?
barney butter
vitatops
EAS betagen & greens supplements (these are from the same website so i'd order together)
PB&Co variety of peanut butters
more PB2 (i am out..the 4 other options above are items i have never tried so i am more inclined to order them first)
input appreciated! :)
night for now folks!