last night i was up until 3 AM. why? i don't know. i couldn't sleep. good thing there is the internet to entertain me because i don't love television and penny was out cold. so i read blogs and webcomics and played a little facebook scrabble with my sister..
anyway, at midnight last night i needed to take my liquid lortab so that also meant food. i pulled out the vanilla bean ice cream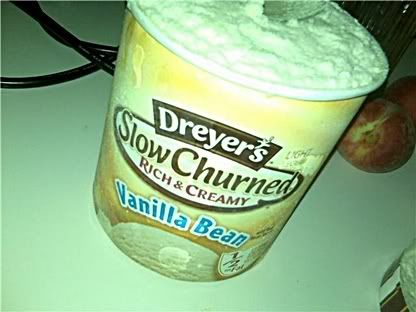 but then after 2 bites put it away for something a bit more nutritionally sound: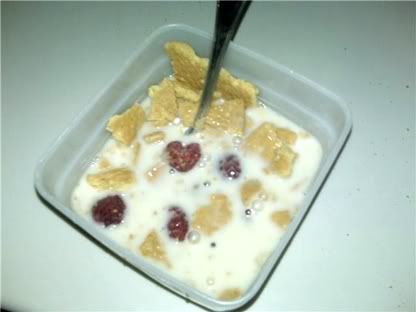 it included:
8 oz voskos greek yogurt
3 graham crackers
handful of raspberries
1/2 scoop of chocolate protein powder
UVAB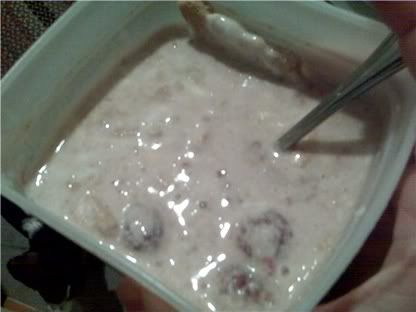 i guess you could call it a soupy play on chocolate raspberry cheesecake? eh it was alright. not the best, but it was tasty. i would have liked the ice cream more i think ;)
so then i decided to try to sleep. i was up 45 minutes later because when i fall asleep, i start breathing through my mouth, and my throat is basically swollen shut so i wake up nearly choking to death. i was up at 3:45, liquid lortabed it up at 4 AM, back up again every 15 or 2o minutes.. sippin' on water, i think between 3 AM and 7 AM i woke up 7 times. not a happy camper.  my mom brought me a popsicle around 7, it helped my throat a little.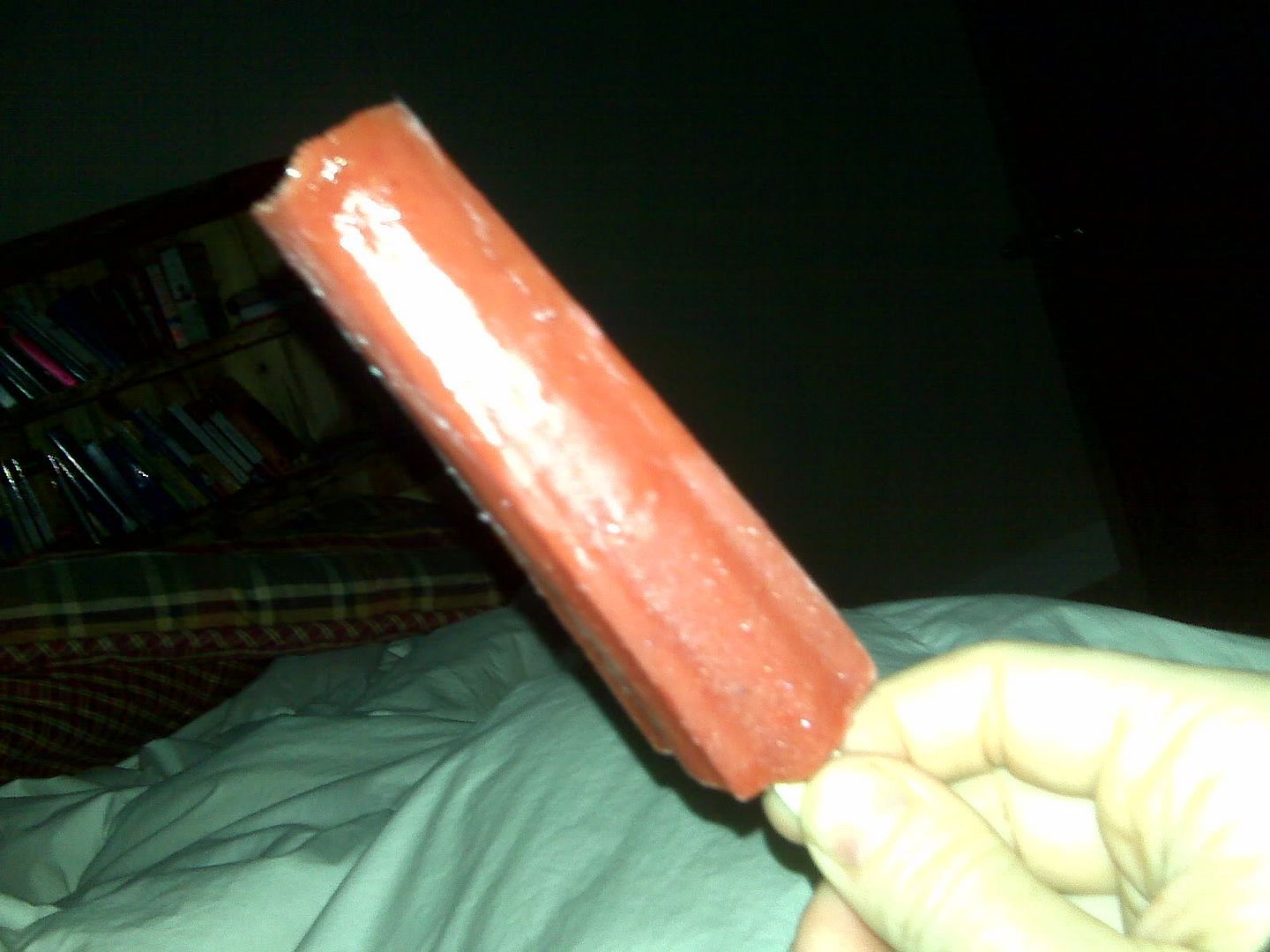 i rolled out of bed at 7:15 and went upstairs..
i had made my mom a bowl of overnight oats because i am trying to make her see that protein powder in oatmeal = heaven.. so i mixed the oats with a scoop of powder (vanilla), some agave and some cinnamon.. heated it up and let her give it a whirl.  she still didn't like it.  i guess the protein powder in oats isn't for everyone.  i, on the other hand, love my protein oatmeal!  so i shared the bowl with her: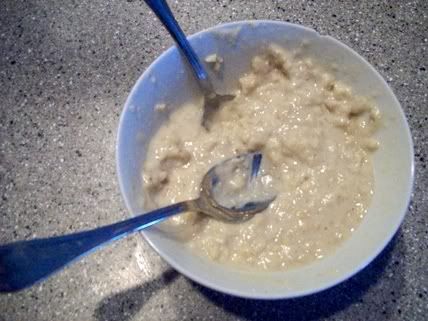 yummmm.. protein oatmeal shared w/ mom @ 7:45 AM
when she had had enough, i threw some PB in the rest of it to polish it off. note to self: PB in oats don't go well with a swollen shut throat. it made my throat all sticky icky and i was choking again.
i drank some more pain meds and tried to get some rest.. i was exhausted! i dozed on and off.. mostly was awake though.. until 11 when i could not take it any longer so i went outside and let penelope play in the sun. it is a beautiful day finally.. sun shining, warm, blue bird day.  i would have so loved to go for a run :(
instead, i made something to eat! er.. drink!  my very first ever GREEN MONSTER!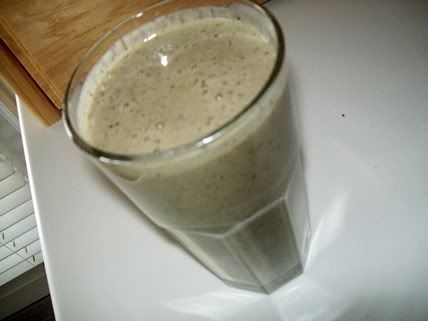 it included:
1 cup UVAB

handful of raspberries

handful of blueberries

1 scoop vanilla protein powder

a whole bunch of kale

ice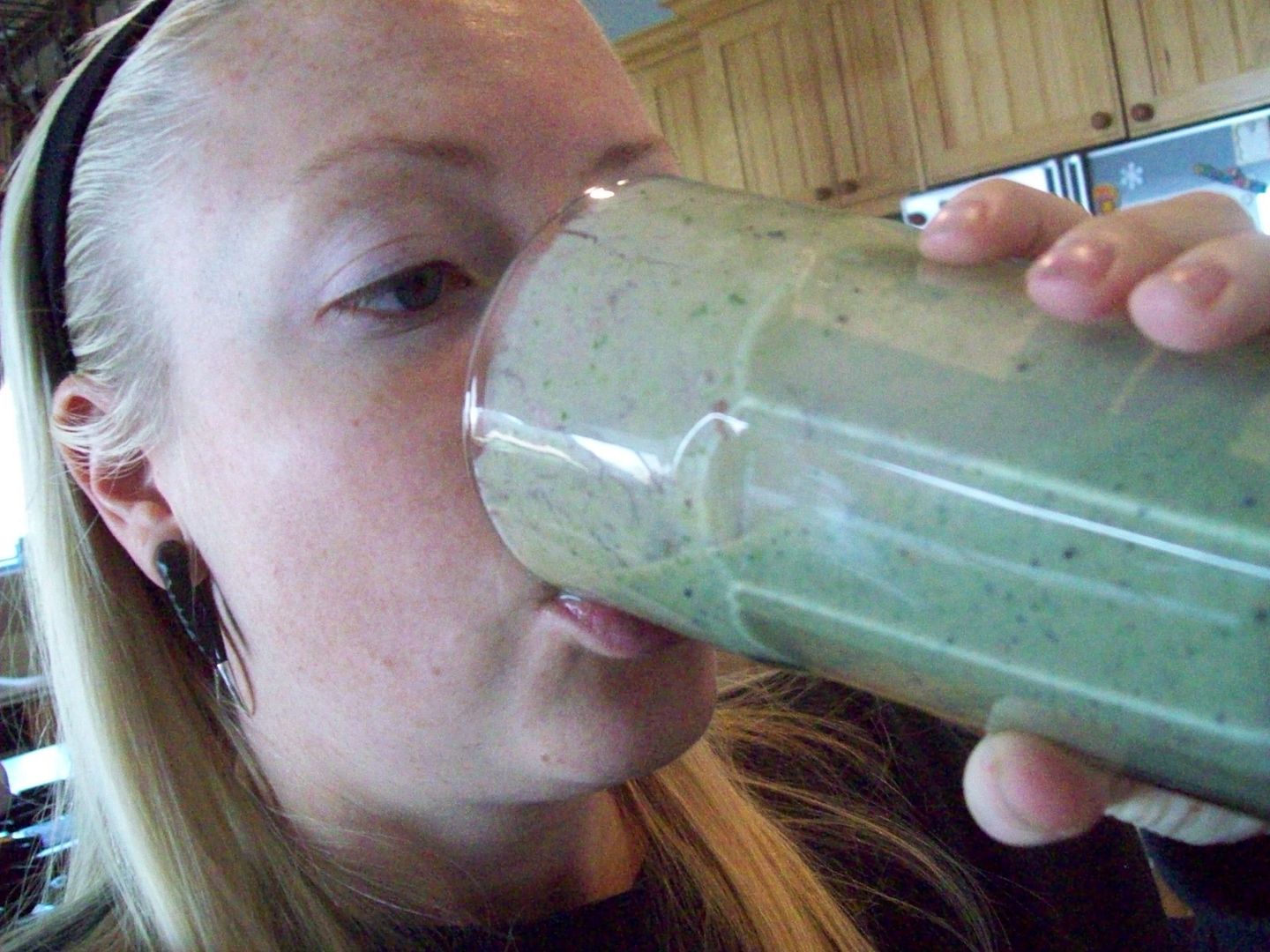 dont mind the huge swollen neck of mine.
um, YUM! not only was this my first green monster, it was also my first time trying kale, which completes my new foods challenge task for week one! (cause we are still in the first week of may, right?)
loved it. can't wait to try more variations. i loved the taste the kale lent to the smoothie, it tasted like i was drinking a salad but it was cool and fruity at the same time. hooked.  okay so QUESTION: what are your favorite green monster recipes? do tell!
so then my lover of a boyfriend saved the day.. my mom is not a coffee drinker thus has no coffee pot at her casa and i have been without coffee since monday, so marshall brought me an iced soy latte!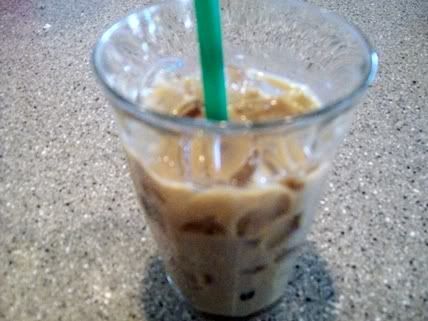 thanks!  he brought me a gigantor sized one so i decided to ration itand had a little bit in a glass.
then i was feeling so restless. ugh. i know i am not supposed to do any physical activity but penelope was restless, i was restless, so i decided we would go for a little walk.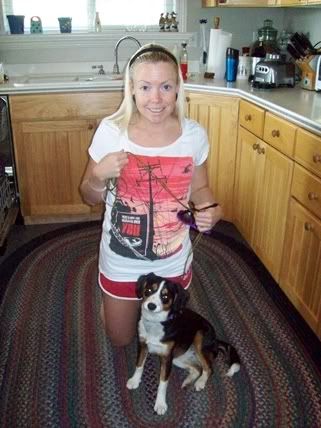 my mom lives on a big steep hill, so we just walked down the hill to the park, walked around the baseball fields and around the playground, and then back up the hill.  it was enough to wear little penny pants out and actually my throat was feeling a little more closed off than the usual peanut allergic reaction feelingness so i decided that walk was about all the strenuous activity i could handle.  it is weird when your body wants to work out but your throat says "oh hell no janetha!"
so then it was time for more liquid lortab. it's an every 4 hours type of dose and i'd gone 5 hours.. so it was time for another shot!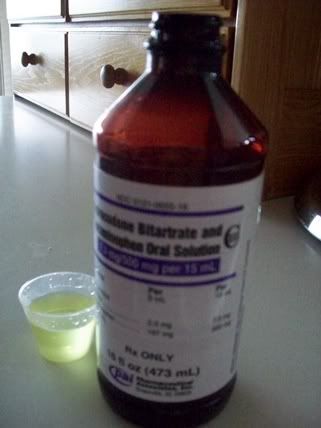 i then lovingly placed my bottled itchyness (dont pain meds make you itch?!) up on the window sill next to this little jar that says "be happy".. how appropriate.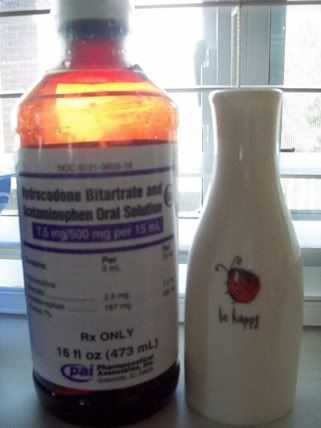 i'm supposed to take that crap with food, so i had a graham cracker & a popsicle: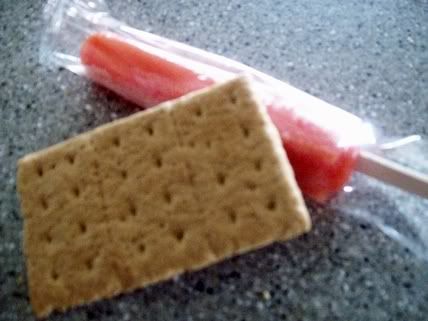 which brings me to the here and now. penny is pooped, sleeping soundly, i am blogging my little heart out and getting mass texts about soccer games and concerts that are going on tonight that i will be missing out on. bummer.
in other news!!~~~
how about

another giveaway?

yeah.. i figure if i keep entering these, i am bound to win sometime or another. sammie @ running with a recipe is hosting a giveaway for erewhon cereals! i am a cerealaholic so of course i entered.
oh yeah,

one more giveaway..

we all know how divine indian food is, right? well at least i do! and ashley at daily goods is hosting a spice up your life giveaway for some indian goods!
today is national crepes suzette day , crepes are so versatile.. they can be enjoyed sweet or savory.. have you ever seen the episode of good eats where alton goes on about crepes? okay, i am a sucker for alton brown.. haha, guilty as charged! check out the link for a good crepes suzette recipe!
gena & jenna are hosting a raw wednesdays food challenge where you have one raw meal and one raw snack every wednesday in may. this sounds like a fun thing to do,

but i don't think i am informed enough

.. so i am going to do some research and try to join in the fun.  i have no idea if protein powder is considered raw..? anyone know? i am obviously new to all this but i think it would be a fun way to force myself to learn more about a

raw lifestyle

which i have heard and read so many good things about. so maybe i won't officially participate, but i am sure going to try :)
the simple life challenge is slow going, hard to go out of my way to be green & thrifty when i sit home

all day long

.  but i've racked up 2 points today for meals prepared at home, 1 point for getting out there and walking penny despite my condition, and 1 point for opening the windows when i was

hot as hell

instead of cranking the AC. that brings my running total to 25 points.

liquid lortab makes me itchy!
the end.. for now at least!